Week 9: Late-afternoon fireworks save the day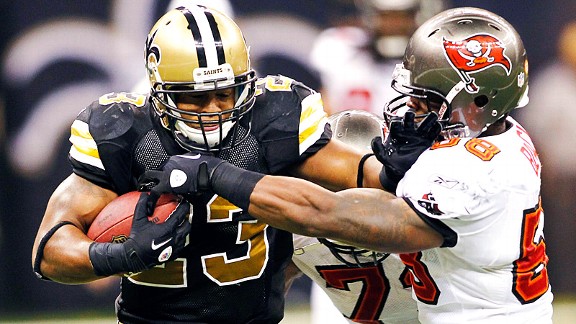 Crystal LoGiudice-US PresswireFinesse team? Please. Pierre Thomas averaged 8.3 yards per carry as the Saints generated a physical and balanced running attack (195 yards) in a 27-16 victory over Tampa Bay.
Week 9 leaders
Week 9 started slowly, but wow, what a finish.
Normally, the NFL saves one of its best schedules for the first week after the World Series. The first seven afternoon games didn't cooperate, though. The New Orleans Saints were too physical in dominating the Tampa Bay Buccaneers. The New York Jets made the Buffalo Bills look more like last year's team instead of the surprise team of this season. The Dallas Cowboys dominated the Seattle Seahawks. The Houston Texans, Atlanta Falcons and Miami Dolphins were involved in blowouts.
But the late games were remarkable. They included Eli Manning magic over the New England Patriots, a spotless performance by Aaron Rodgers, a Denver Broncos upset of the Oakland Raiders and the continued rise of the Cincinnati Bengals. It was a day of 50-plus-yard field goals and plenty of offense.
Here are the five things we learned in Week 9:
1. Face it, the Packers may go unbeaten: As much as San Diego Chargers fans will be criticizing Philip Rivers for his three-interception performance in a 45-38 loss to the Green Bay Packers, San Diego might have lost even if Rivers had a flawless game.
Rodgers is simply unstoppable. He fired four more touchdown passes and produced four touchdown drives and a field goal during the Packers' first six possessions. Rivers threw for 385 yards and was able to get 15 completions and 237 yards to his two favorite targets, Antonio Gates and Vincent Jackson. Missing were halfback Ryan Mathews and wide receiver Malcom Floyd.
Rodgers has more weapons and he's using all of them. He hit seven targets but focused on Greg Jennings, Jermichael Finley, Jordy Nelson and Donald Driver.
Rodgers is learning that his fan base is growing. He said the Packers fans attending Sunday's game were so loud that Rivers had to use a silent count at the end of the game. And as the Chargers found out, the more you pressure Rodgers, the worse it gets for your defense. According to ESPN Stats & Information, the Chargers sent five or more defenders only seven times. Rodgers burned them for four completions and three of his four touchdown passes.
2. Eli over Brady, again: The string of three straight playoff losses for Tom Brady started when Manning beat the Giants in Super Bowl XLII. Believe it or not, New York's 24-20, come-from-behind victory could be more damaging to New England.
Thanks to the Giants, the fear factor for the Patriots is gone. Since that Super Bowl loss, opponents have been attacking the Patriots' porous secondary and doing everything they can to mount a pass rush against Brady. On Sunday, the Giants may not have used as much press coverage as the Pittsburgh Steelers did last week, but they affected Brady. Sure, Brady threw for 342 yards, but he was sacked twice, intercepted twice and hit three times.
The reason this loss is more troubling is that it damages the Patriots' chances of going to the Super Bowl. At 5-3, the Pats are in a three-way tie with the Jets and Bills in the AFC East, but they are falling behind when it comes to tiebreakers. And the Pats won't go anywhere unless their pass defense improves. Manning was able to put together 85- and 80-yard drives in the final seven minutes. He was 8-of-13 for 93 yards and two touchdowns in the fourth quarter.
[+] Enlarge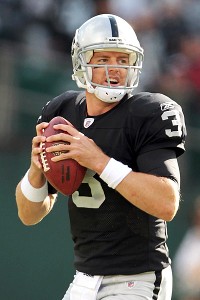 Ezra Shaw/Getty ImagesSo far, the addition of QB Carson Palmer hasn't yielded anything positive for Oakland.
3. Palmer not paying dividends: Raiders coach Hue Jackson made one of the boldest moves in years, trading first- and second-round picks for quarterback Carson Palmer. Based on his first six quarters, Palmer may not make the Raiders worry about that second-rounder in 2013 being upgraded to a first-rounder, which would be the case if Oakland makes it to the AFC title game in either of the next two years.
Palmer may have thrown for 332 yards Sunday, but he threw three picks in a 38-24 loss to the hapless
Denver Broncos
. Since the Palmer trade, the Raiders have lost back-to-back home games to the Chiefs and now the Broncos. Clearly, the Raiders are out of sync since the trade.
Palmer can't blame not having halfback Darren McFadden, who was out with a foot injury. Michael Bush filled in nicely with 96 yards on 19 carries. Sunday's loss sets up a must-win game Thursday in San Diego. The Raiders went 6-0 last year in the AFC West. If they lose three straight AFC West games involving Palmer, he's going to look more like a curse than a savior.
4. Jets are back; Bills have questions: This is what the Jets are supposed to look like. During their 27-11 mauling of the Bills, the Jets ran the ball 39 times. "Ground and Pound" was back. Even though the Jets gained only 126 yards with those carries, they controlled the clock for 37:52. That limited the Bills to only 53 offensive plays and totally neutralized Buffalo coach Chan Gailey's ability to call plays.
According to ESPN Stats & Information, the Jets used a no-nonsense running formation that featured a running back and a fullback behind QB Mark Sanchez on 40 of 68 plays. Entering the game, they used two backs only 32 percent of the time. The running plays make life easier for Sanchez, who was able to complete 11 of 12 passes out of play-action for 129 yards.
This game reminded me of a 2008 game in Buffalo. The Bills entered 5-2 coming off an easy schedule. The Jets stuffed the run, attacked Buffalo's defense with short passes and provided a scouting report that worked against the Bills for seven losses in their last nine games.
Sunday's victory may not have given the rest of the league a game plan for whipping the Bills, but it showed some things. The Jets blitzed extra defenders 50 percent of the time -- slightly down from their 58.5 percent average for the season. A standard rush against Bills QB Ryan Fitzpatrick forced him into two interceptions and a puny 5.7 yards per attempt. In the first half, Fitzpatrick was 4-of-12 with two picks and a 2.8 quarterback rating.
"We know how to play here," Jets coach Rex Ryan said. "They spread us out to run the ball, and they do different things, but our personnel did a tremendous job."
The Bills rushed for only 96 yards on 22 carries.
"I needed to be cleaner on the things that I had designed for the offense," Gailey said. "I need to run the ball early. I probably didn't stick with that enough."
5. Saints strike a balance: It sounds strange to hear Saints coach Sean Payton talk about a balanced offense. The Saints run the ball only 37.6 percent of the time. But Sunday's convincing 27-16 victory over the Tampa Bay Buccaneers showed the type of balanced play calling needed if the Saints are going to win the NFC South and try to go deep in the playoffs.
"When you look at our productivity when we're running the football effectively, it's through the roof," said quarterback Drew Brees, who completed 27 of 36 passes for 258 yards and two touchdowns. "Both the run and the pass are complementary to one another. I felt like we did a great job of finding our balance today."
The Saints rushed for 195 yards on 28 carries, and they did so without talented first-round pick Mark Ingram, who missed his second game because of a heel injury. To establish a physical presence against the Bucs, the Saints expanded their number of formations, particularly going to more two-tight end sets. Normally, the Saints run three-receiver formations about 45 percent of the time, but the return of tight end David Thomas from concussion problems enabled them to work him in with fullback Jed Collins and tight end Jimmy Graham on power running sets. Chris Ivory and Pierre Thomas combined for 23 carries and 133 yards, and Darren Sproles added explosiveness with 42 yards on four carries.
"We got a lot of run fronts defensively with down safeties, and I thought we won that battle at the line of scrimmage on both sides of the ball," Payton said.
On the flip side, the Bucs looked lost on offense. One of the flaws of this 4-4 Tampa Bay team is its slow starts on offense. In eight games, the Bucs have been outscored 44-21 in the first quarter. The Saints' defense pressured Bucs QB Josh Freeman and had him throwing off his back foot.
Short Takes
The Bengals, now 6-2 after beating Tennessee 24-17, are playoff contenders, but they'll soon find out where they stack up in the AFC North. They host the Steelers, then visit the Ravens in Week 11. Quarterback Andy Dalton continues to play more like a veteran than a rookie, but he will be going up against two of the toughest defenses in football. … Once again, Titans halfback Chris Johnson was a non-factor. He rushed for 64 yards on 14 carries and his longest run was only 20 yards. The Titans had only 78 rushing yards against the Bengals. … Rams quarterback Sam Bradford was heroic in trying to fight through a high ankle sprain, but he couldn't pull out a win. The Cards beat the Rams in overtime 19-13. Bradford had respectable numbers, completing 23 of 36 passes for 255 yards. But he couldn't deliver a touchdown drive, which cost the Rams the game. The Rams' points came from three field goals and two safeties. … Chiefs coach Todd Haley put himself back on the hot seat with Sunday's horrible 31-3 loss to the previously winless Miami Dolphins. "They outplayed us, they outcoached us in all facets," Haley said after the game. QB Matt Cassel took nine hits and five sacks. Haley admitted that the Chiefs tried too much during the short week after a Monday night game and they weren't able to handle it. Fatigue might be the problem. Haley said players didn't have too much left in the tank for this game. … This has to be the worst year for running back injuries. Ryan Mathews, Mark Ingram, Peyton Hillis, Montario Hardesty and Felix Jones were among the backs sidelined with injuries Sunday. Nineteen of the top 41 rushers heading into Week 9 have missed at least one game with an injury. … The Browns' Hillis sat out Sunday's game against the Texans because of a hamstring and is expected to miss several weeks. Browns coach Pat Shurmur indicated after the game that the plan is still to get Hillis back on the field and not on the injured reserve list, but Hillis isn't what he was a year ago -- both physically and mentally. His worries about a contract extension have affected his mindset and his play. … Redskins coach Mike Shanahan started three rookies on offense -- halfback Roy Helu, wide receiver Leonard Hankerson and left guard Maurice Hurt, but youth offers hope. Helu had 41 yards on 10 carries, but he caught 14 passes for 105 yards in the 19-11 loss to San Francisco. Hankerson caught four passes for 34 yards. Still, it's amazing to see how far the Redskins have fallen from their 3-1 start; they're now 3-5 and have lost four straight. For what it's worth, the Redskins are staying with John Beck at quarterback. … Colts coach Jim Caldwell may be moving his name to the hot seat. The Colts were uncompetitive during their 31-7 loss to the Atlanta Falcons. After the game, owner Jim Irsay tweeted, "We will never accept this kind of chronic losing -- it's an unwelcome visitor that we will not tolerate." That means next Sunday's home game against 2-6 Jacksonville is a must-win for the Colts, who are 0-9. … The Houston Texans are indeed making a playoff run. They are 6-3, their best record this late in the season in franchise history. The Texans outrushed Cleveland 261 to 44 in a 30-12 win. "Our offensive line was just mauling those guys," said Ben Tate, who rushed for 115 yards on 12 carries. The Texans have won 34 of their past 47 games when they outrush their opponents. "We get 80 [Andre Johnson] back soon, so it's scary," Arian Foster said. … The most devastating injury loss was the torn biceps that wipes out the rest of the season for Bucs defensive tackle Gerald McCoy. This will make it harder for the Bucs to stop running teams down the stretch. … Fans were booing Tony Romo and the Cowboys' offense early for not scoring touchdowns in the red zone, but Dallas did enough to squeak by the Seahawks 23-13. DeMarco Murray looks like a great find. He rushed for 139 yards on 22 carries. But the Cowboys have to be concerned about the re-injury of Miles Austin's hamstring. Receiver is the thinnest position for the Cowboys. … Falcons rookie WR Julio Jones, returning after missing two games with a hamstring injury, had three catches for 131 yards and two touchdowns against the Colts. His return will open up the middle of the field for QB Matt Ryan to work the passing offense.
John Clayton's game balls
• Offense: Aaron Rodgers was almost perfect during the Green Bay Packers' 45-38 victory over the San Diego Chargers. He was 21-of-26 for 247 yards and four touchdowns and no interceptions. His passer rating was 145.8.
• Defense: Charlie Peprah intercepted a Philip Rivers pass and returned it for a 40-yard touchdown in the first quarter of the Packers' victory. He also picked off a Rivers pass at the Packers' 18-yard line and returned it 76 yards in the final seconds to ice the game.
• Special teams: Though he is struggling at cornerback, Patrick Peterson continues to have an unbelievable year returning punts. His 99-yard punt return for a touchdown in overtime gave the Arizona Cardinals a 19-13 victory over the St. Louis Rams. It was his third punt return for a touchdown this year. It was only the second overtime punt return for a touchdown in NFL history. Tamarick Vanover did it for the Kansas City Chiefs in 1995.
Week 9 rundown
• N.Y. Jets 27, Buffalo 11
A significant big-picture victory for the Jets, who dispatched the Bills with an effective running game (126 yards) and opportunistic defense (three turnovers).
• Atlanta 31, Indianapolis 7
The Falcons drafted WR Julio Jones with explosive plays in mind. That's just what they got Sunday (TD catches of 50 and 80 yards).
• Dallas 23, Seattle 13
This could be the beginning of a nice streak for the Cowboys. Have you seen their schedule?
• Miami 31, Kansas City 3
Finally, a victory for the Dolphins. That likely means coach Tony Sparano's job is safe -- at least for another week.
• New Orleans 27, Tampa Bay 16
The return of RB LeGarrette Blount (72 yards) wasn't enough for the Bucs. The Saints' running game (195 yards) managed just fine without Mark Ingram.
• San Francisco 19, Washington 11
Is there any doubt over which team will be the first to clinch a playoff berth? The 49ers (7-1) have now matched the win total of last season's NFC West champions (Seahawks).
• Houston 30, Cleveland 12
The Texans' running game keeps coming up big in WR Andre Johnson's absence. Houston has averaged 213 rushing yards during its three-game winning streak.
• Denver 38, Oakland 24
Is Tebow-mania back in full force? Probably, but he got plenty of help from Willis McGahee (163 rushing yards) and Eddie Royal (85-yard punt return for a TD).
• Cincinnati 24, Tennessee 17
The Bengals have their first five-game winning streak since 1988. Their current QB -- rookie sensation Andy Dalton -- was 1 year old at the time.
• N.Y. Giants 24, New England 20
Talk about defying the odds. The Giants won without their starting center, leading rusher and best receiver. Yes, QB Eli Manning is an MVP candidate.
• Arizona 19, St. Louis 13 (OT)
The new Devin Hester? Without rookie Patrick Peterson's ability on punt returns, the Cards might be winless.
• Green Bay 45, San Diego 38
Can the Packers really go undefeated with this pass defense? As long it keeps coming up with game-changing turnovers, anything's possible.
• Baltimore 23, Pittsburgh 20
Torrey Smith went from goat to hero, and Joe Flacco orchestrated the type of game-winning drive even his biggest his critics can appreciate.
-- ESPN.com
'MONDAY NIGHT FOOTBALL'
•
Chicago at Philadelphia (ESPN, 8:30 p.m. ET)
Looking ahead
An early look at next weekend's biggest games:
• Pittsburgh (6-3) at Cincinnati (6-2): We'll soon find out just how far the upstart Bengals have come.
• New Orleans (6-3) at Atlanta (5-3): The Falcons are rolling. Can they take first place in the NFC South?
• N.Y. Giants (6-2) at San Francisco (7-1): Showcase of two first-place teams.
• New England (5-3) at N.Y. Jets (5-3): The Pats are in need of a get-well game. Will it come in the Meadowlands?