Week 10: Road teams rule; NFC West surprises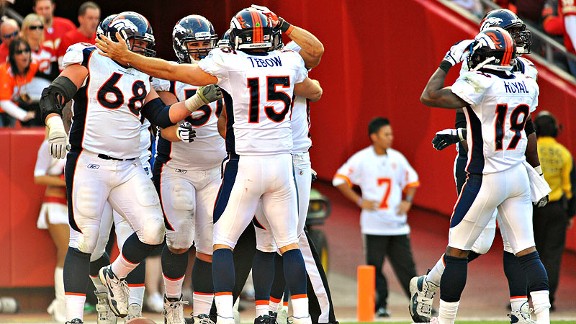 Denny Medley/US PresswirePretty? No. Effective? Yes. The Broncos moved within one game of the AFC West lead with a 17-10 victory at K.C. Tim Tebow completed only two passes, but one was a 56-yard TD.
Week 10 leaders
Week 10 was for the road teams and for the weak teams.
Nine of the first 14 games played in Week 10 were won by the road teams, including the Cardinals' upset of the Eagles, the Saints' overtime win in Atlanta, the Broncos' strange victory over the Chiefs and the Steelers' win in Cincinnati. As for upsets, the NFC West, which entered the week 9-17 in non-division games, swept all four games against non-divisional opponents.
Once again, field goal kickers were on the mark with one (Seattle's Steven Hauschka) winning a game with five and two others getting four. Tim Tebow won a game in which he completed only two passes. The Eagles added more controversy to their disappointing season.
Here are the five things we learned in Week 10:
1. Two completions, 102.6 passer rating. What? Aesthetically, Tim Tebow may be setting the quarterback-driven NFL back to the 1950s with his read-option style of football, but he's becoming the most interesting story in football. During Sunday's 17-10 victory over the Kansas City Chiefs, he made a mockery of the league's passer rating system by completing only two of eight passes -- for a 102.6 rating! How do you complete only 25 percent of your passes for 69 yards and get that type of rating? Numbers don't make sense with Tebow, who's won 75 percent of his starts in 2011 but completes only 44.8 percent of his passes.
"I leave those statistics to you guys," Broncos coach John Fox told reporters after the game. "The statistic that is important in there is winning."
Tebow operates a running offense that had 55 carries Sunday, even though the Broncos lost their top two running backs -- Willis McGahee (hamstring) and Knowshon Moreno (knee) -- to injuries. All Denver had left for the second half was third-stringer Lance Ball, fullback Spencer Larsen and wide receiver Eddie Royal, who had three carries. Tebow is 3-1 as a starter this year and has the Broncos tied for second place in the AFC West, one game behind the Raiders.
For the Chiefs, it was an embarrassing loss. At 4-5, coach Todd Haley clearly has placed himself on the hot seat. The Chiefs have lost three of their five home games and their offense looks almost as prehistoric as that of the Broncos. Matt Cassel had only 77 net passing yards before leaving the game with a hand injury. The Kansas City Star is reporting Cassel left the stadium with a cast on his right hand.
2. Who will pay the price for the Eagles' season? At 3-6, the Eagles may not say they are giving up hope of making the playoffs, but those thoughts are unrealistic now. Sunday's 21-17 loss to the Arizona Cardinals once again proved the team isn't fixing its mistakes. The Eagles have blown five fourth-quarter leads. They've lost four of their five home games. Wide receiver DeSean Jackson, who's been angling for a new contract, overslept, missed a meeting and was inactive. If that weren't bad enough, wide receiver Jeremy Maclin missed a good portion of the game with shoulder and hamstring injuries.
Of course, even if both receivers played the entire game, there was no guarantee Michael Vick was going to complete passes to them. Vick completed 16 of 34 passes for 128 yards and had two picks. He also had an interception overturned on replay and another called back for holding.
"I was inaccurate today and never really got comfortable," Vick said. "I'm very hard on myself and that just can't happen."
Coach Andy Reid was also hard on himself, accepting the blame for the loss. The question stirring is whether there is a disconnect with some of the players. From the way they are playing, there has to be a disconnect.
"It's my responsibility to make sure that everybody is on the same page," Reid said. "Obviously, by this performance, that didn't look good. That's my responsibility. I don't know about disconnects and those types of things, but I have to do a better job along with my guys."
This was called the dream team because of the offseason acquisitions, but it's also a well-paid team with guys like Jackson and LeSean McCoy angling for money. I fear a coaching change at the end of the season.
3. Steelers impressed with Dalton: Following the Pittsburgh Steelers' surprisingly close 24-17 victory over the Cincinnati Bengals, Steelers QB Ben Roethlisberger went over to Bengals rookie quarterback Andy Dalton and said, "See you in a couple of weeks; you're playing lights out."
The lights went out on the Bengals' brief lead in the AFC North with 2:27 left in the fourth quarter when Steelers cornerback William Gay jumped a slant route intended for Jerome Simpson at the Steelers' 19-yard line to seal the victory, but don't expect Dalton to give those gifts too often in the future. Steelers safety Ryan Clark said Dalton is no normal rookie, noting he's playing like a five-year veteran with exceptional poise. Gay called him fearless.
But offensive coordinator Jay Gruden needs to loosen up and not treat Dalton like a rookie. Too often on Sunday, particularly on third down and key throws, Gruden called for slant passes.
In fact, Byron Leftwich, an injured Steelers backup, went to Roethlisberger before that Gay interception and predicted someone would jump the route for an interception. Clearly, Gruden and the coaches are protecting Dalton by having him make short, safe throws. Watching the past few weeks of tape, Gay and Ike Taylor noticed Dalton was being allowed to throw some longer passes, but the stakes and Dick LeBeau's blitzes caused a little more cautiousness in the play calling.
As Dalton grows, so will the playbook. Dalton completed 15 of 30 passes for 170 yards and two touchdowns. According to ESPN Stats & Information, Dalton was 12-of-24 on throws that went 15 yards or fewer through the air.
"On those slant routes, they try to hit receivers with back-shoulder throws," Taylor said. "You can jump them, but you have to be right."
The question is whether Dalton will be a factor long term in the AFC North. The Steelers believe he will.
4. NFC playoff race taking shape: Thanks to the Saints' 26-23 overtime win over the Falcons and the 49ers' 27-20 victory over the New York Giants, the top three seeds in the NFC are taking shape. The Packers look like the top seed, the 49ers the second, the Saints the third and the winner of the NFC East looks like the fourth. The Giants are 6-3 but they have the Eagles, Saints and Packers coming up. It looks as though the NFC East will be a 10-win division. The Saints should get to 11 thanks to being 3-1 in the NFC South and having four of their final six games in the Superdome.
In the contender-pretender category, the Bears took a major step toward getting the top wild card by blowing out the Detroit Lions 37-13. The Lions have to be concerned about their recent skid. They've lost three of their past four games and aren't as sharp as they were. Lions QB Matthew Stafford threw four interceptions, two of which were returned for touchdowns. Their special teams gave up a punt return for a touchdown to Devin Hester. This team has lost the edge it had early in the season.
The Falcons may be fighting for the last wild-card spot, but their problems go beyond coach Mike Smith's decision to go for a fourth-and-1 in overtime in his own territory. They aren't finishing drives and they're struggling to stop teams on third down.
The big winner Sunday was 49ers quarterback Alex Smith, who drew high praise from his coach, Jim Harbaugh. "He's a great game manager," Harbaugh said. "People try to slight him when they say that. He once again went out and played great football."
Meanwhile, don't count out the Dallas Cowboys. They are 5-4 and have winnable games against Washington, Miami and Arizona over the next three weeks.
5. Ravens' peaks and valleys: The Ravens have a flaw. After beating the Steelers in emotional games, they lost the next week to the Titans and Seahawks, teams with a combined 8-10 record. They also lost a road game to the Jaguars. For whatever reason, the Ravens don't look like the Ravens when they start flat. They let the Seahawks jump to a 10-0 lead in Sunday's 22-17 loss. They let a young offensive line open holes for running back Marshawn Lynch, who had 109 yards on 32 carries.
The Ravens' loss diminishes the fact they swept the Steelers, who now lead the AFC North with a 7-3 record while the Ravens and Bengals face each other next week with 6-3 marks. Ravens coach John Harbaugh was asked by reporters if they ran Ray Rice enough down the stretch. Though Harbaugh noted he didn't look at the stats, he said he thought he did. But Rice had only five carries and the team had only 12 carries for the game. Although the Ravens are evolving into a team that leans on the pass instead of the run, it's clearly an offense still struggling to find out what it is.
Short Takes
Bengals CB Leon Hall tore his left Achilles tendon against the Steelers, according to a source familiar with the injury. Hall left the game on crutches, and his loss will seriously impact the Bengals next week. The Bengals need to use as many man-to-man coverages as they can against the Ravens' receivers. Without Hall and with Adam Jones still sidelined with a hamstring injury, the Bengals may have to use more zone, which may help the Ravens. … Can things get worse for Kyle Orton? Broncos coach John Fox made him the third-string quarterback behind Tim Tebow and Brady Quinn for Sunday's game against the Chiefs. Orton was active but didn't play. … The worst decision of the day was Redskins coach Mike Shanahan starting QB Rex Grossman against the Miami Dolphins. Shanahan surprised everyone by starting Grossman over John Beck, and he looked like the same quarterback who was benched earlier in the season. Grossman threw two more picks and generated only three field goal drives. Shanahan said he'll make his decision on who will start at quarterback on a week-by-week basis. That indicates the Redskins really don't have a starting quarterback. … If you want to know how much the Bucs have fallen, just look at the decision to start DT Albert Haynesworth, less than a week after he was released by the Patriots. Haynesworth had five tackles but the Bucs surrendered 420 yards of offense. Quarterback Josh Freeman completed only 15 of 35 passes and was booed for his three interceptions. At 4-5, the Bucs aren't going to make the playoffs. … Titans running back Chris Johnson made his first step toward getting out of his slump by running for 130 yards on 27 carries in a 30-3 blowout of the Carolina Panthers. After the game, Johnson gave credit to the blocking of his offensive line and what the receivers did with their blocks downfield. He also cited the chance to get more carries. This was only the third time this season he had more than 20 carries. He's had 100 yards in two of those games. … The city of Indianapolis hosts the Super Bowl, and the Colts will get the first pick in the draft, Stanford quarterback Andrew Luck. Thanks to Sunday's listless 17-3 loss to the offensively impotent Jaguars, the Colts are 0-10 and have a two-game lead in the Luck Derby. This looks like a team that could go 0-16. After the game, owner Jim Irsay tweeted like an owner who was on the eve of getting a new quarterback. "We'll get it turned around," Irsay tweeted. "We did after 1997. We'll do it again. I know the way. No quick fixes. FAITH." One interesting sidelight of Peyton Manning's contract is that the Colts really can't trade him. The Colts would have to execute a $28 million option before the start of the trade deadline. They either keep Manning and trade Luck, or draft Luck and cut Manning. … Rams coach Steve Spagnuolo keeps putting himself in a position to get a third season. The Rams' 13-12 victory over the Browns may not have been pretty, but he did it despite losing cornerback Al Harris for the season with an ACL tear. The Rams have lost their top four corners to season-ending injuries. On the flip side, how bad are the Browns and Colt McCoy if they can't generate a touchdown drive against a defense down four corners? … The Houston Texans have to feel good about life going into their bye week. They blew out the Bucs and will get WR Andre Johnson back after the bye week. "To go in the bye 7-3, that's the biggest thing we've done all year," Texans cornerback Johnathan Joseph said. "We can feel pretty good going into the bye." … The AFC and NFC split their six games Sunday. The NFC leads the season series 18-15.
John Clayton's game balls
• Offense: The Romo-Coaster had a fun ride Sunday, blowing out the Buffalo Bills 44-7 in a game in which Tony Romo was almost perfect. He completed 23 of 26 passes for 270 yards and three touchdowns. In the first half he was 18-of-19 for 237 yards and a perfect 158.2 passer rating.
• Defense: Saints defensive coordinator Gregg Williams wants big plays from his strong safety, but he's probably never had a safety who makes as many as Roman Harper. In Sunday's 26-23 overtime win over the Falcons, Harper had 13 tackles, a sack, two hits on the quarterback, two tackles behind the line of scrimmage and one pass defensed. Harper has 6½ sacks this season.
• Special teams: The Bears' Devin Hester had another punt return for a score Sunday, but Seattle's Steven Hauschka had the best story. The former Raven went 5-for-5 on field goals against his former teammates and almost single-handedly beat Baltimore 22-17. He scored 16 of the Seahawks' 22 points.
Week 10 rundown
• Oakland 24, San Diego 17
Not a bad backup. If Michael Bush (242 yards from scrimmage) plays anywhere close to the way he did Thursday night, Raiders RB Darren McFadden can take his time to heal.
• Denver 17, Kansas City 10
Who needs a passing game? Apparently not the Broncos, who won again despite Tim Tebow's anemic numbers (2-of-8, 69 yards). Dropped passes in key spots continue to hamper the Chiefs.
• New Orleans 26, Atlanta 23 (OT)
The Saints are in firm control of the NFC South. Falcons coach Mike Smith will be second-guessed plenty for his fourth-down call in overtime.
• Pittsburgh 24, Cincinnati 17
Andy Dalton hasn't made many rookie mistakes this season. But his interception with the Bengals driving late certainly falls into that category.
• St. Louis 13, Cleveland 12
Brandon Lloyd is giving the Rams just what they've lacked at WR -- sure hands and playmaking ability. The Rams' Steven Jackson has quietly strung together three straight 100-yard rushing games.
• Dallas 44, Buffalo 7
This one was over quickly, thanks to Tony Romo's blistering first half (18-of-19, 3 TDs). Now 5-4, the Cowboys have a very manageable schedule over the next three weeks.
• Jacksonville 17, Indianapolis 3
Instead of landing that first win, the Colts are 0-10 for the first time since 1997. Their best hope for a victory is probably the Week 17 rematch with the Jags.
• Miami 20, Washington 9
A switch back to Rex Grossman at QB couldn't stop the Redskins' slide. The Dolphins have their first two-game winning streak since the first two weeks of last season.
• Arizona 21, Philadelphia 17
The dream is over for the so-called dream team. Two home losses in seven days have essentially ended the competitive phase of the Eagles' season.
• Houston 37, Tampa Bay 9
Blame it on London? Before traveling abroad in Week 8, the Bucs were 4-2. Now they're 4-5 with a trip to Green Bay up next.
• Tennessee 30, Carolina 3
Is Chris Johnson (130 yards, TD) finally off and running? Marc Mariani's early 79-yard punt return for a TD gave the Titans all the momentum they needed.
• Seattle 22, Baltimore 17
Oh my hangover. For the second time this season, the Ravens fell flat a week after beating rival Pittsburgh.
• Chicago 37, Detroit 13
Is there any team more dangerous than the Bears right now? Big plays on defense and special teams led to an impressive rout of the darling Lions.
• San Francisco 27, N.Y. Giants 20
Targeting tight ends. The 49ers completed more passes to TEs Delanie Walker and Vernon Davis (9) than they did to their entire wide receiver corps (8).
• New England 37, N.Y. Jets 16
AFC East changing of the guard? Not quite yet. Tom Brady picked apart the Jets' defense, while the Patriots' patchwork D befuddled and harassed Mark Sanchez (five sacks).
-- ESPN.com
MONDAY NIGHT FOOTBALL
•
Minnesota at Green Bay (ESPN, 8:30 p.m. ET)
Looking ahead
An early look at next weekend's biggest games:
• Tampa Bay (4-5) at Green Bay (8-0): An impossible spot for the reeling Bucs?
• Cincinnati (6-3) at Baltimore (6-3): Both teams will be looking for a bounce-back win.
• Tennessee (5-4) at Atlanta (5-4): Their first meeting since 2007.