Week 11: Separating contenders from pretenders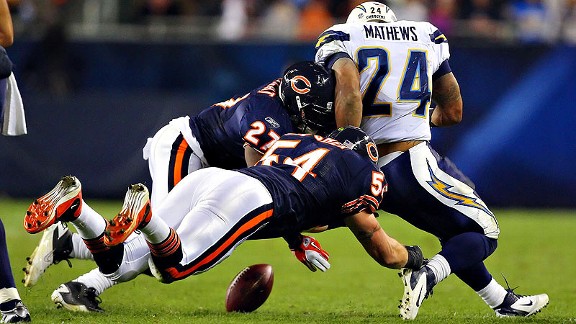 Dennis Wierzbicki/US PresswireThanks largely to an opportunistic defense, the Bears are rolling (five straight wins). Chicago forced three more turnovers (2 INTs, 1 fumble) in a 31-20 victory over the Chargers.
Week 11 leaders
Once again, Week 11 helped to separate the playoff contenders from the pretenders.
In the category of contenders, the Chicago Bears continue to look like the top wild card in the NFC with an impressive 31-20 victory over the San Diego Chargers, but a potential serious thumb injury to Jay Cutler jeopardizes that run. The unbeaten Green Bay Packers and 9-1 San Francisco 49ers continue to look like the NFC's top two seeds. Although the Dallas Cowboys and Detroit Lions didn't look great, they registered pre-Thanksgiving victories that put them in strong positions for wild-card consideration.
Don't forget the Atlanta Falcons, either. They outplayed the Tennessee Titans in a 23-17 victory that wasn't as close as the score would indicate.
The pretenders seem to surface mostly in the AFC. The Bills lost their third straight, getting blown out by the Miami Dophins 35-8. The Titans looked anemic against Atlanta and may not have enough juice to catch the Houston Texans, who are without QB Matt Schaub the rest of the season.
The Chargers continue to commit turnovers and make special-teams mistakes, relegating them to the pretender category. The Chargers are now 4-6 after losing in Chicago 31-20, two games behind an Oakland Raiders team that is playing solid football.
The best race is in the AFC North. The Baltimore Ravens edged the Cincinnati Bengals 31-24, but the Bengals played close games in the past two weeks against the Pittsburgh Steelers and Ravens and look more contender than pretender.
Here are the five things we learned in Week 11:
1. Cowboys good enough: The Cowboys didn't look great during their 27-24 overtime victory over the Washington Redskins. In fact, the Cowboys needed some breaks to be able to win the game.
After the Redskins' Graham Gano missed a 52-yard field goal in OT, Tony Romo was able to drive the Cowboys for the game-winning field goal and set up what still can be a five-game winning streak. The Cowboys host the Dolphins on Thanksgiving Day and then travel to play the Arizona Cardinals. Even though the Cowboys look out of sync on offense, Romo was able to complete 23 of 37 for 292 yards and three touchdowns. He didn't throw any interceptions.
Romo stepped up when the team needed him and he didn't commit any major blunders. The plan is for the Cowboys to win these winnable games and be 8-4 heading into a Week 14 showdown against the New York Giants.
2. Lewis' absence felt: The debate heading into Sunday's Baltimore-Cincinnati showdown was whether the Bengals were hurt more by the knee injury to receiver A.J. Green or if the Ravens were more challenged without middle linebacker Ray Lewis. Lewis' absence turned out to be more damaging, even though the Ravens won.
Lewis has a turf toe, and no one is saying how bad it is. There are some rumblings it could be a season-ender, but at the very least his status is game-by-game. Minus Lewis, the Ravens had some communication issues. There was no better example than an early fourth-quarter play in which the Ravens tried an all-out blitz. The middle of the defense tipped off the Cover Zero blitz, giving Bengals quarterback Andy Dalton time to audible to max protection and alter wide receiver Andre Caldwell's route. The result was a 49-yard touchdown pass down the right sideline. Dalton, a rookie, threw for 373 yards against the Ravens and had the Bengals in position to tie the score in the final minute.
Linebacker Terrell Suggs predicted Lewis would play on Thanksgiving and the defense will be 10 times better when he returns.
If Lewis is going to miss significant time, it's more important than ever that the Ravens run a balanced offense. Last week, they lost to the Seahawks in a game in which they ran only 12 times. Against the Bengals, they had 28 runs (20 by Ray Rice for 104 yards) versus 28 passing attempts.
"I know if Ray Rice is touching the ball, I know we have a chance to win,'' safety Ed Reed said. "You've got to run the ball to win.''
As for the loss of Green, Dalton was able to complete 24 of 45 passes for 373 yards, but he threw three interceptions. Without Green, a first-round choice who catches everything, Dalton targeted Caldwell. He hit Caldwell on three of nine attempts, but according to ESPN Stats & information, three of Caldwell's targeted passes were intercepted. In the first nine weeks, only three of 65 passes aimed at Green were picked off.
3. Bills have totally collapsed: Following their embarrassing loss to the Miami Dolphins on Sunday, Bills linebacker Kirk Morrison tweeted an evaluation: "Unacceptable today.'' A week ago, coach Chan Gailey said his Bills were more pretender than contender. On Sunday, they were awful.
The Bills have lost four of five and their fans are reliving the painful memory of 2008, when Buffalo started 4-0 and lost nine of its last 12.
"I wish I could give you an explanation,'' Gailey said. "We played effectively earlier in the year, and we're not playing effectively now. We're not very good right now.''
Perhaps the biggest concern is the rapidly declining play of quarterback Ryan Fitzpatrick. Fans are wondering if the Bills can get a rebate on his new six-year, $59 million contract. Fitzpatrick threw only three interceptions in his first 145 attempts. In the past six games, he has 11 interceptions in 185 attempts. He's had eight interceptions since signing the contract.
Injuries are part of the problem in Buffalo. On Sunday, the Bills may have lost cornerback Terrence McGee for the season with a knee injury. Wide receiver Donald Jones suffered an ankle injury. He's expected to be out three-to-six weeks. Halfback Fred Jackson suffered a calf injury. Since Week 8, the Bills have placed three starters -- Kyle Williams, Shawne Merriman and Eric Wood -- on injured reserve.
4. Are the Panthers next year's Lions? Earlier in the season, Detroit Lions WR Nate Burleson was asked why the Lions were able to win the close games they lost last season. Burleson said they learned how to win during a four-game winning streak late in 2010 that carried confidence into 2011. Before that 2010 winning streak, the Lions were 2-10. The Carolina Panthers blew a 17-point second-quarter lead in a 49-35 loss to Detroit on Sunday, but they showed the potential of a team that can win in the future. They just have to figure out how.
The reason for optimism is QB Cam Newton. He was 22-of-38 for 280 yards. Although he had four interceptions, he threw a touchdown pass and ran for two, giving him an NFL rookie record of nine.
The problem remains the defense. The Panthers are vulnerable in the middle of field because they start two rookie defensive tackles and have lost virtually all of their linebackers to injury. Those holes in the defense allowed the Lions' Kevin Smith, who was out of football a few weeks ago, to rush for 140 yards on 16 carries and score three touchdowns. With the benefit of getting big plays in the running game, Detroit QB Matthew Stafford was able to rip apart the Panthers' defense for 335 yards and five touchdown passes.
5. Bad break for Bears: Just when you think the Bears have conquered their demons, news comes that Cutler has a broken thumb that might require surgery and end his regular season. The Bears whipped the Chargers 31-20, which put them in a good spot for the NFC's top wild card at 7-3. All seemed great.
This week, they had to put two offensive linemen -- Gabe Carimi and Chris Williams -- on injured reserve. Thanks to Mike Martz's play calling and Mike Tice's coaching of the offensive line, the Bears got through Sunday's game without Cutler being sacked. Cutler was hit only three times during the game.
But wouldn't it figure that Cutler would break his thumb and break the heart of Bears fans. Caleb Hanie will take over as the quarterback and that could spell doom. He has three home games to work with but doesn't have Cutler's gifted right arm. The Bears' best hope is to go 3-3 down the stretch and that might leave them short of a wild card.
Bears coach Lovie Smith continues to vary his Cover 2, mixing in some blitzes and disguised looks. The Bears got a stripped fumble from cornerback Charles Tillman and intercepted two Philip Rivers passes in the second half to seal the victory.
On the flip side, the Chargers are a train wreck. They were down three starting offensive linemen and word is injured left tackle Marcus McNeill, who has a neck injury, could be lost for the season. The running game is non-existent. The defense can't pressure the quarterback. And the special teams, which are improved from last year, still kicked the ball to Devin Hester, setting up field position for the Bears. The Chargers aren't playing smart and aren't playing well, which is why they're 4-6 and may be spending their second consecutive season out of the playoffs.
Short Takes
John Skelton of the Cardinals ended any thoughts of a quarterback controversy by completing only six of 19 passes against the 49ers and was benched in favor of Richard Bartel. … The Packers looked a little vulnerable during their 35-26 victory over the Tampa Bay Buccaneers, but it was a good experience for the team. The Bucs trailed 28-26 with 4:25 left in the game. Aaron Rodgers was able to respond with a three-play, 46-yard touchdown drive following an ill-advised onside kick. "Adversity is awesome,'' Packers coach Mike McCarthy said. "We're getting ready to play a big game on national TV. Something we can benefit from.'' The Packers visit the Lions on Thanksgiving. … The Packers had some fun by having nose tackle B.J. Raji, who's heavier than his 337-pound program weight, score on a 1-yard touchdown run as a fullback. His best move was not doing a Lambeau Leap. "I thought about it for, like, less than a split second, then I used my better judgment,'' Raji said. It was the Packers' version of the William "The Refrigerator'' Perry play from the 1985 Bears. That's fitting because Raji is nicknamed "The Freezer.'' On the play, the Packers had three tight ends, Raji as the fullback and fullback John Kuhn as the halfback. … Ravens wide receiver Torrey Smith said he won't trim his dreadlocks after he was pulled down by them on a tackle by Bengals cornerback Adam Jones. "I thought it was going to hurt,'' Smith said. "So to have it happen, he grabbed a whole lot of it, so it actually felt like I was getting pulled down by my jersey.'' Officials threw a flag for what they thought was a horse-collar tackle until they realized only his hair was pulled. They picked up the flag because hair is part of the uniform. … The life went out of the Minnesota Vikings when halfback Adrian Peterson was carted to the locker room with an ankle injury. Without Peterson as an option, Vikings quarterback Christian Ponder looked lost in a 27-21 loss to the Oakland Raiders and he ended up throwing three interceptions. Three drives were lost for the Vikings when Ponder threw to covered receivers. … The Rams have lost two starting offensive tackles to injuries -- Rodger Saffold and Jason Smith. They were in such a bind against the Seahawks that after they lost Mark LeVoir, filling in at left tackle, to a shoulder injury they had to use Kevin Hughes. He was signed off the practice squad Friday. … The scary part of the Raiders-Vikings game was when wide receiver Darrius Heyward-Bey was carted off the field with a neck injury in the fourth quarter. Vikings linebacker E.J. Henderson's knee inadvertently hit Heyward-Bey in the head during a tackle. … The most important part of the Falcons' 23-17 victory over the Titans was the renewed involvement of WR Roddy White. White had a horrible first half of the season. On Sunday, Matt Ryan completed seven of 14 passes to White for 147 yards. With Julio Jones out with a hamstring injury, you figured Ryan would target White to get him hot down the stretch. … The miserable season for Chris Johnson continued. The Titans' running back had 13 yards on 12 carries. With QB Matt Hasselbeck suffering an elbow injury and the Titans being 5-5, they face a tough decision. Do they try to make up the two-game difference in the AFC South to Houston by staying with Hasselbeck or do they go with Jake Locker, who was 9-of-19 for 140 yards and had a 107.3 passer rating? … Cleveland quarterback Colt McCoy credits the increased use of the shotgun formation with helping the Browns beat the Jaguars 14-10. "We spread them out a little bit and ran a couple of draws and had a couple of stretch-zones out of shotgun,'' McCoy said. McCoy completed 17 of 24 for 199 yards and the team rushed for 148 yards. … Even though the Browns won, the Jaguars were at the Browns' 1-yard line with eight seconds remaining. Rookie QB Blaine Gabbert threw two incompletions and the Jags are now 3-7. "Hindsight is 20/20,'' Gabbert said. "Everyone is going to have their opinion and think they have the best play to call. But it is our job to go out and execute. When the play is called, we are the ones out on the field. It's my job to throw the ball, someone's to run, someone's to block. We just have to execute at a higher level and we will win games like that." … The impressive part of the Seahawks' 24-7 victory over the Rams is how well Pete Carroll's run defense is coming together. The Seahawks held Steven Jackson and the Rams to 42 yards rushing on 17 carries.
John Clayton's game balls
• Offense: Matthew Stafford apparently didn't have any problems wearing the glove on his right hand this week. Last week, he threw high and fired four interceptions against Chicago while wearing a glove to help his grip. (He has a fracture in his right index finger.) In a 49-35 victory over the Carolina Panthers, Stafford completed 28 of 36 passes for 335 yards and five touchdowns.
• Defense: Taking advantage of an injured, patchwork St. Louis Rams offensive line, Seattle DE Chris Clemons had three sacks, three quarterback hits, five tackles and two forced fumbles in a 24-7 victory.
• Special teams: Kealoha Pilares' second-quarter 101-yard kickoff return was the seventh kickoff return for a touchdown this season. He had three kickoff returns for 140 yards in the Panthers' loss to Detroit.
Week 11 rundown
• Denver 17, N.Y. Jets 13
The Jets' D was outstanding -- until the Broncos' final drive. Was it Tebow magic or simply bad strategy and scheming by Rex Ryan?
• Cleveland 14, Jacksonville 10
Chris Ogbonnaya's first career 100-yard rushing game helped the Browns end a three-game losing streak. There's really not much else to say about this one.
• Detroit 49, Carolina 35
Do the Lions finally have a running game? We'll need to see more, but Kevin Smith's 16-carry, 140-yard gem is definitely a step in the right direction.
• Green Bay 35, Tampa Bay 26
The Bucs lost again (four straight), but LeGarrette Blount's 54-yard TD run was one of the most impressive individual efforts you'll see all season.
• Miami 35, Buffalo 8
Maybe Tony Sparano won't lose his job after all. The Dolphins' three straight wins have also helped QB Matt Moore's stock.
• Oakland 27, Minnesota 21
The last thing the Vikings needed was an injury to Adrian Peterson. If it's serious, we'll learn a lot more about rookie QB Christian Ponder in the coming weeks.
• Dallas 27, Washington 24 (OT)
Tony Romo lived up to his title as Mr. November -- he's now 18-2 in the month. The Redskins (six straight losses) keep inching closer to a very high draft pick.
• Baltimore 31, Cincinnati 24
While the Bengals' rookie deep threat (A.J. Green ) was on the sidelines, the Ravens' rookie deep threat (Torrey Smith) delivered a big-time performance (6 catches, 165 yards, TD)
• San Francisco 23, Arizona 7
Is there a defense playing better than the 49ers' right now? Probably not. The Niners can clinch the NFC West title next week. Seriously.
• Seattle 24, St. Louis 7
Speaking of stellar defensive efforts, you can't do much better than Chris Clemons (3 sacks, 2 forced fumbles). The Seahawks allowed only 185 yards and sacked Sam Bradford five times.
• Atlanta 23, Tennessee 17
Quarterback controversy in Tennessee? Not quite, but Jake Locker could be called on again when the Titans need a spark.
• Chicago 31, San Diego 20
Everything seemed to be falling into place for the Bears. Then news came that Jay Cutler (broken right thumb) could be out the rest of the regular season.
• Philadelphia 17, N.Y. Giants 10
Physical play in the trenches. A clutch fourth-quarter drive. The Eagles finally got exactly what they've been lacking -- probably a couple weeks too late.
-- ESPN.com
MONDAY NIGHT FOOTBALL
•
Kansas City at New England (ESPN, 8:30 p.m. ET)
Looking ahead
An early look at next weekend's biggest games:
• Green Bay (10-0) at Detroit (7-3): The Lions are usually turkeys on Thanksgiving. Will this year be different?
• San Francisco (9-1) at Baltimore (7-3): The Harbaugh brothers go head-to-head in a prime-time Thanksgiving treat.
• N.Y. Giants (6-4) at New Orleans (7-3): Will it be a happy homecoming for Eli Manning?