Week 12: Urgency, excitement rule the day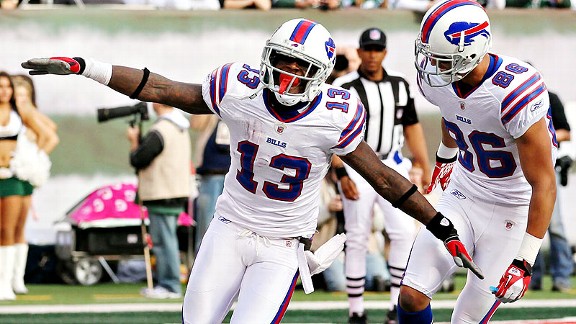 Anthony Gruppuso/US PresswireSteve Johnson had a productive day against the Jets and cornerback Darrelle Revis, but his ill-conceived celebration helped New York get back into the game.
Week 12 leaders
The feast from a great day of Thanksgiving football continued Sunday with plenty of tasty leftovers.
Ten of the 12 games were decided by eight points or fewer. You could sense the urgency with several teams facing virtual elimination from the playoffs. As it turned out, the teams with the biggest worries suffered the worst fate.
The Buffalo Bills had a win against the New York Jets within their grasp, but Steve Johnson dropped a wide-open pass in the final seconds in a loss to the Jets. The Philadelphia Eagles' dream season turned more nightmarish with a non-competitive 38-20 loss to the New England Patriots. Any hopes of the Tampa Bay Buccaneers, now 4-7, making the playoffs were dampened in wet, mucky weather in a loss to the Tennessee Titans. The San Diego Chargers were Tebowed in an overtime loss to the Denver Broncos, and at 4-7 they're probably preparing for a coaching search rather than the playoffs.
Eight teams have winning records in the NFC, so you basically have those eight fighting for six playoff spots. Nine teams, including Denver, have winning records in the AFC, but Baltimore, New England, Pittsburgh and Oakland have decent separation from the rest of the conference playoff pack. That leaves the other five to battle for two spots.
Here are the five things we learned in Week 12:
1. Johnson cost the Bills big-time: "Unintended consequences" is how the NFL labels excessive touchdown celebrations and plays on which officials flag or the league has to review for fines. Bills wide receiver Steve Johnson may be on the receiving end of one of those fines after an excessive celebration of a second-quarter touchdown, forming his fingers into a fake gun and shooting himself -- a sick reference to the self-inflicted shooting that sent Plaxico Burress, now a Jets receiver, to jail for two years -- then crashing to the ground after mimicking the Jets' customary airplane celebration. And in what turned out to be an elimination game for sorts for the AFC East rivals, the Bills lost 28-24 because of Johnson's unintended consequences.
The Bills were penalized 15 yards on the ensuing kickoff because of Johnson's antics. Compounding the mistake, Buffalo coach Chan Gailey called for an onside kick, but Dave Rayner -- filling in for the injured Rian Lindell -- mishit the ball and it was recovered by the Jets at the Bills' 36-yard line with 2:06 remaining in the first half. Jets quarterback Mark Sanchez easily directed a four-play touchdown drive that was capped by Burress, of all people, catching a 14-yard touchdown pass that tied the score at 14.
"It was very stupid by me," Johnson said. "I felt like it cost us a game."
Burress wasn't aware of Johnson's unintended consequences until after the game. "I've seen worse and I've heard of worse, and it doesn't bother me at all,'' Burress said. "The result is we won the football game and he turned around and dropped three wide-open balls to lose the game for his team. That's how I would evaluate myself."
Johnson, the Bills' best receiver, found himself wide open in the middle of the field for what could have been a possible touchdown with eight seconds left, but he dropped the ball. "My reaction was slow,'' Johnson said. "It was there. I just didn't react fast enough. I think it could have been a touchdown. My reaction was off.''
Bills quarterback Ryan Fitzpatrick didn't shy away from looking for Johnson against the league's best cornerback in Darrelle Revis, though. Johnson caught eight passes for 75 yards on Revis Island. But the loss dropped the Bills to 5-6, virtually killing their chances of making the playoffs.
2. Bengals, Jets, Falcons stepping up: The Atlanta Falcons aren't conceding the NFC South title to the New Orleans Saints, but they are starting to look as though they will get the top wild-card spot if they fail to win the division. The Chicago Bears couldn't generate much offense in a 25-20 loss to the Oakland Raiders with Caleb Hanie at quarterback, but the Falcons generated plenty of offense in a 24-14 win over the Minnesota Vikings now that Julio Jones has returned after battling hamstring problems. Atlanta quarterback Matt Ryan completed 27 of 34 passes for 262 yards and three touchdowns, finishing with a 128.2 passer rating. His struggles getting the ball to Roddy White are over; White caught 10 passes for 120 yards and a touchdown. Tight end Tony Gonzalez had nine catches and a touchdown. Over the next three weeks, Ryan and the Falcons will be going against three rookie quarterbacks: T.J. Yates (Texans), Cam Newton (Panthers) and Blaine Gabbert (Jaguars). They have a great chance to get to 10-4 before their Dec. 26 game against the Saints in New Orleans.
The Jets and Bengals, meanwhile, are effectively battling for the final wild-card spot in the AFC. The first will go to Pittsburgh or Baltimore, because each should get to 11 wins and only one can win the AFC North. While it was a struggle for the Bengals and rookie quarterback Andy Dalton to beat the Cleveland Browns, they are 7-4. They may lose next Sunday in Pittsburgh, but they follow with winnable games against Houston, St. Louis and Arizona. That could get them to 10 wins. The Jets know each week is now a playoff week for them. They are 6-5, but they have the fifth-easiest closing schedule in the league. "There's no doubt," Rex Ryan responded when asked if there was a playoff feel to their 28-24 win over the Bills. "You have to beat those AFC teams. We understand that. That was a huge victory for us."
[+] Enlarge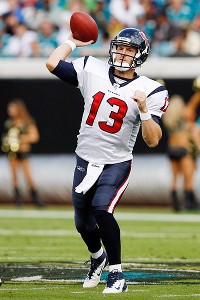 Matt Stamey/US PresswireThe Texans' playoff hopes could be in jeopardy now that TJ Yates is the starter.
3. Houston, we have a big problem: Texans coach Gary Kubiak felt confident he could make the playoffs with Matt Leinart replacing Matt Schaub, who will undergo foot surgery this week and miss the remainder of the season. Planning to do the same with rookie T.J. Yates as the starting quarterback is wishful thinking. Leinart's season could be over after he was legally slammed to the ground by Jaguars defensive tackle Jeremy Mincey as Leinart was trying to ground the ball, reportedly dislocating his left collarbone. Ironically, a broken left collarbone in 2007 opened the door for Kurt Warner to replace Leinart as the starter in Arizona.
Now, Yates faces a tall task considering the schedule the next three weeks. Houston faces Matt Ryan of the Falcons, Andy Dalton of the Bengals and Cam Newton of the Panthers. However, you can say Yates -- a fifth-round pick out of North Carolina -- looks better than Jaguars first-rounder Blaine Gabbert. Yates was able to finish a two-minute drive started by Leinart and get a field goal that gave the Texans a 20-10 halftime lead, while Gabbert once again did nothing. He completed 13 of 29 passes for only 136 yards before being benched in favor of Luke McCown.
With Leinart expected to join Schaub on the injured reserve list, the Texans will have Kellen Clemens as Yates' backup, and will have to sign Jeff Garcia, Brody Croyle, Chase Clements or Trent Edwards -- all of whom worked out for Houston when Schaub's season officially ended -- early in the week to get through the final five weeks. At 8-3, the Texans' two-game lead over the Titans in the AFC South would look shaky if Houston endures a three-game losing streak. You figure Yates could win against Curtis Painter and the Colts in Week 16, which would get the Texans to nine wins, but should Tennessee win three of its next four we could be looking at the division title being on the line when the Texans and Titans meet in the season finale in Houston on Jan. 1.
4. Chris Johnson finally had breakout game: The wet field in Nashville made it tough for offensive players to get a firm grip of the football in the Titans' 23-17 victory over the Buccaneers. There were eight fumbles and a total of nine turnovers in the game, but the big news was Johnson finally busting loose. He entered Sunday with 509 yards on 160 carries. But after coach Mike Munchak challenged his offensive line, Johnson had the third-best rushing day of his career, with 190 yards on 23 carries.
"It felt good to finally get out there and get to some open space and make some plays,'' Johnson said. "The offensive line out there blocked great, [fullback] Ahmard Hall was getting on linebackers and making good blocks and stuff. It was just giving me room to run and make plays and the receivers did a good job getting some blocks down the field.''
Two weeks ago, Johnson showed signs of life when the Titans started to get Johnson the ball on runs to the outside. If he can stay hot, Tennessee has a chance to catch the Texans.
"We still had some runs where they got some negative runs on us and caught us in some blitzes, but overall our best day of the year,'' Munchak said.
5. Teams still can't figure out Tim Tebow: The Chargers are the latest team that could not beat Tebow. His amazing 16-13 overtime win in San Diego improved the Broncos' record to 6-5, putting them one game behind the Raiders for the division lead. With a game against the struggling Vikings next week, the Broncos could be looking at a 7-5 record.
The Chargers' mistake was using too many three-man rushes late in the game. Tebow may not be effective throwing the football, but he had too much time to make the attempts.
ESPN analyst Tom Jackson said earlier in the day that opponents need to score 24 points in order to beat Tebow, who is 5-1 as a starter and has seen opponents score 15 points or fewer in four of those wins. Tebow completed only 9 of 18 passes for 143 yards, but the Broncos ran the ball 51 times, including 22 carries by Tebow. His style is unorthodox, and on Sunday he completed only five passes to wide receivers and targeted wideouts only 12 times.
Tebow didn't help Broncos decision-maker John Elway feel better about his play on third down, converting only five of 16 attempts, but Elway stood on the sideline at the end of the game enjoying the victory. Tebow's magic may dry up at some point, but after he told teammates in the huddle during his first start to "Believe in me,'' they are believing. The result is one of the most amazing, unpredictable playoff runs in recent NFL history.
Short Takes
A couple of weeks ago, it appeared the NFC was going to end a 16-year drought during which it has not won more interconference games than the AFC, but Week 12 was a big comeback week for the AFC. The NFC entered the week with a four-game lead, but wins by the Raiders, Ravens, Titans and Patriots narrowed the gap. Interconference play is a competitive 22-20 in favor of the NFC. … Trying to keep control over his 0-11 team, Colts coach Jim Caldwell released linebacker Adrian Moten on Saturday and left the team with 52 players, one short of the maximum. "It was a disciplinary action, really, and that's all I'll say about it,'' Caldwell said. Give him credit. He's fighting for his job, but the Colts played hard in a 27-19 loss to the Panthers. … It might seem hard to understand why the Rams decided to punt to the Cardinals' Patrick Peterson. He returned a punt for an 80-yard touchdown, his fourth punt return for a score this year. The reason, though, was that punter Donnie Jones made the wrong kick. "Yeah, the intent was not to go down the middle,'' Rams coach Steve Spagnuolo said. … Shane Lechler, the game's best punter, found the best way to kick to Devin Hester, the best returner in NFL history. He boomed an 80-yard punt that sailed over Hester's head and prevented him from fielding it. The punt was the longest in the league since 2008. … Vikings defensive end Jared Allen became one of the highest-paid long-snappers in recent memory, filling in for Cullen Loeffler after Loeffler suffered a back injury. Allen makes $12.2 million a year, and was perfect while snapping for the better part of three quarters. … Albert Haynesworth, now with Tampa Bay, caused some problems for his former team, recording four tackles, including two tackles for losses, against the Titans. … I guess the Bengals aren't perfect. They have now been outscored 91-32 in the second quarter. ... Browns wide receiver Greg Little had a four-drop game and didn't endear himself to reporters by walking out of the locker room without doing interviews. … Kickers have been amazing this year, hitting 60 of 87 on field goals from 50 yards or more. That's an incredible 69 percent success rate. … The pectoral injury to quarterback Tarvaris Jackson limits the Seahawks' passing attack, and that was noticeable in a 23-17 loss to the Redskins. Jackson's longest completion was 24 yards, and he completed 14 of 30 passes for only 144 yards. However, at 4-7 the Seahawks probably will be positioned to draft a quarterback next year. Redskins quarterback Rex Grossman threw his usual two interceptions, but he showed why teammates preferred him over John Beck with a 314-yard game against the Seahawks. … Defensive end Red Bryant of the Seahawks blocked an extra point and a field goal against the Redskins, and now has four blocks for the season. … Eagles fans chanted "Fire Andy" following Sunday's embarrassing 38-20 loss to the Patriots, but don't expect the team to let Reid go. Despite a 4-7 record, it's hard to imagine owner Jeff Lurie firing Reid after committing $100 million to Michael Vick. There is no better coaching staff than Reid's at getting the most out of Vick. … Reid's battles with wide receiver DeSean Jackson continue. Two weeks after deactivating Jackson for being late for a meeting, Reid benched Jackson for poor play. It looks like Jackson won't get the long-term deal he wants if Reid stays. Jackson is in the last year of his rookie deal. … Bears quarterback Caleb Hanie completed only 18 of 36 passes in the 25-20 loss to the Raiders, but his ability to get the ball downfield offered hope for the next several weeks. Hanie had an 81-yard completion to Johnny Knox and threw for 254 yards.
John Clayton's game balls
• Offense: Beanie Wells has dealt with nagging knee problems all season, but he still rushed for a Cardinals team record 228 yards on 27 carries in a 23-20 win over the Rams. He also had a touchdown.
• Defense: Connor Barwin had one of the best defensive games of the season. In a 20-13 win over the Jacksonville Jaguars, Barwin had four sacks, six additional quarterback hits and 10 tackles. "You never think you're going to get four sacks, but they come in bunches,'' Barwin said.
• Special teams: Patrick Peterson -- who looks like the new Devin Hester -- had an 80-yard punt return touchdown against the Rams. Peterson tied an NFL record with his fourth punt-return touchdown this season. The other players to accomplish that feat are Hester, Jack Christiansen and Rick Upchurch. Peterson is the first player in history to have four returns of 80-plus yards in a single season.
Week 12 rundown
• Green Bay 27, Detroit 15
The Lions have embarrassed themselves plenty on Thanksgiving over the years. Thanks to Ndamukong Suh, they stayed true to form.
• Dallas 20, Miami 19
Both the good and bad Tony Romo made an appearance. The Cowboys are getting by, but this week-to-week high-wire act is bound to burn them eventually.
• Baltimore 16, San Francisco 6
Big brother won the Harbaugh Bowl -- thanks to the Ravens' stifling defense (nine sacks). The 49ers' defense was pretty good, too.
• Atlanta 24, Minnesota 14
Matt Ryan was on target all day, hitting 27 of 34 passes, including three scores. The Falcons' D did its part, too, holding the Vikings to just 226 total yards.
• Cincinnati 23, Cleveland 20
The Bengals didn't take the lead until 38 seconds remained, but they got the win and stayed in the hunt in the AFC North.
• Tennessee 23, Tampa Bay 17
Chris Johnson finally busted out to the tune of 190 yards rushing, and the Titans are still alive for a playoff spot.
• Carolina 27, Indianapolis 19
The Colts showed some spunk this time out, but it could get ugly the next two weeks at New England and Baltimore.
• Arizona 23, St. Louis 20
It was a record day for the Cardinals, with Beanie Wells' franchise-best 228 yards rushing and Patrick Peterson's NFL-record-tying fourth punt return TD this season.
• N.Y. Jets 28, Buffalo 24
It seems Rex Ryan's motivational tactics worked on Mark Sanchez, who threw a career-high four touchdown passes.
• Houston 20, Jacksonville 13
Now it's Matt Leinart who could be out for the year after a shoulder injury. Are you ready for the T.J. Yates era?
• Oakland 25, Chicago 20
Sebastian Janikowski bailed out a Raiders defense that couldn't finish drives with six field goals.
• Washington 23, Seattle 17
The Seahawks folded in the fourth quarter, allowing 16 unanswered points to end the game and handing the Redskins the win.
• Denver 16, San Diego 13
Tim Tebow's future as a starting quarterback remains murky, but the same can't be said for Chargers coach Norv Turner, who is almost certainly on his way out.
• New England 38, Philadelphia 20
The Patriots hastened Philadelphia's free-fall behind a huge game from Tom Brady and his top targets.
• Pittsburgh 13, Kansas City 9
Chiefs fans are eagerly awaiting Kyle Orton's debut after backup quarterback Tyler Palko threw three picks against the Steelers.
-- ESPN.com
MONDAY NIGHT FOOTBALL
•
N.Y. Giants at New Orleans (ESPN, 8:30 p.m. ET)
Looking ahead
An early look at next weekend's biggest games:
• Cincinnati (7-4) at Pittsburgh (8-3): The surprising Bengals look to pull even with the Steelers in the AFC North.
• Detroit (7-4) at New Orleans (7-3): Will the Lions be able to contain Drew Brees and his mates without Ndamukong Suh?
• Green Bay (11-0) at N.Y. Giants (6-4): Will the Giants derail the Packers' hopes for an undefeated season?