Week 15: NFC playoff picture getting clearer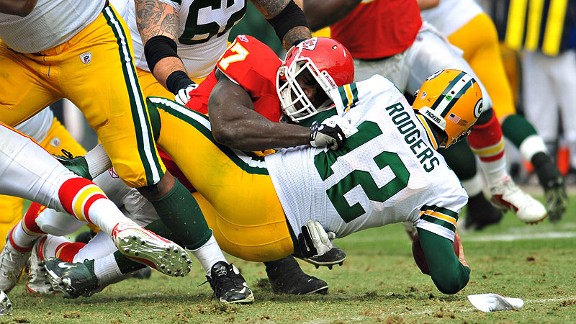 Denny Medley/US PresswireThe Packers' run at perfection came to a sudden halt in Kansas City. The Chiefs stunned Green Bay 19-14, limiting Aaron Rodgers to one touchdown pass and sacking him four times.
Week 15 leaders
Sunday was a big day for significant upsets, major collapses and huge offensive performances, but it also made the playoff picture so much clearer, particularly in the NFC.
The Detroit Lions' incredible comeback victory over the Oakland Raiders put them within a game of clinching the second wild-card spot. At 9-5, the Lions and Falcons have the best chances of getting the wild cards because they have a two-game edge over the Bears, Giants, Seahawks and Cardinals.
The top three seeds right now are Green Bay, New Orleans and San Francisco, and the NFC East remains the last spot to clear up. The Giants' loss to the Redskins gave Dallas a one-game edge over the Giants, but the Eagles, despite their 6-8 record, are still in it if the Cowboys lose their last two.
The remarkable part of the AFC playoff race is the Texans, Broncos, Jets, Raiders and Titans all lost. The Patriots moved into the No. 1 seed with their win at Denver. The Steelers are second and the Texans third. The Steelers clinched a playoff spot even though they didn't play. Despite losing to New England, the Broncos still lead the Raiders in the AFC West.
The Jets were blown out by the Eagles, but they were lucky. With all the other teams losing, the Jets and Bengals have the best chance at the last wild-card spot with 8-6 records.
Here are the five things we learned in Week 15:
1. No longer perfect: The Packers' 19-14 loss to the Chiefs was the perfect storm of things that could go wrong. Though the game plan of Chiefs interim coach Romeo Crennel will be closely studied, the Packers' loss can be attributed to two things -- the inability to beat man-to-man press coverage and poor pass protection as a result of injuries.
"Kansas City had a great game plan and got it done," Packers coach Mike McCarthy said. "The Chiefs pressed us from the time we got off the bus."
Like all receivers in West Coast offenses, Packers receivers have to run to spots and be there on time. Tight end Jermichael Finley said he was pressed and disrupted heading into routes more than he is in normal weeks. Finley dropped three or four passes and ended up talking to his hands at one point.
"I think I'm going to get press man and a safety over the top from here on," Finley said. "Press man makes me play slower and gets me off my mark."
The other problem was injuries to the offensive line. Bryan Bulaga re-injured his MCL knee sprain in the second half and couldn't finish the game. Rookie Derek Sherrod, Bulaga's replacement, broke his leg and is done for the season. Asked after the game whether left tackle Chad Clifton is ready to return from his torn hamstring, McCarthy sounded pessimistic. "I wouldn't know which way to lean on that," he said.
Down their top three tackles and with guard Josh Sitton struggling while playing with a knee injury, pass protection broke down so badly that QB Aaron Rodgers was pounded for four sacks and five quarterback hits. When protection breaks down, Rodgers has to run from the pocket, breaking down the timing on passes.
Because of the line breakdowns and receivers cutting routes short, Rodgers completed only two of 12 passes that went at least 15 yards in the air, the worst numbers of his career on those throws.
"The Kansas City Chiefs outplayed us," McCarthy said. "We were beaten."
Playoff Machine
Check current playoff seedings and figure scenarios through the end of the season. Playoff Machine | Scenarios

2. Giants are a mystery: The Bears' 38-14 loss to Seattle was explainable: Caleb Hanie was the quarterback and he's simply not good enough. The drug arrest of Sam Hurd and the controversy involving Marion Barber not talking to the local press distracted this team. The Bears have lost four in a row and don't look anywhere close to a playoff team.
The Giants' 23-10 loss to the Redskins in less explainable. Giants safety Antrel Rolle made interesting comments after the game that make outsiders wonder if there is disharmony in the locker room.
"If you're going to go out there and play in the game on Sunday, you need to be out there with your men throughout the week," Rolle said.
Rolle wasn't referring to defensive end Justin Tuck, who missed the majority of practices this season because a laundry list of injuries. He might be referring to defensive end Osi Umenyiora and others. Seven players didn't participate in Wednesday's practice. Coach Tom Coughlin was asked if he saw anything in practice this week that made him worry.
"We have had more intense days but we are at the time of the year where a lot of guys have a harder time going on the first practice of the week, so I didn't think much of it," Coughlin said. "In a game of this nature and what was at stake, I wouldn't go searching for things, but certainly, it didn't play out the way we wanted it to."
Tuck summed it up by saying: "Sometimes, you lay an egg. Today we laid an egg."
It's been proposed that the Giants have become a soft team on defense. Even though Rex Grossman threw two first-quarter interceptions, the Redskins were able to jump to a 17-3 first-half lead. Eli Manning threw three interceptions and couldn't garner any fourth-quarter magic. At 7-7, the Giants gave the Dallas Cowboys the lead in the NFC East. Next week's game between the Giants and Jets could be a playoff elimination game.
3. Mediocre Titans: The Jets, Texans and Titans each had humiliating losses, but of the three, the loss by the Titans was most concerning. Not only were they outplayed by a previously winless Colts team, but they have a quarterback controversy. Coach Mike Munchak pulled Matt Hasselbeck in the fourth quarter because the Colts were playing a soft zone and he thought Jake Locker's mobility would work better.
"I don't know," Munchak said when asked about the quarterback position. "We haven't thought about next week."
Hasselbeck completed 27 of 40 passes for 223 yards but didn't get the ball downfield. He also threw two interceptions, one of which was returned for a touchdown by Jacob Lacey.
"We're 7-7 and unfortunately, this year has been that type of road," Munchak said. "We look good, then for some reason, we just can't get over the hump to make that play to become that team I think we're going to be. This is a tough one to take obviously because this is a game we felt we could come in here and play well."
Locker completed 11 of 16 passes for 108 yards and had a 108.3 passer rating. The Titans are probably just an 8-8 team that might win nine because they face the Jaguars on Saturday and a Texans team that might rest its starters in the finale.
[+] Enlarge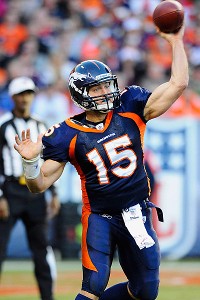 Ron Chenoy/US PresswireTim Tebow and the Broncos couldn't keep pace with New England's Tom Brady.
4. Tebow finally meets his match: Patriots QB Tom Brady shook off a slow start and was able to run away with a 41-23 victory over Denver Broncos. Because of tendinitis in his shoulder, Brady usually starts slowly, but he gets hot as the game progresses.
After Tim Tebow got Denver off to a 16-7 lead, Brady came back with 17 points in a seven-minute stretch of the second quarter. Tebow has become the master of the comeback, but Brady put up too many points for Tebow to come back.
"As we talked about in the Detroit game, when you get behind like that, it's no enviable position for a quarterback to be in," Broncos coach John Fox said.
Tebow's only other loss was a 45-10 defeat to Detroit. Tebow had only one turnover Sunday, a fumble, but he couldn't generate much offense when he was behind. He completed 11 of 22 passes for 194 yards and was sacked four times. Fox said he believes Tebow is improving, but going against Brady was a difficult assignment.
"We made some big plays, we just didn't make enough of them," Tebow said. "We know we can play with those guys."
5. Lions roar from behind: Detroit QB Matthew Stafford needed drives of 71 and 98 yards to overcome a 13-point deficit to beat Oakland 28-27 in the final five minutes. It was his fourth comeback of the season from 13 points or more.
At 9-5, the Lions look as though they will wrap up a wild-card spot along with the Falcons. What works for the Lions is their confidence and chemistry -- this is a good locker room. They started believing in one another when they went on a four-game winning streak at the end of last season. Stafford believes he can overcome any deficit. He completed 29 of 52 passes for 391 yards and four touchdowns. The Lions don't have a great running game because of injuries, and they are banged up in the secondary. But Stafford made it all work.
On the flip side, this was a bad loss for the Raiders and coach Hue Jackson. They've now lost three in a row and their defense can't stop top passers.
Short Takes
Romeo Crennel has a legitimate chance of turning the interim job in Kansas City into a full-time job. The word around Kansas City is that it's his job to lose and an upset victory over the Packers is a great way to win the job. It also will be interesting to see if the Chiefs try to re-sign quarterback Kyle Orton, who kept the Packers' defense off balance all day in controlling 36:11 of clock time and completing 23 of 31 passes for 299 yards. "I think the guy is a damn good quarterback," Packers coach Mike McCarthy said of Orton. … The Cincinnati Bengals suffered the worst injury loss of the day. Rookie sensation A.J. Green suffered a grade three sprain to his right shoulder, the worst degree of injury. He hurt the shoulder early in the Bengals' 20-13 victory over St. Louis and then came back and made it worse when his right shoulder hit the end zone after an incompletion. Green caught six passes for 115 yards, and the thought around the league is rookie quarterback Andy Dalton can't win against good teams without Green. The team isn't giving a timetable for his return. "I had it before and it's nothing serious," Green said. "I'm definitely not going to miss these last two games for nothing." … The NFC now has a 30-29 lead in interconference play as it tries to end the AFC's advantage. The AFC has not had a losing season to the NFC since 1995. … Colts coach Jim Caldwell still has a chance to save his job, but he would need to win at least one more game. … Peyton Manning's scripted practice in pads and a helmet is right in line with the timeline for his recovery. The Colts cleared up any notion of him playing this season: He won't, but he is showing signs that he will be able to play next season. … The Rams are considering shutting down Sam Bradford for the season because his high ankle sprain is getting worse, not better. With Bradford out and A.J. Feeley sidelined with a thumb injury, Kellen Clemens completed 25 of 36 passes for 229 yards but he couldn't put up many points. "The margin of error is slim because it's hard for us to manufacture points right now," Rams coach Steve Spagnuolo said. "They take a lot of pride in playing defense. They never stop battling." … Rams rookie defensive end Robert Quinn is getting better on defense, but he's sensational on special teams. He blocked his third punt of the season. … With 25 carries and 203 yards in a 30-23 victory over the Buffalo Bills, Dolphins halfback Reggie Bush is starting to look like a complete running back. The knock on him was that he wasn't durable enough to be an inside runner. "I don't think any of the questions bother me," said Bush, who has 973 yards rushing for the season. "It was more of the opportunities that bothered me. I know what I can do when given the right opportunity." … The Dolphins looked more disciplined with Todd Bowles as the interim coach, replacing Tony Sparano. He still didn't resolve the team's offensive red zone problems, though. The Dolphins had five trips to the red zone and had one touchdown, settling for three field goals and losing a fumble. … Most people believe the Vikings will draft USC left tackle Matt Kalil, but another priority might be rebuilding the secondary. Vikings coach Leslie Frazier took the starting job away from cornerback Cedric Griffin, who has struggled coming off last year's knee reconstruction. They started Asher Allen and Benny Sapp on Sunday, and Saints QB Drew Brees burned them for 412 yards and five touchdowns in a 42-20 victory. The Vikings became the first team in NFL history to go nine games without an interception.
John Clayton's game balls
• Offense: Going against the Minnesota Vikings' Cover None pass defense, Drew Brees completed 32 of 40 passes for 412 yards and five touchdowns. He's the first quarterback to complete 80 percent of his passes, throw for more than 400 yards and get five touchdowns in a game. The Saints blew out the Vikings 42-20.
• Defense: Tamba Hali was unblockable as he harassed Packers quarterback Aaron Rodgers all day in a 19-14 victory that ended the Packers' perfect season. Hali had three sacks, two hits on Rodgers and a tackle behind the line of scrimmage. He has 12 sacks for the season.
• Special teams: With the Chiefs struggling in the red zone, Ryan Succop went 4-for-4 on field goals, giving Kansas City enough points to beat the Packers. He also did a good job of getting the ball into the end zone on kickoffs.
Week 15 rundown
• Atlanta 41, Jacksonville 14
Talk about a mismatch. The Falcons seemingly scored at will while the Jaguars had a net passing total of minus-1 yard at halftime.
• Dallas 31, Tampa Bay 15
Credit the Cowboys for winning, but do words like "character" and "resolve" really apply? They beat the free-falling Bucs (eight straight losses), not the Giants.
• Miami 30, Buffalo 23
Maybe Reggie Bush can be a featured back after all. Sunday's 203-yard performance (a career high) boosted his per-carry average to 6.1 yards since Thanksgiving.
• Seattle 38, Chicago 14
Thanks mostly to a big-play defense (two pick-sixes), the Seahawks (7-7) are still alive in the NFC playoff race.
• Indianapolis 27, Tennessee 13
Finally, a reason to celebrate for the Colts (1-13). The Titans (7-7) can pretty much kiss their playoff hopes goodbye.
• Kansas City 19, Green Bay 14
Who saw this coming? The shocker of the season left the Packers with their first loss and big problems along the offensive line.
• Cincinnati 20, St. Louis 13
The Bengals are now 7-0 against teams with losing records. That's one way to stay in the playoff hunt.
• New Orleans 42, Minnesota 20
The return of Adrian Peterson (10 carries, 60 yards) couldn't help the Vikings, who looked helpless against Saints QB Drew Brees (412 yards, 5 TDs).
• Washington 23, N.Y. Giants 10
This one was supposed to be a gimme for the Giants. Now they have zero margin for error in the NFC East race.
• Carolina 28, Houston 13
When Cam Newton avoids turnovers, good things happen for the Panthers. The Texans dug themselves an early hole (21-0), and that's a tough thing to overcome with a rookie quarterback.
• New England 41, Denver 23
The Patriots solved Tebow-mania and clinched the AFC East title. The Broncos appeared to be in control -- until a disastrous second quarter (three lost fumbles).
• Detroit 28, Oakland 27
Just the latest thrilling victory for the Lions, who are on the verge of punching their first playoff ticket since 2000.
• Philadelphia 45, N.Y. Jets 19
The Eagles won easily -- even with four turnovers. That alone says a lot about the Jets, whose own mistakes were too numerous to detail here.
• Arizona 20, Cleveland 17 (OT)
Easy, comfortable victories? That's simply not the Cardinals' M.O. Arizona has trailed in the second half in all seven of its victories this season.
• San Diego 34, Baltimore 14
The Chargers (seven sacks), not the Ravens, played like the team with a heralded defense. San Diego, which scored on six of its first seven possessions, is now only a game out of the AFC West lead.
-- ESPN.com
MONDAY NIGHT FOOTBALL
•
Pittsburgh at San Francisco (ESPN, 8:30 p.m. ET)
Looking ahead
An early look at next weekend's biggest games:
• N.Y. Giants (7-7) at N.Y. Jets (8-6): City bragging rights -- and so much more -- on the line.
• Philadelphia (6-8) at Dallas (8-6): The Cowboys need to keep winning. Will the Eagles be spoilers?
• Chicago (7-7) at Green Bay (13-1): Fierce rivals. Lambeau Field. Is there a better way to cap Christmas?
• Atlanta (9-5) at New Orleans (11-3): The Saints have their playoff spot secured, but the Falcons appear to be peaking at the right time.