Key AFC playoff questions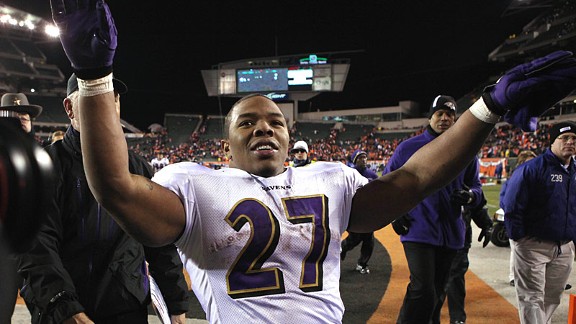 Frank Victores/US PresswireWhy is Ray Rice so happy? Because the Ravens secured the No. 2 seed in the AFC after beating Cincinnati 24-16. Rice rushed for 191 yards and a pair of TDs.
Week 17 leaders
DENVER -- No AFC West Championship hats were distributed in the Denver Broncos' locker room Sunday. No champagne was popped.
While reporters were in the Denver locker room, the Broncos -- 7-3 losers to the Kansas City Chiefs -- awaited the results of the Oakland-San Diego game to find out if they backed into the playoffs.
By virtue of the Chargers' victory, that's exactly what happened. The Broncos are the AFC's No. 4 seed, but cornerback Champ Bailey wasn't in the mood to celebrate after his team's lackluster performance.
"It's not going to cut it,'' Bailey said. "When you look at our team, you can't say everything is a strength. We looked pretty mediocre.''
The AFC playoffs feature extremes. In fact, only three teams look like playoff teams -- the New England Patriots, Baltimore Ravens and Pittsburgh Steelers. You have three teams that look mediocre -- the Broncos, Houston Texans and Cincinnati Bengals.
There is an extreme division at quarterback. You have three of the top quarterbacks in the conference in the playoffs -- Tom Brady (Patriots), Ben Roethlisberger (Steelers) and Joe Flacco (Ravens). Then you have three young quarterbacks -- Tim Tebow (Broncos) and rookies T.J. Yates (Texans) and Andy Dalton (Bengals).
Injuries could close the divide, but the playoffs open with the Steelers visiting the Broncos and the Bengals at the Texans.
Here are 10 biggest questions heading into the AFC playoffs.
1. Who has the quarterback advantage? Tom Brady has three Super Bowl rings, a 14-5 playoff record and home-field advantage. But don't discount the Steelers' Roethlisberger, who is a close second. He's 10-3 and has two championship rings in three trips to the Super Bowl.
As great as Brady is scoring points, Roethlisberger has an offense that has averaged more points in the postseason. Brady has averaged 23.9 points in his 19 playoff games. Big Ben has averaged 26.8, but he's playing at about 60 percent of his abilities because of his high ankle sprain.
If the importance on scoring carries over to the postseason, the Ravens could have problems. The Ravens have averaged only 19.7 points a game in Flacco's seven postseason games. Of course, Flacco has played all seven on the road, which makes it tougher to score.
Flacco's problems are minor compared to those in Houston, Denver and Cincinnati. Dalton probably has the best chance of the three young quarterbacks. He averaged a respectable 21.5 points this season. Tebow was held to three points Sunday by the Chiefs. The Broncos have scored only 53 points over their past three games. Yates is averaging only 17 points a game over the past three weeks and now has a banged-up left shoulder.
For more, click here | NFC playoff questions
Key NFC playoff questions
By Jeffri Chadiha
ESPN.com
GREEN BAY, Wis. -- The Green Bay Packers know how it works when you're the defending Super Bowl champions. Everybody is watching them. Everybody is gunning for them. It could be easy to fall into bad habits, to start letting cockiness and comfort infect more valuable traits like desire and determination.
"We know people talk about hunting us," Packers cornerback Tramon Williams said. "That's why we talk about being the hunters. We know we're still hungry."
The way the Packers tell it, we haven't seen anything yet. As easily as they rolled to a league-best 15-1 record, they know how hard it is to win consecutive titles. Only three teams have done that in the past two decades (Dallas, Denver and New England) and the NFC certainly isn't going to offer an easy road. The New Orleans Saints are riding an eight-game win streak. The San Francisco 49ers have won 13 games behind first-year head coach Jim Harbaugh. The Atlanta Falcons also were the NFC's top seed last season while the Detroit Lions and New York Giants/Dallas Cowboys both have upset potential.
More than anything, the Packers realize they aren't the only team with a quarterback playing well. While Aaron Rodgers looks like the surefire MVP winner for this season, many think New Orleans' Drew Brees deserves mention for that same award. Two other signal-callers have been to multiple Pro Bowls (Atlanta's Matt Ryan and New York's Eli Manning/Dallas' Tony Romo) while San Francisco's Alex Smith could be the Comeback Player of the Year. Let's not forget Detroit's Matthew Stafford, either. He wound up as the third alternate in NFC Pro Bowl voting after throwing for 5,038 yards and 41 touchdowns.
What all this means is that there will be no lack of fireworks when the NFC postseason begins. Yet we also shouldn't think that offense solely will rule the day. Defense will still matter. Running the ball will still be essential. Costly errors will continue to kill aspirations faster than well-constructed game plans.
Here's something else we know: It should be as entertaining as ever.
Here are 10 questions worth asking as the NFC postseason begins:
1. Which team has the best chance of upsetting Green Bay in Lambeau Field? San Francisco. The 49ers have an inner toughness that belies their West Coast roots, largely because Harbaugh has built a team that has thrived all season by doing the very things that consistently win games in the postseason. They pound the ball behind Pro Bowl running back Frank Gore and a dominant offensive line. No defense in the NFL gives up fewer points or yards per game. The 49ers also have excellent special teams and rarely turn the ball over. In other words, San Francisco is likeliest to steal a page from the playbook that helped Kansas City deal Green Bay its only loss of the season: Control the clock, grind it out and don't give the Packers an inch.
For more, click here.
Short Takes
With their 19-13 loss to the Jacksonville Jaguars, the Indianapolis Colts secured the No. 1 pick in the draft and won the Andrew Luck sweepstakes. Had they lost the No. 1 pick, they probably would have set their sights on Baylor quarterback Robert Griffin III, who is turning pro, according to sources. … The Jets' 19-17 loss to the Miami Dolphins was a disaster. First of all, they finished a disappointing 8-8, but their offense looked horrible. In the first half, they tried too many trick plays. They were so confused, leading to five false starts. In the second half, when they fell behind, Mark Sanchez forced too many plays that ended up in mistakes. I'd be stunned if Brian Schottenheimer is back as offensive coordinator even though he has two more years on his contract. After the game, coach Rex Ryan said Sanchez is the long-term solution to the Jets' quarterback issues. … Buffalo Bills wide receiver Steve Johnson may be Terrell Owens kind of selfish. Warned not to be flagged for an end-zone celebration, Johnson scored a touchdown and then lifted his shirt to display a happy New Year's wish. He was penalized and then benched. The field position spurred a comeback in which the Patriots blew out the Bills 49-21. "It puts me in a bind because I make the statement and if I say it, I'm going to do it [bench a player],'' Bills coach Chan Gailey said. "So, I could not argue the gray area of that. So, yeah, I'm disappointed and if it hurts the team, then I've got to do what I've got to do." … There is no gray area about Jets WR Santonio Holmes causing some problems. Apparently, he got into a shouting match with tackle Wayne Hunter because players on the Jets were questioning Holmes' effort. Holmes ended up on the bench at the end of the loss. … The NFL needs to review its instant replay rule that was adjusted last year. Officials review every score, but the Lions lost four points when officials ruled Lions receiver Titus Young appeared to step out of bounds in the end zone. Replays showed Young was in bounds but Lions coach Jim Schwartz couldn't call for a replay because he had run out of challenges. The Lions had to settle for a field goal. … By finishing 8-8, the Eagles may be disappointed, but coach Andy Reid saved his job. "We're playing good football right now,'' Reid said. "I feel like we could go play anybody and win games."
John Clayton's game balls
• Offense: With Aaron Rodgers inactive for Sunday's 45-41 victory over the Detroit Lions, backup QB Matt Flynn started and set a Green Bay Packers record by throwing for 480 yards. He set another record with six touchdown passes. He completed 31 of 44 passes and had a 136.4 rating.
• Defense: Jared Allen fell a half sack short of tying Michael Strahan's sack record, but he finished the season strong. He had 3½ sacks, four hits on the quarterback and five tackles overall in the Minnesota Vikings' 19-13 loss to the Bears. Allen finished the season with a Vikings record 22 sacks.
• Special teams: Patrick Peterson sparked the Arizona Cardinals with a 42-yard punt return in the second quarter of a 23-20 overtime win over the Seattle Seahawks. He broke Louis Lipps' record for rookies on punt returns, finishing the season with 699 yards. He had four returns for touchdowns. Sunday, he had four returns for 63 yards.
Week 17 rundown
• Green Bay 45, Detroit 41
Who needs Aaron Rodgers? We're kidding, but Matt Flynn (Packers-record six TD passes) made a strong case that he should be starting somewhere.
• San Francisco 34, St. Louis 27
The 49ers locked up the NFC's No. 2 seed and will have a playoff bye for the first time since the 1997 season.
• Miami 19, N.Y. Jets 16
The Jets fell flat in Miami and short of the playoffs. Who will survive the imminent firestorm? Probably not offensive coordinator Brian Schottenheimer.
• Chicago 17, Minnesota 13
Christian Ponder? Joe Webb? Someone else? The Vikings' quarterback situation will be a hot topic of discussion during the offseason.
• New England 49, Buffalo 21
The Patriots clinched home-field advantage throughout the AFC playoffs. Will it actually be an advantage this time around?
• New Orleans 45, Carolina 17
Talk about an impressive postseason tune-up. The Saints rolled up an eye-popping 617 yards of offense and closed out the regular season by scoring more than 40 points for the third straight week.
• Philadelphia 34, Washington 10
The Eagles (four straight wins) just might be the best team not going to the playoffs. Will they be able to carry the momentum into next season?
• Jacksonville 19, Indianapolis 13
Exhale Colts fans -- you'lll have the No. 1 pick this year after all. The Jags' Maurice Jones-Drew rushed for 169 yards and claimed the league's rushing title.
• Tennessee 23, Houston 22
The Texans can't catch a break at QB. T.J. Yates (bruised left shoulder) lasted only four passes Sunday, raising even more questions about Houston's viability in the playoffs.
• Atlanta 45, Tampa Bay 24
In Week 3, the Bucs were able to beat Atlanta. In Week 17, they weren't even competitive (don't be fooled by the garbage-time scoring). That's just one reason coach Raheem Morris will almost certainly be fired.
• Kansas City 7, Denver 3 Sweet redemption for Kyle Orton? Sort of. Despite the loss, the listless Broncos are still in the playoffs.
• Baltimore 24, Cincinnati 16
The Ravens completed a perfect season within the AFC North, and Joe Flacco will finally get to play in a home playoff game.
• Pittsburgh 13, Cleveland 9
This is the year the Steelers really could have used a playoff bye. Instead, they get a trip to Denver with some key skill players banged up.
• San Diego 38, Oakland 26
The Chargers successfully played spoiler. Will it be enough to save coach Norv Turner's job? Don't count on it.
• Arizona 23, Seattle 20 (OT)
After starting 1-6, the Cardinals (8-8) rallied to post a record of at least .500 for the fourth time in five seasons under coach Ken Whisenhunt.
• N.Y. Giants 31, Dallas 14 It's hard to believe Victor Cruz (6 catches, 178 yards, TD) was once almost cut by the Giants. He's been a big-play machine and a big reason the Giants are NFC East champs.
-- ESPN.com