Key AFC Championship Game questions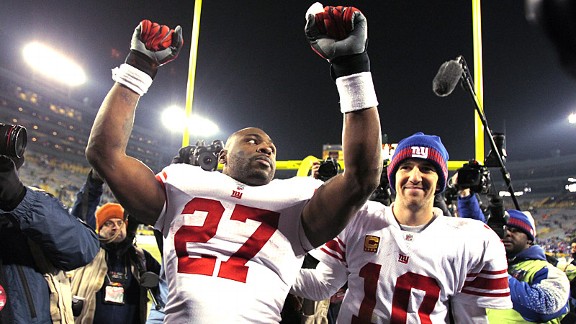 Matthew Emmons/US PresswireBrandon Jacobs, Eli Manning and the rest of the Giants are heading to the NFC title game. Manning threw for 330 yards and three TDs as New York stunned the Packers 37-20.
Leaders
BALTIMORE -- The late Al Davis used to say that, in some years, a team can steal a Super Bowl.
Well, the New England Patriots are in great shape to steal a trip to the Super Bowl. After snapping their three-game playoff losing streak, the Patriots sit in the perfect spot when they host the Baltimore Ravens next Sunday in Foxborough. The Ravens are coming off a 20-13 win over the Houston Texans that didn't look impressive.
Ravens quarterback Joe Flacco struggled to complete 50 percent of his passes and was sacked five times. Run-blockers couldn't open holes for Ray Rice and the Ravens' running game, which gained only 87 yards on 31 carries. The pass defense struggled to contain Texans running back Arian Foster (132 yards on 27 carries) and wide receiver Andre Johnson (111 yards on eight catches). Were it not for four Texans turnovers, Houston might be the team playing the Patriots in the AFC Championship Game.
Here are the 10 questions looking ahead to the AFC title game.
1. Which player will be under the most scrutiny this week? Flacco, no doubt. As much as I have said for years that Flacco is an elite quarterback, he hasn't been elite in 2011. That was very evident in the victory over the Texans. He completed 14 of 27 passes for 176 yards, but he was trapped in the pocket for five sacks. The play calling was also suspect. The Texans seem to have anticipated the run calls and most of the passing plays didn't fool Houston's defense.
Reacting to his critics, Flacco said this week that he probably wouldn't get credit if the Ravens win the Super Bowl. Such talk brings back the memory of the Ravens winning a Super Bowl with Trent Dilfer at quarterback. After Sunday's game, Lewis acknowledged that the Dilfer topic came up in conversations with Flacco this week.
"I told Joe you are not winning or losing games by yourself," Lewis said, reviving words he said to Dilfer during a Super Bowl run in the 2000 season. "Everyone on the outside doesn't matter."
Despite being 5-3 as a playoff quarterback, Flacco is getting the same respect given to Mark Sanchez of the Jets. Most people believe the team wins in spite of him. Patriots coach Bill Belichick will probably try to rattle Flacco's confidence early.
For more, click here.
Key NFC Championship Game questions
By Jeffri Chadiha
ESPN.com
SAN FRANCISCO -- There is something poetic about how this postseason is shaping up in the NFC. All season long we heard endless platitudes about the explosive beauty of offensive football. Teams were throwing more than ever, scoring more than ever and making everybody believe that all you needed for a championship was a wide-open offense and a gunslinger under center. It now looks like somebody forgot to send that memo to the New York Giants and the San Francisco 49ers. They're here because they still do things the old-fashioned way -- with bruising, ball-hawking defenses.
The 49ers were so lightly regarded heading into Saturday's NFC divisional playoff win that they used their underdog status as ample motivation to defeat the New Orleans Saints. On Sunday, the Giants traveled to Green Bay and revealed that the Packers actually weren't the same team that rolled to a 15-1 record in the regular season. So what does all this tell us now that the NFC Championship Game is set? Basically that there will be a lot of pushing, shoving, scuffling and trash-talking in Candlestick Park next Sunday.
The Giants are looking for their second Super Bowl win in five seasons and fourth overall. The 49ers are hunting for their sixth Lombardi Trophy, a feat that would feel even sweeter because they haven't been in the playoffs since 2002. Here are the questions that will matter most before they kick it off next weekend:
1. Will the 49ers have an emotional letdown? No. As easy as it would be to think that San Francisco's 36-32 win over New Orleans took a lot out of the 49ers, you have to believe head coach Jim Harbaugh won't let that sweet taste of victory linger too long. All those tears tight end Vernon Davis shed after catching the game-winning touchdown pass from Alex Smith? He should have let those emotions go by the time he left the stadium. The elation quarterback Alex Smith felt after winning his first playoff game after years of being derided by local fans and media? He can only feel vindicated for so long. The danger for the 49ers is in letting themselves believe that Saturday's victory allowed them to tell the world how legitimate they truly are. Such thinking usually gets inexperienced teams beat in the next round and Harbaugh knows he'll need to avoid that trap. As running back Frank Gore said, "We have the right guy leading us. He knows how to get us ready to play every day and he'll do that again."
For more, click here.
Short Takes
NFL commissioner Roger Goodell visited with reporters before the Ravens-Texans game and was very pleased with early reviews of having independent doctors available in press boxes to monitor concussions. He thought it really worked well in the Patriots-Broncos game when doctors were able to monitor head hits involving Pats tight end Aaron Hernandez and others. The doctors aren't making medical decisions on players but they keep in contact with the sidelines to make sure players who might have concussion are spotted and monitored. … When asked about whether the league will look at the imbalance between offense and defense, Goodell said the league needs to go through another offseason to judge the impact. Because of the lockout, teams didn't have an offseason to work with players. … Perhaps the most interesting news from Goodell's visit to Baltimore was his mentioning that the league would consider hiring 10 game officials as full-time employees to improve the consistency of officiating. Goodell also said he would look at the loophole in the rules that allowed former Broncos coach Josh McDaniels, who was under contract to St. Louis, to immediately work with the Patriots the week before a game against Denver, which was blown out by the Patriots Saturday night. What the Broncos feared was McDaniels' information about Broncos personnel. … One of the things that could land Dolphins interim coach Todd Bowles a head-coaching job with the Raiders is his relationship with new Raiders general manager Reggie McKenzie. … With the Saints' poor defensive performance Saturday night, the chances of defensive coordinator Gregg Williams leaving for St. Louis to join Jeff Fisher are excellent. Saints head coach Sean Payton could look to Mike Nolan or Steve Spagnuolo as replacements. … Listening to Ray Lewis talk after Sunday's victory over the Texans, the only way he's going to retire at the age of 36 is if the Ravens win the Super Bowl. He said he loves the game too much to give it up. … Former Jets offensive coordinator Brian Schottenheimer could be a good fit in St. Louis. He interviewed with Fisher Sunday night.
John Clayton's game balls

• Offense: Breaking a three-game playoff losing streak, New England Patriots QB Tom Brady was almost perfect in a 45-10 victory over the Denver Broncos. He completed 26 of 34 passes for 363 yards and six touchdowns. His passer rating was 137.6.

• Defense: Lardarius Webb intercepted two T.J. Yates passes, defended four others and had four tackles in the Baltimore Ravens' 20-13 victory over the Houston Texans. He drew Texans receiver Kevin Walter most of the day.

• Special teams: Well, there is no Devin Hester or Patrick Peterson in the playoffs, and because kickoffs from the 35-yard line have just about killed any long returns, kickers get more of the accolades. In the San Francisco 49ers' 36-32 victory over the New Orleans Saints, David Akers has his usual three field goals -- from 41, 48 and 37 yards -- following a regular season in which he went 44-for-52.
Divisional-round rundown
• San Francisco 36, New Orleans 32
This was about as good as it gets in the playoffs. The 49ers are known for defense, but their offense -- especially QB Alex Smith -- proved clutch in crunch time.
• New England 45, Denver 10
The Patriots' first playoff win since the 2007 AFC Championship. For a good chunk of the game, Tom Brady had more TD passes than Tim Tebow had completions.
• Baltimore 20, Houston 13
The Ravens found a way, thanks mostly to an opportunistic defense. One thing's for sure -- Joe Flacco and Baltimore's offense will need to be a lot better in New England.
• N.Y. Giants 37, Green Bay 20
Is this 2007-08 all over again? These Giants appear to have the same mojo. The Packers (four turnovers, several dropped passes) looked like a shell of what they were for most of the regular season.
-- ESPN.com