10 Things We Learned From Super Bowl XLVI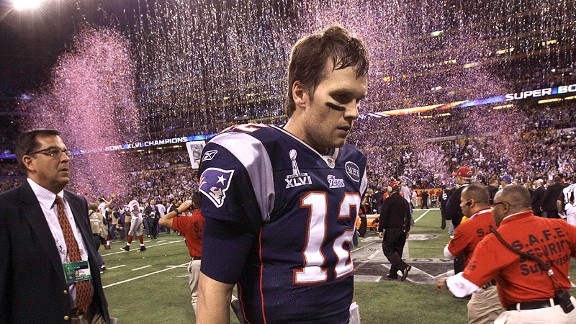 AP Photo/Paul SancyaPatriots quarterback Tom Brady walks off the field after a 21-17 loss to the Giants in Super Bowl XLVI.
INDIANAPOLIS -- Tom Brady has found a Manning he can't beat.
For the third time in five seasons -- twice in Super Bowls -- Brady and the New England Patriots lost to Eli Manning and the New York Giants. But Sunday night's 21-17 Super Bowl XLVI loss might be the most frustrating of all. A long-time nemsis of Indianapolis Colts quarterback Peyton Manning, Brady has to live with the fact that Peyton's younger brother, Eli, made the plays down the stretch to power the Giants on Sunday night -- plays that Brady couldn't make.
Sure, Brady was magnificent at times in this Super Bowl, completing 27 of 41 for 276 yards, including a torrid stretch in which he connected on 16 consecutive passes, a Super Bowl record. But Manning was better. As he did with David Tyree in Super Bowl XLII, Manning made a big-time, fourth-quarter throw to Mario Manningham that set up a Giants' comeback win over the Patriots.
My Super Bowl prediction was Patriots, 24-20. Even as this game wound down, I thought Brady would get the ball at the end and stop his two-game losing streak to Eli. In fact, the Patriots assured Brady would get one last chance by allowing the Giants to score the go-ahead touchdown in the final minute, giving their quarterback 57 seconds to win the game.
Though he did complete a clutch fourth-and-16 pass to Deion Branch, Brady failed on five of his last seven throws as time ran out, rare for a future first-ballot Hall of Famer. For years, Brady held an edge on Peyton, and won three Super Bowl rings to Peyton's one. Now, thanks to Eli -- and his two rings -- Brady has gone seven seasons without a Super Bowl victory.
What else did we learn from Super Bowl XLVI?
1. It's not how you start, it's how you finish: The Giants have proven you don't have to be dominant during the regular season to win a Super Bowl. They got hot at the right time in 2007 to advance to the Super Bowl. After a 7-7 start this season, the Giants came together as a team, barely clinched the NFC East and excelled on both offense and defense during the playoffs. Thanks to their success four years ago, the Giants believed they could do the unbelievable and win four straight games to win a Super Bowl. Defensive end Justin Tuck said his team doesn't doubt itself if it falls behind in big games.
"Never," he said. "We have been in that situation all year and we just kept telling ourselves one game at a time, one play at a time and we finished it."
The Giants are great finishers. On the final Patriots' drive Sunday night, Tuck, a great leader, reminded his teammates about how they went to New England early in the season and needed to stop the Patriots in the final 15 seconds to win.
"I told them we've got 57 seconds to give us the championship," he said, and the result was the Giants' second Super Bowl championship in four years.
2. Tom Coughlin can outcoach Bill Belichick: In my opinion, New England's Bill Belichick is the best coach of this era. He has been to the Super Bowl five times in 11 seasons. He takes players off the street, figures out how to make them role players and beat opponents with great schemes. But the Giants' Coughlin outcoached him Sunday night.
[+] Enlarge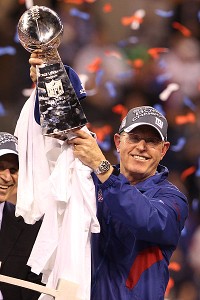 Tom Hauck for ESPN.comTom Coughlin won his second Super Bowl in five seasons.
Belichick opened the game with a mistake. On their first offensive play, the Patriots came out in "jumbo" formation, in which they use a sixth offensive linemen (in this case tackle Nate Solder). Giants defenders said they had seen plenty of tape of the Patriots going jumbo and they sensed Brady would try a deep play-action pass. The Pats were lined up at their 6-yard line. The recognition of the play allowed the defenders to cover the receivers and give Tuck enough time to pressure Brady into throwing an incomplete pass from his end zone that was ruled grounding, giving the Giants a safety and early 2-0 lead.
Belichick also out-thought himself in the fourth quarter. The Pats led 17-15 with 4:06 remaining, and called for a long pass to Wes Welker that was dropped. Brady threw another deep pass that Branch couldn't catch. The Giants actually thought Brady would throw short, safe passes or call a running play or two to eat up the clock. The Giants were short on timeouts so the Pats could have run the clock down close to the two-minute warning, plus be in position to get a field goal that would open a 20-15 lead. Instead. They had to punt to the Giants and gave them the ball with 3:53 left in regulation.
3. Belichick did the right thing in allowing Ahmad Bradshaw to score: In Super Bowl XXXII, Green Bay Packers coach Mike Holmgren allowed the Denver Broncos score a touchdown, in hopes of getting the football in Brett Favre's hands for one final drive. Belichick did the same, instructing linebacker Jerod Mayo to "let them score." Belichick said he did it because the Giants were inside the 10 and they controlled the clock.
Giants offensive coordinator Kevin Gilbride said the plan was to run the clock down to 18 seconds and then kick the game-winning field goal. The scenario happened on second down from the 6-yard line. Manning made the inside handoff to Bradshaw and when he saw the defenders open space, he yelled to Bradshaw not to score. Bradshaw heard the instruction too late. He stopped just outside the goal line, but his momentum took him into the end zone for the score. Mayo said he remembers allowing a team to score once in a game when he was a rookie, so he wasn't surprised when he heard Belichick's call. OK, so it didn't pan out. But giving Brady 57 seconds to get a game-winning touchdown was better than giving Brady 18 seconds to drive down and get the game-winning field goal. Smart coaching.
4. A lack of secondary talent haunted the Patriots: New England gave up 4,703 passing yards this season, second-most allowed in the history of football. Belichick's best two coverage cornerbacks (Kyle Arrington and Sterling Moore) were undrafted. Cornerback Devin McCourty, a Pro Bowler a year ago, surrendered more than 1,100 yards passing this year and moves to safety when teams use three and four receivers. Not wanting to give up big plays, the Patriots aligned their safeties 15 yards deep. Playing a two-deep zone with that much room, the Giants felt they could control the football -- and they did.
Manning opened the game with nine consecutive completions. The depth of the safeties opened the running game -- the Giants finished 114 rushing yards on 28 carries. As it turned out, adjustments in the Patriots' two-deep opened the door for the biggest play of the game, the 38-yard completion to Mario Manningham in the fourth quarter. Gilbride recognized the Patriots were slanting their zone coverage to the side of the field on which Victor Cruz and Hakeem Nicks were located. Manning sent Manningham down the left sideline. The Patriots were slow to react and Manningham made an incredible catch that put the Giants at midfield with 3:39 left. By getting to midfield with that much time left, Gilbride knew he could mix enough running plays with passes to control the clock in advance of the game-winning score.
5. Rob Gronkowski's high ankle sprain was a big factor: Everyone knew Gronkowski was going to play, despite suffering an injury that can sideline some players for up to six weeks. Struggling to run at full speed, Gronkowski caught only two passes for 26 yards Sunday night. Belichick tried some three-receiver, one-tight end sets that had Gronkowski on the bench when the Patriots wanted to deploy a shorter, quicker passing game.
The Giants did have problems, however, covering tight end Aaron Hernandez, who finished with eight catches for 67 yards. They tried linebackers Michael Boley and Chase Blackburn in protection before going to their fastest coverage linebacker, Jacquian Williams, in parts of the second half. But it was Brady's attempt to target Gronkowski that resulted in the game's only turnover. The Patriots' QB avoided pressure and bought time to throw a deep ball, but Gronkowski was unable to track it down and the pass was intercepted by Giants' linebacker Chase Blackburn on the second play of the fourth quarter.
John Clayton's game balls

• Offense: Super Bowl MVP Eli Manning completed 30 of 40 passes for 296 yards and one touchdown. His 38-yard completion to Mario Manningham was one of the big-time throws in Super Bowl history. The play also forced Bill Belichick to use a replay challenge, which cost the Pats a crucial timeout in the fourth quarter. Manning now has two Super Bowl rings.

• Defense: Lining up at defensive end and tackle, Justin Tuck pressured Tom Brady most of the day. He had two sacks, three quarterback hits, three tackles, two tackles for loss and pressured Brady into throwing downfield on a play that ended up as a safety because intentional grounding was called.

• Special teams: Unlike Baltimore's Billy Cundiff, who missed what should have been a sure field goal in the AFC Championship Game, Lawrence Tynes made field goals of 38 and 33 yards and was ready to attempt a game-winner if called upon. Instead, the Pats let Ahmad Bradshaw score the game-winning touchdown in a 21-17 victory.
Super Bowl grades
• N.Y. GIANTS
Quarterback: Eli Manning completed 30 of 40 passes for 296 yards, one touchdown and a 103.8 NFL rating. He did not turn over the ball, which was huge for the Giants during their 21-17 victory. Manning's 38-yard sideline strike to Mario Manningham showed the raw arm talent that made Manning the first player selected in the 2004 NFL draft. Not many quarterbacks can make that throw. Grade: A-minus
Offense: The Giants came to life in the fourth quarter, a theme for them all season. They also avoided turnovers, a huge key. That excused their earlier offensive struggles, but we'll cover them anyway. New York twice committed drive-dooming penalties after crossing midfield. Grade: B
Defense: Justin Tuck's pressure on Tom Brady forced a safety on the Patriots' first offensive play. That was a sensational start for the Giants. Tuck closed out the game with a third-down sack with 39 seconds remaining. The Giants failed to get enough pressure between those plays, allowing Brady to shred their defense for stretches. But Brady averaged only 6.7 yards per attempt. Grade: B-plus
Special teams:
Lawrence Tynes
made both field-goal attempts. The Giant did not allow a punt return. They forced New England to begin three drives inside their own 10-yard line. The Patriots never started a drive outside their own 29. No complaints here.
Grade: A
Coaching:
The offensive plan seemed conservative and without enough play-action passing early. That was to be expected given Tom Coughlin's philosophy. That showed up when Coughlin handed off instead of taking a shot deep down the field on an early second-and-1.
Grade: B
-- Mike Sando
• NEW ENGLAND
Quarterback: Tom Brady fell short of his fourth game-winning touchdown drive in a Super Bowl. He overcame a ragged start to find his groove. He set a Super Bowl record with 16 straight completions, including 15 straight on two touchdown passes. However, his intentional grounding penalty on the Patriots' first play led to a safety, a strange mistake for a quarterback known for such great awareness. Grade: B-plus
Offense: The Patriots' receivers let Brady down in the fourth quarter with drops from Wes Welker, Deion Branch and Aaron Hernandez. The passing game was limited with tight end Rob Gronkowski less than full strength with a high-ankle sprain. Grade: C
Defense: The New England run defense got pushed around early (70 yards rushing allowed in the first half), but fared better in the second half. The Patriots played more physical after they were sparked by Patrick Chung's hit on Hakeem Nicks along the sideline. The Patriots then allowed Ahmad Bradshaw to score a 6-yard touchdown with 40 seconds left, so they could get the ball back into the hands of Brady. Grade: B-minus
Special teams: Stephen Gostkowski kicked a 29-yard field goal. The kickoff coverage team allowed a 34-yard return early in the third quarter. The Patriots' return game was virtually non-existent. Punter Zoltan Mesko was outplayed by Steve Weatherford, averaging 38 yards per punt. Grade: C
Coaching: Bill Belichick lost his second straight Super Bowl. The Patriots had a great game plan defensively and were running an efficient offense. But it was questionable to throw on second-and-11 in the fourth quarter -- which resulted in an incompletion to Welker and stopped the clock with four minutes left in the game. Grade: B
-- Jamison Hensley