Championship Sunday: Super stage set for Giants, Patriots
Greg M. Cooper-US Presswire
Conference championship Observation Deck
By Mike Sando, ESPN.com (from Foxborough)
Key members of the
San Diego Chargers
limped around the visiting locker room at Gillette Stadium following their failed attempt to hand New England its first defeat of the season. The Charger s had made the Patriots work for a 21-12 victory in the AFC title game, but San Diego never led during the final 43 minutes. The deepest team in the NFL finally ran out of manpower.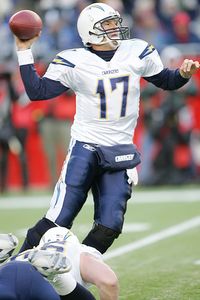 Paul Jasienski/Getty Images
Chargers QB Philip Rivers lost Sunday's game, but he won the respect of his teammates.
"I think the guys showed their toughness out there today," Chargers nose tackle Jamal Williams said.
The Chargers' locker room resembled an accident scene. Quarterback
Philip Rivers
, playing despite partially torn knee ligaments, dragged his damaged and tightly wrapped right leg behind him. Tight end
Antonio Gates
winced and grimaced with nearly every breath, favoring the mangled big toe on his left foot. He could barely walk, hunching over as he shuffled about. Williams, double-teamed on 11 of 26 snaps despite a high ankle sprain, carefully maneuvered to his locker through a mass of reporters, folding chairs and duffel bags. "My hat's off to our quarterback," Williams said. "You just don't understand the things he is going through. And our tight end, a dislocated toe and you have to pivot, cut and all that stuff. It's tough, man. "You have no choice but to go out and play for your teammates. That's how tight we are." NFL rushing champion
LaDainian Tomlinson
started the game for San Diego despite a knee injury, but he did not last long. Team officials told reporters during the game that Tomlinson was capable of returning despite knee soreness. After the game, Tomlinson said he knew right away that he could not play because he lacked explosiveness. "A lot of guys shouldn't have been out there today," said safety
Clinton Hart
, who left the game with an injury. "They put it on the line because they knew what was at stake, and we appreciate that." Here are a few other observations from Sunday's conference championship games:
1. Mistake-free Manning
Those Citizen Eco-Drive watch commercials describing
Eli Manning
as "unstoppable" don't appear so silly now that the Giants are bound for Super Bowl XLII.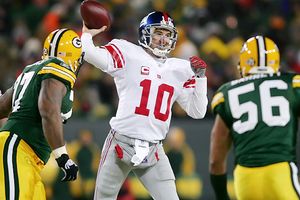 Jonathan Ferrey/Getty Images
Eli Manning, turnover-prone in the regular season, has yet to throw an INT in three playoff games.
Eleven of the 12 playoff teams this season tossed interceptions. The New York Giants, led by the suddenly efficient Manning, have yet to suffer a single pick during the postseason.
New England, San Diego, Pittsburgh and Jacksonville have tossed three interceptions apiece during the playoffs. Indianapolis, Green Bay, Washington, Seattle and Tampa Bay tossed two before being eliminated. Dallas and Tennessee tossed one interception apiece before elimination. Manning, who passed for 254 yards during the Giants' 23-20 overtime victory at Green Bay, has gone three consecutive games without an interception for the second time in his career. He avoided interceptions during the second, third and fourth games of the 2005 season. This season, Manning had suffered eight interceptions during a five-game stretch heading into a 38-35 defeat to New England in the final regular-season game. Manning also averaged 7.8 yards per pass attempt in that game, matching a season high.
2. Third-and-no chance
Green Bay finished the regular season with the NFL's eighth-best conversion rate on third down, but the Packers failed on nine of 10 chances against the Giants. Their inability to establish a running game put quarterback
Brett Favre
in too many third-and-long situations. And while the Packers' line has played well this season, the team's guards aren't particularly strong in protection. That's why Green Bay needed to sustain its recent production on the ground. Favre faced third-and-8 or longer nine times. He avoided turnovers on those plays, only to make poor decisions on first- and second-down plays that resulted in interceptions.
3. Hitting 'em on the nose
The New England-San Diego game featured two of the NFL's more accomplished nose tackles. New England's
Vince Wilfork
and San Diego's Williams have commanded double-team blocking throughout much of their careers, but opponents have had less trouble with Williams since he suffered an ankle injury. The Chargers double-teamed Wilfork 25 times in 48 snaps. They doubled Wilfork on eight of 16 first-down running plays. San Diego averaged 4.1 yards on these rushes, compared to 3.6 yards per first-down carry when they blocked him with one lineman. San Diego was also more productive on first-down pass plays when doubling Wilfork. The Patriots double-teamed Williams 11 times in 26 snaps, but never on a first-down running play. New England averaged 6 yards per carry on first down when single-blocking Williams. Williams was on the sideline for at least 10 consecutive plays beginning late in the third quarter. He missed all of the Patriots' eight-play, 67-yard touchdown drive that gave them a 21-12 lead. "They were trying to make sure they had a rotation going on out there," Williams said. "It was tough playing with the high ankle sprain, so they were like, 'OK, let's try to make sure we keep you fresh.' "
4. Hard feelings for Hardwick
Chargers center
Nick Hardwick
accused Patriots defensive end
Richard Seymour
of dirty tactics during a postgame harangue. "There are 10 [expletive] good players on that team, but Richard Seymour is a dirty, cheap, little pompous [expletive]," Hardwick told a Boston Herald reporter. "They've got 10 great players on that team and when
Jarvis Green
comes on the field, they've got 11 great players who compete how you're supposed to play. "But Richard Seymour is the biggest [expletive] I've ever played." Hardwick accused Seymour of stomping on feet during pileups, slapping linemen on the head and punching them in the back. "He plays like a punk," Hardwick said. Seymour will presumably address the issue during the buildup to Super Bowl XLII.
Mike Sando's game balls
Game 1: New England 21, San Diego 12


Maroney
•
Offense:
Running backs
Laurence Maroney
(122 yards rushing) and
Kevin Faulk
(82 yards receiving) picked up the slack for New England's struggling vertical pass game. Running mostly from power formations with two and even three tight ends, Maroney ripped off gains of 18, 11, 20 and 12 yards in the second half. New England struggled on third down until the fourth quarter, when the Patriots converted four in a row. Faulk caught passes for 11 and 14 yards on the first two conversions. Maroney ran for 5-yard gains on the final two. Chargers quarterback
Philip Rivers
suffered through a poor statistical performance, but teammates said his gutsy play proved to be inspirational. Playing on two bad knees, Rivers struggled to scramble and he sometimes forced passes. But he went down swinging. An 18-yard strike to
Vincent Jackson
on third-and-10 gave the Chargers life in the fourth quarter.

Seau
•
Defense:
Patriots linebacker
Junior Seau
made one of the more clutch tackles of the game, stopping
Michael Turner
for a 2-yard loss on third-and-1 from the New England 4. The Patriots were protecting a 14-9 lead in the third quarter when Seau sliced through to make the tackle. The Chargers settled for a field goal, their third red zone trip without a touchdown. San Diego defensive backs
Quentin Jammer
,
Antonio Cromartie
and
Drayton Florence
left Brady with a season-high three interceptions. Brady had thrown 62 touchdowns in the red zone without an interception when Cromartie picked off a pass intended for tight end
Ben Watson
. Cromartie finished the season with 11 interceptions, including four combined against Indy's
Peyton Manning
(three) and Brady (one). •
Special teams:
Patriots receiver
Kelley Washington
helped New England take control in the second quarter with a play that shifted field position. Washington, a force on New England's punt-cover team, leaped over the goal line to bat the ball back to fullback
Kyle Eckel
, who downed it at the San Diego 4. The Patriots then forced a turnover before scoring on a short field to take a 14-6 lead. Washington helped the Patriots limit
Darren Sproles
to a 5.3-yard average on three punt returns.
Game 2: N.Y. Giants 23, Green Bay 20 (OT)

Burress
•
Offense:
Giants receiver
Plaxico Burress
owned his matchup with Packers cornerback
Al Harris
, catching 11 passes for 154 yards. Burress played hurt most of the season, but he's been healthier in recent weeks, which has been a huge plus for the Giants. Burress is also benefiting from
Eli Manning
's improved play. Manning made it through another playoff game without a turnover. His overall stats weren't outstanding, but avoiding mistakes has been good enough for the Giants at times. Manning converted a third-and-10 play with a 19-yard pass to Burress. He completed another pass for 9 yards on third-and-15, setting up a manageable fourth-down conversion as the Giants moved toward a field goal try midway through the fourth quarter. Packers receiver
Donald Driver
hadn't caught a touchdown pass since the third week of the regular season. He caught five passes for 141 yards against the Giants, none bigger than his 90-yard scoring reception to give Green Bay its first lead, 7-6. •
Defense:
Giants cornerback
Corey Webster
made huge plays for New York. Webster registered two tackles for losses before picking off
Brett Favre
in overtime to set up the winning field goal. A promising fourth-quarter Packers drive ended with a field goal after Webster tackled
Ryan Grant
for a 7-yard loss on third-and-3. Grant made a heads-up defensive play for the Packers when he stripped the ball from Giants cornerback
R.W. McQuarters
following a fourth-quarter interception. Tackle
Mark Tauscher
recovered for the Packers, who kicked the tying field goal four plays later. •
Special teams:
Tramon Williams
' 49-yard punt return put Green Bay in position to score the go-ahead touchdown midway through the third quarter. Williams also recovered a muffed kickoff return by teammate
Koren Robinson
. Giants kicker
Lawrence Tynes
missed twice in the fourth quarter, but a high snap contributed to one miss, and weather conditions were difficult. Tynes' winning 47-yarder in overtime more than atoned.
Writer's bloc
•
Len Pasquarelli:
Everyone is awed by the Patriots' passing game, but it was the running game that proved to be the difference in the AFC title game. •
Len Pasquarelli:
The Chargers' offense had plenty of chances to reach the end zone, but the Patriots rose to the test when needed. •
Gene Wojciechowski:
Win Super Bowl XLII -- and they will -- and the Patriots will have no peer, no point of comparison. •
John Clayton:
Plaxico Burress was unstoppable, Eli Manning was efficient and the Giants fought through adversity to beat the Packers. •
Jeffri Chadiha:
With one ill-advised pass by Brett Favre, the Packers' dream season came to a sudden and crushing halt.
Loose ends
Patriots 21, Chargers 12:
Despite the unforeseen interceptions by
Tom Brady
, New England is going to the Super Bowl. The respective play of each red-zone offense told the story in this game; the Patriots scored touchdowns, while the Chargers kicked field goals near the goal line. --
Matt Williamson
Giants 23, Packers 20 (OT):
With RB
Brandon Jacobs
averaging around 3 yards per carry, the Giants started using his backup,
Ahmad Bradshaw
, more in the fourth quarter. Bradshaw's ability to cut back against the grain on the zone stretch play gave the offense a much-needed spark. --
Doug Kretz
• Experts' picks: How did we do? Sunday Countdown | ESPN.com
ESPN video