Divisional Saturday: Packers dominate Seahawks; Patriots escape Jags
Jonathan Daniel/Getty Images
Divisional Playoff Saturday Observation Deck
By Matt Mosley, ESPN.com
We'll be watching the play for the next 50 years.
Green Bay Packers
quarterback
Brett Favre
desperately tried to keep his balance as he scrambled to the right in a snowstorm. As
Seattle Seahawks
All-Pro defensive end
Patrick Kerney
grabbed him from behind, Favre spotted tight end
Donald Lee
running alone and delivered the type of underhanded toss you'd make to a 5-year-old in the backyard. The conversion on third-and-8 set up the Packers' fourth touchdown of the first half and seemed to demoralize a Seahawks defense that was caught on its heels all afternoon. With the 42-20 victory, the Packers will advance to the NFC Championship Game to face either the Giants or Cowboys. "Yeah, man, it was a nice play by Brett," Lee said. "Anything that has to do with Brett, that involves him, you never say die, because he makes plays like that all the time. I mean, it starts with practice. You see him in practice, it seems like a play's blown, dead or whatever, and he wants to keep working. By doing it so much in practice, I know what it's going to be." Of course Favre will be pulling for the Giants on Sunday, but listening to him talk after the game made you think he would relish another shot at the Cowboys. Now, here are some of my observations from Saturday's divisional playoff games:
1. Two fullbacks make a difference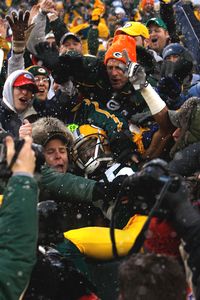 Jamie Squire/Getty Images
Everybody in Packers colors had great hands in Green Bay on Saturday, as the fans caught Greg Jennings in this touchdown celebration.
At a time when the fullback position seems on the verge of extinction, the Packers are heading the opposite direction. Like he's done several times over the last couple of years, coach Mike McCarthy used a pair of fullbacks to jump-start his team's running game. Korey Hall and John Kuhn, who have combined for 10 catches and zero carries this season, lined up next to each other in what some of us in the football business call the inverted wishbone or full-house backfield. According to my friends at footballoutsiders.com, the Carolina Panthers are the only other team that uses a similar formation.
The Packers went with their three-running back look at least eight times in the first half, including three of the four touchdown plays. Kuhn and Hall destroyed the Seahawks' linebackers near the goal line, and running back
Ryan Grant
did a great job of reading their blocks. The Packers basically used the Seahawks' speed against them. The Seahawks overpursued when the Packers' line moved to its right, and Grant killed them with cutbacks. Grant was running too high early in the game. When he started lowering his shoulders through the tackle box, he was much more effective. I'm thinking Ted Thompson's not missing that sixth-round pick right now. And think how good rookie
Ahmad Bradshaw
must be for the Giants to have unloaded Grant.
2. Spot reversal turns out to be pivotal
With 5 minutes, 4 seconds left in the first quarter, the Packers faced a third-and-7 at their 39-yard line.
Brett Favre
completed a short pass to
Bubba Franks
, who extended the ball toward the first-down marker as he was being tackled. Officials spotted the ball a foot short, but Favre watched the replay on Lambeau Field's "Tundra Vision" and then lobbied for McCarthy to challenge the mark. The Packers won the challenge to extend the drive, and tied the score at 14-14 six plays later. It might not sound like much in a 42-20 game, but getting off the field on third down would have allowed the Seahawks to stem the Packers' momentum.
3. Seahawks' weakness exposed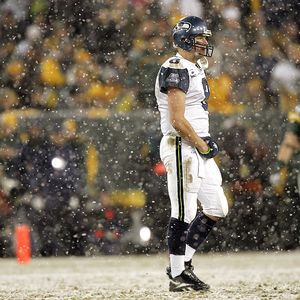 AP Photo/Charlie Neibergall
Matt Hasselbeck's bad luck at Lambeau Field -- in Seahawks colors -- continued.
The Seahawks have a strong front seven, but their secondary doesn't tackle well. That's a problem when you're playing against a group of receivers who are better than anyone in the league in running after the catch (RAC). It also didn't help against a running back who was desperately trying to atone for two early fumbles. Seahawks safety
Deon Grant
was fifth on the team in tackles with 72 during the regular-season, but he didn't stand a chance against the Packers' Grant. On several runs, the running back froze the safety with a stutter-step in the open field. It obviously didn't help that the footing was terrible in the snow. When Seahawks cornerback
Marcus Trufant
tried to go low on Grant in the first half, Grant simply hurdled him.
4. Holmgren's future
I talked to a member of the Seahawks' organization who said Mike Holmgren didn't sound like a coach who was ready to retire in the moments following Saturday's loss. Holmgren told his players they needed to be ready to go for the offseason. But he did choke up at one point during his postgame talk. "He sounded like there was no doubt at all he's coming back," said the Seahawks official. "Anyone who heard that speech would tell you the same thing."
5. Tom Terrific and his 'little' friend:
Even by his lofty standards,
Tom Brady
was superb in Saturday's 31-20
New England Patriots
victory over the
Jacksonville Jaguars
. But the play most people will be talking about is the 6-yard touchdown he threw to
Wes Welker
that gave the Patriots a 21-14 lead. In what resembled the old Statue of Liberty play, the Patriots faked the direct snap to
Kevin Faulk
, a play they'd run before. But while everyone followed Faulk, Brady actually had the ball. He turned his back to the defense and threw his left arm into the air to sell the fake. When he turned around, he had a full three seconds to survey the end zone before connecting with Welker. "I'm looking for my Academy Award on that one," he joked after the game. He said the Patriots put the play ("Double Pop") in during practice last week. The only problem he had was locating Welker. "He's hard to find, he's 5-7," Brady said.
6. Garrard excelled, too
It's also important to point out that Jacksonville quarterback
David Garrard
had a great night as well. He was 22 of 33 for 278 yards passing, two touchdowns and one interception late in the game. And he pretty much matched Brady touchdown for touchdown until
Dennis Northcutt
dropped one. The Patriots wanted to put this game in Garrard's hands, and I thought he did enough to win.
For more observations, click here.
Matt Mosley's game balls
Game 1: Green Bay 42, Seattle 20


Grant
•
Offense:
Packers quarterback
Brett Favre
completed 18 of 23 passes for 173 yards and three touchdowns. We'll be watching his underhanded toss to tight end
Donald Lee
for the next 50 years. He calmly told running back
Ryan Grant
not to worry about the two early fumbles, and the rookie responded with a phenomenal effort. Grant finished with 27 carries, 201 rushing yards and three touchdowns. After the two early fumbles, Grant was unstoppable. He froze Seahawks defenders with his moves and showed the speed that has made him a threat to go the distance on every play. He did an excellent job of setting up his blocks. He used his two fullbacks brilliantly throughout the game. Green Bay wide receiver
Greg Jennings
had six catches for 71 yards and two touchdowns. In only his second season, Jennings has developed great chemistry with Favre. When Seattle cornerback
Marcus Trufant
had him covered in the second half, he used a subtle move to free himself along the sideline. And he's tremendous after the catch. Packers right tackle
Mark Tauscher
did an excellent job against Seahawks All-Pro defensive end
Patrick Kerney
, who finished without a tackle.

Bigby
•
Defense:
Green Bay safety
Atari Bigby
had seven tackles and a forced fumble. Bigby picked a nice time to have the best game of his career. His hit that caused a
Marcus Pollard
fumble set up the Packers' second touchdown. He then had two more jarring hits in the first half that seemed to demoralize the Seahawks. Green Bay defensive end
Cullen Jenkins
: three tackles and 1½ sacks. Jenkins nearly doubled his total for the season. He came into Saturday's game with one sack in the regular season. He made sure Seattle's anemic running game didn't get going, then broke down the pocket several times. He deserved to be in on a couple of sacks. •
Special teams:
The Packers'
Brandon Jackson
had a 15-yard roughing the kicker penalty, but he bounced back with two great open-field tackles on kickoff coverage. He also had a 13-yard touchdown catch and rushed for 34 yards.
Game 2: New England 31, Jacksonville 20

Brady
•
Offense:
Patriots quarterback
Tom Brady
was 26 of 28 for 262 passing yards and three touchdowns. His 92.9 completion percentage was an NFL record for both the regular season and the playoffs. Halfback
Laurence Maroney
had 22 carries for 122 yards and a touchdown. No one thought the Pats would try to run the ball against the Jags, and that's probably why they did it. Maroney also had two catches for 40 yards, including a 33-yard reception after Jacksonville had taken an early lead. •
Defense:
New England defensive back
Rodney Harrison
had seven tackles and the game-sealing interception. •
Special teams:
The University of Maine's
Montell Owens
had three tackles in coverage for the Jaguars.
Writer's bloc
•
John Clayton:
Ryan Grant
rebounded from two early fumbles to rally the Packers to a rout of the Seahawks. •
Mike Sando:
Poor play at tight end spelled disaster for the Seahawks on Saturday. •
Len Pasquarelli:
Shut down
Randy Moss
? The Jaguars did a brilliant job of that Saturday, but the Patriots have too many other weapons.
Loose ends
Packers 42, Seahawks 20:
The Seahawks got on the board quickly as the Packers gave them a short field in the first quarter. Green Bay drew a line in the snow and roared back with four touchdowns behind great zone blocking by the Packers' offensive line and pinpoint passing by a confident
Brett Favre
. -- Ken Moll
Patriots 31, Jaguars 20:
New England's
Tom Brady
stayed calm throughout the game and calmly took what the soft Jacksonville coverage gave him. The Jags were unable to pressure Brady into any interceptions as they pretty much stayed with their base front four rushing him in passing situations. -- Doug Kretz
• Experts' picks: How did we do? Sunday Countdown | ESPN.com
ESPN video
Looking ahead
An early look at looming story lines:
1. Get ready for this statistic: Brett Favre obviously will be rooting for the New York Giants on Sunday, but you get the feeling he'd love another shot at the Dallas Cowboys.
You'll read this 300 times this week, but I'll say it anyway: Favre is 0-9 at Texas Stadium, including an 0-3 record in the playoffs. Moments after Saturday's game, Favre was asked about a potential trip to Dallas. "I haven't won in Dallas," he said, "but there's always a first time. The worst thing that could happen is we lose." It won't matter which team Favre plays if the next defense plays like the Seahawks' unit did. How come the Packers were so successful? "Brett getting rid of it, seven-man protection and the running game," Seahawks Pro Bowl lineman
Patrick Kerney
said. "You have to stop the run to earn the right to rush the passer. We at no point neutralized their running game."
2. Why Favre should want the Giants:
The
Green Bay Packers
beat the Giants in the Meadowlands, 35-13, in Week 2. Favre was 29-of-38 for 286 yards passing and three touchdowns. We now know the Giants have one of the best pass rushes in football, but on that day, they had one sack. It took new defensive coordinator Steve Spagnuolo about three games before his players started to feel comfortable in his scheme, which is very similar to what Jim Johnson does in Philadelphia. By the way,
DeShawn Wynn
led the Packers with 50 yards rushing that day.
3. Have the Packers learned from their last visit with the Cowboys?
Most of you will recall Dallas' winning the NFC showdown against Green Bay in November. I was baffled by Mike McCarthy's game plan that night. Favre had been taking what the defense gave him all season, but on that night, he wanted to throw deep every time he went back. Reserve defensive back
Nate Jones
knocked Favre out of the game in the first half on a blitz. Backup
Aaron Rodgers
came in to throw for 201 yards and a touchdown, but
Tony Romo
threw for 309 yards and four touchdowns. --
Matt Mosley
•
NFL playoffs schedule