Divisional Sunday: Chargers stun Colts; Giants outlast Cowboys
AP Photo/Jeff Roberson
Divisional Playoff Sunday Observation Deck
By Mike Sando, ESPN.com
Cold reality is about to hit the NFL's upset winners from the divisional round. The NFC's fifth-seeded
New York Giants
, 21-17 winners over top-seeded Dallas, could encounter sub-zero temperatures in the conference title game against No. 2 seed Green Bay at Lambeau Field (Sunday, 6:30 ET, FOX). The AFC's third-seeded
San Diego Chargers
, 28-24 winners over second-seeded Indianapolis, could face temperatures in the high teens against unbeaten New England in the AFC title game (Sunday, 3 ET, CBS). Then again, the Giants and Chargers have little reason to believe forecasters. Each stands within a victory of Super Bowl XLII, having already overcome long odds. The NFC's top-seeded teams had won all 17 divisional-round games since the NFL adopted its current playoff format.
Eli Manning
and the Giants changed that, winning on the road for a ninth consecutive time this season. Giants defensive end
Michael Strahan
reveled in knocking off the Cowboys and receiver
Terrell Owens
in particular. Owens, in predicting he would overcome a severe ankle injury, had advised a reporter to "get your popcorn ready" for the Giants game. He caught an early touchdown pass but could not finish strong. "We play together, we play to win and we hope T.O. has his popcorn ready," Strahan told reporters in his postgame NEW conference. "Maybe he and [fellow Cowboys receiver Patrick] Crayton can sit in his home theater and watch us next week." The Cowboys can watch the Chargers, too, but perhaps not quarterback
Philip Rivers
or running back
LaDainian Tomlinson
. San Diego lost Rivers and Tomlinson to knee injuries. Both are questionable for the New England game. Neither finished what he started against the Colts, but backups
Billy Volek
and
Michael Turner
made sure Rivers' three touchdown passes weren't wasted. Volek completed three passes and Turner carried five times during the go-ahead, 78-yard touchdown drive in the fourth quarter. "We'll catch our breath, we'll go see where we are from a health standpoint and then we'll ready to go," said Chargers coach Norv Turner, who suddenly needs one playoff victory to tie Bobby Ross and Don Coryell for the most in team history. "We wanted to play our best game in January and, hopefully, we still have our best game in us." Here are a few other observations from Sunday's divisional-round action: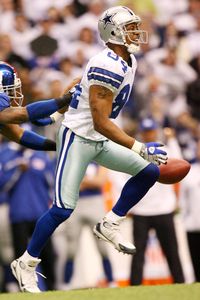 Nelson Chenault-US Presswire
Patrick Crayton's third-quarter drop was one of the pivotal plays of Sunday's Giants-Cowboys game.
1. Best to keep one's head in the game
Cowboys receiver
Patrick Crayton
appeared to lose his concentration when dropping
Tony Romo
's improbable third-and-13 pass early in the fourth quarter. Romo scrambled to his left, then threw back across his body, leading Crayton perfectly as the receiver moved from left to right at the Dallas 30. Crayton might have turned the play into a huge gain or even an 83-yard touchdown had he caught the ball. Instead, the Cowboys punted and the Giants responded with the go-ahead touchdown drive.
Brett Favre
's spinning, underhanded flip pass in Green Bay's divisional-round victory Saturday worked only because tight end
Donald Lee
stayed with Favre all the way. Romo hasn't been around nearly as long as Favre, but few quarterbacks are better at improvising. His receivers should never lose their focus before the whistle blows. Tight end
Jason Witten
proved as much with a heads-up adjustment to facilitate a flip pass, but the play was too little, too late. Romo wasn't at his best against the Giants, but he could have used a little more help.
2. Continuity can be overrated
The Giants' unexpected ascension to the NFC title games proves the wisdom of sticking with a successful coach (Tom Coughlin) who hasn't been able to break through in the playoffs. Except for this: The Chargers' unexpected ascension to the AFC title game proves the wisdom of replacing a successful coach (Marty Schottenheimer) who fails break to through in the playoffs. And this: Green Bay is back in the NFC title game for the first time since the 1997 season. The Packers got there two years after firing Mike Sherman, who had averaged 10.6 victories per season over a five-year period, but without getting past the divisional round. The Giants have won two playoff games this season after failing to win one in three previous seasons under Coughlin. The Chargers won 47 regular-season games in five seasons under Schottenheimer, but they were 0-2 in the playoffs during that stretch. Continuity is generally helpful, but not always. The Chargers, having changed staffs on both sides of the ball in the last year, faced a Colts team with long-term stability in all key phases of its operation. San Diego's slow start under Turner might have helped the Chargers gain momentum in the playoffs. At 11-5, they drew a depleted Tennessee team in the wild-card round, an ideal scenario for playoff success. Schottenheimer's 14-2 record last season bought a first-round bye. That wasn't necessarily a good thing. Instead of opening the playoffs against an overmatched team, the Chargers drew playoff-tested New England and lost.
3. When playing it safe is playing to win
Indianapolis' Tony Dungy and San Diego's Turner showed there could be more to making decisions than simply playing to win or playing not to lose. Dungy played for a touchdown instead of a field goal on fourth-and-goal from the 7 while trailing by four points with 2:06 remaining. The Colts had three timeouts remaining, so a field goal try was a viable option, particularly with Rivers and Tomlinson unavailable for San Diego. Dungy played to win, but the Chargers' defense held. After San Diego took over possession, Turner decided to run the ball against 10 in the box on third-and-4 with 1:49 remaining. On the surface, Turner was playing not to lose. By opting to run instead of pass, he was essentially daring
Peyton Manning
to beat him with 90 seconds left and one timeout at the Colts' disposal.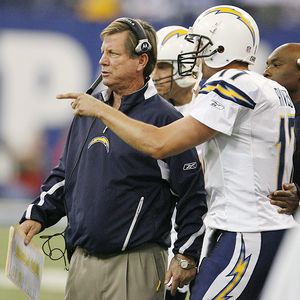 Brian Spurlock-US Presswire
Chargers head coach Norv Turner has pushed all the right buttons in the first two rounds of the playoffs.
Turner's decision made sense for other reasons, and not only because it worked.
Turner knew his punter,
Mike Scifres
, enjoyed the third-best net average among full-time punters in 2007. He knew throwing the ball in that situation could be riskier with Volek at quarterback instead of the injured Rivers, particularly with tight end
Antonio Gates
still limited by injury. Turner also knew the Colts would have a harder time moving the ball with injured receiver
Marvin Harrison
standing on the sideline. Scifres' 66-yard punt forced the Colts to start at their own 32. Manning completed only one pass, a 5-yarder, on the Colts' ensuing drive. Aggressive coaches fared better in the wild-card round, and Turner was among them. The Chargers held a 10-6 lead over Tennessee when Turner bypassed a field goal try on fourth-and-goal from the 1. Tomlinson's second-effort touchdown carried risk, but the reward was an 11-point lead. The hard part is knowing when to be aggressive and when to back off. Turner has made the right decisions so far.
4. Divisional-round trend levels off
Home teams won 20 of 28 divisional-round games from the 2000 season through the 2006 season, but the trend could be losing momentum. Road teams have gone 6-6 in the divisional round over the last three seasons. Last season, fourth-seeded New England scored 11 points in the final 4:36 to knock off the top-seeded Chargers. The third-seeded Colts also claimed a 15-6 victory over second-seeded Baltimore last season. Two years ago, fifth-seeded Carolina upset second-seeded Chicago when
Steve Smith
caught 12 passes for 218 yards and two touchdowns. Sixth-seeded Pittsburgh upset top-seeded Indianapolis that year, ultimately advancing to Super Bowl XL, where the Steelers defeated Seattle.
Mike Sando's game balls
Game 1: San Diego 28, Indianapolis 24


Rivers
•
Offense:
San Diego's
Philip Rivers
tossed three touchdown passes against the NFL's stingiest defense. The Chargers averaged a whopping 13.9-yard gain every time Rivers attempted a pass. Chargers receiver
Vincent Jackson
caught passes on three of San Diego's six third-down conversions, including an 8-yard scoring pass to answer the Colts' first touchdown. Backups
Billy Volek
,
Michael Turner
and
Darren Sproles
made significant contributions for the Chargers. Volek, who finished the game after Rivers left with an injury, scored the winning touchdown on a 1-yard keeper. Turner rushed for a game-high 71 yards after the Chargers lost NFL rushing champ
LaDainian Tomlinson
. Sproles' 56-yard scoring reception put the Chargers ahead as the third quarter ended.

Cromartie
•
Defense:
San Diego cornerback
Antonio Cromartie
forced a fumble and picked off a pass, both in Chargers territory. San Diego safety
Eric Weddle
atoned for the holding penalty that wiped out a touchdown on Cromartie's interception return late in the first half. Weddle's one-armed interception at the Chargers' 2 protected a 14-10 lead midway through the third quarter. Weddle made the pick while falling to the ground and tangling with Colts center
Jeff Saturday
. Chargers linebacker
Stephen Cooper
finished with 16 tackles. The official gamebook listed Cooper as the only tackler on nine plays, including five that failed to produce first downs. With the Chargers' season on the line, linebacker
Shawne Merriman
pressured
Peyton Manning
to throw incomplete on fourth-and-goal from the 7. •
Special teams:
Chargers punter
Mike Scifres
averaged 59 yards per punt with a 43.7-yard net average. His 66-yarder in the final two minutes forced the Colts to take over at their own 32 instead of at midfield.
Game 2: N.Y. Giants 21, Dallas 17

Manning
•
Offense:
Giants quarterback
Eli Manning
did it again in the playoffs, performing nearly error-free for most of the game. He averaged 9.1 yards per attempt with a 132.4 rating despite the absence of a strong ground game. Manning had two touchdowns, giving him four in the playoffs, with no interceptions. Cowboys tight end
Jason Witten
led all players with seven catches for 81 yards. His quick thinking and route adjustment allowed quarterback
Tony Romo
to find him with a flip pass as Dallas tried to rally late in the game. Witten's blocking also helped
Marion Barber
top 100 yards rushing in the first half.
Amani Toomer
's 4-yard scoring reception right before halftime gave the Giants momentum heading into the second half. Toomer caught four passes for 80 yards and two touchdowns. He was open in the left flat on a key third-down play late in the game, but the Cowboys' pass rush prevented Manning from throwing to him. •
Defense:
Giants defensive linemen
Osi Umenyiora
,
Justin Tuck
and
Michael Strahan
were relentless deep into the game even though New York's defense had spent far too much time on the field. The three combined for five quarterback hits. Strahan came out of the game for stretches, and Tuck needed help coming off the field during the final drive, but they persevered. Strahan had eight tackles. Giants defensive backs
Gibril Wilson
and
R.W. McQuarters
don't always inspire confidence in coverage, but they are fighters. Wilson broke up a potential touchdown pass to
Anthony Fasano
in the third quarter. The Cowboys settled for a field goal on the drive. McQuarters picked off Romo in the end zone as time ran out on Dallas. •
Special teams:
McQuarters' 25-yard punt return late in the third quarter put the Giants in position for the go-ahead touchdown drive. Both punters were mostly effective, but Dallas'
Mat McBriar
came through in the fourth quarter with a 58-yarder to the New York 3. The punt precipitated a three-and-out series by the Giants, putting the Cowboys' offense in position near midfield on the next Dallas possession.
Writer's bloc
•
John Clayton:
In what could very well have been coach Tony Dungy's final game, the Colts were an undisciplined, mistake-prone bunch against the Chargers. •
Gene Wojciechowski:
The Chargers showed grit in beating the Colts but face even bigger odds next week against the Patriots. •
Jeffri Chadiha:
Three weeks ago, Eli Manning was one of the Giants' biggest question marks. Now he's the biggest reason they're one win away from the Super Bowl.
Loose ends
Chargers 28, Colts 24:
Norv Turner's game plan was to rely on running backs
LaDainian Tomlinson
and
Michael Turner
to set up QB
Philip Rivers
and the Chargers' play-action attack. However, with the injuries to LT and Rivers, the San Diego offensive line dominated the trenches, and punter
Mike Scifres
was flawless in the hidden yardage that resulted in the outcome. --
Keith Kidd
Giants 21, Cowboys 17:
This was an evenly fought battle between two very well balanced offenses that allowed their respective offensive coordinators many options with the play calling. As the game went on, Dallas could not capitalize on some single coverage on the back end, having an increasingly difficult time protecting
Tony Romo
. --
Doug Kretz
• Experts' picks: How did we do? Sunday Countdown | ESPN.com
ESPN video
Looking ahead
An early look at looming story lines:
1. Tough draw for Cromartie, Chargers: Chargers cornerback Antonio Cromartie has proved himself as one of the NFL's finest shutdown cornerbacks. Cromartie can cement that status if he shuts down New England's Randy Moss while leading San Diego to an upset victory in the AFC title game. Shutting down Moss could be far easier than that other part. Moss caught one pass against Jacksonville on Saturday, but the Patriots still won by double digits. Opponents held Moss below five catches four times in the regular season. New England won those games by scores of 34-17 (Cleveland), 49-28 (Miami), 52-7 (Washington) and 27-24 (Baltimore).
2. Brady won't hold the ball:
Peyton Manning
held the ball and nearly took a key fourth-down sack when the Colts were trying to rally against the Chargers. Manning threw incomplete and short of the first-down marker as Chargers pass-rusher
Shawne Merriman
took him down. As tough as Manning can be to sack, Brady possesses what one rival defensive coach called a "spider sense" in the pocket. He won't be waiting for Merriman to take him down, in other words. The Patriots' offensive line has earned the praise it receives, but quarterbacks are often the key to avoiding sacks, and few have handled pressure as well as Brady.
3. Favre won't hold it, either:
A similar story line could play out in the NFC title game at Green Bay. The Giants frustrated Cowboys quarterback
Tony Romo
, who took extra punishment by holding the ball in a desperate attempt to make plays. Packers quarterback
Brett Favre
took only 15 sacks during the regular season. Green Bay took fewer sacks per pass attempt than New England, and the Packers eliminated the Seahawks' pass rush in the divisional round.
4. Reflections on the 2004 draft:
Two of the top four picks from the 2004 draft are leading their teams deeper in the playoffs than experts said they would. The Giants'
Eli Manning
(No. 1 overall) and the Chargers'
Philip Rivers
(fourth overall) remain linked by the draft-day trade that sent Manning from the Chargers to the Giants for picks San Diego used to draft Rivers, Merriman and kicker
Nate Kaeding
. Nine of the 11 players San Diego drafted that year remain on 53-man rosters. Green Bay, New England and the Giants drafted 21 players in 2004, but only eight were on active rosters heading into the divisional round. --
Mike Sando
•
NFL playoffs schedule