Wild-card Sunday: Road rules for Giants; Chargers end drought
Donald Miralle/Getty Images
Wild Card Weekend Observation Deck
By Mike Sando, ESPN.com
Two road victories separate the
New York Giants
from Super Bowl XLII, an appropriate challenge for a team with an 8-1 record away from home this season. New York's 24-14 wild-card victory at Tampa Bay gave the team more than momentum heading into a divisional-round matchup against NFC East rival Dallas next week. The victory also left the Giants tied with the Patriots for the most road victories in the NFL this season. The sterling road record is significant when held against New York's 3-5 home record this season. The Giants, to a degree unmatched in the league, appear more dangerous on the road than at home. They were dangerous even in their season-opening defeat at Dallas, getting four touchdown passes from
Eli Manning
. The Cowboys won that game, 45-35, in part because the Giants had yet to master their defense under first-year coordinator Steve Spagnuolo. That defense is playing far more effectively now, and Spagnuolo is the right man at the controls. Look for him to revisit the game plan his mentor, Philadelphia defensive coordinator Jim Johnson, used when the Eagles defeated the Cowboys at Texas Stadium in Week 15. The pressure is suddenly on
Tony Romo
and the Cowboys to validate their 13-3 record now that Manning and Giants coach Tom Coughlin have won a playoff game. Manning, not Romo, is the quarterback in this game with a playoff victory on his résumé. The Cowboys still might enjoy an edge. Home teams have won 20 of 28 divisional-round games since 2000. The bye week allows players to handle ticket demands and other distractions without taking away from their preparations. Yet the Cowboys' stellar record brought another set of potential issues, with coaches Tony Sparano and Jason Garrett interviewing for head coaching jobs during the bye. No one should fault any assistant coach for pursuing better opportunities elsewhere, but the Patriots were surely pleased when offensive coordinator Josh McDaniels removed himself from consideration for head coaching jobs. Here are a few other observations from wild-card Sunday:
1. Pressure's off Chargers, others
San Diego's victory over Tennessee gave the Chargers their first playoff victory since the 1994 season, when Bobby Ross was the coach. The 17-6 victory wasn't pretty, and the Chargers absorbed a significant injury when dynamic tight end
Antonio Gates
hurt a toe and left on a cart. But some of the pressure is off San Diego heading into a divisional-round matchup with Indianapolis. The Chargers weren't the only ones exhaling this weekend. Jaguars coach Jack Del Rio experienced his first playoff victory in five seasons on the job. Coughlin made it four regular seasons with the Giants before prevailing in a playoff game. Those outcomes left Cincinnati's Marvin Lewis as the NFL's only head coach with zero playoff victories after at least five seasons in his current position. The eight coaches with more than five seasons in their current jobs have led their teams to Super Bowls: Bill Belichick, Tony Dungy, Jeff Fisher, John Fox, Jon Gruden, Mike Holmgren, Andy Reid and Mike Shanahan. New Orleans' Sean Payton and San Diego's Norv Turner are the only head coaches with playoff victories after fewer than three seasons in their current positions.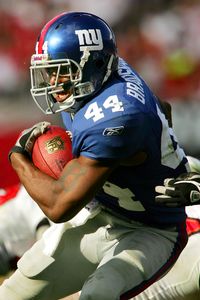 Matthew Stockman/Getty Images
Don't let Ahmad Bradshaw's modest rushing total fool you. He had a huge role in the Giants' win.
2. Giants make the adjustments
Persistent eight-man fronts prevented the Giants from running the ball early in the game, putting too much pressure on Manning. Coughlin and offensive coordinator Kevin Gilbride had to do something after the Giants finished the first quarter with minus-2 yards of offense. The Giants adjusted by varying their personnel groupings, formations and run-pass tendencies. Coughlin surely would have preferred to pound the ball with base personnel from I- and offset-I formations. When the Bucs dictated otherwise, the Giants mixed in some one-back formations with two tight ends or three receivers. They passed when they otherwise might have run. Manning's confidence grew as he enjoyed success. Using diminutive
Ahmad Bradshaw
as the lone back worked well because the Bucs weren't going to respect him the way they respected more powerful
Brandon Jacobs
. Bradshaw's final statistics -- 17 carries for 66 yards -- didn't come close to reflecting his effect on the game. Running at times from passing formations, Bradshaw had first-down rushes of 8, 7, 8 and 6 yards in the touchdown drives that put the Giants ahead 14-7 and 24-7.
3. Coaching on the line
The Titans have outplayed their offensive talent at times by getting the most from their offensive line. Line coach Mike Munchak, a Hall of Fame player from 1982 to 1994, might be an all-pro coach, as well. Tennessee's line dominated for stretches against San Diego even after the Titans placed injured center
Kevin Mawae
and guard
Benji Olson
on the inactive list shortly before kickoff. With Mawae and Olson in the lineup, the Tennessee starting line averaged 29.3 years old, the eighth-oldest in the league. Lines with that type of experience, particularly at center, sometimes can coach themselves. Experience can teach players which adjustments to make and how to use leverage against certain defenders. Without Mawae and Olson, the Titans' line averaged 25.8 years old, making it the youngest starting line in the league. That's when coaching becomes critical.
Eugene Amano
, a 2005 seventh-round choice from Division II Southeast Missouri State, started for nearly 37-year-old Mawae at center.
Daniel Loper
, a 2004 fifth-round pick from Texas Tech, started for 32-year-old Olson at right guard. Amano and Loper were at their best clearing Chargers nose tackle
Jamal Williams
out of the way on a 13-yard run on third-and-2 from the San Diego 26. Unfortunately for the Titans, the drive ended with a lost fumble. But the team without
LaDainian Tomlinson
held a 119-68 advantage in rushing yardage. Amano started five games late in the season. Loper had never started an NFL game.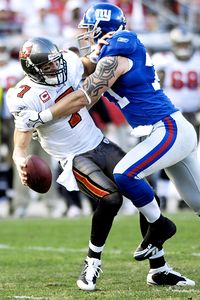 Fernando Medina/US Presswire
The Giants' pass rush prevented Bucs QB Jeff Garcia from having success on third and long.
4. Third down separates Giants, Bucs
Tampa Bay's third-down success rate against New York qualified as one of the more misleading stats. The Bucs converted nine of 14 times, compared with five of 12 for the Giants, but Manning made his conversions count. The Giants spread their five third-down conversions across four drives. Those drives produced all 24 of their points. Manning converted three times on third-and-6 or longer. The team scored on every drive featuring a third-down conversion, in other words. The Bucs converted only once in five plays of third-and-6 or longer, and that drive ended with a punt after Tampa Bay failed to convert on third-and-5. The New York pass rush overwhelmed quarterback
Jeff Garcia
, forcing him into difficult throws and hasty decisions. Manning felt pressure, too, but he still managed to complete a few key passes. The Giants converted three of their final five chances from between third-and-6 and third-and-10. That marked an improvement over their 31.3 conversion rate on pass plays in those situations during the regular season.
Mike Sando's game balls
Game 1: N.Y. Giants 24, Tampa Bay 14


Manning
•
Offense:
Giants quarterback
Eli Manning
settled down after a rocky beginning. He might always appear at least a little antsy when plays break down, but he fought through that better in this game. It paid off when New York wanted to keep Tampa Bay's defense on the field to protect a 17-7 lead late in the third quarter. Manning's 11-yard pass to
Amani Toomer
on third-and-7 sustained a defining 15-play, 92-yard touchdown drive.
Grey Ruegamer
and
Guy Whimper
helped the Giants' offensive line get through this game short-handed. Ruegamer subbed for injured center
Shaun O'Hara
. Whimper played left tackle when the heat sidelined
David Diehl
.

Strahan
•
Defense:
Left end
Michael Strahan
is still a major headache for opposing offensive tackles. He had nine tackles, three quarterback hits, one sack and a forced fumble. On one play, Bucs right tackle
Jeremy Trueblood
went into NBA-style box-out mode while desperately trying to shield his quarterback from an onrushing Strahan. The ploy did not work. The Giants were without cornerback
Sam Madison
, but
Corey Webster
and
R.W. McQuarters
picked off passes. Webster's end zone interception delivered a crushing blow to
Jeff Garcia
and the Bucs. •
Special teams:
Tampa Bay needed to start the second half strong. New York prevented that from happening by forcing a turnover on the half's opening kickoff. Linebacker
Torrance Daniels
stripped the ball from return man
Micheal Spurlock
. Webster recovered for the Giants. New York punter
Jeff Feagles
and his coverage team produced a whopping 44.5-yard net average on six punts. The Bucs' net average was 36.8 yards on five punts. The difference works out to more than 45 yards in field position over the course of six punts, a significant advantage in the playoffs.
Game 2: San Diego 17, Tennessee 6

Rivers
•
Offense:
Chargers QB
Philip Rivers
completed passes of 32, 34 and 39 yards on third-and-9 or longer even though Pro Bowl tight end
Antonio Gates
wasn't a factor before leaving with a toe injury. Rivers also was working without a consistent ground game. He faced third-down distances of 12, 17 and 18 yards early in the game, contributing to a slow start. But he averaged 9.7 yards per attempt. Receivers
Chris Chambers
and
Vincent Jackson
gave San Diego needed production at the position. They were on the receiving end of Rivers' big third-down strikes. Chambers took heat from CBS' Bill Cowher for failing to play defense on a deep ball Tennessee picked off, but a little more on the ball might have helped, too. Chargers running back
LaDainian Tomlinson
rushed for only 42 yards, but his quick thinking at the goal line meant everything. The Titans stopped Tomlinson cold on a fourth-and-goal play, but Tomlinson reached the ball across the goal line for the touchdown that stretched San Diego's lead to 17-6. •
Defense:
Tennessee cornerback
Cortland Finnegan
led an inspired effort with eight tackles, one sack, one interception, one pass defensed and one forced fumble. Rookie first-round choice
Michael Griffin
knocked down a second-quarter pass to Chambers in the end zone. The stop forced San Diego to settle for a field goal try, which
Nate Kaeding
missed.
Luis Castillo
of the Chargers finished with eight tackles, a lot for a 3-4 defensive end. His sack on third-and-14 prevented the Titans from answering Tomlinson's fourth-quarter touchdown. •
Special teams:
Brandon Siler
(San Diego) and
Donnie Nickey
(Tennessee) each finished with two special-teams tackles. That was enough to win game-ball honors on a day when both kickers missed from 45 yards or closer.
Writer's bloc
•
Len Pasquarelli:
After going to great lengths to remind himself about the importance of patience, Eli Manning practiced what he preached. •
Len Pasquarelli:
Instead of making excuses, the Giants' injury-riddled defense made a lot of clutch plays against the Buccaneers. •
John Clayton:
Norv Turner was hired to do what Marty Schottenheimer couldn't in San Diego -- win a playoff game. Mission accomplished.
Loose ends
Giants 24, Bucs 14:
After Tampa Bay jumped out to the early lead, the Giants' base 4-3 defensive scheme became more aggressive with a zone pressure package to force Bucs QB
Jeff Garcia
into some uncharacteristic errant throws and turnovers. …
Chargers 17, Titans 6:
Tennessee's defense was spectacular, and
Albert Haynesworth
& Co. simply dominated San Diego's offensive front, but the Chargers had far more firepower than the Titans and that offensive talent eventually came to the forefront. …
• Experts' picks: How did we do? Sunday Countdown | ESPN.com
ESPN video
Looking ahead
An early look at looming story lines:
1. Little carryover from Colts-Chargers I: Much has changed for both teams since the Chargers outlasted the Colts in Week 10. There's almost no chance Peyton Manning will throw six interceptions in a divisional playoff game at home, for starters. Manning could have Marvin Harrison back for this game. The Chargers will have DE Castillo, who missed the first matchup. Although San Diego most likely will be without Gates, Rivers is developing a strong rapport with receivers Jackson and Chambers.
2. Burress could again be key:
The Cowboys hope to have
Terrell Owens
back from a sprained ankle when the Giants visit Texas Stadium in the divisional round, but he could share the spotlight with
Plaxico Burress
. New York's top wideout caught three scoring passes in an opening-day loss at Dallas. Burress matches up well against the Cowboys' occasionally shaky secondary. Dallas has three defensive backs headed for the Pro Bowl, but they didn't get there on the strength of their play against the Giants.
3. Aggressive coaches prevail:
Critics accused New England's Bill Belichick of running it up when his team played aggressively while leading in the regular season. The playoffs already have rewarded coaches who play to win, a trend to watch in the divisional round. Seattle's Mike Holmgren, trailing by a point against Washington, dialed up a 20-yard touchdown pass when he could have settled for a field goal. San Diego's Norv Turner went for a touchdown, and got it, when he could have kicked a field goal with a 10-6 lead against Tennessee.
4. Watch out for Addai:
The Titans ran effectively at times against the Chargers' defense even though Tennessee possesses limited weapons on the perimeter. Indianapolis'
Joseph Addai
should face more favorable matchups because San Diego won't be able to put extra defenders in the box against Peyton Manning. --
Mike Sando
•
NFL playoffs schedule