Week 1: A little LT, a lot of D and Mario finally comes up big
Mel Evans/AP Photo
Defense Rules
By John Clayton/ESPN.com
Killing time as he awaited the kickoff of the Chargers-Bears game, San Diego coach Norv Turner watched some of the nine earlier matchups Sunday. He saw hard hitting and limited scoring. It was a preview of the Chargers' 14-3 victory over the Bears.
"I think we all peek at the scores and watch the games," Turner said of the earlier games, in which only nine offensive touchdowns were scored. "As I watched all the close scores and the teams battling pretty tight games, something told me that's the type of game we were going to be in. I don't know you want to be in that game, but you certainly want to play defense like we did today."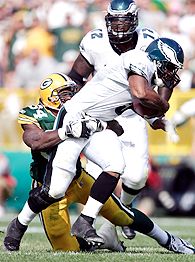 Jeff Hanisch/US Presswire
Donovan McNabb and the Eagles struggled on offense, but they weren't alone in Week 1.
It's not surprising that defense dominated. Most coaches allow their starting offense to play only six of the 16 quarters of the preseason. Timing in the running game is hard to establish in Week 1 because most of the backs are not in 60-minute game shape.
San Diego's LaDainian Tomlinson, who didn't play a down in the preseason, said he didn't get his second wind until the second quarter. Thomas Jones struggled in his Jets debut with only 42 yards on 14 carries, possibly because of the calf injury that ruined his preseason. Brett Favre and Donovan McNabb combined for only two offensive touchdown drives in a sloppy 16-13 victory by the Packers over the Eagles.
Perhaps the most impressive offensive showing came in Jacksonville. The Titans rushed for 281 yards against a Jaguars defense that allowed 91 rushing yards per game last year. Titans coach Jeff Fisher kept his offensive starters on the field for three quarters in the final exhibition game. He did that so his offense would be better prepared for the opener. It worked, and Chris Brown led all rushers with 175 yards.
Some of the league's best quarterbacks also impressed. Peyton Manning put up 41 points on the Saints on Thursday night. Tom Brady threw three touchdown passes against the Jets, and Ben Roethlisberger threw four against the Browns.
The AFC has some of the league's best defenses and most of the top quarterbacks. That showed in the opening week.
Heard in the pressbox (at the Meadowlands)
By Len Pasquarelli/ESPN.com
• Whatever is ailing star New England defensive end Richard Seymour, who will miss at least the first six weeks of the season and possibly more while on the physically unable to perform list, the problem is not a staph infection. There have been rumors that Seymour has experienced complications from offseason knee surgery, and that likely is the case. But team sources have shot down the notion a staph infection is the culprit.
• Although both sides still contend a deal will get done, the Tennessee Titans have not had any recent discussions with coach Jeff Fisher about a contract extension. Fisher has steadfastly reiterated his intent to remain with the Titans but is entering the final year of a contract that will pay him about $5.2 million in 2007. Without an extension, Fisher will be a free agent after this season and a very hot property on the open market.
• Word is that top recruiter Melvin Bratton, who is leaving the Lock, Metz and Malinovic agency to join the fledgling sports representation firm started by former San Francisco 49ers owner Eddie DeBartolo, already has set his sights on two potential 2008 first-round picks from LSU: defensive tackle Glenn Dorsey and wide receiver Early Doucet. This past year, Bratton delivered two LSU first-rounders, top-pick quarterback JaMarcus Russell and wide receiver Dwayne Bowe, to LMM.
• Atlanta has had its eye on Tim Rattay for a couple of years now, and it could be that the seven-year veteran finally lands on the Falcons' roster. Rattay was released by Tennessee in the cutdown to the 53-player roster limit and worked out for Falcons officials last week. The Falcons keep waiting for Oakland to sign Russell, because that might make third-year veteran Andrew Walter expendable. But Rattay might be an interesting alternative to hold down the No. 3 job.
• If the Kansas City offense struggles early in the season, look for first-round wide receiver Dwayne Bowe to start getting extended playing time. The Chiefs don't have a lot of playmakers, and Bowe, who missed some early training camp time because of his contract negotiations, is starting to get into the flow of the offense. Bowe certainly has playmaker potential and could be a boost to the Chiefs' passing game.
• Even though the Jacksonville coaches held Marcus Stroud to just one practice per day in training camp, the team's Pro Bowl defensive tackle still is not 100 percent recovered from an offseason microfracture surgery to address his chronically problematic ankle.
• Baltimore still is thrilled by the progress of rookie offensive tackle Jared Gaither, the former University of Maryland standout chosen by the Ravens in the fifth round of the supplemental draft this summer. But if perennial Pro Bowl left tackle Jonathan Ogden (toe) is unable to line up for Monday night's season opener at Cincinnati, it probably won't be Gaither who starts in his place. Instead, the Ravens likely will move right tackle Adam Terry to the left side, his more natural spot. Rookie Marshal Yanda, a third-round pick from Iowa, would then start at right tackle.
• In the spring, New Orleans signed "franchised" left defensive end Charles Grant, who never has been to a Pro Bowl, to a seven-year contract with a maximum value of $63 million. The Saints have not yet directed their attention to right end Will Smith, who was voted to the Pro Bowl last season and generally is regarded as the better player of the tandem, but might soon begin discussions about an extension. Smith has two years remaining on his current contract, and the longer the Saints wait to extend him, the higher the price tag might get.
• Several teams have stayed in touch with free-agent kicker Dave Rayner, released by the Packers in the final roster cutdown. He probably tops the "ready" list for most teams that might be looking to make a change at the position early in the year.
• Sometimes the Saints try a little too hard to force tailback Reggie Bush into the offense. In Thursday's opener at Indianapolis, the Saints might have fared better with a streamlined game plan, one in which they pounded the ball at the smaller Colts' defense.
• Having released Donovin Darius in the regular-season roster purge, the Raiders are looking for another veteran safety. One possibility is former Tennessee starter Lamont Thompson, who worked out for Raiders officials this week.
Len Pasquarelli's game balls

Brown
• Offense: No one made a big play for four-year veteran tailback Chris Brown when the Tennessee Titans starter was in the unrestricted market. Good thing for the Titans, who, desperate for a starter after they released Travis Henry, were able to re-sign Brown to a one-year contract. The deal provided Tennessee an experienced back who ran for 1,000-plus yards in 2004.
In the Titans' 13-10 upset win at Jacksonville, Brown spearheaded a powerful Tennessee rushing attack that registered 282 yards on the ground by pounding out 175 yards on 19 carries. He also had one reception for 3 yards. It was the seventh 100-yard performance of his career but his first since December 2004, and it could help re-establish a career that has been in reverse the past two seasons.
•
Defense:
The
Houston Texans
paid defensive end
Mario Williams
nearly $15 million in bonuses and salary in 2006. For that huge outlay, they got just 4½ sacks from the first overall selection in last year's draft. On Sunday, though, Houston began to collect big time on its investment.
Williams finally turned into "Super Mario" in a 20-3 victory over Kansas City. The former North Carolina State star rang up five tackles, two sacks, three quarterback pressures and a fumble recovery. He returned the fumble, forced by cornerback Jamar Fletcher, 38 yards for the first touchdown of his career. The performance marked the first full, multi-sack game of Williams' career, topping the 1½ he had versus Miami last season.
•
Special teams:
Rookie
Mason Crosby
won the starting place-kicker job for the
Green Bay Packers
by beating out second-year veteran
Dave Rayner
in training camp. On Sunday, he notched the first game-winning field goal of his NFL career, a 42-yarder with two seconds remaining to give the Packers a 16-13 win over the Eagles.
Crosby earlier converted field goals of 53 and 37 yards, demonstrating great leg strength on the first attempt of his career. Crosby also averaged a monstrous 68.3 yards on his first four kickoffs, putting two in the end zone, including one for a touchback, to keep the Philadelphia offense bottled up much of the day. His last kickoff was a 38-yard squib kick on the final play of the game, following his winning field goal.
ESPN Video
Week 1 Rundown
•
Indianapolis 41, New Orleans 10
The Colts unveiled their Super Bowl banner Thursday night. Then they took their first step toward another title by flattening the Saints.
• Denver 15, Buffalo 14
How much more can Bills fans bear? A valiant effort by Buffalo's defense went unrewarded in an excruciating one-point loss.
• Pittsburgh 34, Cleveland 7
Some things never change. The Steelers beat up on the Browns (again) and made a winner out of Mike Tomlin in his head-coaching debut.
• Green Bay 16, Philadelphia 13
Brett Favre never found his rhythm, but the Packers' special teams helped him tie John Elway's record for most victories by a starting QB (148).
• Houston 20, Kansas City 3
Mario Williams made a huge statement to his legion of critics. Last year's No. 1 overall pick was a dominant force in the Texans' convincing victory.
• Minnesota 24, Atlanta 3
Joey Harrington wasn't the answer in Detroit or Miami. He certainly didn't do much Sunday to make Falcons fans believe he's the answer in Atlanta.
• New England 38, N.Y. Jets 14
Talk about a spectacular debut. Randy Moss (9 catches, 183 yards, 1 TD) needed only one game in a Patriots uniform to prove he's still a dominant player.
• Washington 16, Miami 13 (OT)
No one said it had to be pretty. The Redskins didn't earn many style points, but they showed poise and made plays when it mattered most.
• Carolina 27, St. Louis 13
Everyone's waiting for a QB controversy in Carolina. If Jake Delhomme continues to play like he did Sunday, he'll keep David Carr on the bench -- and the Panthers in contention all season.
• Tennessee 13, Jacksonville 10
Who had the biggest rushing day of Week 1? LT? LJ? Nope. The Titans' Chris Brown (19 carries, 175 yards), of course.
• Detroit 36, Oakland 21
Not nearly as convincing as the final score might indicate. If the Lions want to be taken seriously, they can't blow 17-point leads against teams of Oakland's caliber.
• San Diego 14, Chicago 3
The Bears held LaDainian Tomlinson to 25 yards rushing … and lost. A prime example of how turnovers (Chicago had four) can affect the outcome of a game.
• Seattle 20, Tampa Bay 6
As long as Matt Hasselbeck and Shaun Alexander are healthy, the Seahawks look like a team that can challenge for NFC supremacy.
•
Dallas 45, N.Y. Giants 35
The Giants lost a classic shootout. They can only hope they didn't lose
Eli Manning
(shoulder),
Brandon Jacobs
(knee) or
Osi Umenyiora
(knee) for an extended period of time.
-- ESPN.com