Week 13: Redskins honor Taylor; playoff picture coming into focus
AP Photo/Pablo Martinez Monsivais
Week 13 Observation Deck
By Jeffri Chadiha, ESPN.com
It's that time of year again -- the point at which we start realizing which teams are serious about making a run at the playoffs and which teams have been teasing us all season. In fact, that's what made this Sunday so interesting. Because it's the first week of December, it's also the first chance we have to start safely predicting which teams have an inside track on a postseason spot. Here's what we learned about those that helped themselves Sunday and those that hurt themselves:
The Winners
1. Tennessee (7-5):
The Titans badly needed that win over Houston. They had lost three in a row and were losing ground to Jacksonville in the wild-card race.
2. San Diego (7-5):
The Chargers are going to qualify by default. Denver and Kansas City, which the Chargers beat Sunday, just aren't good enough to challenge for the AFC West.
3. Minnesota (6-6):
As long as
Adrian Peterson
is healthy, the Vikings have a shot. Their 42-10 trouncing of Detroit said they are feeling pretty confident right now.
4. Arizona (6-6):
The Cardinals have a toughness about them that they have lacked in the past. Just ask Cleveland, which lost 27-21 to Arizona on Sunday.
The Losers
1. Philadelphia (5-7):
The Eagles are playing hard enough to win and making just enough mistakes to lose. That's not how you reach the playoffs in a division with two legitimate contenders.
2. Detroit (6-6):
After that loss to Minnesota, the Lions can forget about living up to
Jon Kitna
's promise of 10 wins. With Dallas, San Diego and Green Bay still left on the schedule, they'll be lucky to get seven.
3. Denver (5-7):
That 34-20 loss at Oakland was far more lopsided than the score indicates. The Broncos are done.
4. Washington (5-7):
The Redskins gave a strong showing after an emotional week. That's why that last-second loss to Buffalo had to be so heartbreaking. But that's enough about the postseason. Here are 10 other observations from Sunday's action: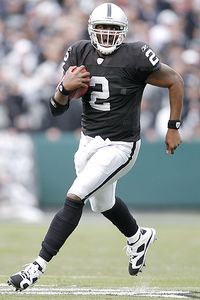 Greg Trott/Getty Images
No. 1 pick JaMarcus Russell finally got his first taste of NFL action in Oakland's victory over Denver.
1. Russell's debut
Give Oakland credit for creating a solid strategy for getting rookie quarterback
JaMarcus Russell
some action in its 34-20 win over Denver. After
Josh McCown
started, Russell entered early in the second quarter and played two possessions. Raiders offensive coordinator Greg Knapp also gave his young quarterback some plays that allowed him to quickly find a comfort zone. The Raiders ran plenty of play-action and rolled Russell out to keep him away from pressure on most of the seven passes he attempted. Russell wound up completing four of those throws for 56 yards. The question now is whether the Raiders saw enough to give Russell more action during the remainder of the season. They have liked the progress he's made after missing all of training camp, and coach Lane Kiffin realizes nothing can compensate for real game experience. The problem is that Kiffin wants to win, and right now, the Raiders have two straight AFC West victories after losing 17 consecutive division games. The guess here is that Russell will keep getting limited game action until Kiffin decides to look to next year.
2. Bad break for Browns
Cleveland should have been bitter about the ruling at the end of that 27-21 loss to Arizona. Officials initially said tight end
Kellen Winslow
was out of bounds when he tried to catch a 37-yard touchdown pass from
Derek Anderson
with no time left on the clock. After checking the replay, the referees stood by their decision. They simply didn't believe that Cardinals defensive backs
Antrel Rolle
and
Oliver Celestin
had forced Winslow out. I'll argue that one as long as they keep showing that replay. Winslow went up while in bounds, and he still managed to get a foot in bounds when Celestin and Rolle crashed into him. The smart money says Winslow would have gotten two feet down before hitting the sideline. The Browns will be hoping that loss doesn't haunt them as the playoff race heats up.
3. Graham getting it done
Tampa Bay running back
Earnest Graham
has quietly been one of the most valuable players for his team. The Bucs lost
Cadillac Williams
to injury. They lost
Michael Pittman
as well. The consensus was that the passing game would have to carry this offense while a makeshift backfield banged out whatever it could from week to week. But Graham has surprised everybody by enjoying the best season of his four-year career. After gaining 102 yards in Sunday's 27-23 win over New Orleans, Graham has 631 yards and six touchdowns on the season. There's nothing dynamic about him, either. He's a downhill runner who just keeps grinding out tough yards. He's also on a roll: Graham has had 100 yards rushing in three of his past four games.
For more observations, click here.
Heard in the press box (in Indianapolis)
By Len Pasquarelli, ESPN.com
• One of the league's most generous owners, Jim Irsay of Indianapolis has provided his private jet for Colts wide receiver Reggie Wayne to attend the Monday funeral of Redskins safety Sean Taylor in South Florida. Although they share an alma mater, Wayne and Taylor never played together at the University of Miami. However, the two often worked out together in the offseason and had become close friends.
• The Colts have quietly started discussing a contract extension for free safety
Bob Sanders
, who will be eligible for unrestricted free agency in the spring. The talks are in the very early stages and a deal isn't close yet, but Indianapolis isn't about to let an impact defender such as Sanders escape as a free agent. •
Baltimore Ravens
offensive coordinator Rick Neuheisel is not only a candidate for the head coach job at Georgia Tech but also could come under consideration by UCLA if the Bruins fire Karl Dorrell. Although the Georgia Tech people have some misgivings about Neuheisel, his stock there was helped when Randy Edsall, who had interviewed for the job Thursday, decided Sunday to remain at Connecticut. • Now that Les Miles has decided to stay at LSU, the rumors might finally cease that Jacksonville coach Jack Del Rio would have been interested in the plum college job had it become available. Del Rio quietly lobbied for the position at LSU a few years ago. His contract with the Jaguars runs only through the 2008 season, and he might need to win a playoff game this season, which he has failed to do so far, to earn an extension. • Jacksonville offensive lineman
Maurice Williams
, who reworked his contract to take a pay cut but also void the final two years of the deal, has played pretty well since moving into the lineup at right guard because of injuries to others. Williams was the team's former starter at right tackle, but he lost his job when Jacksonville signed
Tony Pashos
as a free agent this spring. Now that Williams is eligible for free agency after this season, he could generate some pretty good interest. And the fact he has proved to be versatile enough to play guard in 2007 might help drive up his price a little. • With the back problems middle linebacker
Brian Urlacher
has been experiencing this season, Chicago management might hold off on the contract upgrade the Bears had talked about presenting to him. The team could spend some of that money on weakside linebacker
Lance Briggs
, who might be playing even better in 2007 than in the previous two seasons, each of which earned him a Pro Bowl invitation. Briggs has backtracked on his insistence that he would never re-sign with the Bears, and the team has begun to rethink its stance on giving him a long-term contract. • Keep an eye on Cleveland secondary coach Mel Tucker as a defensive coordinator candidate in the league in the next few years. Tucker, who has been in the NFL only since 2005, has done a very nice job with the Browns' young defensive backs, particularly with safety
Sean Jones
this season. • Despite their ability to overcome injuries and keep winning, the Colts really need to get their offensive line straightened out.
Peyton Manning
is taking more hits this season than he has in several years. • League scouts will be stunned if Arkansas tailback Darren McFadden does not bypass his final college season to enter the 2008 draft. The early consensus is that McFadden would be the top-rated prospect in the draft pool.
Len Pasquarelli's game balls

L. McCown
• Offense: While older brother Josh McCown regained his starting job in Oakland because of an injury this week, Luke McCown took over in Tampa Bay because of a bruised back that sidelined Jeff Garcia on Sunday afternoon. And in his first start since Dec. 26, 2004, when he was playing for Cleveland, Luke led the Bucs over the New Orleans Saints, and into a commanding three-game lead in the limp NFC South, with a 27-23 comeback win.
McCown, who had thrown only four passes in the first 11 games of the season, connected with tight end
Jerramy Stevens
on a 4-yard touchdown pass with just 14 seconds remaining in the game. For the day, McCown completed 29 of 37 passes for 313 yards, with two touchdown passes and just one interception, for a career-best 108.7 efficiency rating. His previous best rating was just 80.1 in an 2004 contest.
• Defense: There aren't many middle linebackers in the NFL who stay on the field on third down, but Seattle coaches are glad third-year veteran Lofa Tatupu is one who does. One of the league's best coverage linebackers, the two-time Pro Bowl performer intercepted A.J. Feeley three times in the visiting Seahawks' 28-24 victory over the Philadelphia Eagles. The trio of pickoffs gave Tatupu a career-best four interceptions for the season, matching his total for his first two seasons.
His first two interceptions, both in the opening quarter, set up Seattle touchdowns. His final theft, with just 14 seconds left and the Eagles on the Seahawks' 11-yard line, secured a victory that put Seattle at 8-4 and owning a two-game division lead. Tatupu also had 11 tackles and three passes defensed.
• Special teams: Eighteen-year veteran punter Jeff Feagles of the New York Giants might not have the leg strength of some of his younger league counterparts. But Feagles, 41, has long been one of the league's best hang-time and placement punters, and in Sunday's 21-16 victory over the Chicago Bears, those qualities were good enough to hold down ever-dangerous Devin Hester all afternoon.
Feagles averaged 40.8 yards gross and 37.6 yards net on five punts. He knocked three punts inside the Chicago 20-yard line and hung the ball high enough that Hester managed just 16 yards on three runbacks, with a longest run of 8 yards. On the five possessions the Bears began after punts, the average starting point of the drive was the Chicago 27-yard line.
Writer's bloc
• The Redskins' crushing loss to Buffalo didn't lessen the impact of their emotional tributes to the late Sean Taylor.
Mike Sando
• Peyton Manning's third-down mastery helped Indy put away Jacksonville.
Len Pasquarelli
• In what figures to be their last real shot at winning, the Dolphins left no doubt that they're more inept than the Jets.
Matt Mosley
• Sean Payton made a horrible call -- and it may have cost the Saints a playoff spot.
John Clayton
ESPN video
Week 13 rundown
•
Tennessee 28, Houston 20
Although his contributions (2 tackles) were modest, DT
Albert Haynesworth
's return to the lineup was a huge boost for the Titans, who snapped a three-game losing streak.
Photos
•
Indianapolis 28, Jacksonville 25
There's no doubt the Jaguars are good. They' re just not good enough to beat the Colts. Falling behind 14-0 certainly didn't help Jacksonville's cause.
Photos
• San Diego 24, Kansas City 10
By breaking open a 10-10 game with two long TD runs, LaDainian Tomlinson (177 yards rushing) showed he's still very capable of taking over a game at any point. Photos
• St. Louis 28, Atlanta 16
It's been a long season for the Rams, but another productive one for WR Torry Holt, who has caught at least five passes in 10 of 11 games. Photos
• N.Y. Jets 40, Miami 13
Rookie QB John Beck had been keeping the Dolphins in games by not making big mistakes. His five turnovers Sunday helped turn a close game into a Jets rout. Photos
• Minnesota 42, Detroit 10
After 11-1 Dallas, is there a more dangerous team in the NFC than the surging Vikings? Photos
• Seattle 28, Philadelphia 24
How critical are turnovers? The Eagles had more rushing yards, had more passing yards and won the time of possession battle. But QB A.J. Feeley's four picks were just too much for Philly to overcome. Photos
• Buffalo 17, Washington 16
The Redskins did a lot to honor the late Sean Taylor. If Joe Gibbs had a firm grasp of the icing-the-kicker rules, the Skins might have honored him even more -- with a victory. Photos
• Carolina 31, San Francisco 14
Home sweet home. Buoyed by their best defensive effort of the season (six takeaways), the Panthers earned their first home victory since Nov. 19, 2006. Photos
• Oakland 34, Denver 20
Raiders fans got their first look at JaMarcus Russell. Did the No. 1 pick's cameo motivate Josh McCown (three TD passes)? Sure looked like it. Photos
• Arizona 27, Cleveland 21
Cashing in. The Cardinals turned four Browns turnovers into four TDs to remain in the thick of the highly congested NFC wild-card race. Photos
• N.Y. Giants 21, Chicago 16
After a dreadful start, Giants QB Eli Manning finished with a flourish. Was it enough to get the critics off his back? Photos
•
Tampa Bay 27, New Orleans 23
On a late trick play that didn't really seem necessary, the Saints fumbled away a chance at victory and likely any chance of making the playoffs.
Photos
•
Pittsburgh 24, Cincinnati 10
Pittsburgh won despite committing four turnovers. Is that a testament to the Steelers' resolve or the Bengals' ineptitude?
Photos
-- ESPN.com
Looking ahead
An early look at next weekend's biggest games:
• Pittsburgh (9-3) at New England (11-0): Are the Steelers the only thing separating the Patriots from a perfect regular season?
• San Diego (7-5) at Tennessee (7-5): Although both playoff hopefuls have the same record, a loss would hurt the Titans a lot more than the Chargers.