Week 15: Winter leaves its mark; playoff picture remains muddled
Tony Dejak/AP Photo
Week 15 Observation Deck
By Mike Sando, ESPN.com
Wild winter weather and a few upsets made for turbulent times as the NFL playoff picture continued to shake out in Week 15. Seattle's disappearing act in Carolina delivered first-round playoff byes to NFC leaders Dallas and Green Bay, while giving Tampa Bay an outside shot at the third seed in the conference playoffs. The Cowboys held on to the top spot in the NFC despite stumbling at home against the Eagles. Jacksonville outmuscled Pittsburgh in a potentially defining 29-22 victory at Heinz Field, but the Jaguars haven't won much of anything yet. Their inability to overtake Indianapolis in the AFC South means the Jaguars can't secure anything higher than the fifth seed in the AFC. They appear likely to visit Cleveland or Pittsburgh in a wild-card game. The Browns' snow-covered home victory over Buffalo gives Cleveland a shot at the fourth seed in the AFC, behind New England (14-0), Indianapolis (12-2) and resurgent San Diego (9-5). The Chargers, suddenly hotter than the seat Norv Turner inhabited much of the season, need only to defeat Denver at home and Oakland on the road to claim the third seed in the conference. If the Chargers hold up their end, the second-place team in the AFC North -- Cleveland or Pittsburgh -- likely would visit San Diego as the sixth seed in the wild-card round. The Browns can clinch a playoff berth by winning in Cincinnati in Week 16. Cleveland probably needs to win out against the Bengals and the 49ers to overtake the Steelers in the AFC North. Pittsburgh plays at St. Louis on Thursday night before finishing the regular season in Baltimore. The Steelers' regular-season sweep of the Browns gives Pittsburgh a good shot at claiming the fourth seed as the AFC North champion. Tennessee kept a prominent spot in the AFC conversation by beating Kansas City. The Titans can finish 10-6 with victories over the
New York Jets
and Indianapolis, but that won't be enough for a playoff spot if Jacksonville wins one more game and the AFC North runner-up adds a conference victory to its résumé. In the NFC, Tampa Bay's 37-3 pounding of Atlanta delivered the NFC South title to the Bucs. Seattle's opening-week victory over Tampa Bay gives the Seahawks inside positioning for the third seed in the NFC. The
New York Giants
headed into their Week 15 game against Washington as the likely fifth seed. Minnesota can tighten its grip on the sixth and final spot with a victory over Chicago on Monday night. Ten observations from Week 15: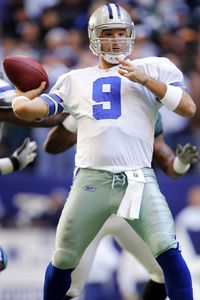 Brian Bahr/Getty Images
Hindered by a sprained right thumb, Tony Romo had a rough outing against the Eagles.
1. Potential concerns in Dallas
Tony Romo
tossed eight interceptions in Dallas' final five games last season, precipitating a first-round playoff exit for the Cowboys. He's been far better this season, but the thumb injury Romo suffered against Philadelphia makes it harder to dismiss his three interceptions. Romo finished the game -- How could he opt out with girlfriend Jessica Simpson in attendance and wearing his jersey? -- but he clearly wasn't Mr. Right in the 10-6 defeat at Texas Stadium. Romo completed 13 of 36 passes with no touchdowns and a 22.2 rating. Romo wasn't the only Dallas player hurting, either. Center
Andre Gurode
and defensive end
Chris Canty
left with knee injuries. Tight end
Anthony Fasano
left with a concussion.
Terrell Owens
had trouble holding on to the football, finishing with two receptions. Give the Eagles credit.
Lito Sheppard
continued to distinguish himself against the game's best receivers.
Donovan McNabb
fought through constant pressure to avoid interceptions. It's certainly no shock when good teams lose to well-coached division opponents. The Cowboys still might have the best team in the NFC, but for the first time this season, their offense has questions to answer.
2. It's not how you start but how you finish
Chargers general manager A.J. Smith seemed a bit smug when shrugging off second-guessers during the team's early struggles under new coach Norv Turner. Smith's patience seemed inconsistent with the quick trigger he showed former coach Marty Schottenheimer, but that doesn't matter now. San Diego, a 51-14 winner over Detroit, has averaged better than 30 points per game in its four-game winning streak. The Chargers have a very good shot at finishing with 11 victories and hosting a wild-card game. LaDainian Tomlinson, who averaged 7.7 yards per carry against the Lions, is gaining momentum by the week. For more observations, click here.
Heard in the press box (in Pittsburgh)
By Len Pasquarelli, ESPN.com

• The month-long negotiations between Miami owner Wayne Huizenga and real estate moguls Stephen Ross and Jorge Perez over the potential sale of the Dolphins might produce an agreement, but the two sides remain more than $100 million apart. If Huizenga sells, it will be a total divestment, handing over both the football team and Dolphins Stadium, and so he is looking for $1 billion-plus. It's thought that the bid by Ross and Perez is more in the $900 million range.

• The injuries to Anquan Boldin and Larry Fitzgerald have meant more playing time for Cardinals wide receiver Bryant Johnson, and the 2003 first-round pick has produced pretty consistently. Johnson won't break the bank as an unrestricted free agent in the spring, but he has played well enough this season to create a solid market for himself. • Another player who won't get a huge contract as a free agent, but who merits consideration in free agency from any team looking for a modestly priced situational pass-rusher is Oakland linebacker Chris Clemons, who quietly leads the team in sacks. • Although some have made San Francisco assistant head coach Mike Singletary the early favorite to fill the Atlanta head coach vacancy, in part because Falcons owner Arthur Blank was so impressed by the Hall of Fame linebacker when he interviewed him 11 months ago for the same job, doubts remain about his readiness to take control of a team. Other te ams that interviewed Singletary weren't nearly as smitten by him. • Oakland is going to have a difficult time keeping tailback Justin Fargas, who is eligible for unrestricted free agency, and who is taking advantage of the failures of LaMont Jordan and Dominic Rhodes to secure the starting job. Although he's a five-year veteran and 27 years old, Fargas doesn't have much tread rubbed off his tires, and he figures to be attractive to teams looking for a solid back. The Raiders probably will be forced to use their franchise tag to retain cornerback Nnamdi Asomugha, who also is eligible for unrestricted free agency. • The Pittsburgh offensive line is a mess; the problems begin at center and move to the right. The Steelers have enjoyed superb play at center for more than 30 years, from Mike Webster to Dermontti Dawson to Jeff Hartings. That's one Hall of Fame snapper (Webster) and one who deserves serious consideration for Canton honors (Dawson). But Sean Mahan, signed from Tampa Bay as an unrestricted free agent, has struggled for much of the season. And the performance from the right side of the line also has been subpar. Pittsburgh isn't able to run the ball with any kind of rhythm, and quarterback Ben Roethlisberger is getting hit an awful lot. • Despite the collapse in St. Louis this season, it appears Rams coach Scott Linehan is safe for 2008, in part because management understands injuries played a large part in the club's demise. The players haven't quit on Linehan, and their effort has remained relatively strong throughout a tough year. But Linehan's grace period will run out next season if the Rams don't win. • Because of the poor play of the Panthers most of this season, the play of third-year safety Chris Harris has flown below the radar. But Harris has 90 tackles and, after Sunday's game, eight forced fumbles; he has been one of the team's few highlights. Carolina has approached Harris, acquired from Chicago in an early training camp trade, about a contract extension. • Jim Irsay of Indianapolis recently showed why he is one of the NFL's classiest and most generous owners by sending a Super Bowl XLI ring to former Colts tailback Edgerrin James, who departed as an unrestricted free agent in the spring of 2006. Irsay felt James was such an integral part of the Colts' success leading up to their Super Bowl title that he thought the current Cardinal should have a ring.

Len Pasquarelli's game balls

Taylor
• Offense: Playing in adverse conditions, Jacksonville tailback Fred Taylor pounded the top-rated Pittsburgh defense for 147 yards on 25 carries and scored the winning touchdown on a 12-yard burst over right tackle with 1:57 remaining. The outing nudged Taylor over the 1,000-yard mark for the seventh time in his 10-year career. It also marked his fourth straight game with more than 100 yards, a feat he had not achieved since 2000. And his 38-yard run in the second quarter gave Taylor a double-digit carry in each of the Jaguars' 14 games this season.
• Defense: It's been a frustrating season for Jason Taylor, but Miami's star defensive end helped his team avoid the infamy of an 0-16 campaign Sunday. The former NFL defensive player of the year came up big in the Dolphins' overtime victory at Baltimore, notching four tackles, two sacks, three quarterback hurries and a pass deflection.
There have been rumors that Taylor might ask to be traded in the offseason, but the guy has never given Miami anything but 100 percent effort and, for the most part, has kept his grievances with the team from affecting his play on the field.
• Special teams: It took 32 years, 1,865 runbacks and 141 players, but when Micheal Spurlock of Tampa Bay returned a kickoff 90 yards for a touchdown against Atlanta on Sunday, he ended an incredible streak of special teams futility. Never in franchise history had a Bucs player scored on a kickoff return.
Signed on Nov. 1, after the Bucs lost return ace
Mark Jones
for the season, Spurlock broke up the middle against the Falcons, then cut to the outside and streaked down the sideline for the touchdown.
Writer's bloc
• Despite the many pregame subplots, Sunday's Jets-Patriots matchup turned out to be more ordinary than memorable.
Gene Wojciechowski
• The Browns have caught the Steelers and have momentum to boot.
John Clayton
• In beating the Steelers in adverse conditions, the Jaguars showed they are a team that can thrive in playoff weather.
Len Pasquarelli
• An unexpected pounding from Jacksonville has Pittsburgh and its defense looking for answers.
Len Pasquarelli
• Exhale, south Florida. Your Dolphins will not go down as the worst team ever.
Liz Merrill
ESPN video
Week 15 rundown
•
Cleveland 8, Buffalo 0
At 9-5, the Browns are on the precipice of a playoff berth. Can they steal the AFC North title from Pittsburgh? Don't rule it out.
Photos
•
Tennessee 26, Kansas City 17
Seven straight losses. A 2-6 home record. Chiefs fans haven't had much to cheer about this season. No wonder Arrowhead was half empty Sunday.
Photos
• Green Bay 33, St. Louis 14
Brett Favre has celebrated several personal milestones in the midst of the Packers' special season. Who would have predicted that a few months ago? Photos
• Miami 22, Baltimore 16 (OT)
Cleo Lemon to Greg Camarillo isn't exactly Marino to Duper, but the current QB-WR combo authored a moment Dolphins fans won't soon forget. Photos
• New England 20, N.Y. Jets 10
The Jets played hard and had a good game plan. If not for two costly turnovers and a blocked punt, they might have given the Pats a real scare. Photos
• New Orleans 31, Arizona 24
He's not as flashy as Reggie Bush, but Aaron Stecker (195 yards, 2 TDs) has done a nice job in his two-game stint as the Saints' featured back. Photos
• Jacksonville 29, Pittsburgh 22
The 1-2 punch of Fred Taylor and Maurice Jones-Drew (216 combined yards Sunday) gives the Jaguars a fighting chance, no matter where they have to go in the playoffs. Photos
• Tampa Bay 37, Atlanta 3
Claim to fame: Micheal Spurlock provided Bucs fans with the moment they've been waiting 32 years for -- a kickoff return for a touchdown. Photos
• Carolina 13, Seattle 10
No knock on the ageless Vinny Testaverde, but perhaps the Panthers should have turned to QB Matt Moore a little sooner than Week 15. Photos
• Indianapolis 21, Oakland 14
Not even the Patriots, the consensus team of the decade, have been as consistent as the Colts, who became the first team in league history to post five straight 12-win seasons. Photos
• Philadelphia 10, Dallas 6
Just one of those days for the Cowboys? Three picks for Tony Romo. Only two catches for Terrell Owens. Better now than in the playoffs. Photos
• San Diego 51, Detroit 14
Role reversal: Early in the season, the Lions were rolling and the Chargers were feeling the heat. Just another example of how fortunes can change quickly in this league. Photos
•
Washington 22, N.Y. Giants 10
Some injuries hurt more than others.
Jeremy Shockey
's broken leg could prove to be a crushing blow for the Giants.
Photos
-- ESPN.com
Looking ahead
An early look at the week's biggest games:
• THURSDAY: Pittsburgh (9-5) at St. Louis (3-11): After physical losses to the Patriots and Jaguars, what do the Steelers have left? Cleveland now is tied with Pittsburgh for first in the AFC North.
• SATURDAY: Dallas (12-2) at Carolina (6-8): Suddenly, the Cowboys look a little vulnerable. A loss to Carolina could open the door for Green Bay to take the No. 1 seed in the NFC.
• Miami (1-13) at New England (14-0): This game could have had some great symmetry. 0-14 Miami vs. 14-0 New England. But alas, the Dolphins spoiled all that Sunday. Still, this will have an interesting train wreck quality to it.