Week 9: Precocious Peterson races into record books, Patriots remain perfect
Doug Pensinger/Getty Images
Week 9 Observation Deck
By Jeffri Chadiha, ESPN.com
Believe it or not, there were football games played in places outside of Indianapolis this past weekend. One was played in Minneapolis, and it featured a rookie running back who has become the most exciting player in the league in just nine weeks of action.
That isn't hyperbole, either.
Adrian Peterson
is a man who is playing on an entirely different level than the rest of the runners in the NFL these days. It seemed as if Peterson couldn't impress us any further this season after gaining 224 yards against Chicago in Week 6. But after setting the single-game rushing record of 296 yards in a 35-17 win over San Diego, he's left us wondering what he'll do for his next act. We now have to assume that Eric Dickerson's rookie rushing record of 1,808 yards is on shaky ground. A run at 2,000 yards wouldn't be hard to believe, either. Simply put, Peterson -- who already has 1,036 yards and eight touchdowns in eight games -- is capable of producing the most amazing rookie season that any player has ever enjoyed in this league, regardless of position. The dude is so good that there is little else that can be said about him right now. So I'll get into 10 other observations I had after Sunday's games were finished: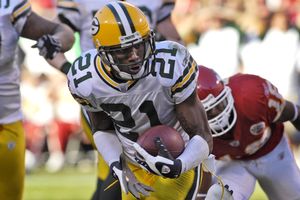 AP Photo/Reed Hoffmann
Charles Woodson's fourth-quarter pick highlighted Green Bay's stellar defensive effort in K.C.
1. Tight-knit unit
The revival of Packers quarterback
Brett Favre
might be the big story in Green Bay, but there's another reason this team is 7-1: It has amazing chemistry on defense. Packers middle linebacker
Nick Barnett
says he hasn't been around a defense with this much camaraderie since he entered the NFL in 2003. "I'd have to go back to my senior year at Oregon State to find a bunch of guys who have this much fun together," Barnett said. "You can see that we have a lot of faith in each other." That certainly was clear in the Packers' 33-22 win over Kansas City. Although the Chiefs became the first opponent to score 20 points against Green Bay this season, they managed only 234 yards of total offense and committed two turnovers. The most critical miscue came late in the fourth quarter, when Packers cornerback
Charles Woodson
intercepted a
Damon Huard
pass and sealed the win with a 46-yard touchdown return. If Green Bay keeps coming up with plays like that, it might end up being the top seed when the NFC playoffs begin.
2. D-line dominance in Tennessee
If you want to know how good the Titans' defensive line is, just check the stat line from Tennessee's 20-7 win over Carolina. Tennessee sacked Carolina quarterback
David Carr
seven times, with six of those coming from the front four. Defensive tackle
Albert Haynesworth
was the star --- he picked up three sacks before an injury sidelined him in the fourth quarter -- while three other Titans (tackle
Tony Brown
and ends
Kyle Vanden Bosch
and
Travis LaBoy
) each added one sack. Outside linebacker
David Thornton
was the only other defender to take down Carr on Sunday. Titans defensive coordinator Jim Schwartz said that improved defensive line is a major reason why Tennessee has a top-five defense again. The Titans lost Haynesworth to a five-game suspension last season, and injuries also impacted the rotation. Now they have an assortment of linemen who are constantly fresh, and it's making a difference. "We've been real aggressive up front," Vanden Bosch said. "We haven't had to blitz that much to create pressure, and we're really getting after people. We've just been attacking the line of scrimmage, and it's made an impact."
For more observations, click here.
Heard in the press box (in Cleveland)
By Len Pasquarelli, ESPN.com
• Maybe the loss of backup tailback Sammy Morris for the season will prompt the New England brass to phone Corey Dillon and try to talk him out of retirement. But all the rhetoric in the past few days about how Dillon would consider coming back to the Pats, from whom he requested and was granted his release this spring, seems like a choreographed public relations effort by the veteran tailback and his agent. For a guy who claimed he was waiting for the right offer -- from any team -- why did Dillon only start working out a couple of weeks ago, when Morris was injured?
• Now that he has nailed down his own contract extension, Jeff Fisher is taking an active role in helping to negotiate new deals for most members of his Tennessee Titans staff. His efforts so far have been judged as a mixed bag. On one hand, it helps to have a coach offering his input on contract matters relating to his staff. But some assistants feel Fisher has muddied the waters in a few areas. • Given the carelessness with the ball that QB
Daunte Culpepper
exhibited in recent weeks, the Oakland coaches couldn't wait to get
Josh McCown
back in the lineup. A healthy McCown, they feel, gives them the best chance to win, and the veteran seems fully recovered from the broken toe that sidelined him. The Raiders' staff isn't especially anxious to rush
JaMarcus Russell
into the lineup. The first overall choice in the draft hasn't yet grasped the offense and, if the former LSU star gets a start in 2007, it likely won't be before December. • Another quarterback whose ball security has been lax,
Jason Campbell
of Washington, got an earful from coaches this week about his miscues. Campbell has fumbled eight times in 2007, losing four. Joe Gibbs doesn't have much choice but to stick with Campbell -- given that he won't win many games with either
Todd Collins
or
Mark Brunell
-- but the Redskins' staff is frustrated by the sloppiness. The slimmed-down Washington offense, a pretty rudimentary design now, isn't good enough to be able to compensate for such problems. • He is in only his first year as a coordinator, but if Cleveland's offense continues to play well and put up big points, look for the name of Rob Chudzinski to start surfacing as a head coach candidate in the next year or two. • Kansas City backup quarterback
Brodie Croyle
continues to get snaps with the first unit in practice, and one reason is that the Chiefs feel as though starter
Damon Huard
is beginning to hit the wall a little. Huard has absorbed a physical beating, but he also isn't accustomed to such a workload. Before last season, Huard had started only six games in the first nine years of his career, and he never had logged more than five starts in a season. He wore down some in 2006, when he got eight starts while
Trent Green
recovered from a concussion. • For whatever reason -- and no one seems to be able to figure out why -- a lot of punters are having huge seasons in 2007. Entering the weekend, there were 10 punters with gross averages of 45 yards or more, and five who had net averages of more than 40 yards. • Second-year quarterback
Tarvaris Jackson
is going to have to stay healthy and play well to persuade the Minnesota brass not to look for an alternative in the 2008 draft. The Vikings haven't chosen a quarterback in the first round since selecting Culpepper with the 11th overall pick in 1999. But if the personnel department doesn't see much growth from Jackson the rest of this season, the team might try to find a remedy in the draft. • The people who felt that Carolina quarterback
Jake Delhomme
was overrated might want to reconsider, given the poor play the Panthers are getting at the position now.
David Carr
's back problem must be a lot worse than the Panthers are saying because he can't get the ball up the field. • All the talk about how Bobby Petrino might bolt Atlanta after one season and head back to the college ranks is nothing more than rumor. Petrino almost certainly will return in 2008, and with a big broom. Cornerback
DeAngelo Hall
will be shipped out, but he won't be the only veteran Petrino doesn't bring back. Tailback
Warrick Dunn
will be gone, too, and tight end
Alge Crumpler
, who continues to be slowed by bad knees, might not be back. • There have been a lot of disappointing teams in the first half of the season, but perhaps the most disappointing unit has been the Carolina defensive line. The veteran quartet has done very little, and left end
Julius Peppers
-- who everyone figured would have a huge contract extension by now -- has to be one of the biggest flops in the first half. Some think Peppers took it way too personally when owner Jerry Richardson and others noted that they wanted to see some leaders step up in 2007. • Few people in the league were happier about
Tony Romo
's new contract extension than
Ben Roethlisberger
. The Steelers are expected to begin negotiations with Roethlisberger on an extension after this season. And the Romo numbers figure to be just a starting point for Roethlisberger and his representatives. • The Broncos chose defensive end
Jarvis Moss
in the first round to bolster a mostly toothless pass rush. Now, with Moss having suffered a broken right fibula and ligament damage to his right ankle in a practice accident last week, the Denver brass fears the former University of Florida star will lose some of his upfield explosiveness. Moss will have surgery to repair his ankle early this week.
Len Pasquarelli's game balls

Peterson
• Offense: With his team essentially down to its No. 3 quarterback, rookie Vikings tailback Adrian Peterson basically carried his team to a 35-17 victory over the Chargers, and the first-round draft pick lifted himself into the record book, as well, Sunday afternoon. The NFL's leading rusher ran for a single-game league record of 296 yards, scoring three times on 30 carries. He also had one reception for 19 yards.
Peterson became the first rookie to register two 200-yard performances in a season, and he has 1,036 yards on 158 carries, an impressive 6.6-yard average. The former Oklahoma star, the seventh player selected in the draft, could challenge Eric Dickerson's season record of 2,105 rushing yards, established in 1984.
• Defense: A pair of defensive tackles, Albert Haynesworth of Tennessee and Detroit's Shaun Rogers, share this week's game ball. There haven't been many performances by defensive tackles more dominating than the ones the two veterans enjoyed Sunday, and it was simply too difficult to choose between them.
In a 44-7 rout of Denver that pushed the surprising Lions to 6-2, Rogers had three tackles, 2½ sacks, one interception and a pass defensed. The sight of 350-pound Rogers diving into the end zone at the conclusion of his 66-yard interception return for a touchdown might be one of the highlights of the season. Haynesworth, who is eligible for unrestricted free agency next spring and is setting himself up for a huge payday, had seven tackles, three sacks and four quarterback pressures in the Titans' 20-7 victory over the Panthers.
• Special teams: On a day when the Washington offense managed only one touchdown, third-year kicker Shaun Suisham rescued the Redskins in a 23-20 overtime victory over the Jets. Suisham converted all five field goal attempts, including the 46-yard winner with 7:43 left in overtime. A native of Wallaceburg, Ontario, Suisham made kicks of 46, 40, 22, 40 and 46 yards, and his game-winner barely made it over the crossbar. The five field goals tied a franchise single-game record.
Entering the contest, Suisham had made only two field goals in five games and was just 7-for-10 for the season. He never had made more than three field goals in a game.
Writer's bloc
• The season is done. Seriously, why bother with the rest of November, December, January and February after what happened in Indy on Sunday?
Gene Wojciechowski
• The Patriots are 9-0 and have just won the NFL's biggest regular-season game. So why aren't they happy?
John Clayton
• The Browns' D, which struggled for much of Sunday's victory over the Seahawks, came up big when it mattered most.
Len Pasquarelli
ESPN video
Week 9 rundown
•
New England 24, Indianapolis 20
Super Bowl XLI½ actually lived up to the hype. Pats QB
Tom Brady
was picked off twice, but he made several big throws in crunch time.
Photos
|
ZOOM Gallery
•
Atlanta 20, San Francisco 16
Falcons win, read all about it! Most Atlanta fans will, as the game was blacked out in Georgia because few can stand to watch the Falcons in person.
Photos
• Buffalo 33, Cincinnati 21
The Bills' Marshawn Lynch (29 carries, 153 yards) became the latest running back to victimize Cincinnati's porous defense. Photos
• Detroit 44, Denver 7
Their most-lopsided loss in two decades. Injuries to QB Jay Cutler and RB Travis Henry. The hits keep on coming for the reeling Broncos. Photos
• Tennessee 20, Carolina 7
Room to improve. The Titans are 6-2 and a viable playoff contender, yet QB Vince Young hasn't thrown for 200 yards in a game all season. Photos
• Green Bay 33, Kansas City 22
Brett Favre to Greg Jennings is quickly becoming one of the most lethal QB-WR connections in the league. Photos
• Minnesota 35, San Diego 17
Changing of the guard? Adrian Peterson (NFL-record 296 rushing yards) is doing all he can to strip the "best running back in the game" label from LaDainian Tomlinson. Photos
• New Orleans 41, Jacksonville 24
Not only have the Saints (four straight wins) saved their season but they might be the most dangerous team in the NFC at midseason. Photos
• Washington 23, N.Y. Jets 20 (OT)
Surprising stat of the day: Clinton Portis' 196-yard rushing performance was his first 100-yard rushing game of the season. Photos
• Tampa Bay 17, Arizona 10
The Cardinals' struggling passing game is making life miserable for RB Edgerrin James, who mustered only 15 yards on nine carries against the Bucs. Photos
• Cleveland 33, Seattle 30 (OT)
The most dangerous player you don't know about? Seattle's Nate Burleson, the league's best return man not named Devin Hester. Photos
• Houston 24, Oakland 17
The Raiders claim No. 1 pick JaMarcus Russell isn't ready, but is Josh McCown really a better option for Oakland at this point? Photos
•
Dallas 38, Philadelphia 17
Donovan McNabb
's fumble on the first play from scrimmage was a harbinger for the Eagles, who are fading fast in the NFC.
Photos
-- ESPN.com
Looking ahead
An early look at next weekend's biggest games:
• Indianapolis (7-1) at San Diego (4-4): Both AFC powers are coming off tough losses. Which one will rebound?
• Dallas (7-1) at N.Y. Giants (6-2): No disrespect to the Packers, but the winner of this game will be considered the team to beat in the NFC.
• Cleveland (5-3) at Pittsburgh (5-2): The Browns already have made great strides. Beating the rival Steelers would make their season.