Wild-Card Saturday: Hawks, Jags escape with clutch fourth quarters
Otto Greule Jr./Getty Images
Wild Card Weekend Observation Deck
By Matt Mosley, ESPN.com
For a couple of minutes in the fourth quarter Saturday in the NFC wild-card game, the
Washington Redskins
looked like a team of destiny. All week they had talked about drawing strength from their slain teammate, Sean Taylor, and now at Qwest Field, it appeared they would find a way to win him another game. A kickoff that got lost in the swirling Seattle winds gave the Redskins the ball at the
Seahawks
' 14-yard line with a 14-13 lead. A touchdown might have knocked Seattle out, but a field goal would have at least sustained the momentum. And that's when kicker
Shaun Suisham
toe-hooked a 30-yard field goal attempt. Seahawks quarterback
Matt Hasselbeck
, who had thrown two second-half interceptions, quickly led his team down the field for the go-ahead touchdown, and the Redskins never recovered. Seattle scored a 35-14 victory and advanced to play at Green Bay on Jan. 12. I've known Suisham for several years, and trust me, no one will take this harder than he will. I once chided him in a column for reading a self-help book an hour before kickoff when he played for the Cowboys, but he's actually as mentally tough as any kicker I've ever been around. It was a perfect snap and hold, so he just hit a bad ball. In the second half, the Redskins started shifting their defensive fronts on almost every play. They forced Hasselbeck into poor throws and eliminated any semblance of a Seahawks running game. This game was there for the taking, but Washington simply blew its opportunity. Here are a few other observations from wild-card Saturday:
1. Redskins' offensive line outmanned
The Seahawks used defensive end
Patrick Kerney
and a host of linebackers to overwhelm the Redskins for most of the game.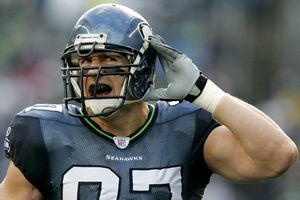 AP Photo/Elaine Thompson
Patrick Kerney got the Seahawks' crowd to aid his efforts.
Once it was clear Washington wasn't going to be able to run the ball, Seattle could concentrate on pressuring Todd Collins. He was sacked four times, but I counted 13 knockdowns and at least 11 hurries. It was obvious from the start that Redskins' undrafted rookie right tackle Stephon Heyer was in big trouble. The Seahawks overloaded his side with pressure, and the Skins were forced to try to help Heyer with tight end Chris Cooley. They even ran backup defensive tackle Lorenzo Alexander in there at one point.
Nothing worked because Kerney simply split the double-teams. "They were keeping a tight end and a back in on me," Kerney said. "The tackle would go down and check back out in case I beat the first two guys, but that's life. I came into this game expecting that. I know it's going to happen. I expect the same thing next week. My defensive linemates did a great job of rising up and making plays when extra attention is paid to me, and the coverage guys did a great job as always. It's something you have to will your way through." When Washington sold out to stop Kerney, Seattle started bringing
Darryl Tapp
and
Julian Peterson
from the other side. One of the reasons you didn't see Redskins running back
Ladell Betts
much in this game is because he kept getting overwhelmed on the blitz. The Seahawks used a lot of stunts to confuse the Redskins' offensive line. Veteran guards
Jason Fabini
and
Pete Kendall
were exposed. Fabini spent his entire career playing tackle, so it's no surprise to see him struggle against a defense that's sending linebackers up the middle. It was surprising to see all the miscommunication, though, with so many veterans on the field. When Fabini tried to pass Peterson off to
Clinton Portis
on a play in the first half, Portis appeared stunned. Washington finally started having success in the second half when it put more receivers into patterns. The Seahawks went back to their base coverage, and it looked as though the Redskins might pull off the upset.
2. Hasselbeck will need to be better in Green Bay
Redskins cornerback
Shawn Springs
is an instinctive player who loves to read the quarterback's eyes and go for interceptions. On Saturday, he got burned on a couple of double-moves, the worst coming against
Nate Burleson
in the first half. After the game, Springs was bemoaning the fact that Washington didn't put enough pressure on Seattle quarterback
Matt Hasselbeck
. "You gotta hit him, and we didn't," Springs said. "You gotta hit Matt. Everybody thought I was talking crazy … I was like, 'This could be the best quarterback we've faced all year in the NFC.' "That is no disrespect to
Tony Romo
or
Brett Favre
, but Matt doesn't have the weapons they have and he single-handedly carried this team. I truly believe this team would be not even nowhere close to being in the playoffs if he wouldn't have played the way he's been playing." But for a long time, it looked as if Hasselbeck would be the goat. Redskins safety
LaRon Landry
read his eyes all the way on his two second-half interceptions. And Hasselbeck missed open receivers throughout the game. The pass to
D.J. Hackett
saved him, but missing all those passes on third down is a bad sign heading into a game at Lambeau. I'm sure the name
Al Harris
rings a bell.
3. Farewell, Cromwell
Once the season is over, Mike Holmgren is going to lose a valuable assistant. Receivers coach Nolan Cromwell, who has been with Holmgren since the Green Bay days, accepted the offensive coordinator job at Texas A&M on Saturday. Cromwell is staying through the playoffs. "Nolan has been with me the whole time, 16 years or whatever it is," Holmgren said. "He's a very bright guy. It's a great opportunity for him. As much as I hate to lose him, I think for he and his family, the opportunity to coordinate and call the plays, I just said, 'You go for this.' I told him: 'Make sure they pay you enough.'"
4. Garrard offsets shaky passing with great footwork
Coming into Saturday's wild-card game against the
Pittsburgh Steelers
,
Jacksonville Jaguars
quarterback
David Garrard
had thrown three interceptions in his past 325 attempts.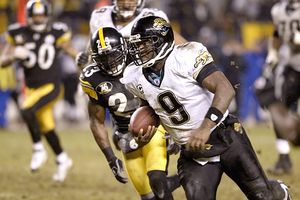 George Gojkovich/Getty Images
When Jacksonville's David Garrard needed to make a big play, he did.
Against Pittsburgh, he threw two interceptions in his first 14 attempts. But when the game was on the line, Garrard decided to rely on his legs. Facing a fourth-and-2, Garrard saw daylight and rumbled for 32 yards. "They lost their gaps," he said of the Steelers defense. "They thought it was a passing situation, and I was able to sneak through." Once in the open field, Garrard said he used some "slow moves" to throw off Pittsburgh defenders. It was obviously the biggest play of his career, and it put Jacksonville in position for a 31-29 victory.
Matt Mosley's game balls
Game 1: Seattle 35, Washington 14:
• Offense: Seattle fullback Leonard Weaver caught the Washington defense off guard with a 17-yard touchdown run in the first quarter. When he lined up alone in the backfield on first down, the Redskins dropped back into pass coverage. Weaver showed some speed racing around the right end. And he might not be regarded as a great blocker, but I watched him flatten Washington linebackers on at least two occasions.

Weaver
D.J. Hackett
had six catches for 101 yards and the winning touchdown. He did a great job of exploiting the middle of the Redskins' defense. With
Deion Branch
out with an injury, the pressure was on Hackett to have a big game, and he certainly responded. •
Defense:
Seahawks cornerback
Marcus Trufant
made plays all over the field, but his biggest was a 78-yard interception return for a touchdown with 5:38 left in the game. Trufant did a great job of limiting Redskins receiver
Santana Moss
for most of the game. And when Washington quarterback
Todd Collins
went into desperation mode late in the game, Trufant was at his best.

Trufant
Patrick Kerney
was brilliant Saturday. His ability to bring pressure from his left defensive end spot is what set up the Seahawks linebackers for a huge day. The Redskins had to plan around Kerney, and he blew that game plan up with his relentless effort. Washington safety
LaRon Landry
almost brought his team back in the second half. It's stunning to see him line up 25 yards off the line of scrimmage on some plays, but he used that depth to make a great play on the ball on his first interception. I think we'll see Landry in Pro Bowls for years to come. •
Special teams:
Seahawks punter
Ryan Plackemeier
had a nice day in some tough wind conditions. He nailed the Redskins at their 2- and 4-yard lines on his first two punts. And Washington wasn't able to return any of his seven punts. He finished with a 41.6-yard net average, which is pretty remarkable.
Game 2: Jacksonville 31, Pittsburgh 29

Miller
•
Offense:
Jaguars running back
Maurice Jones-Drew
had a 96-yard kickoff return, a 43-yard touchdown reception and a 10-yard scoring run. Steelers wide receiver
Hines Ward
and tight end
Heath Miller
combined for 18 catches and 220 yards. •
Defense:
Jacksonville cornerback
Rashean Mathis
picked off
Ben Roethlisberger
on consecutive drives. He returned the first one 63 yards for a touchdown. Pittsburgh linebacker
James Harrison
had 1½ sacks and eight tackles. Without
Joey Porter
, the Steelers needed someone to step up this season. Harrison did the job. Linebacker
LaMarr Woodley
added two sacks and three tackles. •
Special teams:
Jones-Drew's 96-yard kickoff return helped Jacksonville establish a foothold in Heinz Field.
Writer's bloc
•
John Clayton:
In Seattle's NFC wild-card playoff win over Washington on Saturday, Mike Holmgren showed in five plays why he's probably the most dangerous coach in the playoffs. •
Mike Sando:
Those who thought the Redskins somehow trivialized Sean Taylor's death by harnessing it for a playoff push surely weren't looking into Joe Gibbs' eyes Saturday night. •
Jeffri Chadiha:
The Jaguars passed a character test in Pittsburgh.
Loose ends
• Scouts Inc.'s Buzz: If you haven't paid much attention in the Northwest, the Seahawks have a pretty impressive defensive team led by LDE Patrick Kerney, MLB Lofa Tatupu, OLB Julian Peterson and shutdown corner Marcus Trufant. Defensive coordinator John Marshall's game plan was to shut down the Washington running game while overloading the right side with single zone pressure schemes in passing situations that placed a lot of pressure on rookie RT Stephon Heyer. The Redskins countered by sliding their protections schemes toward Heyer, which forced LT Chris Samuels on an island in one-on-one situations on the backside with either Darryl Tapp or Peterson.
• Experts' picks: How did we do? Sunday Countdown | ESPN.com
ESPN video
Looking ahead
An early look at looming story lines:
1. Green Bay memories for Seahawks: Coach Mike Holmgren had about 30 seconds to celebrate his team's 35-14 victory over the Redskins before he was asked about next weekend's divisional playoff game in Green Bay. Holmgren had a 75-37 regular-season record as coach of the Packers from 1992 to '98, and he of course led them to their last Super Bowl title in 1996.
"We knew we'd go back there if we won," Holmgren said immediately after the game. "It's a special place. It's a special place to everyone that loves football. And we have our work cut out for us. But it's going to be a heck of a game." Seattle quarterback
Matt Hasselbeck
was
Brett Favre
's backup in Green Bay from 1999 to 2000, and no one will forget his yelling, "We want the ball, and we're going to score" after the overtime coin flip in a 2003 wild-card playoff game at Lambeau Field. Of course, Packers cornerback
Al Harris
quickly made Hasselbeck eat his words with a 52-yard interception return for a touchdown to give his team a 33-27 win. Perhaps sensing that his overtime moment would be a popular subject, Hasselbeck jokingly repeated his infamous line after Saturday's victory over the Redskins.
2. Seahawks-Packers familiar:
The Packers and Seahawks have met five times since Holmgren arrived in Seattle. Green Bay is 3-2 in those games, including a 3-1 record at Lambeau Field. In the teams' last meeting (Nov. 27, 2006), Seahawks running back
Shaun Alexander
had 40 carries for 201 yards. Favre and Hasselbeck split six interceptions in that game.
3. Trufant to be challenged:
I know the Seahawks' secondary looked pretty strong against the Redskins for most of the game, but a lot of that was thanks to an unbelievable pass rush. Look for the Packers to challenge cornerback
Marcus Trufant
with slants to
Donald Driver
and
Greg Jennings
. I don't think any group of receivers in the league does a better job of running after the catch than Green Bay's, so tackling will be huge for Seattle. What has changed about the Seahawks' secondary this season? The team actually has some safeties who know how to cover. It's funny, though, that the Hawks were so anxious to get rid of
Ken Hamlin
and now he's starting in the Pro Bowl for the Cowboys. --
Matt Mosley
•
NFL playoffs schedule