Week 1: Speedy RBs seize spotlight; mixed bag for QBs
Howard Smith/US Presswire
Week 1 analysis: Speedy backs ahead of the curve
By John Clayton, ESPN.com
Coming off the lightest training camp and least active preseason in recent memory, NFL defenses learned a painful lesson in Week 1: speed kills. New Falcons halfback Michael "The Burner" Turner turned Rod Marinelli's Cover 2 defense into a "cover your eyes"' defense by rushing for 220 yards in a 34-21 blowout of the Lions.
Willie Parker
, who's only 5-foot-10 and 209 pounds, had 138 rushing yards in the Steelers' 38-17 blowout of the
Houston Texans
. The Titans'
Chris Johnson
, who is 5-10, 200 pounds and has 4.24 speed, rushed for 93 yards and caught three passes for 34 yards in a 17-10 squeaker over the Jaguars. With fewer two-a-days and less hitting -- heck, a lot of teams didn't wear shoulder pads in a lot of practices -- tackling was expected to be poor in the opening week. And that was precisely the case.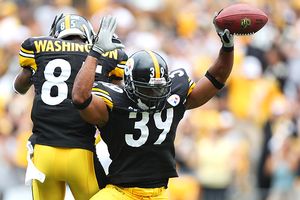 Jason Bridge/US Presswire
Pittsburgh's Willie Parker (39) was one of several speedy backs who came up big in Week 1.
Titans offensive coordinator Mike Heimerdinger tested out the Jaguars' defense early by having Vince Young pitch out to Johnson on the first play. Johnson ran for 18 yards on that play and, remember, he's not even the starter. Johnson bolted to the right on the next play for 11 yards and knocked down linebacker Clint Ingram. The Jaguars tried to adjust, but Johnson was a step ahead of Jaguars defenders.
"He has lots of speed and this was the first time we played him,'' Jaguars defensive tackle
John Henderson
said. "We'll adjust because we have to play him again, and he looks like he's going to be a good back. But he'll have to face us again." Offensive coaches will have to keep the "fast back" theory in mind for future opening weeks, particularly if the preseason is shorted to three or two games. Running backs are probably the freshest players on any roster heading into the season. They aren't tackled in practice. Many starters don't see action in the preseason. Backs have fresh legs and fresh outlooks. Weeks from now, their bodies will be worn down and defenses will have the upper hand. It only makes sense for coaches to put fast backs like Parker, Johnson and Turner out in space and watch them run away from defenders who aren't in complete game shape. Saints coach Sean Payton did that with
Reggie Bush
against a fast Bucs defense. Bush caught eight passes for 112 yards against Tampa Bay. Call Week 1 a "Fantasy Island" for offensive coaches who have backs with speed. While defensive linemen are working on their swim moves, fast backs like Turner, Johnson, Bush and Parker look as though they are on speed boats.
Five things I learned in Week 1
By John Clayton, ESPN.com
1. Harsh reality:
In a quarterback-driven league, teams might be only as good as their backup quarterbacks, and that's scary. It's been said the Patriots might be a .500 team or worse without
Tom Brady
. After Brady was injured, the Patriots had trouble with one of the worst teams in the league -- the young
Kansas City Chiefs
. Backup quarterbacks in the NFL, as of Sunday, are 492-584. Teams go from winners to .500 or worse when they go to their backups, and it's doubtful
Matt Cassel
can maintain the Patriots' level of offensive excellence. If Brady's out, all of a sudden the AFC East is up for grabs because the Jets (
Brett Favre
) and Bills (
Trent Edwards
) have legitimate quarterbacks.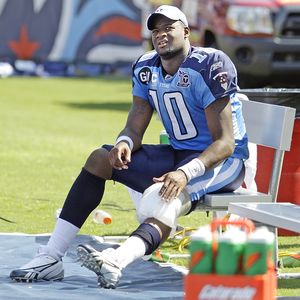 AP Photo/Mark Humphrey
Titans QB Vince Young sprained his left knee during Tennessee's 17-10 victory over the Jaguars.
The Titans' Vince Young left the Titans' locker room on crutches Sunday, and he couldn't put weight on his left knee. What's interesting is the Titans' passing offense works better in short stints with Kerry Collins in charge. Young was booed after each of his interceptions Sunday. Nevertheless, Young has the support of his teammates and head coach Jeff Fisher. I'm figuring Young is going to be out a couple of weeks, but after the game, the Titans had no timetable for his return.
2. Curb your enthusiasm:
Don't get too carried away with the debut wins of
Joe Flacco
(Ravens) and
Matt Ryan
(Falcons). In some ways, those victories might be a curse because it raises unreasonable expectations. Ryan had to complete only 9 of 13 passes for 161 yards because the Lions had no answer for RB
Michael Turner
. Flacco doesn't look like a running quarterback, but his 38-yard romp down the right sideline against the Bengals was longer than any of his completions (his longest was 15 yards). The Bengals and Lions have the looks of two really bad teams. The schedule gets much tougher in the coming weeks for Flacco and Ryan. And the pressure to win is already there.
Alex Smith
of the 49ers,
J.P. Losman
of the Bills and
Rex Grossman
of the Bears are destined to depart from their teams after this season because of too many mistakes or too many losses. Young quarterbacks used to get 50 starts to prove themselves. Now, first-rounders are getting as few as 30. That means if Flacco and Ryan win only 13 or 14 games over the next two years, they might be on the chopping block by their third seasons. At least on Sunday, though, the two rookies could enjoy the moment.
3. Bucs on tenuous ground:
We learned the rise of the Saints and Panthers might make life tough for the
Tampa Bay Buccaneers
. The Panthers upset the Chargers with
Jake Delhomme
's last-second touchdown pass. The Saints held off the Bucs 24-20 in the Superdome because
Drew Brees
was super. Tight end
Jeremy Shockey
helped out with six catches for 54 yards and
Reggie Bush
went back into being a big-time pass-catcher out of the backfield. The Saints' running game will develop over time. The important mission in Week 1 was for the Saints to show they are ready to challenge again for the NFC South title. The Bucs fought hard, but their fight will be much harder than a year ago. Brees has more weapons. Delhomme is back and as tenacious as ever. Like the Giants in the tough NFC East, the Bucs could drop from first to third in a heartbeat.
4. Magnificent McNabb:
We'd be pressing it a bit if we put
Donovan McNabb
up for MVP votes after a 38-3 blowout against a bad Rams team. But our eyes aren't deceiving us. McNabb looks as good as ever. Without starting receivers
Reggie Brown
and
Kevin Curtis
, McNabb completed 21 of 33 passes for 361 yards and three touchdowns.
DeSean Jackson
might have lived up to his billing as the best rookie receiver coming out of the preseason. Jackson, who caught six passes for 106 yards, has great hands and his quickness is electrifying. Less than two years after his knee reconstruction, McNabb is throwing smarter and better than ever. It also helps that
Brian Westbrook
is still improving his game. He rushed for 91 yards on 19 carries. The Eagles and Cowboys were two of the best teams playing Sunday.
5. Favre paying dividends -- already:
We learned the Favre trade already has the Jets one win ahead of where they might have been a year ago.
Kellen Clemens
wouldn't have won this road game in Miami. Favre was efficient enough to beat the Dolphins 20-14. He threw two touchdown passes and didn't have a pick. His game wasn't flawless, but he took advantage of the chances to win. Thanks to Favre's presence, the Jets were able to work their running game.
Thomas Jones
had 101 yards on 22 carries. Favre will have better days, but for a guy learning a new offense on the fly, Favre performed with the Hall of Fame professionalism he showed in Green Bay.
John Clayton's game balls

Delhomme
•
Offense:
Donovan McNabb
may have had the stats to earn a game ball, but Carolina QB
Jake Delhomme
stole the show. He beat the Chargers on the road with a last-second touchdown pass and he did it in his first regular-season game following Tommy John surgery. People forget the Panthers were scoring 25 points a game and Delhomme had a 100 quarterback rating before his elbow blew up after three games last year. Three seasons of dealing with elbow issues caused him to change his delivery. The guy is a winner. He completed 23 of 41 passes for 247 yards and the game-winning touchdown pass to tight end
Dante Rosario
. Apparently, someone performed surgery on John Fox's offense. It's hard to believe he had Delhomme throw to the tight end. That usually never happens.

Harrison
•
Defense:
Many fear the Steel Curtain is getting a little rusty because of age. Although the Steelers do have age concerns along their front seven, they have great players, and LB
James Harrison
is one of those players. Harrison had three sacks, three tackles for losses, two quarterback hits and a forced fumble in a blowout victory over the Texans. Harrison is 30, but he's a young 30. He reminded everyone of that Sunday.

Parrish
•
Special teams:
Roscoe Parrish
's 63-yard punt return for a touchdown was historic. It made him the Bills' all-time leader in career punt-return yardage, topping Jeff Burris' total of 1,045 yards. The return also gave Buffalo a 14-0 lead over the Seahawks in the second quarter. Parrish has plenty of competition for his return job.
Terrence McGee
and rookie
Leodis McKelvin
are both considered top return prospects. The Bills believe they have three of the best returners in the game. Parrish continues to set himself apart. Last year, he opened the season against the Broncos with a punt return for a touchdown.
ESPN video
Week 1 rundown
•
Atlanta 34, Detroit 21
Heading into the season, a lot of people viewed the Falcons as the worst team in the NFC. Perhaps that distinction belongs to the Lions.
Photos
• Buffalo 34, Seattle 10
Are the Bills for real? Are the Seahawks overrated? It's too early to tell, but it's probably safe to say Buffalo won't be taken lightly from now on. Photos
• Tennessee 17, Jacksonville 10
Does the Titans' defense get enough credit? Tennessee sacked Jags QB David Garrard seven times and held Jacksonville's vaunted RB tandem of Fred Taylor and Maurice Jones-Drew to 31 yards. Photos
• N.Y. Jets 20, Miami 14
Brett Favre was supposed to bring excitement and explosiveness to the Jets' offense. The veteran QB provided both in Week 1. Things get tougher in Week 2, when the Patriots invade the Meadowlands. Photos
• New England 17, Kansas City 10
The Pats hung on. Such a phrase wasn't uttered much in 2007. But without MVP QB Tom Brady (injured left knee), what can you expect? Photos
• New Orleans 24, Tampa Bay 20
In 2007, the Saints started 0-4. After one week, New Orleans has already managed to secure a key divisional victory. Photos
• Philadelphia 38, St. Louis 3
Since T.O.'s departure, the knock on the Eagles has been their lack of a No. 1 receiver. Is rookie DeSean Jackson (6 catches, 106 yards) poised to fill that void? Photos
• Pittsburgh 38, Houston 17
A fast start for Pittsburgh's "Fast" Willie Parker (138 rushing yards, three TDs). The Texans think they can contend in 2008. The Steelers offered a reality check. Photos
• Baltimore 17, Cincinnati 10
The Ravens got just enough from rookie QB Joe Flacco -- and another huge effort from their defense -- to make coach John Harbaugh a winner in his Baltimore debut. Photos
• Dallas 28, Cleveland 10
Time to panic in Cleveland? Probably not, but getting dismantled at home is not a good sign for a Browns team being billed as a bona fide playoff contender. Photos
• Carolina 26, San Diego 24
As long as Jake Delhomme stays healthy, the Panthers think they'll be in the mix. After Delhomme's last-minute heroics in San Diego, it's easy to see why Carolina has so much faith in its QB. Photos
•
Arizona 23, San Francisco 13
A conservative, time-consuming offense helped the Cardinals stay in control. Arizona won the time of possession (37:05 to 22:55) and turnover (five forced to zero) battles going away.
Photos
•
Chicago 29, Indianapolis 13
Have the Bears finally found a running back? It's only one game, but rookie Matt Forte (23 carries, 123 yards, TD) looks like the real deal. No wonder Chicago didn't hesitate to dump Cedric Benson.
Photos
Monday night:
Vikes-Packers
|
Broncos-Raiders
-- ESPN.com
Looking ahead
An early look at next weekend's biggest games:
• New England (1-0) at N.Y. Jets (1-0): Does Favre have a good enough handle on the Jets' playbook to combat a Bill Belichick defense?
• Philadelphia (1-0) at Dallas (1-0): Both teams are coming off dominant wins. Who will prevail on the Monday night stage?