Week 14: Steelers, others come up big; Cowboys lack finishing touch
AP Photo/Julie Jacobson
Week 14 analysis: Big time
By John Clayton, ESPN.com
EAST RUTHERFORD, N.J. -- Big plays ruled the day in Week 14. Trailing 13-3 to the
Dallas Cowboys
in the third quarter, the Steelers needed a spark.
Ben Roethlisberger
was struggling against the Cowboys' pass rush. Even though their top running backs were healthy, Steelers offensive coordinator Bruce Arians spread the field with receivers and had Roethlisberger work out of the shotgun. On a third-and-16 with 2:47 left in the third quarter, Roethlisberger hit
Santonio Holmes
for a 47-yard completion. That big play gave the Steelers the confidence and momentum. They went on to score 17 fourth-quarter points and beat the Cowboys 20-13. "You can't give up a big play on third-and-16,'' Cowboys coach Wade Phillips lamented after the game.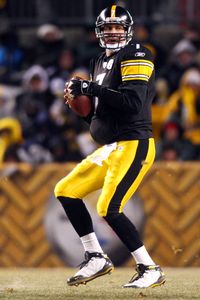 Jason Bridge/US Presswire
A big third-quarter pass by Ben Roethlisberger sparked the Steelers to a comeback victory over Dallas.
You can't give up big plays, period. Coaches love to play close to the vest. The NFL is a conservative league. Most coaches would try to run the ball 30 to 40 times a game rather than angle for those 30- to 40-yard passes. But every coach knows that a big play changes the momentum of a game.
The invincibility of the
New York Giants
was taken away in the second quarter of their 20-14 loss to the Eagles. Philadelphia led the low-scoring game 3-0 with 1:52 left in the second quarter. The Eagles caught the Giants in a blitz and middle linebacker
Antonio Pierce
pursued too far to his right. That left
Brian Westbrook
with open space on the right side and the result was a game-changing, 30-yard touchdown run. From that moment on, the Eagles held the advantage. "A big play will give the offensive line more confidence and give the offensive coordinator more confidence in calling those type of plays,'' Westbrook said. "I would have had another touchdown run if I didn't trip in the second half.'' Westbrook had a career-high 33 carries, and the Eagles gained 144 yards on the ground, which might not have happened had Westbrook not broken that big run. Eagles coach Andy Reid tends to shy away from the run if it doesn't work early. "It's a great thing for our offense,'' quarterback
Donovan McNabb
said. "Maybe we opened up some eyes today.'' In Seattle, Seahawks cornerback
Marcus Trufant
did a good job for three quarters against
Randy Moss
. Patriots quarterback
Matt Cassel
rarely hit a deep pass, preferring to play to his strength and throw short and allow his receivers make plays. Then early in the fourth quarter, Moss was matched up against cornerback
Josh Wilson
and Cassel connected with Moss on a 33-yard pass to the Seahawks' 13-yard line. A field goal cut the Seahawks' lead to 21-16 and gave the Patriots the momentum to score the game-winning touchdown in the fourth quarter. In a game that turned into a QB shootout between the Falcons'
Matt Ryan
and the Saints'
Drew Brees
, the biggest play was made by New Orleans'
Pierre Thomas
, a backup runner helping out on special teams. Ryan had just put the Falcons ahead 25-22 with a touchdown run and two-point conversion with 7:51 left in the fourth quarter. Thomas returned the ensuing kickoff 88 yards, setting up his own 5-yard touchdown run that gave the Saints a 29-25 victory. Before the kickoff, Thomas joked with teammates that he could break a long one. He did.
Five things I learned in Week 14
By John Clayton, ESPN.com
1. Cowboys unravel
The Cowboys' fourth-quarter meltdown in a 20-13 loss to the Steelers illustrated why Dallas hasn't won a playoff game in more than a decade. In what was a playoff atmosphere in Pittsburgh, the Cowboys blew a 13-3 lead, giving up 17 points in the fourth quarter. When the Cowboys stopped Steelers running back
Gary Russell
on a fourth-and-1 early in the fourth quarter, they celebrated as if they had won the game. But the Cowboys lost their composure later in the quarter, like they often do in big late-season games. Dallas has now lost 37 of its past 55 games in December and January. At the end of the game,
Terrell Owens
was seen yelling at coaches on the sidelines.
Tony Romo
, who threw an interception that Steelers cornerback
Deshea Townsend
returned for the game-winning touchdown, had an exchange with one of his offensive linemen in the final seconds. "We just didn't finish,'' Owens said. "We had an opportunity to win a game; we just didn't win it." The Cowboys have Super Bowl talent, but Super Bowls aren't won in scouting reports. If anything, the Cowboys need to learn something from the Steelers, who fought through their mistakes and came together at the end. They finished.
2. Giants feel Burress' absence
Life with
Plaxico Burress
might have been a headache for Giants coach Tom Coughlin, but life without Burress, who's suspended in the wake of his weapons charge, is going to be a problem for QB
Eli Manning
. Manning has no go-to receiver when times are tough and that was evident during the Giants' 20-14 loss to the Eagles.
Domenik Hixon
replaced Burress as the starter, and Manning tried to go to Hixon nine times, but he completed only three passes for 30 yards. In the second quarter, Hixon had Eagles cornerback
Sheldon Brown
beat in the middle of the field for what could have been an 85-yard touchdown pass, but he dropped the ball. Manning tried to work his play-action game by throwing to Hixon deep, but he couldn't connect. "I think that [not having Burress] was the difference in their offense,'' Eagles cornerback
Lito Sheppard
said. "When you have a caliber receiver like Plaxico, you have to pay extra attention to him. When he's not out there, you can focus on other things. With Plaxico, you can't make a mistake on a blitz because Eli can go to Plaxico.'' Sheppard said there were several times the Eagles didn't get to Manning on blitzes, but "they didn't have the go-to guy to bail them out.'' Manning has three regular-season games to find one.
3. Jets suddenly in tailspin
According to sources, Bill Cowher isn't going to the
Cleveland Browns
after this season, even if the Browns offer him $8 million and control of the franchise. But one job that appeared safe weeks ago could be an intriguing possibility. The Jets, who lost to the 49ers 24-14, could be in an interesting situation if they miss the playoffs. Two weeks ago, the Jets were on top of the world. They blew away the Titans and had the look of a No. 1 seed. Since then, they lost by 17 to the Broncos at home, and seemed uninspired against the 49ers.
Brett Favre
came out of retirement for this? Here is why Jets coach Eric Mangini and others in the organization should be worried. The Dolphins, thanks to Sunday's 16-3 win over the Bills in Toronto, could very easily be 10-5 entering their season finale against the Jets. The Dolphins host San Francisco in Week 15 and play the 2-11 Chiefs after that. If
Chad Pennington
, whom the Jets released to go to Miami, beats out the Jets for a wild-card berth or the AFC East title, how embarrassing would that be? The Jets, Dolphins and Patriots are in a three-way tie for first place. Jets owner Woody Johnson can accept being tied with the Patriots, led by Bill Belichick and Robert Kraft. But to be beaten out by team that went 1-15 last season could lead to a review of things. Cowher will probably shy away from Cleveland for family reasons and to avoid upsetting the Rooney family. The Jets' job, though, might intrigue him.
4. Gross injustice?
The
Chicago Bears
should be very upset with the Minneapolis judge who temporarily overturned the four-game suspensions of Vikings DTs
Kevin Williams
and
Pat Williams
and allowed them to play in Sunday's 20-16 victory over the winless Lions. Both players were suspended for testing positive in training camp for a banned diuretic that can be used to mask steroids. The NFL Players Association managed to at least delay their suspensions, and the timing of the decision might have cost the Bears a chance to catch the Vikings in the NFC North. The Vikings needed everything and more to beat the Lions, which is remarkable when you think about it.
Adrian Peterson
fumbled three times.
Gus Frerotte
hurt his back and now
Tarvaris Jackson
might have to return as Minnesota's starting quarterback. Having the Williamses at defensive tackle allowed the Vikings to stop inside runs and prevent the Lions from wearing Minnesota down with a running attack. The Lions, who led 13-10 in the third quarter, averaged only 2.8 yards on 27 carries. The Williamses did their usual thing. They combined for nine tackles, including two by Kevin behind the line of scrimmage. Had they not played, the Lions might have been able to control the interior of the line because they were healthy from guard to guard for the first time in weeks. No one knows how many more games the Williamses will be available for, but if the suspensions are upheld, they will miss at least one playoff game. At 8-5, the Vikings need to get to at least 9-7 to benefit from tiebreakers with the Bears.
5. Packing it in
Maybe it's good that Favre forced his way out of Green Bay. Although things might be dicey with the Jets following Sunday's loss to the 49ers, imagine how bad it would be for Favre in Green Bay. The Packers allowed 549 yards of offense in a 24-21 loss to the Texans. That's right, 549 yards. Right tackle
Mark Tauscher
suffered a possible season-ending knee injury, but his knee is better than the Packers' playoff chances, which are fractured at 5-8. Maybe it's me, but I'm still trying to figure out why
Charles Woodson
was moved to safety two weeks ago.
Tramon Williams
, his replacement, was beat for two catches for 104 yards by
Kevin Walter
on Sunday, and that was just in the first half. Williams is a young, talented corner, but he's inexperienced. Apparently, the Packers feel Woodson has lost a step, but he was good enough to play corner the first 11 games. What happened in the past two weeks to change that? After watching Houston QB
Matt Schaub
throw for 414 yards on his defense, Packers coach Mike McCarthy said he was frustrated. Defensive coordinator Bob Sanders accepted the blame, and critics in Green Bay wonder if he will be the coordinator next year. McCarthy described the game as "a little bit of a picture of how our season has gone.'' Apparently, the picture is a horror flick.
John Clayton's game balls

Westbrook
•
Offense:
Maybe Eagles fans need to construct a big wind machine in the end zone for every Eagles home game. Whether it was the gusting Giants Stadium winds at 21 miles per hour or the heat he was taking for not running the ball, pass-happy Eagles coach Andy Reid has become Ground Andy.
Brian Westbrook
had 33 carries for 131 yards and a 30-yard touchdown run in Sunday's 20-14 win over the Giants. He also caught six passes for 71 yards, including a 40-yard TD reception. His 203 yards from scrimmage were the most allowed by the Giants since
LaDainian Tomlinson
gained 220 on Sept. 25, 2005. Westbrook has played with an ankle sprain, a knee what swells and cracked ribs. "You know, it's one of those days,'' Westbrook said. "We were able to run the ball successfully early and Coach stayed with it. He was very committed to it. And I give a lot of credit to him because usually we're not that committed to it.'' Reid kept Westbrook out of practice Thursday and Friday to rest the knee, which has suffered from swelling each week. Westbrook had 22 carries for 110 yards and scored four touchdowns in the Eagles' Thanksgiving night victory over the Cardinals. Maybe the Eagles are finally serious about the ground game.

Jackson
•
Defense:
For sheer numbers, it's hard to top the line of Browns linebacker
D'Qwell Jackson
. Jackson was everywhere during the Browns' 28-9 loss to the Titans. He had 15 tackles, including one behind the line of scrimmage. He intercepted two passes and defended three others. All season, Cleveland head coach Romeo Crennel has been disappointed in the play of his linebackers. The addition of defensive linemen
Shaun Rogers
and
Corey Williams
helped the Browns' 3-4 defense up front. But for whatever reason, the linebackers haven't been making plays. Jackson tried to change that Sunday, and he's been doing his part this season, with 130 tackles in 13 games, including 81 solos.

Thomas
•
Special teams:
Saints coach Sean Payton rewarded backup running back
Pierre Thomas
with the game ball following Sunday's 29-25 victory over the Falcons, so that's good enough for me. An 88-yard return by a role player deserves attention. There is something about Thomas that the Saints like. Quarterback
Drew Brees
has become a big fan of Thomas as a playmaking running back. Thomas' long return in the fourth quarter set up his own game-winning score, a 5-yard run, and he had 197 all-purpose yards and two touchdowns. "He got the game ball,'' Payton told reporters after the game. "He made play after play. I thought the biggest play was the return. That was a huge play for us.''
ESPN video
Week 14 rundown
•
Chicago 23, Jacksonville 10
Is there a team looking forward to the end of the season more than the Jaguars? For the second game in a row, Jack Del Rio's team appeared to be a disinterested bunch.
Photos
• Minnesota 20, Detroit 16
Lost in the midst of the Lions' dreadful season has been the impressive play of WR Calvin Johnson, who eclipsed the 1,000-yard receiving mark Sunday. Photos
• Houston 24, Green Bay 21
The Texans closed out what was probably the best week in team history. Another tough loss in a season of tough losses for the Packers. Photos
• Tennessee 28, Cleveland 9
How bad were things for the Browns on Sunday? Their leading rusher was Joshua Cribbs -- a wide receiver. Photos
• Indianapolis 35, Cincinnati 3
This one had the feel of a preseason game. Things shouldn't get much tougher for Indy over the next two weeks with games against the Lions and Jags. Photos
• New Orleans 29, Atlanta 25
The emergence of Pierre Thomas (102 rushing yards, two TDs) is good news for Reggie Bush, who seems to play better when he's not asked to be the workhorse back. Photos
• N.Y. Giants 20, Philadelphia 14
A disappointment for the Giants? Sure. A reason to panic? No. The Eagles are as dangerous as anyone when Donovan McNabb and Brian Westbrook are clicking. Photos
• Miami 16, Buffalo 3
The fans of Toronto might have seen the Dolphins take another step toward the AFC East title. The stars appear to be aligning in Miami's favor. Photos
• Denver 24, Kansas City 17
Tatum Bell was jobless at the start of the season. Now he's the Broncos' only healthy running back. Photos
• San Francisco 24, N.Y. Jets 14
If the Jets miss the playoffs, their West Coast woes will be one of the biggest reasons why. Photos
• New England 24, Seattle 21
Seahawks WR Deion Branch (two TDs) had a nice game against his former team, but the Patriots needed a big fourth quarter to steal the victory. Photos
•
Arizona 34, St. Louis 10
The Cardinals have the NFC West title wrapped up. Now they have to get their running game in order. The trio of
Tim Hightower
,
J.J. Arrington
and
Edgerrin James
produced only 65 yards Sunday.
Photos
Pittsburgh 20, Dallas 13
Owners of the league's toughest schedule, the Steelers will probably be a little beat up come playoff time. But they'll also be battle-tested.
Photos
•
Baltimore 24, Washington 10
With
Willis McGahee
banged up for much of the season,
Le'Ron McClain
(seven games with 50-plus yards rushing) has been an unsung contributor for the Ravens.
Photos
•
Monday Night Football: Tampa Bay at Carolina (ESPN, 8:30 ET)
Too small? Too soft? Wrong and wrong again. RB DeAngelo Williams, on the brink of 1,000 yards rushing, is living up to his promise for Carolina, which meets Tampa Bay in a huge NFC South showdown for first.
Pat Yasinskas
•
NFC South blog: Cadillac returns
|
Discuss

•
Football Outsiders: Bucs surging on defense
•
Animation: Breaking down Bucs' blitz
|
Streak
•
Watch: Preview
|
Podcast

|
MNF Surround
-- ESPN.com
Looking ahead
An early look at next weekend's biggest games:
• New Orleans (7-6) at Chicago (7-6): A Thursday night game neither team can afford to lose.
•
Tampa Bay (9-3) at Atlanta (8-5):
How will the Falcons respond after a tough loss to the Saints? •
N.Y. Giants (11-2) at Dallas (8-5):
The Giants will be facing a desperate opponent for the second straight week. •
Week 15 schedule