Week 2: Settling for FGs won't cut it; Fox a cool customer on hot seat
Jamie Squire/Getty Images
Week 2 analysis: Conservative ways, red zone woes costing teams
By John Clayton, ESPN.com
The lesson learned in Week 2 was that the game may be called football, but it's not always wise to overuse the foot. Too many coaches settle for field goals nowadays in the NFL. Vikings kicker
Ryan Longwell
made five field goals on Sunday, but the Vikings blew a 15-point lead and lost to the Colts 18-15. The Jaguars tried to be aggressive at the beginning of the second half by executing a successful onside kick sandwiched between two field goals. Although the second field goal gave the Jaguars a 13-10 lead, their failure to score a fourth-quarter touchdown was a contributing factor in a 20-16 loss to the Bills. The Bears blew a 17-3 lead by being too conservative with short passes and failed runs, allowing the Panthers to rally for a 20-17 win. Sure, it's easy to kick instead of taking a risk on fourth down. Kickers are better than ever. In Week 1, field-goal kickers made 58 of 65 attempts. In Week 2, they made 34 of 39. That's an average of six misses a week. The field goal is becoming almost as automatic as the extra point, but the failure to score touchdowns is costing teams games.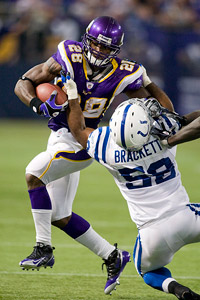 David Stluka/Getty Images
RB Adrian Peterson rose to the occasion in Week 2. The rest of the Vikings' offense did not.
The Vikings were the classic example. Minnesota's Adrian Peterson was the player of the day. He had 160 yards on 29 carries and four catches for 20 yards. He accounted for 180 of the Vikings' 299 yards and touched the ball on 33 of the team's 62 plays. He was a one-man show, but quarterback Tarvaris Jackson (130 passing yards on 14 completions) -- with the help of some key drops by Vikings pass-catchers -- failed to complete drives, playing into the hands of a veteran Colts team.
"Because we held them to field goals, we had the chance to make a couple of plays and win it at the end,'' Colts coach Tony Dungy said. "That's what you have to do when things don't go perfectly.'' The Colts were reeling. Left tackle
Tony Ugoh
was out in the second half with a groin injury. Safety
Bob Sanders
was carted to the locker room in the second half with an ankle injury. Center
Jeff Saturday
and tight end
Dallas Clark
didn't suit up because of knee injuries. Down 15-0 with 3:31 left in the third quarter, Colts WR
Anthony Gonzalez
got behind
Cedric Griffin
on a post pattern for 58 yards and then made what he called the stupidest play of his career, pitching the ball to teammate
Reggie Wayne
while he was being tackled. Wayne caught the ball and took it to the 1-yard line, setting up a touchdown run by
Joseph Addai
. All of a sudden, the Colts were down one score (15-7), and they later tied the game with a 32-yard touchdown pass to Wayne and a
Dominic Rhodes
two-point conversion. Colts general manager Bill Polian called this the most courageous game of
Peyton Manning
's career. It's hard to argue. By the end of the game, Manning was playing with a rookie center (
Jamey Richard
), a rookie guard (
Steve Justice
) and two raw tight ends (
Tom Santi
and
Gijon Robinson
). The Colts had to use regular personnel instead of three tight ends on the goal line because Ugoh and Clark were out and Justice, slated to be the emergency third tight end, was playing guard. Manning got the Colts to the Vikings' 29 and set up
Adam Vinatieri
's game-winning 47-yard field goal. On the flip side, the Vikings made six trips inside the Colts' 35 and went 5-for-6 on field goals. Jackson was booed continuously for his red zone failures. Maybe everyone needs to learn from Mike Shanahan. Down by one in the final seconds against San Diego, the Broncos went for a two-point conversion, and now they have a two-game lead over the Chargers. Now that's a gutsy move.
Five things I learned in Week 2
By John Clayton, ESPN.com
1. Fox thriving on the hot seat
The Saints' Sean Payton may have received the five-year contract extension Sunday, but Carolina's John Fox may have been the coach who saved his job and has an upper hand in the NFC South, which really shouldn't be much of a surprise. Fox did take the Panthers to the Super Bowl once, and we saw a trend develop last season, when coaches on the hot seat bounced back and received contract extensions. Jack Del Rio of the Jaguars, Jon Gruden of the Bucs and Tom Coughlin of the Giants did some of their best coaching under severe job pressure . I don't know if Panthers owner Jerry Richardson will extend Fox's contract. He's signed for two more years. But the 2-0 start and the team's ability to come back for victories over the Chargers and Bears without wide receiver
Steve Smith
should put a little scare into Payton and the Saints, who are reeling with injuries. Eight players, including linebacker
Mark Simoneau
(who's out for the season), missed the Saints' loss to the Redskins. The Panthers benefit from a schedule that, based on 2007 records, is significantly easier than last season, going from an opponents' winning percentage of .523 to .465. The combination of QB
Jake Delhomme
's return and the easy schedule should allow for a three-game improvement on Carolina's 7-9 finish last year. Fox remodeled the offense with bigger offensive linemen, and the Panthers have shown against the Bears and Chargers that they can run on anyone. The Saints may have been the sexy pick to win the NFC South, but Fox's Panthers could be the surprise winner.
2. Broncos flexing offensive muscle
It looks as though we might have been wrong in our evaluation of the Broncos. Sure, their defense is challenged. The Broncos gave up 456 yards and 8.8 yards a play to the Chargers. San Diego QB
Philip Rivers
was sacked only once and threw for 377 yards. Denver coach Mike Shanahan was telling his friends before the season he has a playoff team. Clearly, he has a playoff offense, even though there are still questions about the running attack.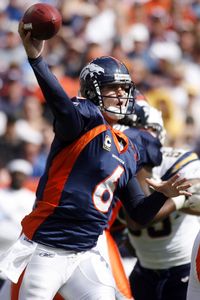 Byron Hetzler/US Presswire
Jay Cutler (350 yards passing in Week 2) has been able to compensate for the Broncos' questionable running attack.
Jay Cutler is sensational. Though his red zone interception in the fourth quarter could have cost Denver the game, Cutler brought the team back for one more touchdown drive and a two-point conversation. The receiving combo of Brandon Marshall and Eddie Royal looks unstoppable with Cutler at the helm. They combined for 23 catches for 203 yards and two touchdowns Sunday. Cutler completed 36 of 50 passes for 350 yards and four touchdowns.
All that being said, the Broncos should have lost. Replay rules are totally messed up if you can't overturn a bad call. With 1:14 left in the fourth quarter, Cutler fumbled. The ball clearly slipped out of his hands, but officials made a bad call, ruling it an incomplete pass. Here's referee Ed Hochuli's mumbo-jumbo explanation of the call: "It should have been ruled a fumble. By rule, by the instant replay rules, on that particular play where there's a pass/fumble -- a quarterback pass/fumble -- the rules do not permit you to give the ball to the other team.'' What?
3. Kiffin on shaky ground
Despite a dominating 23-8 victory over the
Kansas City Chiefs
, Raiders coach Lane Kiffin is still going day-to-day with his job. Al Davis is ready to fire him and this win isn't going to heal this team's wounds. Kiffin could still be fired as early as Tuesday. To his credit, though, Kiffin coached a smart game despite the limitation of his passing offense. Halfback
Darren McFadden
rushed for 164 yards on 21 carries and the Raiders rushed for 300 yards overall. Based on last year's records, the Raiders play a .395 schedule during their first 12 games, which should give them a chance to post a winning record going into December. But that's not going to happen if Oakland's passing offense performs like it did on Sunday.
JaMarcus Russell
completed only six passes for 55 yards and got only one to a wide receiver,
Ashley Lelie
. What we learned is that the Raiders have half an offense, and Kiffin is probably out after the next bad practice, bad game, bad news conference or the Oct. 5 bye week. Just winning, baby, won't be enough for Kiffin.
4. Changing of the guard? Not quite
The Patriots are still the team to beat in the AFC East, but boy, do they look beatable.
Matt Cassel
did exactly what everyone expected. He helped the Pats score 19 points, far from the
Tom Brady
level of 36.8 points a game. Cassel's presence turned a shotgun, passing offense into a run-to-set-up-the-pass offense. The Patriots ran 33 times and passed 26 times, netting only 156 yards. But Cassel didn't screw it up. He didn't have a turnover and the Patriots beat the Jets 19-10. The Patriots won with defense, which shouldn't be a surprise because defense is Bill Belichick's specialty. The Jets must feel deflated after
Brett Favre
and his offense produced only 10 points. Belichick took away most of Favre's ability to throw the long pass and limited him to 10.1 yards per completion. So in the big picture, it appears little has changed in the AFC East. The Patriots still have 10- or 11-win potential without Brady.
5. Cards in command?
This could be the Cardinals' year in the NFC West. The Seahawks have the best homefield advantage in the NFC West, but they lacked healthy receivers in Sunday's 33-30 overtime loss to the 49ers. They tried to use backup quarterback
Seneca Wallace at receiver
, and he got hurt in pregame warmups. Cardinals coach Ken Whisenhunt made the best quarterbacking decision since Jack Del Rio dumped
Byron Leftwich
and rode
David Garrard
's abilities to the 2007 playoffs.
Kurt Warner
was almost perfect against the Dolphins. He had a 158.3 quarterback rating, completing 19 of 24 passes for 361 yards and three touchdowns. In the second half of last season, only Brady threw for more touchdowns than Warner. The Cardinals have a two-game lead over the Seahawks. Tough road games are coming up against the Redskins and Jets, so the Cardinals need to make sure they at least split them. The key to the season now seems to be keeping Warner healthy.
John Clayton's game balls

Marshall
•
Offense:
Everyone except for
Donovan McNabb
has been waiting for the next
Terrell Owens
to emerge. If he didn't achieve that status by catching 102 passes last season,
Brandon Marshall
emerged as the next T.O. Sunday against the Chargers, catching 18 passes for 166 yards. In a league starving for new receivers, "BM" and
Calvin Johnson
of the
Detroit Lions
are the league's next two superstars. Johnson might remind fans of
Randy Moss
. Marshall reminds you of Owens. He's big. He's physical. He's flamboyant. Marshall's performance in Denver's 39-38 victory over the Chargers puts him in the NFL record books close to Owens, who caught 20 passes in a Dec. 17, 2000, game against the Bears. Marshall is tied with Tom Fears of the Rams (Dec. 3, 1950) for the second-most-productive day by an NFL receiver. Maybe the game ball should go to Marshall's attorney, who pleaded his case to the NFL to get his three-game suspension reduced to one. Despite missing the opener, Marshall is on pace for another 100-catch season.

Woodson
•
Defense:
Perhaps no cornerback in football has played with as many foot problems as
Charles Woodson
. He played through pain during his final years with the
Oakland Raiders
. Heading into Sunday's game against the Lions, Woodson was supposed to sit. He had a broken toe, and coach Mike McCarthy worried about playing him and making the injury worse. Instead, Woodson played incredibly well, and made the game-saving interception in the fourth quarter. After the Packers kicked a field goal to go ahead 27-25, Lions quarterback
Jon Kitna
was ready to start a drive to reclaim the lead with 5:17 left. Woodson intercepted a pass intended for Calvin Johnson at the Lions' 40, and the Packers drove for a touchdown to open a 34-25 lead. On the next series, he intercepted a Kitna pass and ran it back 41 yards for a touchdown that put the game out of reach. Safety
Nick Collins
sealed the victory with a 42-yard interception return, but Woodson won the game ball.

Longwell
•
Special teams:
Ryan Longwell
did everything he could to beat the Colts. He made five of six field-goal attempts. Consider this: The Vikings might have had the best special teams player (Longwell) and one of the top offensive performances (
Adrian Peterson
, who rushed for 160 yards). To have two of the best performances of the day and still lose to the Colts 18-15 is pretty incredible. Young quarterback
Tarvaris Jackson
is hearing the boos. At 34, Longwell, meanwhile, seemingly gets better with age. His most impressive kick was a 53-yarder that gave the Vikings a 9-0 lead as time expired at the end of the first half. Peterson and Longwell were the Vikings' offense.
ESPN video
Week 2 rundown
•
Tennessee 24, Cincinnati 7
Sure, Bengals QB
Carson Palmer
has faced two pretty good defenses so far this year. But 233 yards in two games is unacceptable, regardless of the opponent.
Photos
• Green Bay 48, Detroit 25
It's easy to forget the Lions started 6-2 last season. Since then, Detroit has lost nine of 10. Somehow, the Matt Millen-Rod Marinelli marriage survives. Photos
• Oakland 23, Kansas City 8
Darren McFadden did his best to bolster Raiders coach Lane Kiffin's job security. The rookie's 164 rushing yards made up for QB JaMarcus Russell's lackluster day (6-of-17, 55 yards). Photos
• N.Y. Giants 41, St. Louis 13
Has the Scott Linehan watch begun? The Rams, outscored 79-16 in two games, look just as hapless as they were last year. Photos
• Indianapolis 18, Minnesota 15
An impressive second-half rally allowed Colts QB Peyton Manning to steal the spotlight from the Vikings' Adrian Peterson (29 carries,160 yards). Photos
• Washington 29, New Orleans 24
After a rough opener, Redskins QB Jason Campbell (24-of-36, 321 yards, TD) appears to be getting comfortable in Jim Zorn's West Coast offense. Photos
• Carolina 20, Chicago 17
Two games, two thrilling comebacks for Carolina. A crushing loss for the Bears, who let the game slip away with four minutes left. Photos
• Buffalo 20, Jacksonville 16
Bills QB Trent Edwards was efficient (20-of-25, 239 yards) -- and clutch. Two huge completions in the final minutes, including a 7-yard TD to James Hardy, keyed Buffalo's victory. Photos
• San Francisco 33, Seattle 30 (OT)
Restless in Seattle? It's early, but the Seahawks (0-2 for the first time since 2002) appear to be losing their stranglehold on the NFC West. Photos
• Tampa Bay 24, Atlanta 9
After a promising debut, Falcons QB Matt Ryan took his lumps in Week 2. The rookie's resiliency will be tested a lot this season. Photos
• Denver 39, San Diego 38
What will people be talking about? The controversial call? Mike Shanahan's gamble? Brandon Marshall? Darren Sproles? This instant classic had a little bit of everything. Photos
•
New England 19, N.Y. Jets 10
So much for the Patriots being an also-ran without
Tom Brady
. The Jets have
Brett Favre
, but they still seemed overmatched against New England.
Photos
•
Arizona 31, Miami 10
Looks like
Kurt Warner
was the right choice for the Cardinals after all. Then again, the Dolphins' defense will probably make a lot of QBs look like Pro Bowlers this season.
Photos
•
Pittsburgh 10, Cleveland 6
Is there a more one-sided rivalry in football? That's 10 straight wins for the Steelers over the Browns. Who says the NFL is unpredictable?
Photos
•
Monday Night Football: Eagles at Cowboys
(ESPN, 8:30 ET)
Tony Romo is coming off a 300-yard effort. Ditto for the rejuvenated Donovan McNabb. Something's gotta give in an early NFC East showdown.
Matt Mosley
•
Play animations: Eagles' waggle, 'Boys screen
•
Football Outsiders: Must stop T.O.
|
Podcast

•
Watch: MNF team's preview
...
Jessica Simpson
-- ESPN.com
Looking ahead
An early look at next weekend's biggest games:
• Arizona (2-0) at Washington (1-1): A big road test for the first-place Cards.
•
New Orleans (1-1) at Denver (2-0):
Another shootout at Mile High? This one certainly has the potential.
• Pittsburgh (2-0) at Philadelphia (1-0): An intriguing interconference matchup with state bragging rights on the line.
•
Week 3 schedule