John Clayton's Last Call: Early QB concerns for Eagles, Panthers
Frank Victores/US Presswire
Week 1 observations: Five things I learned
By John Clayton, ESPN.com
1. McNabb's injury could have been avoided:
Eagles coach Andy Reid wouldn't lift his foot off the accelerator with a 21-point, third-quarter lead, and as a result, he might not have QB
Donovan McNabb
for next Sunday's potential shootout against
Drew Brees
and the
New Orleans Saints
.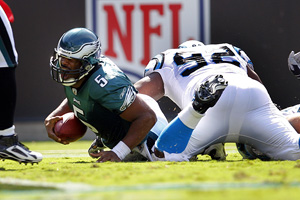 Bob Donnan/US Presswire
Eagles QB Donovan McNabb padded a commanding lead, but he paid a price.
With 6:59 left in the third quarter of a 38-10 win over the Panthers, McNabb suffered a fractured rib in the left side of his back as he scrambled into the end zone for a 3-yard touchdown. That touchdown gave the Eagles a 38-10 lead in a game that was over in the middle of the second quarter. X-rays revealed one fracture. McNabb's a competitor, but there was no need for him to risk injury with that big of a lead. It's too early to determine McNabb's status, but he's more doubtful than questionable. The Eagles might have to outbid the Patriots to re-sign A.J. Feeley in order to have him back up Kevin Kolb, who might get the start against the Saints. Michael Vick, who's serving a two-week suspension, won't be eligible until Week 3.
Reid said there is a chance McNabb could play. Halfback
Brian Westbrook
, who's played with rib fractures, said, "I think Donovan will be able to play next week; it's just how much will he be able to handle the pain.'' Without McNabb, the Eagles are hurting. Kolb was sacked twice and completed seven passes for 23 yards during the final quarter and a half. He hasn't been able to convert his exhibition-game successes into the regular season yet.
2. Delhomme on the ropes:
One game into his five-year, $30.4 million extension, Panthers QB
Jake Delhomme
is in a career crisis. Delhomme was benched in the third quarter after throwing four interceptions and losing a fumble in Sunday's loss. Including last season's playoff loss to the Cardinals, Delhomme has 11 turnovers in less than seven quarters. Panthers fans booed him as the mistakes continued. His quarterback rating is 24.2 over his past two games. He has completed 24 of 51 passes for 244 yards with nine interceptions and two fumbles in that span.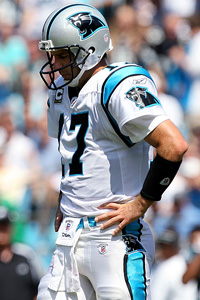 Streeter Lecka/Getty Images
Jake Delhomme passed for only 73 yards and turned the ball over five times against the Eagles.
Asked whether he would start next Sunday, Delhomme said: "I hope so. It's the easy way out to sit on the sidelines and lick my wounds. I hope to be out there.''
Players and coaches started the process of distancing themselves from Delhomme after the game. Wide receiver
Steve Smith
didn't give him an endorsement when asked whether he was concerned about his quarterback. "I don't have to have that responsibility. I don't want to comment on something that's outside my pay grade,'' he said. Head coach John Fox didn't sound solid on going back to Delhomme. "I think we start back with Jake,'' he said. "We've got to go back and evaluate what happened to us.'' The Panthers don't have much of a choice. Backup
Josh McCown
suffered what might be a serious knee and foot injury in the second half after replacing Delhomme. The Panthers can't trade for
Derek Anderson
of the Browns because they have only $1.5 million in cap room. Anderson's base salary is $1.45 million, but teams generally don't like to use up all their cap space this early in the season. They could sign
Jeff Garcia
. Delhomme's 34. The Panthers put their faith in him, but two bad games have clearly shaken that faith.
3. Problems already in Houston:
The Jets are better than we thought, and the Texans are in trouble after a 24-7 loss to New York. Jobs may be on the line if the Texans can't break their two-year rut of being 8-8. It had to scare Houston fans and management to see Jets rookie quarterback
Mark Sanchez
outperform veteran Texans starter
Matt Schaub
. Sanchez became only the fourth rookie quarterback since the AFL-NFL merger to win his first start on opening day. To make matters worse for the Texans, Sanchez is the first rookie quarterback to win an opening-day start on the road. Sanchez threw for 272 yards. Schaub threw for 166. Schaub has 25 career starts and looked like the second-best quarterback on the field. It's pretty clear the Texans aren't as good as the Titans and Colts, so they have to get six or seven wins in their 10 non-division games to get over .500. The Jets stuffed the Texans' running attack, limiting
Steve Slaton
to 17 yards and Houston to 38 total. Give Jets coach Rex Ryan credit. He talked big about his defense during the offseason, and the Jets backed up his words by holding Houston to 183 yards, seven points and only 48 plays.
4. Ryan outshines Long:
Falcons QB
Matt Ryan
didn't have his best game in Atlanta's 19-7 victory over the Dolphins, but he showed that the Dolphins might have made a mistake by bypassing him in favor of left tackle
Jake Long
in the 2008 draft. Ryan is the difference-maker who should take the Falcons to the Super Bowl sometime in the next two or three years. Long made the Pro Bowl on an 11-win team as a rookie, but his impact wasn't as apparent Sunday as Ryan's. Ryan completed 22 of 36 passes for 229 yards and two touchdowns. Long is good, but he alone isn't going to keep the Dolphins at the 11-win level. Against a Falcons defense that chased away five starters, the Dolphins rushed for only 96 yards, gave up four sacks and didn't score until the 3:22 mark of the fourth quarter. Plus, the future of the quarterback position in Miami is uncertain.
Chad Pennington
, 33, completed 21 passes for only 176 yards Sunday. His contract is up at the end of the year, and
Chad Henne
, believed to be the future starter, was third-string Sunday.
5. Bengals let one slip away:
The Broncos' 12-7 victory over the Bengals was hard to figure. The Bengals were at home. They had a reasonably healthy
Carson Palmer
.
Cedric Benson
was the best back on the field in the first half, rushing for 55 yards on 15 carries. Broncos quarterback
Kyle Orton
clearly couldn't throw deep because of his dislocated right index finger, which was protected by a glove. I think the departure of WR
T.J. Houshmandzadeh
was bigger than the team imagined. His replacement,
Laveranues Coles
, was almost invisible against the Broncos. He was targeted five times. He caught one pass for 11 yards and had a couple of drops on third down. Houshmandzadeh had 204 catches over the past two seasons, and would have been good for six receptions a game with Palmer. He had six catches in Seattle's 28-0 victory over the Rams. By letting the Broncos hang around in a close game, the Bengals made themselves vulnerable to a game-changing play, which happened when
Brandon Stokley
caught a deflected pass and raced for the game-winning touchdown. That was a bad loss for the Bengals. They miss Houshmandzadeh.
Clayton's short takes
In honor of the late Eagles defensive coordinator Jim Johnson, Philadelphia's defense put forth a great effort against the Panthers. The creativity continued as defensive end
Trent Cole
lined up at linebacker and the team overloaded the left side with blitzes to free the middle linebacker for quarterback pressures. … The knee injury suffered by WR
Anthony Gonzalez
will force the Colts to use more two-tight-end sets. He's out two to six weeks. Expect tight end
Dallas Clark
to be the second option to
Reggie Wayne
and put up big numbers during Gonzalez's absence. … The Cardinals' sloppy play in the preseason left them vulnerable to the all-work, no-play 49ers under Mike Singletary. The 49ers upset the Cardinals 20-16, and if they can beat the Seahawks next Sunday, they should be considered serious contenders for the NFC West title. … Ravens quarterback
Joe Flacco
looked more mobile than ever before as he passed for 307 yards and three touchdowns in a 38-24 victory over the Chiefs. … Even though the Chiefs were burned for a lot of yards, their 3-4 defense doesn't look that bad.
John Clayton's game balls

Peterson
•
Offense:
This is going to be
Adrian Peterson
's year. If he stays healthy, I think he has a shot to reach the 2,000-yard rushing plateau. He had 180 yards and three touchdowns -- including a scintillating 64-yarder -- on 25 carries in the Vikings' 34-20 victory over the Browns. People wondered whether
Brett Favre
would let Peterson be the star of Minnesota's offense. Favre needed only 14 short completions to blow out the Browns.

Brown
•
Defense:
Eagles CB
Sheldon Brown
asked to be traded during the offseason, but he decided to put aside his issues with management for the benefit of his teammates. Brown intercepted two
Jake Delhomme
passes Sunday and was credited with two other pass defenses. The Eagles used Brown,
Asante Samuel
and
Ellis Hobbs
in a three-cornerback rotation. It allowed the corners to be fresher and make big plays in a 38-10 blowout of the Panthers.

Cribbs
•
Special teams:
Memo to Browns coach Eric Mangini: Pay
Josh Cribbs
, and pay him fast. Cribbs is making a case that he's the most underpaid star in the league. He signed a $1.1 million-a-year contract a couple of years ago for his special-teams play. During the preseason, he averaged 24 yards a touch. During the Browns' 34-20 loss to the Vikings, Cribbs had a 67-yard punt return for a touchdown and 140 yards on six kickoff returns. He had 26 yards on five offensive plays. That's 233 yards on 14 touches Sunday.
Writers' bloc
• Brett Favre's numbers were weak Sunday. So what? It's not his team anyway.
Wojciechowski
• The veteran Colts exploited Jacksonville's rookies, and the Jags paid the price.
Kuharsky
• Tampa Bay's D -- especially its secondary -- got plastered in a 34-21 loss to Dallas.
Yasinskas
• The Browns have desire, but they simply do not have the horses to compete in 2009.
Walker
Week 1 rundown
•
Pittsburgh 13, Tennessee 10 (OT)
Big Ben was huge when it mattered most, but what's the deal with Pittsburgh's running game (only 36 yards on 23 carries)?
• Denver 12, Cincinnati 7
Probably the dullest game of Week 1 -- until the Broncos' improbable game-winning touchdown pass. Maybe the Bengals are cursed.
• Atlanta 19, Miami 7
It didn't take long for Tony Gonzalez to make an impact with the Falcons. The veteran tight end caught a 20-yard TD pass and already appears to have a nice rapport with QB Matt Ryan.
• Minnesota 34, Cleveland 20
A solid yet unspectacular Vikings debut for Brett Favre. If Adrian Peterson continues to run as he did Sunday (25 carries, 180 yards), Favre won't have to be spectacular.
• Indianapolis 14, Jacksonville 12
The Colts' defense didn't have Bob Sanders, but it had enough muscle to turn back the Jags in the fourth quarter.
• New Orleans 45, Detroit 27
The Lions' losing streak now stands at 18. Rookie QB Matthew Stafford didn't get much help from Detroit's running game (20 carries, 33 yards).
• Dallas 34, Tampa Bay 21
No T.O., no problem for Dallas' WR corps. The Cowboys got big plays from both Roy Williams and Patrick Crayton.
• Philadelphia 38, Carolina 10
The Eagles were dominant in every phase. Can they thrive without QB Donovan McNabb? They may have to find out.
• Baltimore 38, Kansas City 24
The Ravens are usually all about defense, but their offense was the story in Week 1. Second-year QB Joe Flacco registered his first career 300-yard passing game.
• N.Y. Jets 24, Houston 7
The Mark Sanchez era is off to a promising start. But the schedule now gets a lot tougher for the Jets' rookie signal-caller.
• N.Y. Giants 23, Washington 17
Will the Giants be OK at wide receiver? It's probably too early to say, but Steve Smith and Mario Manningham each took a step forward Sunday.
• San Francisco 20, Arizona 16
Weird stat of the day: Cardinals RB Tim Hightower averaged just two receptions a game in 2008. He had 12 for 121 yards Sunday.
•
Seattle 28, St. Louis 0
Are the Seahawks back? We won't know for sure until they play a better team. Three Seattle turnovers aren't a good sign. •
Green Bay 21, Chicago 15
It wasn't the offensive shootout many expected, but Aaron Rodgers showed Packers fans he's capable of making plays with the game on the line.
MONDAY NIGHT FOOTBALL
•
Buffalo at New England (ESPN, 7 ET)
•
San Diego at Oakland (ESPN, 10:15 ET)
-- ESPN.com
Looking ahead
An early look at next weekend's biggest games:
• New England (0-0) at N.Y. Jets (1-0): What will Bill Belichick cook up for Jets QB Mark Sanchez?
•
New Orleans (1-0) at Philadelphia (1-0):
Both teams enjoyed lopsided Week 1 wins. Week 2 brings bigger challenges. •
N.Y. Giants (1-0) at Dallas (1-0):
Will the Giants spoil the opening of Jerry Jones' new theme park? •
Week 2 schedule