John Clayton's Last Call: First-place Bengals finally all grown up
Kevork Djansezian/Getty Images
Week 10 observations: Five things I learned
By John Clayton, ESPN.com
1. Bengals coming of age:
Maturity isn't a word that has been associated with the Bengals over the years, but Sunday's 18-12 victory over the Steelers was a testament to the way this Cincinnati team has grown. "We came into the season immature, but our maturity grows by the week,'' Bengals defensive tackle
Tank Johnson
said. With a 7-2 record and season sweeps of the Ravens and Steelers, the Bengals have clearly come together.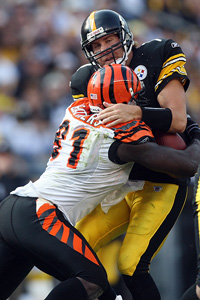 Jason Bridge/US Presswire
The Bengals' relentless pass rush prevented Ben Roethlisberger from finding his rhythm.
"I wouldn't say that we walk into a stadium and we're athletically more gifted than our opponents or than anybody,'' quarterback Carson Palmer said. "I just think that we want it more. We work harder. At the end of the day, we understand how to win ballgames.''
Here's the defensive example to explain that understanding. In practice last week, Bengals coaches emphasized the importance of not letting Steelers QB
Ben Roethlisberger
get outside the pocket and make plays. The Bengals' four-man line, led by
Jonathan Fanene
rushing from right end, perfectly executed a "mush'' rush, which requires control and solid thinking. Instead of just rushing and attacking, mush-rush linemen stop and start, stop and start and often hold their hands up high to bat down passes if possible. Although Roethlisberger got outside early in the game, the Bengals contained him in the pocket most of the day. The usually accurate Roethlisberger was 20-of-40 for 174 yards and was sacked four times. Because the Bengals' rush was so effective, the Steelers had to keep tight end
Heath Miller
and running back
Mewelde Moore
back to block, which allowed Cincinnati cornerbacks
Leon Hall
and
Johnathan Joseph
to blanket Steelers wide receivers. The Bengals had an incredible 10 pass defenses on Sunday. The other sign of the Bengals' maturity is the thinking of their offense. "It's all about field position,'' Palmer said. Instead of worrying about stats and individual accomplishments, the Bengals were willing to settle for field goals, throw checkdowns against zone defenses instead of forcing the ball downfield, and manage a low-scoring, physical victory. The Bengals prevailed with a mature, professional manner. No Bengal even thought to wave a Terrible Towel.
2. Falcons stumble:
The Falcons, who fell to Carolina 28-19, are making too many mistakes at critical times.
Matt Ryan
threw a second-quarter interception on a long pass to
Michael Jenkins
, increasing his interception total to 12. After Ryan threw a 3-yard touchdown pass to tight end
Justin Peelle
to cut the Panthers' lead to 21-19 early in the fourth quarter, coach Mike Smith made a debatable decision to go for the two-point conversion. The effort failed. Then Ryan got greedy with 3:59 remaining by going deep to Jenkins from the Panthers' 49 on first down. Cornerback
Richard Marshall
intercepted the pass. Three plays later,
Jonathan Stewart
broke open the game with a 45-yard touchdown run. The Falcons' offense seems lost when
Michael Turner
isn't breaking long runs. Turner suffered an ankle injury in the second quarter and couldn't finish. There is some speculation it might be a high ankle sprain, which could sideline him for a couple of weeks. The Falcons are 5-4, and are battling the NFC East runner-up for a wild-card spot. Atlanta plays the 5-4
New York Giants
next Sunday in Giants Stadium. On Dec. 6, it play host to the 5-4
Philadelphia Eagles
. If the Falcons don't fix their problems, they could lose to both, and subsequently lose playoff tiebreakers down the road.
3. Pain and suffering:
Even though the weather was warm and nice in most spots, it was one of the most physical Sundays in recent years. Big-name players were being carted off the field or taken to the locker room at an alarming rate. The biggest loser of the day was Carolina. It lost LT
Jordan Gross
for the season with a broken ankle. Even though QB
Jake Delhomme
has regained his confidence after a rash of turnovers in the first half of the season, the Panthers need to be able to dominate along the offensive line. The second-biggest injury was the broken fibula of Cowboys RT
Marc Colombo
. The Cowboys made a calculated gamble by going into the season with five starting offensive linemen in their 30s. The Bears did it in 2007 and the line suffered serious injuries in the second half. The Redskins suffered the same fate last year. Although the Cowboys can survive the loss of Colombo, they have to worry about the next injury. Center
Andre Gurode
is playing despite a sore knee. LT
Flozell Adams
is another older blocker who could be primed for an injury. The Steelers won't know the status of safety
Troy Polamalu
until he undergoes an MRI on his left knee -- the same knee he injured in the season opener. The Steelers' defense plays at its best with Polamalu making big plays. The Steelers could be vulnerable down the stretch if he's out for a long time. The Bengals don't believe RB
Cedric Benson
's hip flexor injury will keep him out of next week's game against Raiders. That's a relief for Cincinnati. He's as valuable to the Bengals' offense as Turner is to the Falcons'. Because they're 9-0, the Saints don't have to be as concerned about their injuries on defense. But not having defensive tackle
Sedrick Ellis
, safety
Darren Sharper
and cornerback
Jabari Greer
, and losing cornerback
Tracy Porter
to a knee injury left them vulnerable in a 28-23 victory over the Rams. The extent of
Ronnie Brown
's ankle injury isn't known, but if he's lost for an extended period of time, the Dolphins can forget about winning eight or nine games. Coach Tony Sparano didn't say much about the injury after Miami's 25-23 victory over the Buccaneers.
4. Turbulence for Jets:
A 3-0 start may have been the worst thing to happen to Rex Ryan and the
New York Jets
. The fast start put unrealistic expectations on the Jets. After all, they were going with a rookie quarterback,
Mark Sanchez
. But Ryan and the Jets wanted to talk big and now they are paying the price. Sunday's 24-22 loss to the Jaguars was a major setback. The Jaguars are in rebuilding mode. They start four rookies and use as many as eight rookies in key situations. "We're barely breathing for the playoffs,'' Ryan said after the game. "We're going to find out what kind of men we have in this locker room." Face it, this isn't the Jets' year. Sanchez is good, but very few rookies can win close games. The Jets have lost five of six. At this point, the playoffs are a pipe dream.
5. Chargers' closing speed:
What an incredible comeback by the
San Diego Chargers
. They were 3½ games behind the
Denver Broncos
after Week 6. Now, the teams are tied for first place in the AFC West with 6-3 records. Talk about two teams going in different directions. Broncos starting QB
Kyle Orton
was on crutches with his left ankle wrapped after Denver's 27-17 loss to the Redskins. The Chargers were flying high after their 31-23 victory over the Eagles. Sure, Eagles QB
Donovan McNabb
threw for 450 yards. That's not surprising because linebackers
Shawne Merriman
,
Shaun Phillips
and
Jyles Tucker
were all banged up. Tucker didn't even suit up. The Chargers were going to give up some yards because it was going to be tough to pressure McNabb, who was sacked only two times and hit on three other occasions. The Chargers won because of their efficiency on offense.
Philip Rivers
was 20-of-25 for 231 yards and two touchdowns, a 131.9 quarterback rating.
LaDainian Tomlinson
finally had a good game by rushing for 96 yards and two touchdowns on 24 carries. Everything comes down to next week's Chargers-Broncos showdown in Denver. You have to favor the Chargers because of Orton's ankle problems. If he does play, Orton will struggle to throw the ball downfield. And the thought of having
Chris Simms
isn't great. He was 3-of-13 for 13 yards on Sunday.
Bonus observation:
The Colts all but clinched the top seed in the AFC with their improbable 35-34 victory over the Patriots. Bill Belichick's decision to go for it on fourth-and-2 gave the Colts the ability to complete the comeback. The Colts now have a two-game lead over the Bengals (and a three-game lead over the Patriots and the eventual winner of the AFC West) for the top seed in the AFC. Overall, what this proves is the Colts, who have won five of their past six games against the Patriots, now have the edge on Belichick. The fact that Belichick feared
Peyton Manning
so much that he went for a fourth down deep in his territory is a complete flip-flop in the series. Before, Belichick used to be in Manning's head. Now Manning is in Belichick's head.
Clayton's short takes
How bad is it in Oakland when
Tom Cable
benches starting quarterback
JaMarcus Russell
in the second half and
Bruce Gradkowski
comes off the bench and is worse? It's time to call
Jeff Garcia
to rescue the team. ... After botching signings of
Mike Nugent
and
Shane Andrus
, the
Tampa Bay Buccaneers
may have come up with a good kicker in
Connor Barth
. In the loss to Miami, he became the fourth kicker in NFL history to have three field goals longer than 50 yards. ... After the Eagles' 31-23 loss to the Chargers,
Donovan McNabb
has won only one of his past 10 games decided by eight points or less. During his career, he's 27-30 in such games. That's surprising for a quarterback who has been to five NFC title games. ... The Broncos' three-game losing streak apparently has coach
Josh McDaniels
a little out of sorts. He opened his postgame news conference by congratulating "the Chargers and
Jim Zorn
." ... Back to the Raiders.
Darrius Heyward-Bay
cost Oakland a chance at a comeback in its 16-10 loss to the Chiefs. In attempting to make a catch, his hands were too far apart and the ball bounced to a Chiefs defender for a game-ending interception. If Russell can be benched, why can't Heyward-Bay? He has six catches in the Raiders' first nine games. ...
Jake Delhomme
did a smart thing by coming out in a no-huddle offense against the Falcons to set the tempo. What was also special about the Panthers' win over the Falcons was how they bounced back from adversity. Linebacker
Thomas Davis
was lost for the season with an ACL injury last week, and defensive end
Julius Peppers
was only used on passing downs because he was hurt. ... The Rams continue to take big blows at wide receiver. They lost wide receiver
Keenan Burton
for the season with a torn muscle around the knee cap. ... Zorn benched cornerback
Carlos Rogers
after he blew a coverage in the first series of the Redskins' 27-17 victory over the Broncos. Giving up that touchdown pass to
Brandon Marshall
ended his game. ... The Cowboys blew a chance to run away with the NFC East. So much for the Mr. November tag on
Tony Romo
, who was 13-0 in November games before losing to Green Bay. ... With injuries to so many running backs Sunday, expect
Larry Johnson
to get a job soon. It wouldn't be surprising to see him in Atlanta, Philadelphia or Miami. ... Linebacker
Charlie Anderson
of the Dolphins had one of the best defensive efforts of the day filling in for
Joey Porter
, who was benched because of a coaching decision and inactive. Anderson had a sack and forced two fumbles.
John Clayton's game balls

Johnson
•
Offense:
Chris Johnson
was a dual threat in the Titans' 41-17 victory over the
Buffalo Bills
. Johnson rushed for 132 yards and two TDs on 26 carries. He also caught nine passes for 100 yards, an incredible 232-yard day. While many people were pointing to
Adrian Peterson
as the most likely candidate to have a 2,000-yard rushing season, Johnson has a legitimate chance because he's getting so many yards on so few runs. He has 1,091 yards on 170 carries in nine games -- the most rushing yards in nine games since
Shaun Alexander
of the Seahawks in 2005. Alexander had 1,114 yards in nine games. He finished with 1,880 yards.

Carter
•
Defense:
Andre Carter
and
Brian Orakpo
combined for three sacks, five tackles behind the line of scrimmage and six quarterback hits in the Redskins' 27-17 victory over the Broncos. They were going against a Denver O-line that had allowed only 13 sacks in eight games. Their constant pressure threw off the timing of the Broncos' offense. Carter has eight sacks. Orakpo is up to seven, and he could start challenging Texans linebacker
Brian Cushing
for defensive rookie of the year honors.

Scott
•
Special teams:
Bengals rookie halfback
Bernard Scott
had been campaigning to return kickoffs for weeks. He got his chance Sunday, and took advantage of it. Scott had a 96-yard kickoff return for a touchdown in the first quarter of the Bengals' 18-12 victory over the Steelers. It was the only touchdown in a game of defense and field goals. Scott had five returns for 206 yards, a 41.2-yard average. His 96-yarder was special.
Jeff Reed
made a bad kick to the right side of the field near the sideline. Scott ran to his left to retrieve the kick, then used his speed and elusiveness to outrace the Steelers' coverage team. Scott also filled in for an injured
Cedric Benson
and rushed for 33 tough yards on 13 carries.
Writers' bloc
• The Broncos' offensive regression continued in a 27-17 loss to the Redskins.
Pasquarelli
• A healthy Reggie Bush adds yet another dimension to the Saints' potent offense.
Chadiha
• If Jay Cutler continues to struggle, the Bears shouldn't hesitate to bench him.
Wojciechowski
• After an outstanding rookie season, Matty Ice is beginning to thaw in Atlanta.
Yasinskas
• The best defense in the AFC North this season belongs to the 7-2 Bengals.
Walker
• The Vikings have several reasons for optimism, but they shouldn't get too cocky.
Seifert
• While the Broncos have fallen apart in recent weeks, the Chargers have ignited.
Williamson
• Unable to score TDs in the red zone, the Eagles wasted an opportunity in San Diego.
Mosley
• The Cardinals' newfound a running game bodes well for their chances down the road.
Sando
Week 10 rundown
•
San Francisco 10, Chicago 6
Sometimes it's not how many interceptions you throw, it's where the interceptions occur. The Bears'
Jay Cutler
now has nine red zone picks over the past two seasons, the most in the league. •
Washington 27, Denver 17
Broncos backup QB
Chris Simms
was ineffective in relief of the injured
Kyle Orton
. That shouldn't come as a shocker. He hadn't seen extended playing time since 2006.
• Tennessee 41, Buffalo 17
If the Titans were in playoff contention, there's little doubt RB Chris Johnson would be among the leading MVP candidates.
• New Orleans 28, St. Louis 22
The Saints dodged a bullet to improve to 9-0. They were aided by some questionable late-game clock management by the Rams.
• Miami 25, Tampa Bay 23
At 4-5, the Dolphins have an uphill climb when it comes to making the playoffs. Their task will become even tougher if Ronnie Brown's ankle injury is serious.
• Minnesota 27, Detroit 10
Brett Favre's favorite target? Since Week 6, it's been Sidney Rice, who torched the Lions' defense for 201 yards on only seven catches.
• Jacksonville 24, N.Y. Jets 22
The tough losses keep on coming for the Jets. Meanwhile, the Jaguars (5-4) are slowly creeping back into the playoff hunt.
• Cincinnati 18, Pittsburgh 12
How impressive are the Bengals? They're now a combined 4-0 against last season's AFC Championship Game participants.
• Carolina 28, Atlanta 19
The Panthers probably won't make the playoffs, but their turnaround (4-2 after an 0-3 start) might at least save coach John Fox's job.
• Kansas City 16, Oakland 10
Maybe life after Larry Johnson won't be so bad for the Chiefs, who got 103 yards and a TD from Jamaal Charles.
• Green Bay 17, Dallas 7
Are the Packers' problems on D a thing of the past? Probably not, but the timing of Green Bay's best defensive performance couldn't have been better.
• Arizona 31, Seattle 20
Do the Cardinals finally have a balanced attack? Beanie Wells (85 yards, 2 TDs) certainly made Kurt Warner's job a little easier on Sunday.
• San Diego 31, Philadelphia 23
It's hard to imagine a quarterback throwing for 450 yards and losing. Perhaps Donovan McNabb's fate would have been different if the Eagles had a running game.
•
Indianapolis 35, New England 34
Let the second-guessing of Bill Belichick begin. Is there anyone who agreed with his fourth-down gamble? Anyone?
MONDAY NIGHT FOOTBALL
•
Baltimore at Cleveland (ESPN, 8:30 ET)
-- ESPN.com
Looking ahead
An early look at next weekend's biggest games:
• Atlanta (5-4) at N.Y. Giants (5-4): Both teams are struggling. The loser will take a big hit in the NFC wild-card race.
•
Indianapolis (9-0) at Baltimore (4-4):
Will the Colts experience a letdown after their stunning victory over New England? Are the Ravens ready to make a playoff push? •
San Diego (6-3) at Denver (6-3):
First place in the AFC West is at stake. The Chargers are rolling. The Broncos are reeling. •
Week 11 schedule