John Clayton's Last Call: Giants end skid; problems mounting for Steelers
AP Photo/Bill Kostroun
Week 11 observations: Five things I learned
By John Clayton, ESPN.com
1. Giants keep the faith:
Sometimes, faith and a little luck can turn a season around. The Giants believed in themselves enough to pull out a 34-31 overtime victory over the Falcons, and it's pretty clear the Falcons (5-5) question themselves. The Giants were the more confident team on offense. It took a quarter or two for
Eli Manning
to adjust to the Falcons' blitzes, but he did. Once he figured them out, Manning attacked the corners for 25 completions, 384 yards and three touchdowns. He moved the chains with
Mario Manningham
for six catches and 126 yards. In the red zone, Manning hit tight end
Kevin Boss
-- whom he considers a great tall target -- for two touchdowns.
Hakeem Nicks
(5 catches, 65 yards) was also a tall target to his left.
Steve Smith
(4 catches, 79 yards) was a good possession target. "We didn't change our offense, we just needed to be more consistent,'' said Manning, who noted the team had gone 42 days without a win. On the flip side, the Falcons weren't confident. During the first half, quarterback
Matt Ryan
was uncharacteristically gun shy. Because he has thrown too many interceptions in recent weeks, Ryan delayed throws and often had to leave the pocket and throw on the run. He got into a groove in the fourth quarter, but he never got a chance in overtime. The Giants won the toss and quickly drove to a game-winning field goal.
2. Ravens need break from norm:
Bill Belichick was criticized all week for his fourth-down decision against the Colts, but the Ravens can be taken to task for being too conservative in a 17-15 loss to the same Colts. Everyone knows you can't settle for field goals if you are going to beat
Peyton Manning
. Baltimore coach John Harbaugh settled for five and lost the game.
Joe Flacco
and the Ravens made seven trips inside the Colts' 28-yard line. They had six field-goal attempts and one fourth-quarter interception. Flacco's pick halted a promising Baltimore drive with 2:42 remaining. The Ravens' offense has become too predictable with too many short throws to
Derrick Mason
and too many tosses to
Ray Rice
. At 5-5, the Ravens need a miracle or a change in offensive style to make the playoffs.
3. Widespread problems:
Ben Roethlisberger
suffered a concussion in the Steelers' 27-24 overtime loss at Kansas City, but Big Ben's health isn't the only problem in Pittsburgh. The Steelers continue to stink on special teams. The Chiefs'
Jamaal Charles
had 158 yards on four kickoff returns, including a 97-yard touchdown. That's the fourth special-teams score Pittsburgh has allowed in five weeks. Inexcusable. The usually unbeatable Steelers defense allowed Chiefs quarterback
Matt Cassel
to complete 11 passes for 213 yards in the second half and gave up 20 points to the Chiefs after the intermission. Clearly, the absence of safety
Troy Polamalu
(knee) had an impact. The Steelers didn't have the Polamalu knockout punch in the second half. After taking a 24-17 lead in the fourth quarter, the Steelers' defense had the Chiefs pinned back at their 9-yard line with 8:29 left. Cassel hit
Lance Long
for 20 yards and
Chris Chambers
for 47 yards on back-to-back plays. Four plays later, Cassel tied the score with a 2-yard touchdown pass to Charles. When Roethlisberger went down in overtime, the Steelers were lost.
Charlie Batch
couldn't get the Steelers' offense into field goal range, and Cassel hit Chambers for 61 yards to set up the game-winning field goal. At 6-4, the Steelers are clearly a playoff team, but they don't look like a team that's ready to repeat as Super Bowl champs. Special teams are making this a not-so-special team.
4. Rocky Mountain low:
Denver's collapse -- not San Diego's rise -- is the story in the AFC West. Sunday's 32-3 loss to the Chargers was Denver's fourth straight defeat following a 6-0 start. With two games remaining against the Chiefs and one against the Raiders, Denver should get to nine wins. But if the Broncos can't win their Thanksgiving home game against the
New York Giants
, they probably won't get to 10, which means their playoff hopes are slim. Coach Josh McDaniels is in desperation mode.
Chris Simms
offered no hope as the starter, and going back to
Kyle Orton
was a major risk. Playing on a bad left ankle, Orton isn't accurate within his usual 20-yard range and he ended up throwing a pick. If he can't throw accurate passes in that short area, the Broncos can't score many points.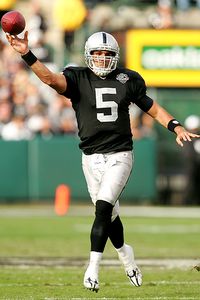 Ezra Shaw/Getty Images
Bruce Gradkowski gave the Raiders something they've been missing -- steady QB play.
The Broncos have been figured out. They are light on defense, which leaves them vulnerable to the run. The no-huddle throws off their defensive rhythm. McDaniels has to huddle up on what's happening on his team. He's going with veterans, and those veterans are wearing down. On Sunday, first-rounder Robert Ayers was among four draft choices who were inactive. Halfback Knowshon Moreno is the only draft choice who has started. Cornerback Alphonso Smith, who cost McDaniels next year's first-round pick, is playing behind Ty Law as a nickelback.
5. Bengals trip up:
Raiders fill-in quarterback
Bruce Gradkowski
made the Bengals look like the Bungles again, orchestrating a 20-17 victory. The Bengals appeared to be cruising to an easy victory, but Gradkowski, filling in for an ineffective
JaMarcus Russell
, rallied Oakland from a 17-7 second-half deficit. His 11-play, 80-yard drive culminated in a 29-yard touchdown pass to
Louis Murphy
with 33 seconds left. Then
Andre Caldwell
fumbled the ensuing kickoff, setting up
Sebastian Janikowski
's game-winning field goal with 12 seconds left. What this game showed is the Bengals (7-3) haven't completely matured as a team, something they were so proud of during their victories over the Steelers and Ravens. The Bengals' biggest problem is scoring. They're averaging 21.5 points a game, not up to the standards of the other top teams in the AFC.
Clayton's short takes
Good thing the Colts signed tight end
Tom Santi
off their practice roster, preventing him from joining the
Cleveland Browns
a couple of weeks ago. Santi had six catches for 80 yards, and many of his first-half catches kept drives alive in the Colts' 17-15 victory over the Ravens. ... Frustrations must be building in Dallas. Cowboys cornerback
Terence Newman
got into a brief shouting match on the sidelines with secondary coach Dave Campo. The Cowboys let Redskins quarterback
Jason Campbell
move the ball for 256 yards in the air but no touchdowns in an ugly 7-6 win Sunday. ... Teams that were without their top running backs received promising performances from their backups.
Bernard Scott
rushed for 119 yards filling in for an injured
Cedric Benson
in the Bengals' 20-17 loss to the Raiders.
Jason Snelling
, a third-stringer, had 76 yards on 25 carries and two touchdowns with the Falcons down both
Michael Turner
and
Jerious Norwood
.
Rock Cartwright
had a respectable 67 yards on 13 carries after
Ladell Betts
tore an MCL in the Redskins' loss. Of course, all three of those teams lost. ... It's still hard to believe the Jaguars can make the playoffs, despite their 6-4 record following an 18-15 victory over the Bills. They've beaten teams that are 19-39. They still have games against the 4-6 49ers and 1-9 Browns, but it will be hard for them to get more than nine wins. ... The Browns' loss to the Lions proved that Cleveland has clearly gotten worse under
Eric Mangini
. Last year's defense under
Romeo Crennel
gave up 21.9 points a game. Under Mangini, the Browns are giving up 26.3. We all know how bad the offense is. ... Despite being without their top two cornerbacks, the Saints largely prevented Bucs QB
Josh Freeman
from passing to
Kellen Winslow
and
Antonio Bryant
. Freeman threw 19 passes to them, completing eight for 69 yards. Freeman was intercepted three times. ... Cardinals quarterback
Matt Leinart
struggled filling in for an injured
Kurt Warner
in the second half and almost let the Rams back in the game. He he didn't engineer a scoring drive but did eat up just enough clock to preserve the 21-13 victory. ... With
Stephen Neal
and
Matt Light
inactive and
Sebastian Vollmer
and
Nick Kaczur
banged up, the Patriots were especially thin on the offensive line. New England dressed seven offensive linemen. To the line's credit,
Tom Brady
was sacked only twice in the 43 times he dropped back to pass.
John Clayton's game balls

Stafford
•
Offense:
Matthew Stafford
displayed the courage of a lion and potential greatness in Detroit's amazing 38-37 victory over the Browns. Too bad no one in Detroit could see the game because of the blackout. Stafford completed 26 of 43 passes for 422 yards and five touchdowns. His fifth touchdown was part of an amazing sequence. Stafford threw what appeared to be an interception to safety
Brodney Pool
on a Hail Mary pass as time expired. But Browns cornerback
Hank Poteat
was called for interference, giving Stafford one more play to win the game. The problem was that Stafford was hit hard on that pass and was in great pain.
Daunte Culpepper
took the field at first, but Stafford went back in and hit
Brandon Pettigrew
with a 1-yard touchdown pass to win the game. Stafford was so sore after the game he had trouble putting on a shirt.

Studebaker
•
Defense:
In his first career start, unknown Chiefs linebacker
Andy Studebaker
looked like a Ferrari in the Chiefs' 27-24 overtime victory over the Steelers. He had two interceptions, a half sack, two pass defenses, five tackles and one hit on the quarterback. Early in the third quarter, he intercepted
Ben Roethlisberger
, setting up a Kansas City touchdown drive. Then later in the third, he returned his second interception 94 yards, setting up a game-tying field goal. It's a shame the Chiefs couldn't convert the second interception for a touchdown, but Studebaker's two picks led to the 10 points that allowed the Chiefs to overcome a 10-point deficit and eventually win.

Cundiff
•
Special teams:
You have to wonder what the Ravens' record might be had had they had
Billy Cundiff
all season. The Ravens elected not to re-sign the dependable
Matt Stover
, now a member of the Colts, in the offseason. Instead, the Ravens went with young
Steven Hauschka
, who had four key misses during the season and was cut. Cundiff did all the Ravens' scoring in Sunday's 17-15 loss to Indianapolis, making 5 of 6 field goal attempts. Sure, Cundiff missed a key 30-yarder in the fourth quarter, but you have to give him credit for tying a franchise record for field goals in one game. That record had been held by Stover, who walked out of Baltimore with the victory.
Week 11 rundown
•
Miami 24, Carolina 17
Better with age? With
Ronnie Brown
out for the season,
Ricky Williams
(119 rushing yards, 3 TDs) appears capable of keeping the Dolphins in the running. •
Dallas 7, Washington 6
The Cowboys squeaked by, but what's happened to their offense? For the second straight week, Dallas was shut out until the fourth quarter.
• Detroit 38, Cleveland 37
Two teams going nowhere -- at least in 2009 -- produced what was probably the game of the week.
• Green Bay 30, San Francisco 24
Costly victory? The Packers lost both LB Aaron Kampman and CB Al Harris to knee injuries. Their prognoses could go a long way toward determining Green Bay's fate the rest of the way.
• Kansas City 27, Pittsburgh 24 (OT)
Weird stat of the day: The Steelers, who were burned by Jamaal Charles for a TD on the opening kickoff, have allowed a return score in an NFL-record eight straight games.
• Minnesota 35, Seattle 9
As the Vikings roll toward a top playoff seed, Percy Harvin (5 catches, 79 yards, TD) is turning the rookie-of-the-year race into a runaway.
• N.Y. Giants 34, Atlanta 31 (OT)
A lot was made of the Giants' tailspin (four straight losses entering Week 11). Now the focus can shift to the Falcons, who are 5-5 after a 4-1 start.
• New Orleans 38, Tampa Bay 7
The Saints are 10-0 for the first time ever. If they can get by New England in Week 12, the talk of a perfect season will pick up a lot of steam.
• Jacksonville 18, Buffalo 15
The Bills finally got a big boost from T.O. (98-yard TD catch and run), but they couldn't survive a late Jacksonville rally.
• Indianapolis 17, Baltimore 17
The Colts continue to find ways to pull out close games. Six of the Colts' 10 victories have come by four points or fewer.
• Arizona 21, St. Louis 13
The Cardinals have the same record (7-3) as they did a year ago this time. But their road savvy and newfound running game make them more dangerous than ever.
• Oakland 20, Cincinnati 17
Are the old Bengals back? Probably not, but this is a bad loss for a Cincinnati team harboring hopes of landing a first-round bye in the playoffs.
• New England 31, N.Y. Jets 14
The Patriots were on a mission. More turnover problems for Mark Sanchez (four picks) quickly made this matchup Mission Impossible for the Jets.
•
San Diego 32, Denver 3
The battle for AFC West supremacy wasn't much of a battle. Since starting 6-0, the Broncos have done little right, especially on defense. •
Philadelphia 24, Chicago 20
Prime time just hasn't been
Jay Cutler
's comfort zone this season. Late-game drives haven't been his specialty either.
MONDAY NIGHT FOOTBALL
•
Tennessee at Houston (ESPN, 8:30 ET)
-- ESPN.com
Looking ahead
An early look at next weekend's biggest games:
• N.Y. Giants (6-4) at Denver (6-4): Prime time on Thanksgiving. Will the Broncos keep playing like turkeys?
•
Indianapolis (10-0) at Houston (5-4):
The Texans gave Indy a fight in Week 9. What will the rematch bring? •
New England (7-3) at New Orleans (10-0):
On "Monday Night Football," an undefeated team against a team that knows something about going undefeated. •
Week 12 schedule