John Clayton's Last Call: McNabb answers bell; pretenders exposed
AP Photo/Matt Slocum
Week 12 observations: Five things I learned
By John Clayton, ESPN.com
1. McNabb speaks up, rallies Eagles:
Terrell Owens
might not recognize the 2009 version of
Donovan McNabb
. For years, McNabb took criticism for not being a vocal leader. Owens' presence during his two years in Philadelphia undermined McNabb's authority. It took years for his leadership to be respected. In the Eagles' sloppy 27-24 come-from-behind victory over the Redskins, McNabb engineered the drive setting up
David Akers
' deciding field goal with 1:48 remaining. He pulled together what was remaining of a banged-up offense and directed it with words and actions. "He gathered everybody up and said, 'Listen, we're scoring,'" Eagles coach Andy Reid said. Since the Eagles' 31-23 loss to the Chargers two weeks ago, McNabb has been more vocal -- and has remained positive -- in leading the team with two fourth-quarter comebacks, last week against the Bears and Sunday against the Redskins. Against the Redskins, he engineered a 10-play, 90-yard drive that featured a 46-yard completion to
Jason Avant
to set up
Eldra Buckley
's 1-yard scoring run to bring the Eagles within two points (24-22) with 7:24 remaining. A great run by
LeSean McCoy
on a well-executed shovel pass from McNabb for a two-point conversion tied the score at 24. McNabb's 33, and a generation gap is developing between him and his offense. McCoy and
Jeremy Maclin
are rookies. The offensive line is young. Star
DeSean Jackson
, who spent part of the game on the sideline with a concussion, is in his second year. "I'm kind of the lone wolf and it's my job to speak up," McNabb said. "There is nothing soft-spoken along the sidelines; you say what you have to say and everybody understands and you move on." With the score tied, McNabb hit Maclin for a 35-yard gain along the right sideline to set up Akers' 32-yard game-winning field goal. The Eagles weren't sharp overall Sunday. Reid admitted he made a mistake when he opened the game with an onside kick that the Redskins returned to the Eagles' 19 to set up a touchdown. "It's like they say in Vegas, you only win as much as you gamble," linebacker
Jeremiah Trotter
said.
2. Enlightenment regarding concussions:
Sunday marked the first true day of the NFL's new take on concussions. Steelers quarterback
Ben Roethlisberger
didn't play because of his concussion.
Kurt Warner
was scratched for a concussion, though he appeared to be fine during the week. Don't expect to see Eagles running back
Brian Westbrook
for the rest of the season. You might not see the Redskins'
Clinton Portis
either. This is clearly going to affect games. In their 20-17 loss to the Titans, the Cardinals went from a three-receiver, spread-the-field passing team with Warner to a more conservative offense with
Matt Leinart
at the helm. Commissioner Roger Goodell, under pressure from Congress, is finalizing a firm policy for players who suffer concussions. It's going to eliminate from the vocabulary phrases such as "he was just dinged," or "he suffered a bell-ringer." Concussions are serious and there will be a long-overdue gauntlet of tests and steps that must take place before a player gets back on the field. If one is diagnosed, don't expect that player to be on the field for a week or longer. For the past two years -- and really for a lot longer than that -- defensive players have complained about how overly protected quarterbacks are by officials. A hit to the head, a hit below the knees or a hit along the sidelines draws flags, and later, fines. Traditionalists who love the physical nature of the sport might not like this, but these changes will delay the return of a quarterback after he suffers a concussion.
Chris Redman
did a fine job in leading the Falcons to a 20-17 victory over the
Tampa Bay Buccaneers
in relief of an injured
Matt Ryan
(toe). But watching that offense without Ryan was painful. Entering Week 12, only 19 teams had their No. 1 quarterback start in all 10 games. With concussions becoming a mandate for a week or more off, the NFL has to go overboard to protect the quarterbacks.
3. The not-so-great pretenders:
November is when playoff teams step up and pretenders are exposed. The Dolphins, Texans and Jaguars were exposed as pretenders Sunday. The surprise of the trio was the Texans, and there could be major ramifications from their 35-27 loss to the Colts. Coach Gary Kubiak's job could be in jeopardy. While he and general manager Rick Smith have done a nice job building a talented young defense and an exciting passing attack, the three-game losing streak in the AFC South could bring Mike Shanahan to the Texans' sidelines after the season. It wasn't just that the Texans blew a 17-point lead. It was how they collapsed in the second half.
Matt Schaub
couldn't have been better completing 14 of 17 passes for 152 yards in the first half. But the defense buckled as
Peyton Manning
started mounting his comeback. Texans defenders were penalized. Houston's offense started pressing. Mistakes multiplied in the second half. When linebacker
Clint Session
returned a Schaub interception for a touchdown in the fourth quarter, you could tell the Texans were mentally finished. Many in Houston believe Kubiak needs to make the playoffs to save his job. I think Kubiak tinkered too much with the running offense the past three weeks. He benched a fumbling
Steve Slaton
in favor of
Ryan Moats
in the first loss to the Colts a couple of weeks ago. Then he tried
Chris Brown
, who is big but not fast. When the Colts stuffed the run in the second half, Schaub lost his edge on play-action passes and the Colts took control of the game. Considering the Jaguars lost 41-0 to Seattle on their last trip to the West Coast, it should not be surprising the Jaguars fell apart against the 49ers. They entered the game with an offense that averaged 19.9 points per game, but the Jags' defense was also surrendering an average of 23.5 ppg. Their 6-5 record is a byproduct of wins against easy teams, good coaching by Jack Del Rio and the energy of eight rookies who have started. As for the Dolphins, their 31-14 loss to the Bills proved you can only take a trick offense so far.
Ricky Williams
threw an interception off a Wildcat play. Mistake. The Dolphins have a talented young quarterback in
Chad Henne
, but he's not ready to take that step to the playoffs because the Dolphins aren't talented enough at wide receiver. They are a running team in a passing league, which will leave them on the outside looking in for the playoffs.
4. The sick bay factor:
Injury reports over the next three weeks could determine the final three NFC playoff teams. It's a good bet New Orleans, Minnesota and Arizona will be the top three seeds. At 7-4, the Packers came out of Thanksgiving feeling pretty good about their wild-card hopes, particularly with the Giants losing to the Broncos.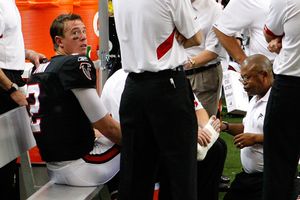 Kevin C. Cox/Getty Images
The Falcons' playoff hopes might rest upon Matt Ryan's recovery from a toe injury.
The Packers have tough games against the Ravens, Steelers and Cardinals, but the game against the Cards is the season finale, and Arizona coach Ken Whisenhunt will probably be resting starters for the playoffs. It's not out of the question that they would be playing the Packers in the first round. The Cowboys are 8-3, but with a closing schedule against the Giants, San Diego, New Orleans, Washington and Philadelphia, they could finish with six or seven losses.
The key for seeds Nos. 4, 5 and 6 in the NFC is how healthy they are when they meet each other over the next couple of weeks. The Falcons enter Sunday's home game against the Eagles in much worse shape than Reid's team. Ryan's status is uncertain because of a toe injury. You would have to figure
Michael Turner
will be out after reinjuring his ankle. Left tackle
Sam Baker
hurt his elbow again and missed most of the Tampa Bay game. Guard
Harvey Dahl
hurt either his ankle or Achilles, but it's too early to determine if he could play. The Eagles won't have running back Westbrook, but McCoy has filled in well. Jackson's concussion might leave him sidelined. Here's my forecast. The NFC East comes down to a two-way battle between the Cowboys and Eagles unless the Giants get hot and win their next two games against the Cowboys and Eagles. With
Eli Manning
suffering a reported stress reaction in his foot, you'd have a hard time thinking the Giants -- plagued by injuries all season -- have enough to get to 10 wins. The ace in the hole for the Eagles is that Reid is 6-0 against the Cowboys the past six years in late-season games. Odds favor the Cowboys, Eagles and Packers making the playoffs, with the Falcons and Giants just falling short.
5. The interception bug:
Too bad Jets coach Rex Ryan couldn't help Carolina's
Jake Delhomme
like he helped New York's
Mark Sanchez
. Delhomme needs some help. Sanchez is just starting his career, but the rookie's 16 interceptions forced Ryan to leave his defensive meetings to help his struggling quarterback. Simple was better in the Jets' 17-6 victory over the Panthers. Sanchez threw shorter, smarter passes and threw only one interception. Delhomme threw four more picks to bring his season total to 18. The Panthers quarterback's career is at the crisis stage. He's 34 years old and his confidence is fragile. For the past couple of weeks, I thought the Jets' offensive coaches asked too much of Sanchez. USC coach Pete Carroll feared Sanchez would be playing in his first year and making mistakes. Sanchez is a perfectionist. When he fails, he presses. When he presses, he throws interceptions. In two previous games, coaches called long passes that turned into interceptions, getting the Jets off to bad starts. This time, Ryan kept things simple. The Jets ran the ball 39 times for 139 yards. Ryan's point of emphasis was being smart with the football. Ryan admitted maybe he limited offensive coordinator Brian Schottenheimer a little, but Sanchez and the Jets benefited. On the flip side, Delhomme isn't getting sympathy. He's asked to carry an offense that has only one pure pass receiving threat,
Steve Smith
, and Smith was playing with bad ribs. Delhomme is aided by a solid running offense, but he's asked to throw tough passes. Carolina tried to help him with a no-huddle offense, but the mistakes are killing him and have buried the Panthers, who are 4-7 and going nowhere.
Clayton's short takes
Just when you thought the 49ers gave up on pass-rushing linebacker
Manny Lawson
, he came up with a sack in the 49ers' 20-3 victory over the Jaguars. Mike Singletary put
Ahmad Brooks
ahead of him as the pass-rushing linebacker. The knock on Lawson was he hadn't developed a second or third move. He had 3½ sacks in his first 10 games. ... Bucs coach Raheem Morris helped the Falcons. He went for a 51-yard field goal with 2:30 left in the fourth quarter and kicker
Connor Barth
missed. That gave the Falcons the ball at their 41, and they drove 59 yards and won 20-17 when
Chris Redman
hit
Roddy White
with a 5-yard touchdown pass with 23 seconds left. Morris has fired both of his coordinators. This one is on him. ... The
Larry Johnson
signing was a wise one by Cincinnati's Mike Brown.
Cedric Benson
missed his second consecutive game with a hip injury, but Johnson had 107 yards on 22 carries and enabled the Bengals to run over the Browns, 16-7. They had 210 rushing yards for the game. ... Texans defensive end
Antonio Smith
had two personal foul penalties that hurt in critical times in the Texans' loss to the Colts. ... Perhaps the worst decision of the day was made by Rams coach Steve Spagnuolo. Instead of going for a 52-yard field goal with 1:38 left in the first half, he went for it on fourth-and-4 at the Seahawks' 34.
Josh Wilson
intercepted the pass and ran it 65 yards for a touchdown. Instead of trailing by three, the Seahawks took a 14-7 lead in what turned out to be a 27-17 victory. ...
Jason Elam
of the Falcons missed his seventh field goal of the season and might be heading to the waiver wire. The Falcons worked out two kickers last week. ... The Bengals were able to get offensive tackle
Andre Smith
, their first-round pick, some work for the first time this season. He did OK. He had a nice block on an 11-yard running play by rookie
Bernard Scott
. ... Cardinals defensive tackle
Darnell Dockett
had a monster game. He had three sacks, four quarterback hits, four tackles and two assists in a 20-17 loss to the Titans. ... Say what you want, but
Terrell Owens
is getting hot with
Ryan Fitzpatrick
as his quarterback. He had five catches for 96 yards in the Bills' 31-14 victory over the Dolphins. Last week, he had nine catches for 197 yards.
John Clayton's game balls

Young
•
Offense:
During his first month as a starter, Tennessee's
Vince Young
averaged 155 yards passing per game. On Sunday, he proved he can win through the air. Young completed 27 of 43 passes for 387 yards and a game-winning touchdown pass to
Kenny Britt
in a 20-17 come-from-behind victory over the
Arizona Cardinals
. Young showed great poise on the drive. He bought time with his feet trying to wait for receivers to get open. He's 5-0 as a starter and 23-11 overall during his career. Young has saved the Titans' season (they're now 5-6) and his career. He hit Britt for seven passes for 128 yards.

Revis
•
Defense:
The Jets'
Darrelle Revis
does everything well as a cornerback. He limited Carolina's
Steve Smith
to one catch for 5 yards. He had two interceptions, including one he returned 67 yards for a touchdown. Smith apparently had a communication problem with quarterback
Jake Delhomme
, who was throwing to his left. Smith didn't turn for the ball. It bounced off his foot and wound up in the hands of Revis, who raced for the score to give the Jets a 7-0 lead in what turned out to be 17-6 victory. It was the third interception off Delhomme that went for a touchdown. "It was the easiest one,'' Revis said. "It bounced off of Steve Smith's foot and landed right in my hands. I just made a play and went down and scored.'' He ended up catching more passes from Delhomme than Smith did.

Akers
•
Special teams:
Philadelphia's
David Akers
was 4-for-4 on field goals, including the game-winning 32-yarder with 1:48 left in the Eagles' 27-24 win over the Redskins. It was the 14th time in his career he kicked four or more field goals in a game. It was his first game winner in the final two minutes since Jan. 7, 2007. He's made 16 field goals in a row.
Playoff picture
If the playoffs started today, here's how the teams would be seeded. Teams seeded fifth and sixth are wild cards.
NFC SEEDS
1. New Orleans (10-0)
| Next: vs. New England
2. Minnesota (10-1)
| Next: at Arizona
3. Dallas (8-3)
| Next: at NY Giants
4. Arizona (7-4)
| Next: vs. Minnesota
5. Philadelphia (7-4)
| Next: at Atlanta
6. Green Bay (7-4)
| Next: vs. Baltimore
In the hunt:
Giants (6-5), Atlanta (6-5), and
San Francisco (5-6)
AFC SEEDS
1. Indianapolis (11-0)
| Next: vs. Tennessee
2. Cincinnati (8-3)
| Next: vs. Detroit
3. San Diego (8-3)
| Next: at Cleveland
4. New England (7-3)
| Next: at New Orleans
5. Denver (7-4)
| Next: at Kansas City
6. Jacksonville (6-5)
| Next: vs. Houston
In the hunt:
Baltimore (6-5), Pittsburgh (6-5), Tennessee (5-6), Miami (5-6), Houston (5-6), and the Jets (5-6)
Writers' bloc
• The Colts' resolve was tested again, and again they provided a "perfect" answer with a comeback win to improve to 11-0.
Pasquarelli
• The rout of the Bears provided a watershed moment for the Vikings.
Seifert
• LT remains a factor where it matters most for the Chargers.
Williamson
• With an OT loss to the Ravens, the Steelers find their season hanging on the brink.
Walker
Week 12 rundown
•
Green Bay 34, Detroit 12
The Lions have now lost their last six Thanksgiving Day games. They've been outscored 81-22 in the last two. Doesn't a national audience deserve better on a holiday? •
Dallas 24, Oakland 7
The Cowboys have won six of seven games overall and improved to 4-0 under
Tony Romo
on Thanksgiving.
• Denver 26, N.Y. Giants 6
This game wrapped up the turkey day festivities. Knowshon Moreno rushed 19 times for 88 yards and a TD as the Broncos won for the first time since Week 6, ending a four-game skid. The Giants have lost five of six since their 5-0 start.
• Atlanta 20, Tampa Bay 17
The Falcons (6-5) avoided stubbing their toes against the upstart Bucs. Chris Redman, subbing for an injured Matt Ryan, threw a 5-yard TD pass to Roddy White with 23 seconds remaining to keep the Falcons in the NFC wild-card chase.
• Buffalo 31, Miami 14
The Bills outscored the Dolphins 17-0 in the final 3:35 to give interim head coach Perry Fewell his first victory. Ryan Fitzpatrick's 51-yard scoring pass to Terrell Owens gave the Bills a 10-point cushion with 2:23 to play.
• Cincinnati 16, Cleveland 7
Coach Marvin Lewis' Bengals bounced back from an upset loss at Oakland in Week 11 and completed a sweep of the AFC North by beating the Browns. New Bengal Larry Johnson, subbing for the injured Cedric Benson, rushed for 107 yards.
• Seattle 27, St. Louis 17
Before the Rams' smallest home crowd (announced at 47,475) in their 15 seasons in St. Louis, the Seahawks ended a five-game road losing streak. Seahawks RB Justin Forsett rushed for a career-high 130 yards and scored twice.
• N.Y. Jets 17, Carolina 6
Darrelle Revis returned one of the Jets' four interceptions 67 yards for a TD. Jets QB Mark Sanchez suffered a knee injury but missed only four plays. The Panthers had two apparent TDs wiped out, one by a pass interference penalty and the other by video replay.
• Philadelphia 27, Washington 24
David Akers made all four of his FG attempts, including the game-winning 32-yarder with 1:48 remaining. Asante Samuel picked off Jason Campbell twice; Samuel has six interceptions in his past eight games.
• Indianapolis 35, Houston 27
The Colts rallied from a 13-point halftime deficit to improve to 11-0 and record their 20th straight regular-season victory. The Texans scored on their first four possessions, but Matt Schaub's three turnovers helped the Colts rally.
• San Diego 43, Kansas City 14
The Chargers converted four turnovers into scores to run their winning streak to six games. They scored two touchdowns in a 20-second span in the second quarter to break open what had once been a 14-7 game.
• San Francisco 20, Jacksonville 3
Niners QB Alex Smith continued his climb off the scrap heap, throwing for 232 yards and two TDs. Smith had no interceptions and no sacks as the host 49ers snapped the Jags' three-game winning streak.
• Tennessee 20, Arizona 17
Titans QB Vince Young capped a spectacular day with a final-play, fourth-down, 10-yard TD pass to rookie WR Kenny Britt. The play ended a 99-yard drive in the final 2:37 and extended the Titans' winning streak to five games.
•
Minnesota 36, Chicago 10
Brett Favre
passed for a season-high 392 yards and three touchdowns, and the Vikings intercepted Bears QB
Jay Cutler
twice. •
Baltimore 20, Pittsburgh 17 (OT)
Billy Cundiff
's 29-yard FG with 6:42 left in the extra session dealt a serious blow to the defending champion Steelers' playoff hopes.
MONDAY NIGHT FOOTBALL
•
New England at New Orleans (ESPN, 8:30 ET)
-- ESPN.com
Looking ahead
An early look at next weekend's biggest games:
• Tennessee (5-6) at Indianapolis (11-0): Does Vince Young have enough magic to end Indy's dream of an unbeaten season?
•
Philadelphia (7-4) at Atlanta (6-5):
Michael Vick's "homecoming" has wild-card playoff chase implications, too. •
Minnesota (10-1) at Arizona (7-4):
The desert air should be filled with footballs as Brett Favre duels Kurt Warner in what could be a playoff preview. •
Week 13 schedule