John Clayton's Last Call: Colts leaving AFC South rivals in the dust
Matt Stamey/US Presswire
Week 4 observations: Five things I learned
By John Clayton, ESPN.com
1. Colts creating separation:
Before the season, the
San Diego Chargers
looked like the AFC team with the best chance of clinching a division by Thanksgiving. As it turns out, the Colts are the conference's best front-runner. At 4-0, they have a two-game lead over the Texans and Jaguars, and -- unbelievably -- a four-game lead over the
Tennessee Titans
. What's remarkable is the Colts got off to this great start despite being almost too young on offense.
Marvin Harrison
is gone, and
Anthony Gonzalez
remains sidelined with a knee injury.
Peyton Manning
is off to his greatest start (four consecutive 300-yard games, 1,336 passing yards and nine touchdowns) using a rookie slot receiver (
Austin Collie
), an unproven split end from Mount Union (
Pierre Garcon
) and a rookie No. 2 back (
Donald Brown
).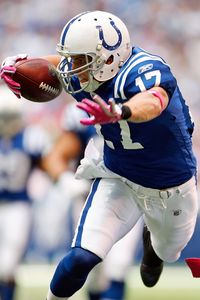 Brian Spurlock/US Presswire
Austin Collie is among the new faces making an impact on the Colts' offense.
This Kid Squad is playing beyond its experience, but the young legs are opening up new things for Manning -- more yards after the catch. Last year, the Colts ranked 11th in the league in YAC. They've been among the league leaders this year. According to Colts tight end Dallas Clark, more defenses have been playing man-to-man against Colts receivers instead of using mostly zones.
"I don't know why teams are doing that,'' Clark said. "By them playing man, though, all we have to do is make one guy miss a tackle and we can get extra yards.'' Garcon is averaging 20.7 yards per catch. Brown, the rookie runner, has a 25-yard average on five catches. And Collie is just a smart slot receiver. In the second quarter of Sunday's 34-17 win over Seattle, Manning spotted the Seahawks in man coverage and yelled at Collie to do a fade route. Collie scored a 21-yard touchdown that put the game out of reach at 21-3 with three seconds left in the half. "I'd say out of this group, we might be getting yards after the catch as well as we ever had,'' Manning said. "That makes drives more efficient. It shortens the field.'' It also lengthens the Colts' lead in the AFC South.
2. Ravens abandoning the run:
After riding a rookie quarterback (
Joe Flacco
) and a 37-carry-per-game running attack to an 11-win season last year, the Ravens have ventured too far away from the ground game. Sure, Flacco is a great, young quarterback, but Air Harbaugh got the Ravens into trouble in a 27-21 loss to the Patriots. The Ravens dropped back to pass 49 times (47 passes and two sacks) and called only 17 running plays. The Patriots' defense isn't like the Ravens' or Steelers' in the sense that it can completely shut down a running attack. The Pats have lost too many star players to do that.
Ray Rice
, who didn't even start this game, had 103 yards on 11 carries, including a 50-yard run. The Ravens are passing the ball on 57.4 percent of their offensive plays in the first four weeks. That's not Ravens football. Though the Patriots' rushing numbers weren't great Sunday, the fact that they ran the ball 30 times took pressure off
Tom Brady
. If the Patriots tried to take some pressure off a future Hall of Fame quarterback by running the ball more, the Ravens might consider it advisable to do the same for a talented second-year quarterback. Because the Patriots were more committed to winning the line of scrimmage, they won the time of possession battle (34:56 to 25:04). You have to figure the Ravens will go back to the run a little more against the Bengals in Week 5.
3. Redskins' close encounters:
No matter if
Jason Campbell
and the Redskins play good or bad teams, they are going to play in close games. In 40 career starts, Campbell has been involved in 33 games decided by eight points or less, including Sunday's 16-13 victory over the woeful Tampa Bay Buccaneers. The problem is scoring points. Sunday's game was the eighth consecutive home game in which Campbell and the Redskins couldn't reach the 20-point level. Low-scoring home games lead to booing, and Campbell heard some boos. Campbell was 12-of-22 for 170 yards and made some horrible decisions. He threw three interceptions and was sacked three times. At the half, the Redskins were trailing 10-0. Campbell rallied the offense for touchdown drives of 74 and 59 yards in the third quarter to salvage the victory. In the Campbell era, every game is a stress sandwich. A good team should win this game going away. In the past three weeks, the Redskins scraped by the Bucs, lost to the Lions (ending Detroit's 19-game losing streak) and barely beat a winless Rams team. The Bucs are probably going to be a two- to four-win team, and the Redskins had to scramble just to win by three.
4. Saints' Sharper edge:
Putting an experienced safety such as
Darren Sharper
against inexperienced quarterbacks is almost unfair. Against Lions rookie
Matthew Stafford
in the season opener, Sharper intercepted two passes for 79 yards. In Eagles quarterback
Kevin Kolb
's first career start, Sharper returned an interception for a 97-yard touchdown. The Saints' 24-10 victory over the Jets on Sunday was aided by Sharper's 99-yard interception return off
Mark Sanchez
. Sharper, 33, might be the defensive MVP through four weeks. He has five interceptions, including two off Sanchez. Sharper said after his great game against the Lions that he has the advantage of reading the eyes of inexperienced quarterbacks. He also credits new defensive coordinator Gregg Williams for giving him more freedom than he had when he was with the
Minnesota Vikings
. In Minnesota, Sharper was forced to stay back in coverage to guard against the big play, but also make some stops against the run. In New Orleans, he can read and react, which isn't a bad idea considering his résumé. Sharper has 54 career interceptions, including 10 that he returned for touchdowns. His sharp play has helped the Saints start 4-0.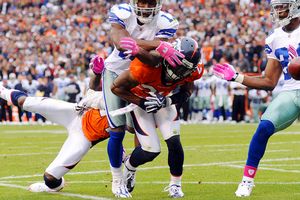 AP Photo/Chris Schneider
Veteran CB Champ Bailey made some clutch plays in Denver's 17-10 victory over Dallas.
5. Broncos are no fluke: The Broncos are for real. They beat the Cowboys 17-10 in what was supposed to start an impossible stretch of games for Denver. As turbulent as the offseason was, head coach Josh McDaniels made the regular season smooth. The Broncos are 4-0 and appear to be big players in the AFC playoff race. Beating the Cowboys was huge. Denver's defense withstood a last-minute drive by Tony Romo. Mike Nolan, the Broncos' defensive coordinator, totally took away the Cowboys' running attack. Like he did in Week 2 against the Giants, Romo made bad decisions. The last pass of the game was broken up by Champ Bailey. If you need to win a game, never throw on Bailey. Romo threw a costly interception in the Broncos' red zone early in the second half. That interception, which was grabbed by Bailey, might have been the turning point. Had the Cowboys settled for a field goal, they would have led 13-7.
Broncos QB
Kyle Orton
is doing a lot of the same things that made him a winner in Chicago. He completed 20 of 29 passes for 243 yards and two touchdowns. He might not be making spectacular plays like
Jay Cutler
. But he's winning. Welcome back to the playoff race, Denver.
Clayton's short takes
The Redskins'
Antwaan Randle El
must be wondering about his role.
Devin Thomas
and
Malcolm Kelly
have moved him out of the three-receiver sets, leaving him just as a slot receiver. Only one pass went his way Sunday, and it was incomplete. … Jaguars halfback
Maurice Jones-Drew
has 45 touchdowns in 51 career games. No wonder he is so popular in fantasy football. He's like former Seahawk Shaun Alexander. … Browns fans were booing
Derek Anderson
by the second quarter, but he did provide a spark in the second half to make the Browns more competitive than they were during the first three weeks. … Bucs kicker
Mike Nugent
missed his first four field goals of 2009, including two in the first half on Sunday against the Redskins. Good thing he made two later in the 16-13 loss. … I wonder if
Jay Cutler
, who claimed he threw a harder pass than John Elway, will claim he can do a better helicopter run? Cutler spun in the air on a 5-yard touchdown run in the first half of the Bears' 48-24 victory over Detroit. Elway did his in the Super Bowl. … Expect more teams to blitz Jets quarterback Mark Sanchez because of the Saints' success in putting pressure on him with extra rushers. … Raiders running back
Darren McFadden
is really struggling. The Texans held him to six carries for minus-3 yards. For the season, he is averaging 3.1 yards a carry and has four fumbles in four games. … The Giants are saying
Eli Manning
's heel injury isn't bad. They are calling it just a bruise. … The puzzling part of the Bills' 38-10 loss to the Dolphins was that they gave up 38 points despite allowing only 86 yards passing. They were down four starters, but the injuries were in the secondary and at defensive end. Yet, the Bills gave up 250 rushing yards. Miami QB
Chad Henne
had only 14 completions. His longest was 18 yards.
John Clayton's game balls

Manning
•
Offense:
Peyton Manning
completed 31 of 41 passes for 353 yards and two touchdowns in a 34-17 blowout of the vulnerable
Seattle Seahawks
. Seattle was missing two cornerbacks (
Josh Wilson
and
Marcus Trufant
). Linebacker
Leroy Hill
was out. The Seahawks' offense wasn't going to be on the field much because of injuries along the offensive line and to quarterback
Matt Hasselbeck
. Manning picked apart the Seahawks, but his most impressive drive was at the end of the first half. The Seahawks got on the scoreboard with a field goal to cut the Colts' lead to 14-3. With only 82 seconds left in the half, Manning ran off a nine-play, 78-yard drive that was capped by a 21-yard touchdown pass to rookie
Austin Collie
with three seconds left. "We work to those situations each and every week,'' coach Jim Caldwell said. "We try to put ourselves in the toughest possible situation. You may try that with a more inexperienced quarterback, but this guy [Manning] has been around a long time.''

Talib
•
Defense:
Redskins quarterback
Jason Campbell
tried to pick on
Aqib Talib
, and Talib responded with three interceptions -- the best single-game total of the season. Talib has played well this year. Heading into Week 4, opposing quarterbacks completed 10 passes on him for 138 yards. Two of those completions went for touchdowns.
Santana Moss
burned him for a 59-yard touchdown, but Moss wasn't much of a factor the rest of the day.

Rogers
•
Special teams:
Former Browns coach Romeo Crennel kept
Shaun Rogers
on the field too much last year, playing him 82.6 percent of the defensive downs. But as valuable and dominating as Rogers is to a defense, no player gets more out of the 18 percent of the time he's on special teams. He blocked a 23-yard
Shayne Graham
field goal and an extra point that sent the Browns-Bengals game into overtime. The Bengals won 23-20, but Rogers took four points away from the Bengals, giving the Browns at least a chance to win in overtime. He's blocked 14 kicks during his career -- 12 field goals and two extra points.
Writers' bloc
• Some aggressive second-half play-calling helped the Redskins beat Tampa Bay.
Pasquarelli
• The Bears' win over Detroit gives Chicago something to cheer about.
Wojciechowski
Week 4 rundown
•
Indianapolis 34, Seattle 17
Key injuries. Mounting losses. For the Seahawks, the 2009 season is beginning to look like a carbon copy of '08.
• Chicago 48, Detroit 24
The Bears had a fight on their hands (21-21 at halftime), but Matt Forte's first 100-yard game since Week 12 of last season helped Chicago pull away.
• Cincinnati 23, Cleveland 20 (OT)
Another week, another dramatic ending for the Bengals. Not known for his mobility, Carson Palmer's fourth-down, 15-yard run was the pivotal play of overtime.
• N.Y. Giants 27, Kansas City 16
Another easy win for the Giants. They'll likely get one more in Week 5 (Oakland) before the schedule toughens again.
• New England 27, Baltimore 21
Is the chemistry back? Tom Brady and Randy Moss finally hooked up for their first TD pass of the season. After four games in 2007, the duo already had seven TD connections.
• Washington 16, Tampa Bay 13
A tale of two halves for Jason Campbell. After throwing two INTs in the first half (and hearing a chorus of boos), Campbell led the Redskins to scores on their first three possessions of the third quarter.
• Jacksonville 37, Tennessee 17
The 2009 season has quickly become a nightmare for the Titans (0-4). How soon before Vince Young sees the field?
• Houston 29, Oakland 6
Six carries, minus-3 yards. That's not what the Raiders had in mind when they drafted Darren McFadden in 2008.
• Miami 38, Buffalo 10
Not a bad start to the Chad Henne era -- although it was the Dolphins' running game (250 yards) that did most of the heavy lifting.
• New Orleans 24, N.Y. Jets 10
Suddenly, the Saints' defense is lighting up the scoreboard and Drew Brees can't find the end zone. At 4-0, no one in New Orleans is complaining.
• San Francisco 35, St. Louis 0
The 49ers (3-1) appear to be in command of the NFC West. It's certainly been awhile since that was the case.
• Denver 17, Dallas 10
The Broncos passed their first real test. Denver CB Champ Bailey, who had a key INT and knocked away the potential tying touchdown pass, proved he's still a game-changer.
•
Pittsburgh 38, San Diego 28
If
Rashard Mendenhall
(165 yards, 2 TDs) can stay in his coaches' good graces, the Steelers' running game woes might be solved.
MONDAY NIGHT FOOTBALL
•
Green Bay at Minnesota (ESPN, 8:30 ET)
-- ESPN.com
Looking ahead
An early look at next weekend's biggest games:
• Cincinnati (3-1) at Baltimore (3-1): The Bengals already knocked off one AFC North heavyweight (Steelers). Can they do it again?
•
Atlanta (2-1) at San Francisco (3-1):
Can the 49ers get their first win outside of the NFC West? •
New England (3-1) at Denver (4-0):
The pupil (Josh McDaniels) against the teacher (Bill Belichick). •
Week 5 schedule