John Clayton's Last Call: Surprising Bengals stand alone atop AFC North
AP Photo/Charlie Riedel
Week 5 observations: Five things I learned
By John Clayton, ESPN.com
1. Bengals defying logic:
The
Cincinnati Bengals
arrive at stadiums on road trips with "reject" stamped on their equipment boxes. Quarterback
Carson Palmer
has been considered damaged goods because of a reconstructed knee and a right elbow that needed Tommy John surgery.
Chad Ochocinco
, who drew limited trade interest when he wanted out of Cincinnati, was supposedly in decline. Starters
Laveranues Coles
,
Cedric Benson
,
Tank Johnson
,
Roy Williams
,
Chris Crocker
and many others were cast off by other teams and forgotten.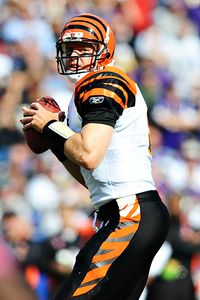 James Lang/US Presswire
Thrilling victories are becoming commonplace for Carson Palmer and the Bengals.
Sunday's 17-14, come-from-behind victory over the Baltimore Ravens put the Bengals in first place in the AFC North. The team that was featured in HBO's "Hard Knocks" knows how to take a punch. Ochocinco, who used boxing as his offseason training, took a high hit to the head from Ray Lewis with 48 seconds left that left a welt above his eye and gave the Bengals a first down at the Ravens' 35-yard line. Lewis was penalized for a personal foul, one of three penalties that helped the Bengals in an 11-play, 80-yard game-winning touchdown drive.
"lt was a good hit, but I think he should have pushed me down instead of hitting me because I was in mid-air and I had no way of protecting myself," Ochocinco said. By taking the face-jarring hit, Ochocinco gave the scrambling Bengals one more chance. With 22 seconds left, Palmer hit
Andre Caldwell
in the middle of the field for a 20-yard touchdown -- Cincinnati's third last-minute victory in four weeks. It was fitting Caldwell got the game-winning score. He symbolizes the team. Caldwell is the designated slot receiver replacement for
T.J. Houshmandzadeh
, and he's added deep speed and return ability to the three-receiver set. The words "Against All Odds" are tattooed across his back. Against all odds, the Bengals lead the AFC North when few gave them a chance to be contenders. "We didn't deserve to be talked about," Palmer said. "Sometimes it's good to be the underdogs. It takes the pressure off you."
2. Division of power?
The NFC East is clearly overrated when you discuss the
Washington Redskins
and
Dallas Cowboys
. The Cowboys struggled to beat the Chiefs in overtime (26-20), and the Redskins lost to the previously winless Panthers 20-17. Although Dallas and Washington still have decent records, neither team looks like a contender. The Cowboys can take solace in the fact that they won in overtime. Dallas had 13 penalties and four fumbles (losing two).
Tony Romo
threw for 351 yards, but the Cowboys trailed most of the game. The Redskins can't take solace in victory. They lost to the Panthers by giving up 11 points in the final quarter. Every time the Redskins take a step forward, they seem to take two steps back. In the second quarter Sunday, safety
LaRon Landry
stopped Panthers fullback
Brad Hoover
at the goal line on fourth down to protect a 7-0 lead. Two plays later, running back
Clinton Portis
got stopped in the end zone for a safety. The Redskins' biggest blunder was a muffed fourth-quarter punt return by
Antwaan Randle El
at the Redskins' 12. The mistake set up
Jonathan Stewart
's 8-yard touchdown run, which proved to be the game-winner. With their schedule, the Redskins should be 4-1. Instead, they are 2-3 and play the Chiefs in Week 6. The Redskins and Jim Zorn are running out of easy games to play -- well, at least they're easy on paper.
3. Jauron on thin ice:
Dick Jauron's tenure as the
Buffalo Bills
' head coach has reached a crossroads. The problem facing owner Ralph Wilson is figuring out what to do. Sunday's 6-3 home loss to the
Cleveland Browns
was unexplainable, and almost unforgivable. Jauron is 1-4 this year and 22-31 overall. It wouldn't surprise me if he's fired in the coming weeks, or even days.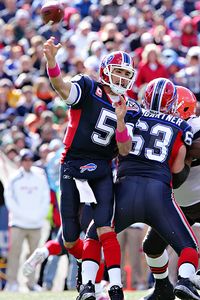 Kevin Hoffman/US Presswire
Trent Edwards appears to have regressed, and the Bills appear to have no confidence on offense.
The switch to an interim coach usually isn't a good idea unless the replacement is viewed as the permanent successor. The Bills could give the job to defensive coordinator Perry Fewell or special teams coach Bobby April, but will it fix the offense? No. The Bills' offense has collapsed because of a failed plan to go to a no-huddle attack. Each week, Trent Edwards has gotten worse, and now you have to wonder if the Bills have to go back into the quarterback market after going through Drew Bledsoe, J.P. Losman and so many others.
Edwards' passing numbers have gone down like the stock market. He was 16-of-32 for 152 yards and an interception Sunday. His quarterback rating was 52.1 -- the third consecutive week his rating has been in the fifties. His completion percentage has dropped from 67.7 in Week 2 to 57.1 in Week 3 to 53.8 in Week 4 to Sunday's worst showing of the season. He hasn't had a 200-yard game since Week 2. The Bills were also plagued by nine false-start penalties -- in a home game. That has to be some kind of record. "It's frustrating because we have guys that know the snap counts," Edwards said. "We know the cadence and we're trying to use that as a weapon." Apparently, the no-huddle is creating self-inflicted wounds. And the Bills fired an offensive coordinator to have this? If you notice, teams that changed offensive coordinators before the season are at the low end in scoring. The Bills are averaging 15.4 points a game. The Chiefs are averaging 16.8. The Bucs are averaging 12.2. But the Bills may be the only team on this list making a head-coaching change soon.
4. Short story:
The
Houston Texans
' inability to convert 1-yard plays Sunday is the reason they are 2-3 and once again fell short in a disappointing 28-21 loss to the
Arizona Cardinals
. One-yard plays require blockers who fire out and dominate the line of scrimmage. Plus, you would figure Texans coach Gary Kubiak, who has his line-blocking schemes designed through all-time great line coach Alex Gibbs, could win a 1-yard battle. The Cardinals won these mini-battles and grabbed the victory. The Texans had a third-and-1 incompletion in the first half. In the third quarter, trailing 21-0, they had a second-and-1 at the Cardinals' 22.
Steve Slaton
was stopped twice on running plays and
Matt Schaub
threw an incompletion on fourth down. Schaub led a furious second-half comeback that gave the Texans a chance to tie it in the final seconds of the game. They had a second-and-goal at the Cardinals' 1 with 59 seconds left.
Chris Brown
was stopped on second down for no gain. An incompletion on third down set up the game-deciding play. Led by defensive tackle
Gabe Watson
, the Cardinals stopped Brown for no gain on fourth down, preventing the game from to going overtime.
5. Broncos sitting pretty:
The Broncos' 20-17 overtime win over the
New England Patriots
was bad news for the
San Diego Chargers
. Now, next Monday night's Broncos-Chargers game in San Diego is a must-win for the Chargers. At 5-0, the Broncos lead the AFC West by 2½ games. With a victory, the Broncos can run away with a division that many thought was going to be a runaway for the Chargers. As the Chargers review the scouting report of Denver's latest victory, they have to be concerned. The Broncos did so many things well.
Kyle Orton
passed for 330 yards. Rookie
Knowshon Moreno
(88 yards on 21 carries) was able to consistently find running room. Both
Brandon Marshall
(eight catches, two for touchdowns) and
Eddie Royal
(10 catches for 90 yards) are getting hot at the right time. And the Broncos were able to contain the explosive Patriots defense.
Randy Moss
was a non-factor with one catch for 36 yards. Holding
Tom Brady
to 215 yards isn't easy, but the Broncos contained him. The Broncos are the league's biggest surprise team. They can start to claim the AFC West as early as next week.
Clayton's short takes
This doesn't explain why their offense is so bad, but the Raiders deactivated eight offensive players Sunday, including three receivers (
Javon Walker
,
Nick Miller
and
Chaz Schilens
), two running backs (
Darren McFadden
and
Oren O'Neal
), one quarterback (
Charlie Frye
) and two starting offensive linemen (
Robert Gallery
and
Cornell Green
). … Don't expect long snapper
Brad St. Louis
to stay in Cincinnati much longer. In the first quarter of Sunday's win over the Ravens, he made another high snap on a 32-yard field goal that
Shayne Graham
missed. In the third quarter, he had a high snap on an extra point that sailed more than 20 yards, but the play was negated by a Ravens penalty. It was his sixth bad snap of the season. The team worked out at least four replacements last week. …
Daunte Culpepper
's ability to run kept the Lions competitive in their 28-20 loss to the Steelers. He had three runs for 44 yards, but after awhile he was running for his life because of bad blocking along the offensive line. The Steelers had seven sacks, three by linebacker
James Harrison
. …
Peyton Manning
likes the influx of younger receivers, but so does
Donovan McNabb
. It was smart move by Andy Reid to get
Jeremy Maclin
into the starting lineup with
DeSean Jackson
. Maclin had six catches for 142 yards and two touchdowns. How does
Kevin Curtis
, who sat out with a knee injury, expect to come back healthy and replace Maclin when he's that productive? … Whatever WR
Mike Sims-Walker
did to be placed on the inactive list had to be a doozy. Jaguars quarterback
David Garrard
didn't have a chance without him in the 41-0 loss to Seattle. The Seahawks were able to load up on
Torry Holt
and not worry about the rest of the wide receiving corps.
John Clayton's game balls

Austin
•
Offense:
With
Terrell Owens
gone and
Roy Williams
out with three injured ribs,
Miles Austin
had the greatest receiving day in Cowboys history. He caught 10 passes for 250 yards, including a game-winning 60-yard touchdown, in a 26-20 overtime victory over the Chiefs. That topped the 246 yards Hall of Famer Bob Hayes had in 1966. Austin was targeted 15 times and had two touchdowns.

Reed
•
Defense:
Ravens safety
Ed Reed
's 52-yard interception return for a touchdown in the second quarter of Sunday's 17-14 loss to the Bengals was the sixth time in his career he returned a pick for a touchdown. It was the 45th interception of his career and his eighth defensive touchdown. But what got Reed the game ball was a different play in the second quarter. The Bengals trailed 7-3 with 1:26 left in the first half.
Carson Palmer
was driving the Bengals and hit
Chad Ochocinco
on a 21-yard pass over the middle, putting the Bengals in scoring position. But Reed trailed him and swatted the football out, forcing a fumble that Baltimore recovered. "It's just instinctive stuff at the time," Reed said. "It's just running to the football."

Prater
•
Special teams:
Matt Prater
's 41-yard field goal in overtime gave the Broncos a 20-17 victory over New England. After winning the overtime coin toss,
Kyle Orton
drove the Broncos 58 yards on 11 plays. Prater, who made a 24-yard field goal in the third quarter, was calm under pressure. He did miss a 48-yarder, but the two kicks he made helped the Broncos move to 5-0. For the season, he is 10-for-13 on field goals.
Writers' bloc
• The Raiders were epically bad in a blowout loss to the Giants, especially on offense.
Pasquarelli
• After beating his mentor in an OT thriller, Josh McDaniels let loose in elation.
Wojciechowski
• After a brutal home loss to the lowly Browns, the tension is mounting in Buffalo.
Graham
• Defensive coordinator Mike Zimmer's strength after a tragedy inspired the Bengals.
Walker
• Donovan McNabb's strong return made Michael Vick and the Wildcat an afterthought.
Mosley
• A casual chat with his coach helped Atlanta WR Roddy White return to form.
Yasinskas
• The Cardinals affirmed their serial inconsistency in a wild victory over Houston.
Sando
• Now that Kyle Orton proved he can win a game, the Broncos are officially for real.
Williamson
Week 5 rundown
•
Cleveland 6, Buffalo 3
One of the ugliest games of 2009 -- and the Redskins weren't even involved. So much for
Derek Anderson
(2-of-17, 23 yards) giving the Browns' offense a boost.
• Pittsburgh 28, Detroit 20
The Lions are more competitive, but they can't shake adversity. A week after franchise QB Matthew Stafford hurt his knee, their best player (WR Calvin Johnson) left Sunday's game with a leg injury.
• Dallas 26, Kansas City 20 (OT)
How bad are things for the Chiefs' offense? Mike Vrabel has one more TD than Larry Johnson.
• Minnesota 38, St. Louis 10
Maybe the 0-5 Rams would be competitive in the UFL. Maybe.
• N.Y. Giants 44, Oakland 7
The Giants' mini-vacation is over. They face the Saints, Cardinals and Eagles over the next three weeks.
• Philadelphia 33, Tampa Bay 14
In his first appearance since Week 1, Donovan McNabb (16-of-21, 264 yards, 3 TDs) may have found a new go-to guy in rookie Jeremy Maclin (6 catches, 142 yards, 2 TDs).
• Carolina 20, Washington 17
An 11-point fourth quarter possibly saved the Panthers' season. The Redskins' Clinton Portis finally found the end zone, but he's still looking for his first 100-yard game.
• Cincinnati 17, Baltimore 14
Another thrilling win for the now-first-place Bengals. Several key penalties, including three on Cincy's game-winning drive, buried the Ravens.
• Atlanta 45, San Francisco 10
Is the Falcons' offense this good? Or is the 49ers' defense a bit overrated? Hmm.
• Seattle 41, Jacksonville 0
Starting to pay dividends. A week after registering his first 100-yard receiving game of 2009, T.J. Houshmandzadeh finally scored his first TD as a Seahawk.
• Arizona 28, Houston 21
A running game? When Kurt Warner (26-of-38, 302 yards, 2 TDs ) plays like he did Sunday, the Cardinals can get by without one.
• Denver 20, New England 17 (OT)
5-0. A win over the mighty Patriots. The Broncos are making a pretty convincing case that they're for real.
•
Indianapolis 31, Tennessee 9
Another 300-yard passing game for
Peyton Manning
. And yes, he's earned the right to pad his stats.
MONDAY NIGHT FOOTBALL
•
N.Y. Jets at Miami (ESPN, 8:30 ET)
-- ESPN.com
Looking ahead
An early look at next weekend's biggest games:
• N.Y. Giants (5-0) at New Orleans (4-0): The first real test for the Giants since Week 2.
•
Baltimore (3-2) at Minnesota (5-0):
No one has been able to stop the Vikings' offense. Is the Ravens' D up to the task? •
Denver (5-0) at San Diego (2-2):
The Broncos haven't won in San Diego since 2005. •
Week 6 schedule