John Clayton's Last Call: Saints, Vikings livin' large in comfortable confines
AP Photo/Stephan Savoia
Week 6 observations: Five things I learned
By John Clayton, ESPN.com
1. Dome sweet home:
Get ready for a possible dome championship in the NFC. The
Minnesota Vikings
are 6-0 and having a magical season with
Brett Favre
as their leader.
New Orleans Saints
QB
Drew Brees
is tearing apart defenses with Sean Payton calling the plays. Brees completed 23 of 30 passes for 369 yards and four touchdowns in the Saints' 48-27 victory over the
New York Giants
. He made the league's No. 1 defense look mediocre.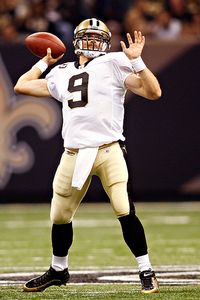 Chris Graythen/Getty Images
Drew Brees, who torched the Giants' D in Week 6, has the Saints off to a 5-0 start.
Home field in a dome is more important than you might think. Over the past four seasons, Favre watched his completion percentage drop by almost 10 points after Week 11, when the weather is cold. Brees runs a sophisticated passing offense that works well in domes. The last NFC dome team to go to a Super Bowl was the St. Louis Rams, who ran what they called "The Greatest Show on Turf.'' Vikings guard Steve Hutchinson knows the value of the closed, temperature-controlled climates.
"It's hard to hear the calls if you are the visiting team late in the year in a dome when the crowd is loud,'' Hutchinson said. "If you are team that likes to run the ball, you like the weather and home field from the pride standpoint.'' But the Vikings aren't just a running team, even though they have the league's best runner (
Adrian Peterson
). With less than three minutes left in Sunday's contest, Favre beat the
Baltimore Ravens
on a play that might not have worked in the cold and slop. He did a naked bootleg to the right, hoping to hit tight end
Visanthe Shiancoe
. But Shiancoe was covered, and Favre spotted
Sidney Rice
getting behind Ravens cornerback
Frank Walker
. In bad conditions, Rice might have slipped or the 40-year-old quarterback might not have been able to loft his 58-yard completion to Rice, who was running a clearing route. The completion set up
Ryan Longwell
's 31-yard field goal, which gave Minnesota a 33-31 win. After six weeks, the Vikings and Saints are the only unbeaten teams in the NFC. One probably will play host to the NFC title game.
2. Ravens down, not out:
Normally, positive things aren't said about teams on three-game losing streaks. The Ravens are one of the strangest 3-3 teams you'll ever see. They rallied from a 17-point, fourth-quarter deficit but lost to the Vikings when
Steve Hauschka
missed a 44-yard field goal as time expired. Local critics note that coach John Harbaugh elected to keep Hauschka instead of re-signing 41-year-old
Matt Stover
, who made a career of making game-winning kicks. Still, there were positive vibes coming out of the Ravens' locker room after the game. "Basically, our guys have the heart of a lion,'' Harbaugh said. "That doesn't make it OK to play the way we did in some stretches, but it's the key element. We can build on that.'' The Ravens aren't panicking heading into their bye week. They were 2-3 a year ago and won nine of their final 11. One of the biggest hearts on the team belongs to quarterback
Joe Flacco
. The Vikings blitzed him. They hit him often. Someone rolled on his ankle early and others accidentally stepped on it as the game progressed. In the fourth quarter, Flacco was 10-of-16 for 196 yards and two touchdowns, and he drove the Ravens into field-goal range in the final two minutes. In Week 4, Flacco was moving the Ravens downfield against the Patriots, but the last-minute drive failed when
Mark Clayton
dropped a fourth-down pass. The Ravens lost to the Bengals in Week 5 when their defense committed three penalties in a game-winning drive executed by
Carson Palmer
. Sure, there is work to be done. The cornerback situation is messy.
Lionel Washington
struggled enough that Walker came off the bench to replace him.
Domonique Foxworth
hasn't lived up to his four-year, $27.2 million contract. Receivers aren't consistently catching the ball. But you get the feeling that the Ravens, who are only one game behind in the AFC North, will bounce back after their bye.
3. Western supremacy:
The
Arizona Cardinals
set themselves up as the team to beat in the NFC West thanks to their 27-3 victory over the
Seattle Seahawks
. How can I say that when they have the same record as the 49ers but lost at home to San Francisco in Week 1? Because the Cardinals are a more complete team than the 49ers. The Cardinals' victory over Seattle was a matter of attrition. The Seahawks were playing with a makeshift offensive line that was missing three starters --
Walter Jones
,
Rob Sims
and
Sean Locklear
. Their defense didn't have linebacker
Leroy Hill
and cornerback
Marcus Trufant
, and then lost linebacker
Lofa Tatupu
(out for the season with a torn pectoral muscle) and defensive end
Patrick Kerney
, who battled injuries during the first month of the season. The Cardinals are still finding their identity as a team. Coach Ken Whisenhunt knows his team hasn't run the ball enough. He's let QB
Kurt Warner
audible to passing plays too much, a fixable problem that will sort itself out over the next two months.
Tim Hightower
and
Beanie Wells
didn't have a good yards-per-carry average Sunday, but the fact that they each had more than a dozen carries is a sign of progress. Over time, Wells, the more powerful back, will become more of a factor. When that happens, the Cardinals will be more balanced and better suited to match up with the better teams in the conference. The 49ers can only win if they run the ball well and play a low-scoring game dictated by defense. In their next meeting against San Francisco, the Cardinals will have a huge edge if they can create a high-scoring track meet.
Shaun Hill
can't match Warner pass for pass, drive for drive.
4. QB changes provide little relief:
Well, if you thought quarterback changes would solve offensive problems, think again.
Washington Redskins
coach Jim Zorn yanked
Jason Campbell
after a first half in which the Redskins didn't score a point and Campbell was 9-of-16 for 89 yards.
Todd Collins
didn't change anything in what was an embarrassing 14-6 loss to the
Kansas City Chiefs
. Collins was 6-of-14 for 75 yards and was tackled for a safety. Collins engineered two field goal drives in the third quarter, but that's only six points against a defense that was ranked No. 32 entering the game. In the
Buffalo Bills
' 16-13 overtime victory over the
New York Jets
,
Trent Edwards
went to the locker room with a concussion after going 5-for-5 in a Bills offense that abandoned the no-huddle for the first time this season.
Ryan Fitzpatrick
came off the bench and went 10-of-24 for 116 yards with one TD and one interception. Sure, the Bills won, but this was a game the Jets lost.
Mark Sanchez
threw five interceptions, and the Jets had numerous special teams penalties that were costly. Although the Jets didn't make excuses for their poor play, they were fighting some tough odds. Wide receivers
Jerricho Cotchery
and
Brad Smith
were out, leaving
Braylon Edwards
as the only legitimate wideout threat for Sanchez. Right tackle
Damien Woody
and defensive tackle
Kris Jenkins
suffered knee injuries during the game.
5. Off day for Eagles:
During the Fox telecast of the Oakland Raiders' stunning upset of the
Philadelphia Eagles
, the broadcast crew kept focusing their cameras on a pigeon that refused to leave the field. The pigeon had a better day than the Eagles, who couldn't fly Sunday. Quarterback
Donovan McNabb
was off with his accuracy against the Raiders' defense, completing 22 of 48 passes for 269 yards. What makes that more amazing is that Raiders shutdown cornerback
Nnamdi Asomugha
missed a good portion of the game with an eye injury. Eagles kicker
David Akers
was also off the mark. He missed 2 of 5 field goals. Andy Reid was off with his play calling. The Eagles rushed for only 67 yards on 14 carries, which is puzzling because the game was close enough to call a reasonably balanced attack. No knock on
Michael Vick
and the Wildcat, but a loss such as this one should be a wake-up call to the Eagles. They are a West Coast offense team directed by a quarterback, McNabb, who needs to find a rhythm. The Wildcat is no excuse for McNabb's bad performance Sunday, but the team needs to focus on what it does best.
Clayton's short takes
Bengals coach Marvin Lewis said defensive end
Antwan Odom
suffered "a possible serious'' Achilles injury in Sunday's 28-17 loss to Houston. He has eight sacks in six games. The Bengals plan to replace him by using
Michael Johnson
in passing situations and
Jonathan Fanene
on run downs. … Favre had a funny exchange with Vikings coach Brad Childress late in the victory over the Ravens. Childress came over and told him that momentum was shifting to the Ravens and the Vikings needed to finish drives with touchdowns. Favre said his response was: "No s---, Sherlock." … Even though the Packers breezed past the Lions 26-0, they still have to worry about their pass blocking.
Aaron Rodgers
was sacked five times, bringing his season total to 25. Lions linebacker
Julian Peterson
had 2½. Apparently, the problem wasn't fixed during the bye week. … Even though the Ravens are looking for wide receiver help, general manage Ozzie Newsome doesn't appear to be looking at Patriots wide receiver
Joey Galloway
, who has been inactive for the past three weeks even though he's healthy. … The Lions once again were short-handed along the defensive line with ends
Jason Hunter
and
Dewayne White
and defensive tackle
Sammie Lee Hill
inactive because of injuries. … The Rams may have let
Torry Holt
go too soon. He had five catches for 101 yards in the Jaguars' 23-20 overtime victory over St. Louis. … The Titans were missing their top three defensive backs Sunday: cornerbacks
Cortland Finnegan
and
Nick Harper
and
Vincent Fuller
. That left them with two rookie starters at cornerback:
Jason McCourty
and
Ryan Mouton
. … The Browns'
Josh Cribbs
recorded his eighth return for a touchdown when he broke a 98-yard kickoff return in a 27-14 loss to the Steelers. He passed Eric Metcalf on the Browns' all-time list.
John Clayton's game balls

Brady
•
Offense:
The options were plenty Sunday, but
Tom Brady
pitched the equivalent of a baseball no-hitter and he did it in steady snow. Brady had a near-perfect 152.8 quarterback rating, completing 29 of 34 passes for 380 yards and six touchdowns in a 59-0 victory over the Titans. Sure, the Titans were without their top three defensive backs because of injuries, but Brady was incredible.
Ben Roethlisberger
and
Matt Schaub
threw for more yards than Brady, but they aren't coming off knee reconstruction surgery. In Week 7, Brady moves his show to London and could put up big numbers against the Bucs.

Peppers
•
Defense:
Julius Peppers
came up with a two-sack, seven-tackle day in Carolina's strange 28-21 victory over the Tampa Bay Bucs. He also had a forced fumble. Because he's one of the most talented defensive ends in football, Peppers takes criticism because sometimes he doesn't appear to rush hard on every down. He's so talented that rushes come easily for him. Critics still point to Peppers' 2½-sack season two years ago. Peppers has five sacks in five games this season and 19½ over the past 21 games. Pretty good numbers.

Succop
•
Special teams:
Ryan Succop
, Mr. Irrelevant in the 2009 draft, became relevant by kicking four field goals in the Chiefs' 14-6 upset of the Redskins. The last pick in every draft has a weekend party in his name in Newport Beach, Calif., each spring. The Chiefs are celebrating about this selection. He made two tough 46-yard field goals. For the season, he is 9-for-10, solidifying one spot on a Chiefs team in rebuilding mode.
Writers' bloc
• The Saints proved in Week 6 that they're the best team in the league.
Yasinskas
• The Giants' top-rated defense pulled a disappearing act in New Orleans.
Mosley
• Yes, the Vikings are still unbeaten. But they needed a little luck to move to 6-0.
Seifert
• The Steelers are far from perfect, but they're in a good spot after six games.
Walker
• Jets QB Mark Sanchez's struggles keyed an overtime loss to the Bills.
Graham
• Harsh criticism inspired the Raiders to punish the Eagles in a 13-9 upset.
Williamson
Week 6 rundown
•
Houston 28, Cincinnati 17
Injury to insult. The Bengals lost the game -- and most of their struggles came after losing dominant DE
Antwan Odom
(Achilles tendon) in the first quarter.
• Green Bay 26, Detroit 0
Is there anything more automatic than the Packers beating the Lions? Detroit has now lost eight in a row to Green Bay and 18 straight to the Packers in Wisconsin.
• Minnesota 33, Baltimore 31
More Favre magic in the Metrodome. Tough losses are becoming the norm for the now 3-3 Ravens.
• New Orleans 48, N.Y. Giants 27
The Giants' short-handed secondary was no match for Drew Brees. It could be a sign of things to come, as New York faces more elite passing teams in the coming weeks.
• Pittsburgh 27, Cleveland 14
Thriving in obscurity. If Cleveland's Josh Cribbs (98-yard kickoff return for TD) played for a better team, he'd be one of the most talked-about players in the league.
• Carolina 28, Tampa Bay 21
The Bucs' struggling D was the perfect antidote for Carolina's running game (267 yards), which had been very average prior to Week 6.
• Kansas City 14, Washington 6
The Redskins' worst nightmare? NFL bottom-feeders. Washington has now lost three games to winless teams.
• Jacksonville 23, St. Louis 20 (OT)
Torry Holt contributed to his former team's misery with his first 100-yard receiving game as a Jaguar.
• Oakland 13, Philadelphia 9
The Raiders dialed up the pressure, sacking Donovan McNabb six times, and may have provided the defensive blueprint for facing the Eagles.
• Arizona 27, Seattle 3
The Seahawks were never in the game. Can their woes be blamed entirely on injuries?
• New England 59, Tennessee 0
It's hard to believe a Jeff Fisher-coached team would quit, but the winless Titans didn't appear to put up much of a fight in Foxborough.
• Buffalo 16, N.Y. Jets 13 (OT)
If ever there were a game that neither team deserved to win, this was it. Two dreadful outings in three weeks for Jets rookie QB Mark Sanchez. Should Jets fans be concerned?
•
Atlanta 21, Chicago 14
The Bears outgained the Falcons by more than 100 yards. The difference? Atlanta didn't cough up the ball in the red zone.
MONDAY NIGHT FOOTBALL
•
Denver at San Diego (ESPN, 8:30 ET)
-- ESPN.com
Looking ahead
An early look at next weekend's biggest games:
• Minnesota (6-0) at Pittsburgh (4-2): Brett Favre and Co. against the defending champs. Both teams have momentum.
•
Chicago (3-2) at Cincinnati (4-2):
How will the Bengals respond from a humbling loss, and some adversity on defense? •
Arizona (3-2) at N.Y. Giants (5-1):
Another test for the suddenly beleaguered Giants secondary. •
Week 7 schedule