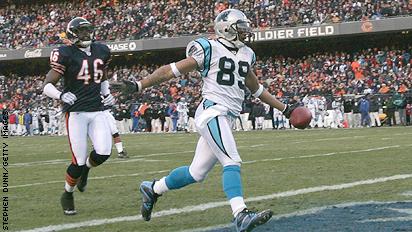 Cat-astrophic Outcome
The Panthers struck early and Steve Smith (244 total yards, 2 TDs) was unstoppable during a 29-21 victory over the Bears. Carolina's ability to effectively run and throw has made the offense a force in the playoffs, Michael Smith writes.
Story
MORE FROM ESPN.com
While expressing great appreciation for what Cam Newton did for the Panthers, coach Matt Rhule said it was best the team moved forward with Teddy Bridgewater at quarterback.
Cam Newton told Chris Paul on Instagram Live that he's "a fish out of water" as a free agent for the first time after being released by the Panthers.
Amid the coronavirus pandemic, NFL players are locked out of facilities and can't go to their gyms. Some are getting very creative.
Chicago's sports teams are cooperating with the city to relay the message that fans need to stay at home.
NFL stars -- legends like Jerry Rice and Walter Payton -- can be found anywhere, not just at traditional college football powers. Here's one for every team.
Could the Dolphins pass on Tagovailoa? Who's the most underrated receiver in this class? Mel Kiper looks ahead to the draft.