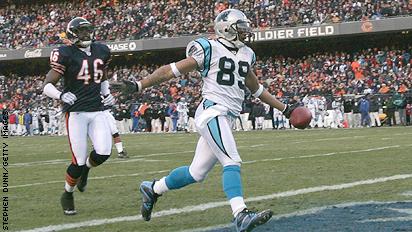 Cat-astrophic Outcome
The Panthers struck early and Steve Smith (244 total yards, 2 TDs) was unstoppable during a 29-21 victory over the Bears. Carolina's ability to effectively run and throw has made the offense a force in the playoffs, Michael Smith writes.
Story
MORE FROM ESPN.com
Chicago Bears general manager Ryan Pace followed up Thursday's surprise choice of QB Mitchell Trubisky, who started 13 games at North Carolina, by drafting Ashland University TE Adam Shaheen.
Mel Kiper just didn't see the value in the Panthers' pick of Daeshon Hall, who he graded as a fourth- or fifth-round pick.
Taking Curtis Samuel wasn't necessarily a bad pick, but it sure caught Todd McShay off guard. In fact, it's awfully intriguing.
A day after he was drafted second overall by the Bears, quarterback Mitchell Trubisky attended the Bulls-Celtics playoff game at the United Center, where he was greeted with some boos.