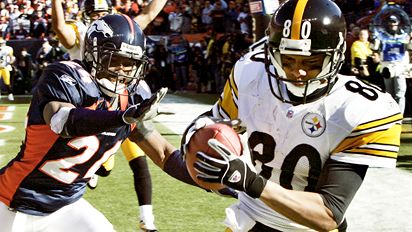 (AP Photo/Charles Krupa)
The Right Stuff
Ben Roethlisberger made all the right moves against the Broncos on Sunday. As a result, Pittsburgh will face off against the Seahawks in Super Bowl XL in Detroit on Feb. 5.
Len Pasquarelli's story
MORE FROM ESPN.com
Steelers general manager Kevin Colbert says the team is taking its time working on an extension for quarterback Ben Roethlisberger.
The Pittsburgh Steelers have informed veteran safety Morgan Burnett that they will release him by April 1, as per the player's request, Burnett's agent told ESPN's Adam Schefter.
Chad Kelly, a former Broncos quarterback, pleaded guilty Wednesday to misdemeanor second-degree criminal trespassing for entering a home uninvited in October.
Le'Veon Bell, now a Jet, reflected on his time as a Steeler and told Sports Illustrated that his former quarterback, Ben Roethlisberger, "wants to win his way, and that's tough to play with."