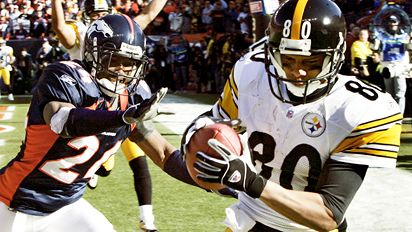 (AP Photo/Charles Krupa)
The Right Stuff
Ben Roethlisberger made all the right moves against the Broncos on Sunday. As a result, Pittsburgh will face off against the Seahawks in Super Bowl XL in Detroit on Feb. 5.
Len Pasquarelli's story
MORE FROM ESPN.com
Ike Hilliard, who previously worked as the wide receivers coach for the Redskins from 2014 to 2019, will join Mike Tomlin's Steelers staff in the same capacity.
Steelers coach Mike Tomlin defended quarterback Mason Rudolph against claims by Browns defensive end Myles Garrett that Rudolph used a racial epithet during their November fracas.
What will Cincinnati do with its longtime top quarterback and receiver? Let's predict what's in store for the AFC North.
Steelers quarterback Mason Rudolph calls Myles Garrett's claim he used a racial slur toward him "1000% false."
The Broncos and Rams will cut back on the amount of personnel traveling to Indianapolis for the scouting combine, sources told ESPN's Adam Schefter.
Browns defensive end Myles Garrett, in an interview with Outside the Lines, again alleged that Steelers quarterback Mason Rudolph directed a racial slur at him just prior to the November brawl that led to 33 players being disciplined.
Steelers general manager Kevin Colbert says Ben Roethlisberger's rehab is going well and he is not at the end of his career.