SUPER BOWL SCENE
Our photographers roamed Detroit all week to bring you the Super Bowl XL scene. From photos of both teams to anything else that went on, we had it covered.
•
Super Bowl gallery
|
Zoom gallery
Page 2 sent Chuck Klosterman to the Super Bowl to write the best one-week sports blog ever.
•
Klosterman blog
|
Page 2
From chats to polls to the daily pulse, SportsNation had Super Bowl XL covered.
•
SportsNation
|
Super Bowl pulse
ESPN Radio was live in Detroit all week leading up to Super Bowl XL. Check out audio highlights, photos of the hosts and their guests in Detroit, as well as a link to ESPN Radio's webcam.
•
ESPN Radio coverage
ESPN'S TAKE
Question: What was the turning point of Super Bowl XL?

The turning point of this game was when Ike Taylor picked off Matt Hasselbeck near the goal line. That play cemented the game for the Steelers because it completely took the life out of the Seahawks. They were driving and threatening to either score a touchdown to take the lead or to pull within one off the field goal. Instead Taylor took the Hawks' heart and the game was pretty much iced after that.
-- Eric Allen
GAMEDAY MATCHUP
W
L
T
PF
PA
DIV
CON
SEA
13
3
0
28.3
17
6-0-0
10-2-0
PIT
11
5
0
24.3
16
4-2-0
7-5-0
H2H MATCHUPS (SINCE 2001)
Series tied 1-1
Nov 2, 2003
@SEA 23, PIT 16
Fantasy
Big Game Showdown
Think you know the outcome of the big game? Prove it by selecting the answers to 15 questions and you could win one of several great prizes.
• Create your entry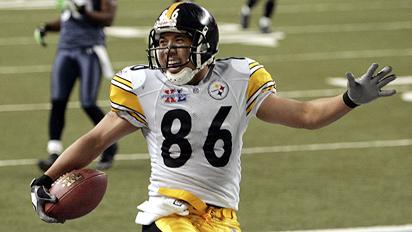 (AP Photo)
MORE FROM ESPN.com
Monday, Feb. 6

The Seahawks have the talent in place to make another Super Bowl run, but history suggests they're in for an immediate struggle.
Pittsburgh finally got its fifth Super Bowl title. A sixth next season isn't out of the question, but there are some decisions to be made.

Sunday, Feb. 5

With a Super Bowl title now in hand, Ben Roethlisberger is going to shave his beard -- and get paid for it, writes Darren Rovell.
Darren Rovell finds that ticket prices are actually dropping -- albeit slightly -- as Super Bowl XL kickoff nears.
Maxim or Playboy? FHM or Penthouse? Darren Rovell hit 10 parties in three days to crown Detroit's most Super bash.
Kenny Mayne went to Martha Stewart to find just the right recipe for Super Bowl nachos.

Saturday, Feb. 4

Looking for a sleeper impact player in Super Bowl XL? Len Pasquarelli says it could be Antwan Randle El in his keys to a Steelers win.
Coach Mike Holmgren thinks he has his Seahawks ready for Super Bowl XL. John Clayton thinks he knows how Seattle can win.
The Rooney family is known for its loyalty and Steelers players hope to be able to repay them with a Super Bowl win, writes Len Pasquarelli.
Experience, Jerome Bettis and even Janet Jackson are among the 15 reasons Gene Wojciechowski thinks the Steelers will win.
Troy Polamalu and Andre Dyson are both listed as probable for Super Bowl XL.
Who will win Super Bowl XL? After addressing key questions throughout the week, Eric Allen makes his pick.
A winter storm warning for Detroit was canceled late on Super Bowl eve. The city can expect just 2 to 5 inches.

Friday, Feb. 3

John Clayton breaks down why he thinks the Seahawks have a slight edge over Pittsburgh in Super Bowl XL.
Steelers WRs Hines Ward and Antwaan Randle El cause so much trouble for foes because of their versatility, writes Michael Smith.
The Seahawks have not received much respect, but they will prove their worth on Sunday, writes KC Joyner.
Thirty-five years after Vince Lombardi's death, Bart Starr still is overwhelmed by memories of his former coach.
Wayne Drehs finds one Super Bowl 'Mission' statement for Detroit's homeless population.

Thursday, Feb. 2

Lofa Tatupu and LeRoy Hill might be rookies, but the two linebackers have played a big part in leading Seattle to the Super Bowl.
The Steelers' D-line doesn't command a lot of attention, but frees up Joey Porter and others to make big plays.

Theismann: Steelers' offense diverse

Joe Theismann takes a look at the Pittsburgh Steelers' offense and says Hines Ward could be key.
The Seahawks had to deal with adversity and defensive personnel changes all season, but were never thrown off course.
Former Trojans Troy Polamalu and Lofa Tatupu don't have much of a relationship, but they have an equally dynamic impact on the field.
Insider Jeremy Green offers a close look at the strengths of Steelers S Troy Polamalu and Seahawks LB Lofa Tatupu.
Paul Allen is the world's seventh-richest man and a bit of a mystery to most folks. But as one Seattle player puts it, "Owners are people, too."
Wayne Drehs takes an up-close-and-personal walk on the wilder side of Windsor's nightlife at Super Bowl XL.

Schlereth: Hawks O-line advice

Mark Schlereth gives the Seahawks five ways to stop the Steelers' 3-4 zone blitz, including being able to communicate.

Horton: Overlooked TEs could play big roles Sunday

TEs Jerramy Stevens and Heath Miller are safety valves for their respective QBs and could have a big impact Sunday.
Edwin Pope, Jerry Izenberg, Jerry Green and Dave Klein have seen every Super Bowl play. Gene Wojciechowski pays tribute.

Wednesday, Feb. 1

Spielman: Dallas' 3-4 was kryptonite to Seattle's offense

The Cowboys' 3-4 defense gave the Seahawks fits in Week 7. As luck would have it, the Steelers use a very similar scheme.
Steelers Pro Bowl LB Joey Porter has a big mouth to go along with his dynamic playmaking skills, Greg Garber writes.
Insider Jeremy Green offers a close look at the strengths of Seattle OT Walter Jones and Pittsburgh LB Joey Porter.
Steelers defensive coordinator Dick LeBeau is one of the NFL's top defensive minds and his players can't wait to see what he comes up with next.

Joyner: Steelers CBs go from weakness to strength

The Steelers' starting CBs, a concern going into the season, did a pretty good job defending against foes' passing attacks.
What is the Super Bowl worth to Detroit? Darren Rovell discovers it might not be as much as the city thinks it is.
Days before the biggest game of his life, Steelers QB Ben Roethlisberger makes a million-dollar name for himself.
Seattle tight end Jerramy Stevens effectively guaranteed a Super Bowl victory, prompting Steelers linebacker Joey Porter to say Stevens' remarks were motivation enough.
Bill Leavy will referee his first Super Bowl, heading a crew that has 58 years of experience and has worked a combined 40 postseason games.
America's biggest sporting event is in Detroit this year, but there won't be any corresponding celebration of the Motown sound that has long defined the city.