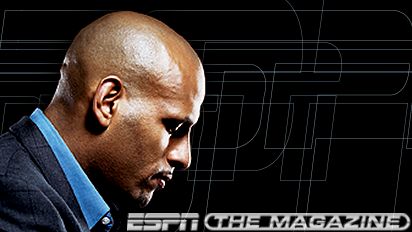 Man in the Middle

Dwight Howard, Orlando Magic


Shaq who? Dwight Howard is the NBA's leading rebounder -- and he just turned 21. His combination of strength, quickness and charisma has Howard on the verge of becoming the league's next dominant interior force.

Calvin Johnson, Georgia Tech


At 6-foot-5, 235 pounds, wide receiver Calvin Johnson is a handful for smaller defensive backs. The NFL draft hasn't seen a prospect like this -- with 4.3 speed and a knack for midair improvisation -- since Randy Moss.

Evgeni Malkin, Pittsburgh Penguins


After cooling his heels in Russia for a year after being drafted behind Alexander Ovechkin, Evgeni Malkin made a quick impression on Pens fans and the record book, tallying a goal in each of his first six games.

Juan Pablo Montoya, NASCAR


How can an international superstar who already has won the Indianapolis 500, a CART championship and seven Formula One races be NEXT? Just wait until Colombia's Juan Pablo Montoya turns NASCAR on its ear.

Jose Reyes, New York Mets


Talk about pure joy. Jose Reyes' speed on the basepaths, success at the plate and energy both on and off the field helped lift the Mets to their first National League Championship Series since 2000. And he's just getting started.

What About Them?


The Raiders might be 2-12, but Warren Sapp is having a great season. He's just one of the players who was slighted in Tuesday's Pro Bowl voting, writes John Clayton. Story
• Nine Chargers picked for Pro Bowl | Rosters: AFC | NFC
• Chat wrap: Mort
| Podcast
| Who got snubbed? AFC | NFC
CONTESTS AND SPECIAL SECTIONS
ESPN.com Contests.
Play Now! Play Often! Check out ESPN Contests for your chance to win some great prizes from ESPN and our sponsors!