TEAM AVERAGES & NFL RANKS
TEAM OFFENSE
TM
PER GAME AVERAGE
Total Yards
IND

379.4
CHI

324.9
Yards Passing
IND

269.3
CHI

205.1
Yards Rushing
IND

110.1
CHI

119.9
TEAM DEFENSE
TM
PER GAME AVERAGE
Yards Allowed
IND

332.3
CHI

294.1
Pass Yds Allowed
IND

159.3
CHI

194.8
Rush Yds Allowed
IND

173.0
CHI

99.4
GAMEDAY MATCHUP
W
L
T
PF
PA
DIV
CON
IND
12
4
0
26.7
23
3-3-0
9-3-0
CHI
13
3
0
26.7
16
5-1-0
11-1-0
H2H MATCHUPS (SINCE 2001)
Indianapolis leads 2-0
Nov 21, 2004
IND 41, @CHI 10
Fantasy
Think you know the outcome of the biggest football game of the year? Prove it by selecting the answers to 15 questions and you could win one of several great prizes. Create your entry now, the questions are now available!
Big Game Showdown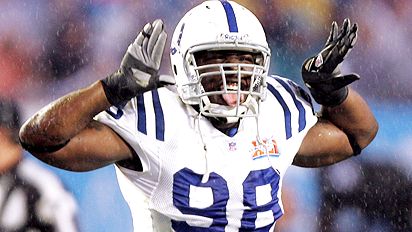 (AP Photo/David J. Phillip)
MORE FROM ESPN.com
Sunday, Dec. 30

After getting drenched in the rain, soaked again in Gatorade, and enjoying a sleepless, festive night, the 51-year-old Tony Dungy sounded as if he's ready to do it all again next season.
The Indianapolis Colts were a winner in the ratings, too, with preliminary measurements showing the Super Bowl was watched by roughly the same number of viewers as last year's contest.

Sunday, Feb. 4

With the precision of a surgeon, Peyton Manning picked apart the Bears and erased any question about his ability to win the big game, writes John Clayton.
An endless supply of turnovers. The Bears forgetting how to tackle. Rex being Rex. Yeah, Super Bowl XLI was about as artistic as finger painting, writes Gene Wojciechowski.
Maybe the guys were too worried about the big play. Maybe they were tired. Whatever the reason, the Bears D was manhandled by the Colts.
Someone re-count the ballots. The real MVP and the main reason the Colts won Super Bowl XLI is Chicago QB Rex Grossman, writes Michael Smith.
The disappointment of not winning Super Bowl MVP wore off quickly for Colts running back Dominic Rhodes, Len Pasquarelli writes.
After his Colts dispatched Lovie Smith's Chicago Bears 29-17, Tony Dungy stood alone in history.
Joseph Addai ran the ball well. He led the Colts in receptions. And the rookie is a big reason the Colts are Super Bowl champs, writes John Clayton.

Saturday, Feb. 3

The Colts and Bears played five common opponents and Len Pasquarelli discussed the Super Bowl matchup with two head coaches, one coordinator and one high-ranking personnel official from those teams.
Gary Brackett's father, mother and brother died in a span of 17 months, but the Colts' linebacker says telling that story helps him get through tough times, Matt Mosley writes.
He was once just a walk-on linebacker at Iowa. Now, Indy TE Dallas Clark has everyone watching him at Super Bowl XLI, especially the Bears.
Thanks to halftime tweaks made by Ron Rivera in Week 6, the Bears' defense was able to find its comfort zone, writes John Clayton.

Friday, Feb. 2

John Clayton has been picking the Colts for three years and here are the five things they need to do Sunday to make that prediction finally come true.
The head says Indianapolis. The heart says stick with the team that won me over two weeks ago. Here are 15 reasons the heart -- and the Bears -- will win Super Bowl XLI, writes Gene Wojciechowski.
Forget Peyton. Remember Chicago's Ricky Manning and these five other keys that will determine if the Bears hoist the Lombardi Trophy, writes Len Pasquarelli.
The Colts added defensive end Robert Mathis and cornerback Jason David, both starters, to the injury report Friday after their last full practice before the Super Bowl.
Super Bowl XLI picks
From avoiding distractions to trying to relax, Dominic Rhodes talks about his experience so far in Miami for Super Bowl XLI.
He might not have said that much, but Roger Goodell handled his first "state of NFL" news conference well, writes Len Pasquarelli.
Which QB has been making headier decisions entering Super Bowl XLI? KC Joyner claims it's Rex Grossman and not Peyton Manning.
He owns the original scroll of "On the Road" and he rubs elbows with rock stars. Oh, and Jimmy Irsay might be about to win the Super Bowl, too.
Top 41 things to know about Super Bowl XLI

Thursday, Feb. 1

From Bob Sanders' healthy return to Rob Morris' insertion in the lineup, there are a number of reasons for the Colts' turnaround on defense, writes Len Pasquarelli.
Rob Morris' insertion into the starting lineup at the strongside spot was key to the Colts' defensive turnaround.
So what's better to have? A great defense or a great offense? John Clayton looks at that and 10 other key questions about Super Bowl XLI.
He may be a 77-year-old grandfather, but don't let that fool you. Don Shula still can scare the bejeebers out of you and still has plenty to say about life, his '72 Dolphins and Super Bowl XLI, writes Gene Wojciechowski.
Rocky Boiman could have a say in the Colts' new-look kick coverage units, which could have their hands full Sunday, Matt Mosley writes.
In retrospect, it seems preposterous, but in the first 40 Super Bowls there wasn't a single black head coach, Greg Garber writes. On Sunday, there will be two.
Six-time All-Pro Brian Urlacher has more than lived up to the grand tradition of Bears middle linebackers, Greg Garber writes.
Tony Dungy and Lovie Smith have a lot in common, including their beliefs on how to use the Cover 2 defense.
From the constant media circus to enjoying South Beach, Dominic Rhodes talks about his experience so far at Super Bowl XLI.
What kind of game will Peyton have? And why isn't Marvin playing better? Our experts have the answers.
Jerry Kramer believes the NFL is running away from its retired players who are in need of financial assistance. Now, the former Packers great, along with Mike Ditka and others, are doing what they can to help their NFL brethren.