TEAM AVERAGES & NFL RANKS
TEAM OFFENSE
TM
PER GAME AVERAGE
Total Yards
SEA

311.1
CHI

324.9
Yards Passing
SEA

190.9
CHI

205.1
Yards Rushing
SEA

120.2
CHI

119.9
TEAM DEFENSE
TM
PER GAME AVERAGE
Yards Allowed
SEA

330.3
CHI

294.1
Pass Yds Allowed
SEA

203.5
CHI

194.8
Rush Yds Allowed
SEA

126.8
CHI

99.4
GAMEDAY MATCHUP
W
L
T
PF
PA
DIV
CON
SEA
9
7
0
20.9
21
3-3-0
7-5-0
CHI
13
3
0
26.7
16
5-1-0
11-1-0
H2H MATCHUPS (SINCE 2001)
Chicago leads 2-1
Oct 1, 2006
@CHI 37, SEA 6
Oct 19, 2003
@SEA 24, CHI 17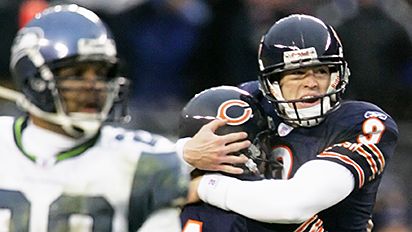 (AP Photo/M. Spencer Green)
Flawed Logic
They beat the Seahawks, snapped a 12-year playoff losing streak and advanced to the NFC championship game for the first time since 1988. Yet somehow, it's hard to believe the Bears are the best team in the NFC.
Gene Wojciechowski
SCOUTS' TAKE
The Bears started out this game establishing the run and keeping the game out of Rex Grossman's hands as much as possible. They ran the ball efficiently behind their talented offensive line with Thomas Jones and Cedric Benson. When the Seahawks brought a safety down to support the run, Grossman went to work deep off play-action that matched up Bernard Berrian on Seahawks corners Kelly Jennings and Jordan Babineaux. The Bears worked on Jennings with Berrian and Mark Bradley all game long.

Seattle was able to run the ball well with Shaun Alexander by spreading the Bears defense out with three wide receiver formations to soften the box. Alexander had some big holes to run through as the Bears defensive front is still feeling the effects of the loss of defensive tackle Tommie Harris.

Both quarterbacks were inconsistent. They where able to move their offenses, but it was Grossman who made more big pass plays than Matt Hasselbeck. Hasselbeck was bothered by his injured hand that caused him to bobble a key fourth down snap late in the game. He also made some key mental errors that cost his team the game, including throwing an interception deep in his own territory. It was Grossman, though, that hit a big third-down pass in overtime that set up the game winning field goal.
-- Chuck Knox, Jr.

MORE FROM ESPN.com
Confident the Seahawks have hit their stride, Gov. Chris Gregoire has placed a wager on this Sunday's playoff game against Chicago.
Seattle Seahawks leading receiver Darrell Jackson just might play Sunday against the Chicago Bears after all.