Forecasting A Season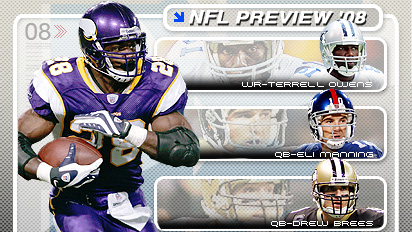 ESPN.com Illustration
Adrian Peterson's Vikings are hoping to rise above the competition.
Do the Giants still have the magic? Is New England still the class of the AFC? Who will be the surprise team of 2008? Our experts have already made their predictions. Now it's your turn.
Experts
|
Vote
|
More
Must Read

Stadium guides: From stadium histories and deals on tickets to directions and great places to eat, the NFL Stadium Guides make for a great planning tool and game-day resource. Story & Guides | Stadiums


Fantasy football: Brandon Marshall reduced suspension has him soaring in the TMR's rankings. Berry: Updated rankings
•&nbspCutdown roundup | Preseason Notebook
•&nbsp2008 draft kit | Play | More fantasy football



Training camp: In the summer, every team's a contender, every outlook is bright. Our reporters toured the league. Index
• NFC: Bucs | Lions | Eagles | More teams
• AFC: Titans | Chiefs | Bills | More teams

ESPN Fantasy Football
An ESPN.com analyst takes an in-depth look at the most interesting, perplexing or dumbfounding fantasy facet of each NFL team.
32 Questions

The Talented Mr. Roto
|
Sign up today!
Blogs

JOHN CLAYTON
Why league shouldn't panic over scoring
Updated: 9/15/10