The Steelers' are known for their defense and their best play is when SS Troy Polamalu blitzes from the outside. Scouts Inc. watched the film and diagramed how Polamalu is more than just stingy in coverage.

Pittsburgh Steelers
Best blitz play for Polamalu
The Steelers love to blitz and apply pressure from all directions, but they particularly love to blitz Polamalu.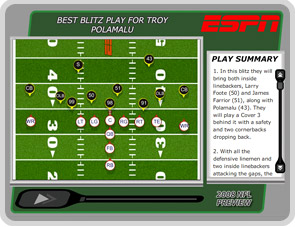 Steelers: Best blitz play for Polamalu
Scouts Inc. watches games, breaks down film and studies football from all angles for ESPN.com.