ATLANTA FALCONS (Consensus division finish: 4th)
Al Messerschmidt/Getty Images
EXPERTS' PICKS
The Falcons finished last in the NFC South with a 4-12 record. For Falcons and other NFC South coverage, visit Pat Yasinskas' NFC South blog. | Discuss Falcons | MAG Preview
ANALYST
PREDICTION
Jeffri
Chadiha
ESPN.com

DIVISION FINISH: 4 As bad as the Falcons will look this season, they know it can't be any worse than the way 2007 unfolded. In fact, they're banking on that.
John
Clayton
ESPN.com
DIVISION FINISH: 4 Owner Arthur Blank redid the Georgia Dome to make it more fan-friendly, and he redid the coaching staff to make it more player-friendly. Falcons players will play for Mike Smith after hating the Bobby Petrino experience, but Atlanta doesn't have enough good players to get out of the cellar.

Tim
Graham
ESPN.com

DIVISION FINISH: 4 The phrase "rebuilding mode" sounds too gentle for what's going on in Atlanta. There's a new head coach, a rookie quarterback and enough problems to fill an SAT booklet.
Jeremy
Green
Scouts Inc.

DIVISION FINISH: 4 Where does this team not have holes? The Falcons have some players who will be fun to watch, such as RB Michael Turner and WR Roddy White, but outside of waiting for rookie QB Matt Ryan to develop, Atlanta fans won't have much to keep them interested this season.
Paul
Kuharsky
ESPN.com

DIVISION FINISH: 4 The new leadership is likable, and Matt Ryan might be the right guy. Were Michael Turner and Sam Baker the best options? The Falcons' chance to improve comes thanks to a less-than-stellar division.
Matt
Mosley
ESPN.com

DIVISION FINISH: 4 Rookie quarterback. Questionable offensive line. See you next season.
Mike
Sando
ESPN.com

DIVISION FINISH: 4 The Falcons' culture has improved dramatically already. That alone could help Atlanta surprise a few teams this season.
Kevin
Seifert
ESPN.com

DIVISION FINISH: 4 Talk about rebuilding. In a best-case scenario, the Falcons will get quarterback Matt Ryan enough experience so that he has a chance to be good in 2009.
James
Walker
ESPN.com

DIVISION FINISH: 4 A rookie quarterback starting the season under center rarely is a good sign. The Falcons had better hope Matt Ryan doesn't take too much of a beating and lose confidence while playing for a bad team.
Seth
Wickersham
ESPN The Magazine

DIVISION FINISH: 4 Chris Redman. Joey Harrington. Rookie Matt Ryan. It's going to be a long year for Michael Turner with all those eight-man fronts.
Bill
Williamson
ESPN.com

DIVISION FINISH: 4 Not much is expected from the Falcons; they just want to move on from an ugly past. If Matt Ryan can pay his dues while making some progress, 2008 will be a success, regardless of their record.
Matt
Williamson
Scouts Inc.

DIVISION FINISH: 4 Although the new regime has done a nice job initially in taking over this massive reclamation project, the Falcons are going to have a hard time holding their own at the line of scrimmage on both sides of the ball. Breaking in a rookie QB won't help, either. They will draft quite high again next April.
Pat
Yasinskas
ESPN.com

DIVISION FINISH: 4 Coach Mike Smith and general manager Thomas Dimitroff will straighten this franchise out. But that might take a couple of years.


CONSENSUS DIVISION FINISH: 4 | NFL standings
BEST OF THE FALCONS
Best offensive player: Michael Turner. After spending his career as LaDainian Tomlinson's backup, Turner will be the featured player in Atlanta's offense. His legs are fresh, and he wants to prove he's more than a backup.
Best defensive player:
Keith Brooking will be moving from the middle back to weakside linebacker, where he had the most success of his career. Brooking provides veteran leadership for a young team.
Best playmaker:
Roddy White emerged as the top receiver last season even as the team went through a bunch of quarterbacks. He has big-play potential and will be the focus of the passing game.
Best clutch player:
Jason Elam. The veteran kicker joins the Falcons after an outstanding career in Denver. The Georgia native thrived in tough weather with the Broncos and should benefit from kicking in a dome.
Best unheralded player:
Ben Hartsock. The key free-agent pickup is a complete tight end -- dependable as a blocker and receiver.
-- Pat Yasinskas, ESPN.com
SCOUTS INC.'S FAB FIVE
Scouts Inc. has evaluated and graded more than 2,400 NFL players heading into the 2008 season, giving Insiders a leg up on the competition with exclusive grades, alerts and scouting reports.
Top five players

ANALYSIS
1. Michael Boley
Linebacker
6-3 | 223
(Grade 84) He's an every-down player who has good functional strength, but he's at his best in space and rushing the passer. Boley is a fast-flow linebacker who must be well-protected to excel, but he's versatile and productive.
2. John Abraham
Defensive end
6-4 | 263
(76) He is slightly undersized, but has very good speed and range. Abraham is more effective on the move than taking on blocks and trying to shed. He defeats blockers with a speed rush and closes fast on the quarterback.
2. Michael Turner
Running back
5-10 | 244
(76) He is a typical one-cut back who runs with power and purpose. Turner excels at finishing runs and can put the lumber to defenders in the red zone. He's also a punishing blocker in blitz pickup.
2. Roddy White
Wide receiver
6-0 | 208
(76) White has good size, speed and athletic ability. He is developing into a quality, productive receiver, thanks to his physical skills, and he has upside.
5. Keith Brooking
Linebacker
6-2 | 241
(72) He can play MLB or WLB. He has a good temperament on the field that is contagious. His aggressive nature can produce big plays behind the line but also can open up big seams when he loses contain.
Player grading scale: Elite (90-100), outstanding (80-89), solid starter (75-79), good starter (70-74)
SCOUTS INC.'S ANALYSIS
Strengths

Rugged run game: New coach Mike Smith grew accustomed to working with a strong ground game in Jacksonville, and the Falcons likely will emphasize the run while their quarterback situation develops. RBs Michael Turner and Jerious Norwood provide a nice combination of strength and speed. Turner is tough, productive and fresh for a fifth-year NFL back. Norwood is explosive and fast and has good receiving skills.
Franchise quarterback:
First-round pick QB Matt Ryan holds the key to Atlanta's future. How quickly he adapts to the speed and complexities of the NFL game will determine how far and fast the Falcons go. His maturity and work ethic are advantages in preparing for defenses that will test his pocket awareness and accuracy the moment he steps onto the field.
Special teams:
P Michael Koenen has a strong leg and excels on placement kicks inside opponents' 20-yard line. The addition of K Jason Elam brings stability and accuracy where there had been none in recent years. Kick returners Norwood and WR Adam Jennings have good hands and the big-play ability to go the distance if they find a crease.
Weaknesses

Secondary concerns: One of the Falcons' pressing questions is cornerback. Now that CB Von Hutchins has been lost for the season to a foot injury, an already-thin group is a lot thinner. Good corners always are hard to find.
Youth movement:
An infusion of young talent is a promising development, but the Falcons need time to jell. The organization has drafted 22 players in the past two years; most of those players are still with the team. Fierce competition at numerous positions is a good thing, but the team's relative lack of experience, combined with a coaching shakeup and scheme changes on both sides of the ball, could drag out the transition.
Defensive line:
Though the addition of DT Grady Jackson bolsters Atlanta's depth up front and helps free up the linebackers, the team has no difference-makers on the line beyond RDE John Abraham. LDE Jamaal Anderson had zero success in getting to the quarterback as a rookie last season (no sacks) and lacks speed off the edge. He is a good run defender who probably needs to move inside in passing situations. DTs Montavious Stanley and Jonathan Babineaux work hard, but neither has the kind of size Smith prefers inside.
-- Scouts Inc. watches games, breaks down film and studies football from all angles.
JEREMY GREEN'S X FACTORS
FOOTBALL TODAY PODCAST: DIVISION PREVIEW
MY BEST OPPONENT

Turner
Atlanta running back Michael Turner on the best running back, San Diego's LaDainian Tomlinson:
A lot of people think we're rivals or that we didn't get along because I was his backup and had to play behind him. Nothing could be further from the truth.
We became close friends because we had to spend a lot of time together on the practice field and in the running backs room. We'll always be good friends. I've moved on now, but I learned more from LaDainian than I have from anybody else in football and I was lucky to get the chance to work with him so closely. Just watching him every day was very valuable to me. Watching the way he took care of his body was a great lesson for me. He always stayed in fantastic shape, and I try to do the same thing. But it wasn't just the physical stuff that sets him apart. It's the way he prepares mentally and the way he carries himself on and off the field. It was frustrating for me at times because it was tough to get on the field when you're playing behind the best running back in the league. But I had the best seat in the house and, now, I can use all those lessons I learned from him.
-- As told to Pat Yasinskas, ESPN.com
FRANCHISE BEST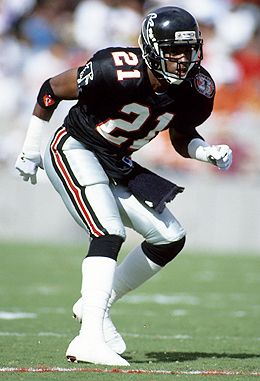 Photo by Allen Dean Steele/NFL
In a vote by SportsNation, cornerback Deion Sanders was selected best Falcon ever. He made the Pro Bowl in his final three seasons with the team.
Complete results
BLOGS: PRO AND FAN

Looking for more Falcons coverage? You've come to the right place. Pat Yasinskas writes about all things NFC South in his division blog.



Featured Fan Preview

by patsrock2394
Atlanta Falcons (2-14)
Who can this team possibly beat? They gutted their team completely. Their best player is a rookie quarterback -- that's not a good thing. Blog

Submit your blog preview
FANTASY FOCUS
Will the Atlanta QBs hurt the rest of the offense?

Turner
Michael Turner has waited years for this opportunity to be a prime-time running back. Do you really think it matters who hands the football to him, as long as it happens 300 times? Quarterback play was terrible in 2007, there was no running game, and wait … wasn't Roddy White pretty good? H e was. And he will be again. Turner will be good, too. Therein lies the point: Although the Falcons might struggle for wins and acceptance as they start a new era, yards will be gained, points will be scored, fantasy weapons will be cultivated, no matter how erratic the quarterback play might be. Chris Redman finally settled in as the Falcons' starting quarterback toward the end of last season, but he won't be the starter to begin the season. That role has already been won by rookie Matt Ryan. Ryan is the future and possibly the savior of this franchise, but he'd certainly be at more risk of hurting the weapons around him. That said, I still wouldn't shy away from Turner and White.
-- Eric Karabell, ESPN.com
More Falcons
|
Fantasy index