CINCINNATI BENGALS (Consensus division finish: 3rd)
John Capella/Sports Imagery/Getty Images
EXPERTS' PICKS
The Bengals finished third in the AFC North last season with a 7-9 record. For AFC North coverage, visit James Walker's AFC North blog. | Discuss Bengals | MAG Preview
ANALYST
PREDICTION
Jeffri
Chadiha
ESPN.com

DIVISION FINISH: 3 The big question is whether new defensive coordinator Mike Zimmer can improve a unit that has been an annual problem. The odds are he can't.
John
Clayton
ESPN.com

DIVISION FINISH: 3 Carson Palmer and the offense are good enough to get the team to seven wins, but to get over the top, new defensive coordinator Mike Zimmer must work miracles. Without a pass rush, Zimmer's aggressive schemes will have a hard time succeeding.

Tim
Graham
ESPN.com

DIVISION FINISH: 3 There's no disputing how dangerous the offense can be, but the recurring question mark is how well the defense can perform and how harmonious the locker room can remain.
Jeremy
Green
Scouts Inc.

DIVISION FINISH: 4 I believe Carson Palmer is a top-five QB, but that has not translated into success for the Bengals. The Bengals are a Jekyll-and-Hyde type of team that could finish anywhere from 5-11 to 11-5. I think they are closer to 5-11 because the chemistry in this group seems average at best.
Paul
Kuharsky
ESPN.com

DIVISION FINISH: 3 The Bengals probably are not in wild-card contention because of the quality competition. But they will be a bit better than people expect.
Matt
Mosley
ESPN.com

DIVISION FINISH: 4 What has to happen for Marvin Lewis to be on the hot seat? Perhaps a last-place finish in the division and another lost season will do the trick.
Mike
Sando
ESPN.com

DIVISION FINISH: 4 Standing firm against Chad Johnson was a positive step for coach Marvin Lewis. The Bengals' culture was deteriorating at a rapid rate. How much can it improve in one season?
Kevin
Seifert
ESPN.com

DIVISION FINISH: 3 The Bengals have the same question as the Browns. But the Cincinnati offense is littered with more bad blood and long-term questions.
James
Walker
ESPN.com

DIVISION FINISH: 4 Too many questions and young players on the defense mean this team will give up a lot of points. The Bengals could be easily distracted after a disastrous offseason.
Seth
Wickersham
ESPN The Magazine

DIVISION FINISH: 3 Carson Palmer needs a healthy backfield to sell his play-action fakes. Be nice if a pass-rusher showed up, too.
Bill
Williamson
ESPN.com

DIVISION FINISH: 3 This could be a make-or-break year for many people in Cincinnati. There is too much talent on this roster for this team to continue to flounder.
Matt
Williamson
Scouts Inc.

DIVISION FINISH: 4 Like Baltimore, Cincinnati is capable of beating or losing to any team. If the Bengals can regain their ability to run, this offense will put up a ton of points. Questions litter the defense, but controlling the ball on offense will help immensely.
Pat
Yasinskas
ESPN.com

DIVISION FINISH: 3 Quarterback Carson Palmer alone should make the Bengals a contender. But there's too much uncertainty (Chad Johnson is a time bomb, and the defense still has lots of questions) to get too excited about the Bengals.


CONSENSUS DIVISION FINISH: 3 | NFL standings
BEST OF THE BENGALS
Best offensive player: QB Carson Palmer. There is no debate here. Palmer is one of the top five quarterbacks in the NFL and the top player on the Bengals' team. Even during a down 2007, Palmer threw for 4,131 yards and 26 touchdowns.
Best defensive player:
CB Johnathan Joseph. Cincinnati's defense is very young this season, but the team feels good about its cornerback tandem of Joseph and Leon Hall. Joseph is the more seasoned of the two and is expecting a big season.
Best playmaker:
WR Chad Johnson. Whether or not you like his antics, "Ocho Cinco" shows up to play on Sundays. Johnson has had at least 1,100 receiving yards every year since 2002 and 48 touchdowns over that span.
Best clutch player: WR T.J. Houshmandzadeh. You don't tie for the NFL lead with 112 receptions without being clutch. In fact, Houshmandzadeh had more catches the past two seasons (202) than any other receiver in the NFL.
Best unheralded player:
RB Kenny Watson. Watson is a very good third-down back who could start on occasion and be productive. In 2007, he had a career-high 763 rushing yards and seven touchdowns while replacing the injured Rudi Johnson.
-- James Walker, ESPN.com
SCOUTS INC.'S FAB FIVE
Scouts Inc. has evaluated and graded more than 2,400 NFL players heading into the 2008 season, giving Insiders a leg up on the competition with exclusive grades, alerts and scouting reports.
Top five players

ANALYSIS
1. Chad Johnson
Wide receiver
6-1 | 192
(Grade: 92) He is among the most productive pass-catchers in the league, and his routes are impeccable at all levels. Johnson's deep speed is terrific, and he demonstrates rare body control.
2. Carson Palmer
Quarterback
6-5 | 230
(89) He is a franchise quarterback who can make every throw. He is an accurate passer and throws with an excellent touch. Palmer wants to be great and works hard on and off the field.
3. T.J. Houshmandzadeh
Wide receiver
6-1 | 199
(82) He ranks among the best possession receivers in the league. He is a terrific route-runner who is intelligent in how he sets up defenders and sells specific routes. He does most of his work underneath.
4. Johnathan Joseph
Cornerback
5-11 | 193
(77) He is loaded with talent and finished 2007 very strong, but he has to be more consistent to fully reach his vast potential. He is a good tackler who isn't afraid to insert himself against the run.
5. Antwan Odom
Defensive end
6-5 | 260
(75) He has excellent dimensions for the position and still is learning his craft. He needs more upper-body strength, but he plays with pretty good leverage and has a good motor.
Player grading scale: Elite (90-100), outstanding (80-89), solid starter (75-79), good starter (70-74)
SCOUTS INC.'S ANALYSIS
Best play option
Plays like this, coupled with his receivers' excellent athleticism, help Carson Palmer be one of the best quarterbacks in the NFL.
More best plays

Strengths

Carson Palmer: There are two types of teams in the NFL -- those that have a quarterback and those that do not. Cincinnati has a quarterback. Palmer isn't without flaws, but he's a classic drop-back passer with a strong arm. He has solid instincts and makes good decisions. He gives the Bengals a chance to win every week.
Wide receiver:
The charismatic twosome of Chad Johnson and T.J. Houshmandzadeh certainly is capable of rocking the boat, and Johnson can be a distraction. But when they are on the field and playing up to their capabilities, few receiver tandems compare. Houshmandzadeh took his game to another level in 2007 and became Palmer's go-to guy over the middle, in the red zone and on third down. Meanwhile, Johnson remains the big-play threat and is the player opposing defensive coordinators fear most.
Varied defensive schemes:
Expect to see much more 3-4 play from the Bengals this season. It better fits their personnel and could yield better results, especially as a run-stuffing force. Domeko Peko is a promising young player who should be able to absorb double teams at the nose, while Rashad Jeanty and Robert Geathers are made to play outside linebacker in this scheme.
Weaknesses

Rushing attack: The lack of a consistent running game was the biggest problem in 2007. Without it, too much pressure was placed on the passing game. Without as many sustained, time-consuming drives, a suspect defense was forced to spend too much time on the field. Chris Perry could return from injury, but counting on Cincinnati to control games on the ground is not wise.
Drama:
There always seems to be something with this team. It could be the receivers. Or another off-field incident with a player.
Pass-rushers:
The pass rush left young cornerbacks Jonathan Joseph and Leon Hall out to dry far too often in 2007. This team needs to be more effective getting after quarterbacks. The addition of Antwaan Odom will help, and Geathers is an above-average pass-rusher, but the lack of an impact defensive tackle will make it difficult to generate an interior rush.
Scouts Inc. watches games, breaks down film and studies football from all angles.
JEREMY GREEN'S X FACTORS
FOOTBALL TODAY PODCAST: DIVISION PREVIEW
MY TOUGHEST OPPONENT

Utecht
Bengals tight end Ben Utecht on the best player he's faced:
The best guy I've played against is [Baltimore Ravens linebacker/defensive end] Terrell Suggs. I think he's an all-around, prototype linebacker. He has size, speed and power. He does it all so he always gives you a hard time. We've played him usually once in the regular season in Indianapolis, and then once in the playoffs. So it's been a handful of times over the past four years, and as a pass-rusher he's got a lot of strength.
-- As told to James Walker, ESPN.com
FRANCHISE BEST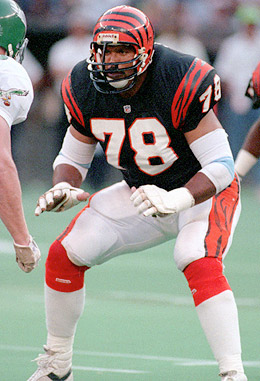 George Gojkovich/Getty Images
In a vote by SportsNation, offensive lineman Anthony Munoz was selected the best Bengal ever. He is an 11-time Pro Bowler, 10-time All-Pro selection and one of the best offensive linemen ever. Complete results
BLOGS: PRO AND FAN

Looking for more Bengals coverage? You've come to the right place. James Walker writes about all things AFC North in his division blog.



Featured Fan Preview

by ohiowhat711
Much improved coupled with a strange feeling that Ocho is going to just have incredible numbers this year to make his point. Blog

Submit your blog preview
FANTASY FOCUS
Can Chris Perry and Kenny Watson combine to make the Bengals' backfield a productive one?

Perry
Yes they can, but the fact that they'll probably split it, and because we have our doubts as to whether either of them could handle the job by himself, hurts their fantasy value.
Perry hasn't played in an NFL regular-season game since November 2006; he missed all of 2007 because of ankle and leg fractures. And before that, he was more of a third-down back. But be careful not to write him off so quickly. He has been looking healthy and running well in camp and had moved from third to first on the team's running back depth chart by mid-camp. As for the third-down responsibilities, he doesn't really have the build or skill set of a third-down back; he just played there because he was new to the league, and that was Rudi Johnson's deficiency. There's where he helped the team the most. In essence, we've never seen for sure whether Perry can handle the workload and be successful as a primary back.
Sure, Perry might not be a great blocker, and we can't speak to his past injuries, but he's a 6-foot, 224-pounder still in the prime of his career, and he's starting for an offense that should score plenty of points. The way he's looking in camp, and as many opportunities as it now appears he'll get (I'm guessing 60 percent of the team's carries, plus some catches), he deserves to be taken before the true middle rounds.
As for Watson, the guy who ran for 763 yards and scored seven touchdowns last season, he'll serve as the backup but probably will get a good 20-30 percent of the team's carries. He averaged more than four yards per carry last season and has more of the third-down-back skills. Should another Perry injury force him to the starting role, he's someone who we know can flourish in the role, but for now, fantasy owners should view him more as a fourth RB to be targeted just past the midway point of a draft.
Were he assured an even split with Perry in the backfield, maybe we consider him earlier. But right now he looks like the clear backup, and he should be regarded as such.
Ex-Colt DeDe Dorsey is also part of the mix and likely will get a few carries per game, but he's far too raw to expect much from.
-- Brendan Roberts, ESPN.com
More Bengals | Fantasy index