GREEN BAY PACKERS: (Consensus division finish: 2nd)
Jamie Squire/Getty Images
EXPERTS' PICKS
The Packers finished first in the NFC North last season with a 13-3 record. For NFC North coverage, visit Kevin Seifert's NFC North blog | Discuss Packers | MAG Preview
ANALYST
PREDICTION
Jeffri
Chadiha
ESPN.com

DIVISION FINISH: 1 Everybody knows Aaron Rodgers won't be the second coming of Brett Favre. The good news is that he just needs to play within himself on a team loaded with talent.
John
Clayton
ESPN.com
DIVISION FINISH: 1 Can Aaron Rodgers play at Brett Favre's level? Anything less than a championship game won't sell very well with fans in Mr. Rodgers' neighborhood.

Tim
Graham
ESPN.com

DIVISION FINISH: 2 Success comes down to how the Packers -- not just Aaron Rodgers -- deal with the ghost of Brett Favre. Struggle, and the Packers might start second-guessing themselves as much as the fans will.
Jeremy
Green
Scouts Inc.

DIVISION FINISH: 2 The Packers have put the Brett Favre saga behind them, but I think they made a mistake by letting Favre leave. Even though I believe Aaron Rodgers is the future, he is injury-prone and will go through some growing pains as a first-time starter.
Paul
Kuharsky
ESPN.com

DIVISION FINISH: 2 Aaron Rodgers is in the right division, and surrounded by a talented young roster he'll win games. The Packers won't match last year's 13 wins, but they will contend for the division and the playoffs.
Matt
Mosley
ESPN.com

DIVISION FINISH: 2 I heard something about a quarterback controversy in the offseason, but Aaron Rodgers has "prevailed." Let's see what sort of grace period he receives.
Mike
Sando
ESPN.com

DIVISION FINISH: 2 Ted Thompson has built a solid roster filled with promising young players. The Favre fiasco might put undue pressure on this team -- an early concern.
Kevin
Seifert
ESPN.com

DIVISION FINISH: 1 The Packers dealt with an historic distraction this summer and lived to tell about it. They never lost confidence in Aaron Rodgers, and even Ryan Grant eventually ended his holdout. There is some concern about Rodgers' backups, but this is the most complete roster in the division.
James
Walker
ESPN.com

DIVISION FINISH: 2 Are you completely sold on Aaron Rodgers? I'm not. But we do know this: Green Bay would be a Super Bowl contender with Brett Favre. With Rodgers, the Packers are just an average or slightly above-average team.
Seth
Wickersham
ESPN The Magazine

DIVISION FINISH: 1 The Packers still have the best defense in the division. And the best receivers. And -- can you believe it? -- probably the best quarterback in the North, too.
Bill
Williamson
ESPN.com

DIVISION FINISH: 2 Who knows what will happen in Green Bay this year? The Brett Favre hangover could last all season. Aaron Rodgers will be as closely watched in Green Bay as Favre will be in New York. But can Rodgers handle it is well as Favre likely will?
Matt
Williamson
Scouts Inc.

DIVISION FINISH: 1 Aaron Rodgers will surpass most people's expectations and lead the Packers to another NFC North crown. This team is far more balanced than Minnesota and can attack opposing defenses in any way it sees fit. One concern: They don't have a QB on the roster with an NFL start on his résumé.
Pat
Yasinskas
ESPN.com

DIVISION FINISH: 1 There's going to be life after Brett Favre. This team won a lot of games last year, and Favre wasn't the sole reason. Aaron Rodgers will be fine with a good team around him.


CONSENSUS DIVISION FINISH: 2 | NFL standings
BEST OF THE PACKERS
Best clutch player: WR Greg Jennings. Jennings caught 12 touchdowns in 13 games last season, including a game-winner in overtime at Denver. He also had the go-ahead score in the fourth quarter of two other victories. Jennings isn't afraid to see the ball coming his way in a crucial situation.
Best defensive player:
DE Aaron Kampman. The cornerback duo of Al Harris and Charles Woodson gets a lot of attention, but a pass-rushing defensive end is one of the rarest commodities in football. Kampman has 27.5 sacks over the past two seasons, the second-most in the NFL over that span. His rush makes it easier on Harris and Woodson.
Best situational player:
DE Kabeer Gbaja-Biamila. He isn't a starter anymore, but KGB could give the Packers a huge lift if he stays healthy. The Packers' plan is to limit his snaps and save him for passing situations, to maintain his legs and maximize his pass-rush ability. If they can keep him healthy, the Packers will have quite a weapon.
Best free-agent pickup:
LB Brandon Chillar. Actually, Chillar was the Packers' only free-agent acquisition. General manager Ted Thompson prefers to build through the draft. Chillar could end up splitting time with linebacker Brady Poppinga, and he's also expected to play a big role on special teams.
-- Kevin Seifert, ESPN.com
SCOUTS INC.'S FAB FIVE
Scouts Inc. has evaluated and graded more than 2,400 NFL players heading into the 2008 season, giving Insiders a leg up on the competition with exclusive grades, alerts and scouting reports.
Top five players

ANALYSIS
1. Aaron Kampman
Defensive end
6-4 | 270
(Grade 86) He is a three-down player who aligns inside and outside in pass-rush situations. He is a blue-collar type who plays with an outstanding motor. He can be very disruptive when attacking upfield gaps.
2. Charles Woodson
Cornerback
6-1 | 200
(81) He's a competitive player with toughness. He has fluid hips and quick feet that make him smooth in transition. He is more natural from a press than from an off position and has good man-to-man cover skills. He relies on his instincts and can be aggressive at times when jumping routes.
3. Nick Barnett
Linebacker
6-2 | 232
(79) He is the quarterback of the Packers' defense. He is a smart, instinctive player with good athletic skills. Barnett is a solid three-down linebacker who continues to take his game to another level.
5. AJ Hawk
Linebacker
6-1 | 247
(78) He has a solid combination of size, speed and athletic skills for the position. He's an assignment-sure linebacker and is as reliable a tackler as there is. He is also a productive player with good range in coverage.
5. Greg Jennings
Wide receiver
5-11 | 197
(78) He is a versatile player who can align in multiple spots in the Packers' spread offense. Jennings is a very productive player with enough size to be a big-time threat in the red zone.
Player grading scale: Elite (90-100), outstanding (80-89), solid starter (75-79), good starter (70-74)
SCOUTS INC.'S ANALYSIS
Strengths

Gifted LBs: Nick Barnett combines outstanding instincts with very good range and tackling skills. Entering his third NFL season, A.J. Hawk has proved to be a consistent playmaker in his role (100-plus tackles in each of his first two seasons). Brady Poppinga is strong and versatile, and his situational pass-rushing and ability to take on blocks make him a good fit on the strong side.
Improved special teams:
Special teams coach Mike Stock deserves a lot of credit for this unit's drastic improvement in '07. The Packers made huge strides in several areas of the kicking game, specifically the big-play potential of the return teams. Quick and speedy CBs Will Blackmon and Tramon Williams have the ability to score or significantly improve field position in an instant. K Mason Crosby and P Jon Ryan offer a good combination of hang time and distance.
Pass rush:
DEs Kabeer Gbaja-Biamila and Aaron Kampman (combined 21.5 sacks and three forced fumbles last season) give the Packers speed and power off the edge in passing situations. An excellent all-around player who also is stout against the run, Kampman has a nonstop motor and creates a lot of second-chance sack opportunities for himself.
Weaknesses

Running game: The Packers struggled in the run game early last season, but they managed to get by on offense thanks to the experience and accuracy of QB Brett Favre and the creative play calling of coach Mike McCarthy. The team finished strong after the emergence of RB Ryan Grant, but the run game still is a deceptive area of need. With Favre now in a Jets uniform and the Packers expected to tone down their pass-first approach, Grant undoubtedly will face fewer base six- and seven-man fronts.
Change at long snapper:
It has been some time since anyone other than Rob Davis (retired) handled the Packers' long-snapping duties with any regularity, but that will be the case in 2008. And that could cause problems. J.J. Jansen will be given a shot to fill the role. But good long snappers are hard to find, and any change in the get-off sequence for field goals introduces a stronger possibility for error.
-- Scouts Inc. watches games, breaks down film and studies football from all angles.
JEREMY GREEN'S X FACTORS
FOOTBALL TODAY PODCAST: DIVISION PREVIEW
MY BEST OPPONENT

Harris
Packers cornerback Al Harris on the best wide receiver he has faced:
The best receiver I ever faced? Jimmy Smith. I just couldn't figure him out. Jimmy Smith, by far. I'm so happy he retired. I played him twice, once in the preseason and once in the regular season. I have faced a lot of guys that were good. But the guy that sticks in my mind is Jimmy Smith. He was a guy that just had all-around abilities. There was no weaknesses you could attack. You could say he had speed and all that. But he was good. He was just good.
-- As told to Kevin Seifert, ESPN.com
FRANCHISE BEST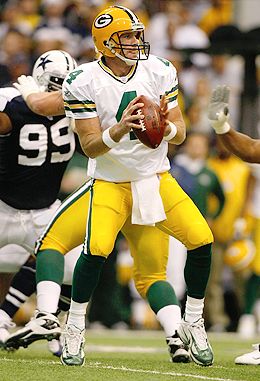 Scott Boehm/Getty Images
In a vote by SportsNation, quarterback Brett Favre was selected best Packer ever. A three-time MVP, he holds seven NFL records. Complete results
BLOGS: PRO AND FAN

Looking for more Packers coverage? You've come to the right place. Kevin Seifert writes about all things NFC North in his division blog.


Featured Fan Preview

by boudreaux85
As much as everyone seems to think the Packers won't still be a force without Brett Favre under center it really isn't true. They have a solid defense and a great supporting cast on offense. They will still be contender either way. Blog

Submit your blog preview
FANTASY FOCUS
Can Ryan Grant become the face of the Packers' offense?

Grant
So here's the challenge for Ryan Grant: Go from out-of-nowhere breakout performer to "face of the Packers." Grant has the skills, and now the opportunity, to mount the kind of season we'll all be raving about come January. Maybe he'll never become the public figure Brett Favre is, but as far as fantasy owners (and I'd argue, Packers fans) are concerned, a year from now he'll certainly be regarded as one of the game's best running backs, a Frank Gore/Marshawn Lynch/Clinton Portis type of offensive centerpiece. That's a very generous description for a player of his ilk. Now, you might be thinking, Aaron Rodgers' presence limits the appeal of the entire Green Bay offense, right? Wrong. Lost in the Favre mess was the fact that he left behind a remarkably strong, balanced offense, one that could be argued was actually on the
rise
. Talented receivers? Check. Strong offensive line? Check. Good offensive system? Check. Mike McCarthy's zone-blocking scheme was a rousing success late last season, as evidenced by the team's resurgence and Grant's impressive second-half numbers. Now it's time for Grant to take it to the next level.
-- Tristan H. Cockcroft, ESPN.com
More Packers
|
Fantasy index