JACKSONVILLE JAGUARS (Consensus division finish: 2nd)
Kirby Lee/US Presswire
EXPERTS' PICKS
The Jaguars finished second in the AFC South last season with an 11-5 record. For AFC South coverage, visit Paul Kuharsky's AFC South blog. | Discuss Jaguars | MAG Preview
ANALYST
PREDICTION
Jeffri
Chadiha
ESPN.com

DIVISION FINISH: 2 The Jags have all the elements of a strong playoff contender (efficient quarterback, strong run game, physical defense). Too bad they play in a division where 11 or 12 wins only earn you a wild-card spot.
John
Clayton
ESPN.com
DIVISION FINISH: 3 Problems at receiver and concerns along the offensive line could drag this team into third place in the division. If the Jags don't watch out, the Texans might be close to passing them too.

Tim
Graham
ESPN.com

DIVISION FINISH: 1 The Jags haven't been able to get over the Colts since the division was aligned in 2002, losing nine of their 12 meetings. But the Jags were aggressive enough in free agency to pull out the division title.
Jeremy
Green
Scouts Inc.

DIVISION FINISH: 2 Wideout Jerry Porter, a marquee free-agent pickup, has a nagging hamstring injury and fellow WR Reggie Williams missed significant camp time as well. This is still a solid team, but QB David Garrard suddenly finds himself lacking sufficient weapons -- just like last season.
Paul
Kuharsky
ESPN.com

DIVISION FINISH: 3 Garrard and the run game are legitimate. The question is, can they generate enough pass pressure to compete with premier teams? Not a guarantee for the fifth playoff spot.
Matt
Mosley
ESPN.com

DIVISION FINISH: 2 One of the league's most respected football writers recently told me he was thinking about picking the Jags to win it all. Then he made his way to Pats camp.
Mike
Sando
ESPN.com

DIVISION FINISH: 1 Fred Taylor and Maurice Jones-Drew are the perfect complement for quarterback David Garrard. Or is it the other way around?
Kevin
Seifert
ESPN.com

DIVISION FINISH: 1 Many observers think the Jaguars have it all: An aggressive defense, a rugged quarterback and two strong running backs. A few things go their way, and the Jaguars could be Tampa-bound.
James
Walker
ESPN.com

DIVISION FINISH: 2 The Jaguars have been good for a while, but it's time to take the next step. Don't know if they are good enough to compete with the Pats, Colts and Chargers.
Seth
Wickersham
ESPN The Magazine

DIVISION FINISH: 2 Love: David Garrard's toughness and poise. Like: The odds of another big year from Fred Taylor and Maurice Jones-Drew. Doubt: The new receivers will be game-changers. All of that adds up to a feeling that Jacksonville's going to have a much tougher road to the playoffs than last year.
Bill
Williamson
ESPN.com

DIVISION FINISH: 1 This is the year this under-the-radar team finally outshines the Colts. Many league sources insist the Jaguars' roster is as talented as any team in the league. This team has a great identity and could last long into the playoffs.
Matt
Williamson
Scouts Inc.

DIVISION FINISH: 2 The WR injuries and losing Brad Meester are worrisome, but it is difficult to find glaring weaknesses. Everyone knows they will pound the rock, but David Garrard is in the process of emerging as a top QB. Although injuries are quickly piling up, the Jags are a contender.
Pat
Yasinskas
ESPN.com

DIVISION FINISH: 2 David Garrard is for real and the Jaguars may have closed the gap on the Colts a little bit. But they haven't closed it all the way. Jacksonville will make the playoffs as a wild card.


CONSENSUS DIVISION FINISH: 2 | NFL standings
BEST OF THE JAGUARS
Best unheralded defensive linemen: End Paul Spicer and tackle Rob Meier. Spicer has played nine seasons and Meier eight. They must be doing something right, considering the Jaguars have one of the league's better defenses.
Best building rivalry:
Pittsburgh. The Jaguars and Steelers have played 13 times in the last 14 seasons and Jacksonville has won the last four, including a playoff game in Pittsburgh in January.
Best record:
Under Jack Del Rio, the Jaguars are 10-0 at home against NFC opponents. The NFC visitors this year are the Vikings and Packers.
Best at making catches count:
Reggie Williams. He only caught 38 passes last season. Ten of those went for touchdowns.
-- Paul Kuharsky, ESPN.com
SCOUTS INC.'S FAB FIVE
Scouts Inc. has evaluated and graded more than 2,400 NFL players heading into the 2008 season, giving Insiders a leg up on the competition with exclusive grades, alerts and scouting reports.
Top five players

ANALYSIS
1. Rashean Mathis
Cornerback
6-1 | 190
(Grade 81) A good, athletic cornerback with very good size and speed. Mathis has good man-to-man cover skills and reacts quickly to routes. He can also match up with more talented receivers.
2. Maurice Jones-Drew
Running back
5-7 | 208
(80) A second-year player who is undersized, but is also very tough and has good play speed. He is productive in the running game, passing game as well as returning kickoffs.
5. John Henderson
Defensive tackle
6-7 | 335
(79) When playing the run, he is tough to move off the line of scrimmage. He has good strength, hand use and awareness. He stacks blocks quickly at the point, controls one-on-one and sheds with good timing.
5. David Garrard
Quarterback
6-2 | 245
(79) He has adequate height with good athletic ability and a strong arm. He has good quickness and balance in his set-up. He has enough foot quickness to adjust around pressure.
5. Fred Taylor
Running back
6-1 | 228
(79) He has good overall size with very good vision and instincts. As an inside runner, he reads blocks well and will find the crease using subtle moves. He makes good decisions.
Player grading scale: Elite (90-100), outstanding (80-89), solid starter (75-79), good starter (70-74)
SCOUTS INC.'S ANALYSIS
Best play option
The Jaguars love to pound the football, but if defenses worry too much about the run, Jacksonville and TE Marcedes Lewis will make them pay.
More best plays

Strengths

Physicality: During Jack Del Rio's tenure as coach, the Jaguars have put a premium on king-sized players at every position and emphasized toughness in general. That philosophy has paid off on both sides of the ball. Jacksonville's opponents should continue to be wake up sore on Monday mornings.
Running game:
RB Maurice Jones-Drew isn't a typically oversized Jaguars player, but underestimating his strength or willingness to mix it up is a major mistake. He is an underappreciated star who creates headaches for every defense his team faces. Jones-Drew and ageless RB Fred Taylor make up a backfield committee that can simply wear out opponents. C Brad Meester's injury is a concern, but the offensive line is a very good run-blocking group.
David Garrard:
He was superb last year. Heady and tough, Garrard throws a very catchable ball and can create when a play doesn't go to script. There's no reason to believe he won't continue to improve.
Weaknesses

Strong division: The Jaguars have been the second-prettiest girl at the party far too long for their liking. The defense should be more aggressive under new coordinator Gregg Williams, and the front office clearly had QB Peyton Manning and Indianapolis in mind when it drafted DEs Derrick Harvey and Quinton Groves. But getting past the Colts won't be easy.
Proven WRs:
The Jags have the quarterback to stretch the field, but who will threaten defenses deep? Injuries to Jerry Porter and Reggie Williams only increase the concern here. But keep an eye on youngster Mike Walker.
Depth:
The team already is dinged up at key spots (Meester, Porter, Williams and DE Reggie Hayward) and has another player (WR Matt Jones) whose future is clouded by off-field issues. The Jaguars have some depth, but not enough to keep the rest of the division from passing them by if the offense can't shake the injury bug.
Scouts Inc. watches games, breaks down film and studies football from all angles.
JEREMY GREEN'S X FACTORS
FOOTBALL TODAY PODCAST: DIVISION PREVIEW
MY TOUGHEST MIDDLE LINEBACKER

Jones-Drew
Jaguars running back Maurice Jones-Drew on the Jaguars' Mike Peterson:
Smart, physical, tough, elusive. A lot of people think of him and say he talks a lot of trash. But he's always in the right place, he always gets everyone lined up, he's the quarterback of the defense.
He flies to the ball. He has 10 other guys who help him but he's the one, he's the heart and soul, he's the one that lights that fire in them. He plays fast all the time.
He does a great job getting those guys ready. He does a great job getting us ready. He's talking trash to us and we talk it right back. But it's good competition. He's a competitor.
-- As told to Paul Kuharsky, ESPN.com
FRANCHISE BEST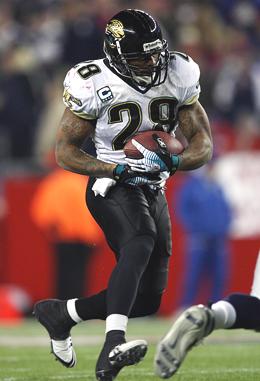 Photo by David Drapkin/Getty Images
In a vote by SportsNation, Fred Taylor was selected best Jaguar ever. He was plagued by injuries early in his career but has seven seasons rushing for at least 1,000 yards. Complete results
BLOGS: PRO AND FAN

Looking for more Jaguars coverage? You've come to the right place. Paul Kuharsky writes about all things AFC South in his division blog.


Featured Fan Preview

by KingpinDoe
Jags earned respect last year with their hard-nosed smashmouth style. Serious Super Bowl contender. Blog

Submit your blog preview
FANTASY FOCUS
Who catches the ball for the Jaguars?

Porter
A large portion of David Garrard's passes, perhaps as much as 20 percent, will be caught by Maurice Jones-Drew. He's certainly one of Garrard's favorite targets, and last season he ranked sixth among running backs in receiving yards. Until the injured trio of Reggie Williams, Jerry Porter and Troy Williamson is up and running, the options at wide receiver are Dennis Northcutt, Matt Jones, Mike Walker and Ryan Hoag. Northcutt had a decent 2007 for the Jaguars, catching 44 balls for 601 yards, but even he doesn't think it's a good idea for him to be the team's top option, which appears to be the case as Week 1 steadily approaches. So who catches the ball for the Jaguars? The answer: Everyone will. For the first half of the season, we're going to see receivers jumping in and out of the lineup as their health allows. In the end, though, Garrard probably looks for Porter and Williams in the end zone during the fantasy playoffs.
-- AJ Mass, Special to ESPN.com
More Jaguars
|
Fantasy index