MINNESOTA VIKINGS (Consensus division finish: 1st)
Bruce Kluckhohn/US Presswire
EXPERTS' PICKS
The Vikings finished second in the NFC North last season with an 8-8 record. For NFC North coverage, visit Kevin Seifert's NFC North blog. | Discuss Vikings | MAG Preview
ANALYST
PREDICTION
Jeffri
Chadiha
ESPN.com

DIVISION FINISH: 2 Too bad they couldn't pry Favre away from the Packers this offseason. Now they need quarterback Tarvaris Jackson to be a steady presence for a team with a strong defense and an even stronger running game.
John
Clayton
ESPN.com
DIVISION FINISH: 2 The No. 1 running team and No. 1 team at stopping the run needs Brad Childress to be right about his faith in QB Tarvaris Jackson.

Tim
Graham
ESPN.com

DIVISION FINISH: 1 With a reliable and consistent quarterback, the Vikings are championship contenders. They have the running game and the defense. It's up to Tarvaris Jackson.
Jeremy
Green
Scouts Inc.

DIVISION FINISH: 1 I think QB Tarvaris Jackson will be able to take care of the ball and allow the No. 1-ranked run offense and No. 1-ranked run defense from 2007 to do the heavy lifting. RB Adrian Peterson has a very good shot at being the league MVP, and that will be enough to take the NFC North crown from the Packers.
Paul
Kuharsky
ESPN.com

DIVISION FINISH: 1 While I'm not at all sold on Tarvaris Jackson, it's a situation in which they can win games on Sundays when he manages to be just OK. Jared Allen will be a monumental addition.
Matt
Mosley
ESPN.com

DIVISION FINISH: 1 Isn't this the sexy pick? Great running back. Great offensive line. Great pass-rusher. OK, sign me up.
Mike
Sando
ESPN.com

DIVISION FINISH: 1 The Vikings made moves to upgrade their roster. How sharp will Tarvaris Jackson be after missing time? Injuries are making life tougher for Minnesota.
Kevin
Seifert
ESPN.com

DIVISION FINISH: 2 The Vikings have high-level talent at some positions and questions at a few others, including quarterback. A few preseason injuries are a concern, but this still should be a wild-card team.
James
Walker
ESPN.com

DIVISION FINISH: 1 Tarvaris Jackson looked great in the preseason before his injury. If Jackson stays healthy and manages the game, the Vikings are good enough to play with anybody in the NFC.
Seth
Wickersham
ESPN The Magazine

DIVISION FINISH: 2 "Brett, Childress here. Look, it's Week 5 and we still can't throw. Can you please punch Mangini? Drive your car into a wall? Anything to get released. Wait -- am I tampering?"
Bill
Williamson
ESPN.com

DIVISION FINISH: 1 The Vikings could easily compete with the Cowboys this year in the NFC. Both of their lines are top-notch and running back Adrian Peterson is a true difference-maker. This team will be a lot of fun to watch.
Matt
Williamson
Scouts Inc.

DIVISION FINISH: 2 They have the best defense in the league and no one will run on them. Adrian Peterson is obviously very special, but the passing game is just too worrisome. A wild card is certainly a possibility.
Pat
Yasinskas
ESPN.com

DIVISION FINISH: 3 They made a lot of good moves in the offseason, but they're still overhyped. They wouldn't have been sniffing around Brett Favre if they thought they were set at quarterback.


CONSENSUS DIVISION FINISH: 1 | NFL standings
BEST OF THE VIKINGS
Best cash flow: Owner Zygi Wilf. Wilf has become the George Steinbrenner of the NFL, willing to pay for any player his football people ask him for. The Vikings' optimism this season is based in part on Wilf's willingness to guarantee defensive end Jared Allen and wide receiver Bernard Berrian a combined $47 million this offseason.
Best assistant coach you might not have heard of:
Kevin Rogers. As quarterback coach, Rogers is the man mostly responsible for the development of quarterback Tarvaris Jackson. Rogers spent most of his career as a college assistant and is a patient, exacting man. Jackson has plenty of hurdles to overcome, but Rogers is giving him every tool to do so.
Best receiver other than Bernard Berrian:
Sidney Rice. The Vikings are expecting big things from a second-year player who had a surprisingly productive rookie season. Rice will move into the starting lineup opposite Berrian and will be a top target in the red zone. Rice also has good body control, allowing him to get his 6-foot-4 body low to the ground or far above opposing cornerbacks.
Best old guy on defense:
NT Pat Williams. The Vikings will start four defensive players who will be at least 30 years old this season, but none will make an impact as big as Williams. Even at age 35, Williams can shut down an opponent's running game. He is still quick enough to anticipate the snap counts, and the Vikings' defense is much different when he is off the field.
-- Kevin Seifert, ESPN.com
SCOUTS INC.'S FAB FIVE
Scouts Inc. has evaluated and graded more than 2,400 NFL players heading into the 2008 season, giving Insiders a leg up on the competition with exclusive grades, alerts and scouting reports.
Top five players

ANALYSIS
1. Kevin Williams
Defensive tackle
6-5 | 311
(Rating 92) He is considered one of the most outstanding interior defensive linemen in the NFL. Williams has a rare combination of size, strength and athleticism. He's an instinctive player who feels pad pressure well.
2. Steve Hutchinson
Left guard
6-5 | 313
(91) He has an excellent combination of size, strength and athleticism. He is a tenacious competitor who brings attitude to the line. He's a solid technician who uses quickness, power and proper angles to gain leverage.
3. Jared Allen
Defensive end
6-6 | 270
(89) He's a gifted, high-energy pass-rusher who plays the run as well as he pressures quarterbacks. Allen plays big and uses his long arms to keep blockers off his body. He goes all-out until the whistle on every play.
4. Adrian Peterson
Running back
6-1 | 217
(89) His combination of size, strength, instincts and athleticism forced opposing defensive coordinators to overplay the Vikings' ground attack last season. Peterson has deceptive burst and speed.
5. Pat Williams
Defensive tackle
6-3 | 317
(86) He continues to be a force in the middle defending the run because his combination of power, toughness and technique is tough for blockers to contend with.
Player grading scale: Elite (90-100), outstanding (80-89), solid starter (75-79), good starter (70-74)
SCOUTS INC.'S ANALYSIS
Best play option
This play might look simple, but it's one that helped RB Adrian Peterson win ROY honors and will be seen countless times again this season.
More best plays

Strengths

Run defense: All signs point to Minnesota's defense dominating opposing running games again. Creating movement or quick rushing lanes is extremely tough against the Vikings' front seven. DTs Pat Williams and Kevin Williams and DE Jared Allen will control the line of scrimmage, and the reactive linebackers will quickly get to their run fits. The entire defense (including 5-foot-9, 180-pound CB Antoine Winfield) is tough, physical and takes pride in forcing opponents to throw.
Offensive line:
The front five is a solid group across the board, but the left side makes the group special. LT Bryant McKinnie, LG Steve Hutchinson and C Matt Birk are as good a blocking threesome as there is in the league. Their experience, toughness, technique and tenacity paved the way for the Vikings' NFL-high 164.6 rushing yards per game last year. If that trio stays healthy, so will Minnesota's run game. (The NFL gave McKinnie a four-game suspension Friday for violating the league's personal conduct policy.)
Run game:
RBs Adrian Peterson and Chester Taylor are an explosive combo with complementary skills. Already an elite player headed into his second NFL season, Peterson has outstanding vision, speed, balance and body control. Taylor is a top-notch backup who has good running instincts and acceleration and excellent pass-catching hands.
Weaknesses

QB: Much has been made of third-year QB Tarvaris Jackson's need to show improvement. The more it's discussed, the more the pressure builds. The position is a weakness until Jackson can prove otherwise, and opinions vary whether he can do so quickly enough -- or even at all -- to capitalize on a talented supporting cast.
Tight end production:
Starter Visanthe Shiancoe delivered an underwhelming performance in his first season in Minnesota and could be in jeopardy of losing play time to Garrett Mills. Shiancoe's 27 receptions for 323 yards were career highs, but the Vikings' front office paid for far better production. If Jackson is going to turn the corner at QB, Shiancoe must become a bigger threat in the passing game.
-- Scouts Inc. watches games, breaks down film and studies football from all angles.
JEREMY GREEN'S X FACTORS
FOOTBALL TODAY PODCAST: DIVISION PREVIEW
MY BEST OPPONENT

Sharper
Minnesota safety Darren Sharper on the QB who presents the biggest challenge:
I don't know if I could come up with one quarterback who has given me fits for my entire career. But over the last couple of years, at least, I think Brett Favre has been that guy. He has played so well against us here at the Metrodome and in Green Bay. He just picked us apart. He was throwing the ball quickly. He had a much quicker release. He was getting the ball out of his hands and making smarter throws. He was just on. Especially last season. You used to be able to count on a few games where he would throw it right to you. But that hasn't happened, at least against us, the past few years.
-- As told to Kevin Seifert, ESPN.com
FRANCHISE BEST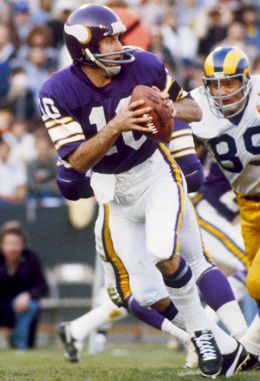 Associated Press
In a SportsNation vote, Fran Tarkenton was selected best Viking ever. The Hall of Fame QB holds Viking marks for most passing yards and touchdowns. Complete results
BLOGS: PRO AND FAN

Looking for more Vikings coverage? You've come to the right place. Kevin Seifert writes about all things NFC North in his division blog.


Featured Fan Preview

by rb1331
I'm excited to see what AP can do this year. With a full season he might break even more records. The part people seem to be worried about is QB. Blog

Submit your blog preview
FANTASY FOCUS
Is Tarvaris Jackson worth drafting?

Tarvaris Jackson
Take a look at that Minnesota roster. Deep, versatile running game? Check. Stingy run defense? Check. The pass rush was a problem in 2007, sure, and presents another challenge in 2008, but with newly acquired defensive end Jared Allen on board, that area should be vastly improved. So that puts the microscope squarely on Tarvaris Jackson, the third-year quarterback with the 69.0 career passer rating -- worse than all 30 active, qualified quarterbacks. Seriously, through 16 NFL games, 14 of them starts, Jackson has been that bad, worse than such luminaries as Joey Harrington, Kyle Boller and David Carr. What separates Jackson from those three: At 25 years old, he's younger and has plenty of career ahead of him; plus, he's on a team with enough faith to install him as a starter and let him further develop. What might work against Jackson: I look at his receiving weapons and see an odd package of talents, somewhat mismatched to the quarterback's skill set. In a deeper league, Jackson could be worth a bench spot, in the event his final-month performance from 2007 portends good things to come. Again, like his receivers, Jackson should be a bust more often than he goes boom, and make no mistake, it'll be his receivers helping him to great numbers, probably not the other way around.
-- Tristan H. Cockcroft, ESPN.com
More Vikings
|
Fantasy index