NEW ORLEANS SAINTS (Consensus division finish: 1st)
Kyle Terada/US Presswire
EXPERTS' PICKS
The Saints finished third in the NFC South last season with a 7-9 record. For Saints and NFC South coverage, visit Pat Yasinskas' NFC South blog. | Discuss Saints | MAG preview
ANALYST
PREDICTION
Jeffri
Chadiha
ESPN.com

DIVISION FINISH: 2 They have an explosive offense, but they need running back Deuce McAllister to bounce back from his second ACL operation in three years. If he can't, that running game has a major void.
John
Clayton
ESPN.com
DIVISION FINISH: 1 Drew Brees has good blocking, an improving group of wide receivers, a one-two punch at running back and one of the game's best tight ends as toys in Sean Payton's offensive playground.

Tim
Graham
ESPN.com

DIVISION FINISH: 1 With names like Manning, Brady and Romo getting the attention, Drew Brees gets overlooked. Signing Jonathan Vilma sustains the D.
Jeremy
Green
Scouts Inc.

DIVISION FINISH: 1 After their injury-riddled 2007 season, I like the Saints to bounce back in a big way. Offensively, they will be explosive again, but it's the defense -- bolstered by the additions of rookie DT Sedrick Ellis and OLB Jonathan Vilma -- that has the Saints in Super Bowl contention.
Paul
Kuharsky
ESPN.com

DIVISION FINISH: 1 A huge rebound season. Drew Brees is as valuable as anyone in the NFC. They'll score a bunch, and free agent Jonathan Vilma and first-rounder Sedrick Ellis solidify the defensive middle.
Matt
Mosley
ESPN.com

DIVISION FINISH: 1 Another sexy choice after the disappointing start in 2007. Everyone says Reggie Bush is a new man (physically), but he's still not the type of player who needs 20 carries. Will Deuce McAllister return to form after a serious knee injury? I have my doubts.
Mike
Sando
ESPN.com

DIVISION FINISH: 1 The Saints have the potential to field one of the two or three most explosive offenses in the league. The defense improved on paper, but can Jonathan Vilma hold up for a full season?
Kevin
Seifert
ESPN.com

DIVISION FINISH: 1 The addition of Jeremy Shockey should make this a dynamic offense once again. Put it together with an improved defense, and now you're talking.
James
Walker
ESPN.com

DIVISION FINISH: 1 The Saints are flying under the radar after a disappointing 7-9 season in 2007, but a lot of talent remains. Expect New Orleans to get closer to its 2006 form, especially with the upgrades made to the defense.
Seth
Wickersham
ESPN The Magazine

DIVISION FINISH: 1 With new D-line coach Ed Orgeron and LB Jonathan Vilma helping out the defense and a healthy Robert Meachem teaming with Marques Colston, the Saints just need Reggie Bush and Jeremy Shockey to step up. They will.
Bill
Williamson
ESPN.com

DIVISION FINISH: 1 If the Saints can show consistency this year, they should be a clear favorite in the division. New Orleans has some firepower on offense and is well-coached. If the defense can show progress, this is a legitimate playoff team.
Matt
Williamson
Scouts Inc.

DIVISION FINISH: 1 Don't be surprised if the Saints are the best in the NFC. They are a legitimate Super Bowl contender. Adding a disruptive defensive tackle in the middle of an ailing defense can make a lot of problems go away. The defense will be night and day from last year's, and Drew Brees might make a case for league MVP.
Pat
Yasinskas
ESPN.com

DIVISION FINISH: 1 A good offense got only better with the addition of Jeremy Shockey. If the defense is decent, this team could go a long way.


CONSENSUS DIVISION FINISH: 1 | NFL standings
BEST OF THE SAINTS
Best offensive player: Drew Brees. He doesn't have a big arm or great size, but Brees is steady and efficient and he's surrounded by offensive weapons.
Best defensive player:
Jonathan Vilma. Picked up from the Jets and expected to excel at middle linebacker in the 4-3, Vilma has the speed to go sideline to sideline.
Best playmaker:
Marques Colston. The former seventh-round pick proved last year that his rookie season wasn't a fluke. Colston has become Brees' go-to receiver, and the presence of tight end Jeremy Shockey will ease double-teams.
Best unheralded player:
Scott Fujita. The veteran is a very steady linebacker, and with Vilma's arrival in the middle, Fujita will be freed to make more big plays.
-- Pat Yasinskas, ESPN.com
SCOUTS INC.'S FAB FIVE
Scouts Inc. has evaluated and graded more than 2,400 NFL players heading into the 2008 season, giving Insiders a leg up on the competition with exclusive grades, alerts and scouting reports.
Top five players

ANALYSIS
1. Drew Brees
Quarterback
6-0 | 209
(Grade 89) He is an undersized, right-handed QB with smarts and leadership skills. Brees feels pressure and does a good job of buying time with his footwork. If he gets comfortable and finds a rhythm, he moves the chains quickly.
2. Marques Colston
Wide receiver
6-4 | 231
(86) He has very good size, athletic ability and hands. Colston has adequate acceleration into routes when working from the slot. He is extremely effective working the seams or over the middle of the field.
3. Will Smith
Defensive end
6-3 | 282
(85) He has enough quickness off the ball to penetrate and disrupt blocking schemes. Smith causes problems with his overall athleticism and is agile on the move. He has a variety of moves and is still improving.
4. Jammal Brown
Offensive tackle
6-6 | 313
(80) A good overall athlete with very good size, Brown shows balance and body control with good play strength. He is quick enough to make reach blocks and has the lower-body strength to seal the position and finish.
5. Jeremy Shockey
Tight end
6-5 | 251
(76) He aligns all over the formation with the ability and play speed to attack all levels in the passing game. He has a great motor and plays with a very good competitive demeanor. He's one of the top tight ends in the NFL.
Player grading scale: Elite (90-100), outstanding (80-89), solid starter (75-79), good starter (70-74)
SCOUTS INC.'S ANALYSIS
Strengths

Solid QB play: Drew Brees' hold on this team cannot be overstated. Since his arrival in New Orleans, the offense has made huge strides and expectations for the franchise have risen exponentially. Brees' intelligence and coach Sean Payton's inventive play calling create a lot of game planning headaches for opponents. Brees has the ability to process information quickly, and his accuracy and mobility complicate matters further.
The Shockey effect:
The addition of TE Jeremy Shockey improves not only the passing game but also the Saints' run blocking. With his size, route running and excellent hands, Shockey is almost certain to produce as a possession receiver. And he has the speed to give the Saints a far more dangerous vertical threat at the position.
Improved pass rush:
Bold prediction: The Saints will improve on last year's ranking in passing defense (No. 30). Sure, the odds are with them, but a healthy DT Brian Young and the addition of first-rounder DT Sedrick Ellis also are important pieces of the puzzle. With Young missing almost half of the 2007 season because of health issues, the Saints didn't create enough of a push inside to draw attention away from DEs Will Smith and Charles Grant in passing situations. Another addition, former Jaguars DE Bobby McCray, has double-digit sack potential and could give the team three legitimate edge-rushing weapons to keep everyone fresh and ensure against injuries.
Strengths

Running game: The Saints relied too heavily on the passing game early last season and had trouble avoiding a one-dimensional approach after losing RB Deuce McAllister in Week 3. McAllister is the team's most physical back by far, and RBs Pierre Thomas and Aaron Stecker might not be capable of providing the ideal complement to RB Reggie Bush. The offensive line is good enough to create holes, but a strong inside runner is needed.
CB concerns:
How quickly Mike McKenzie bounces back from last December's ACL tear could make or break the defense. In the meantime, the progress of youngsters Usama Young and second-round pick Tracy Porter is nearly as important. Last season, Saints opponents picked on Jason David, who lacked experience in man coverage and didn't get enough help from his front four. Good coverage and an effective pass rush often go hand in hand, but a corner's weaknesses usually get exposed quickly in the NFL.
WR development:
Robert Meachem has the size and speed to be an effective starter opposite Marques Colston, but he is coming off a disappointing rookie year. He must stay healthy and mature quickly. Veteran David Patten is tough and experienced, but his age (34) is a concern. Devery Henderson has vertical speed, but lacks concentration and runs shoddy routes. Lance Moore is quick and has potential as a slot receiver and return specialist, but he's inexperienced.
Scouts Inc. watches games, breaks down film and studies football from all angles.
JEREMY GREEN'S X FACTORS
FOOTBALL TODAY PODCAST: DIVISION PREVIEW
BEST TEAMMATE

Vilma
Saints linebacker Jonathan Vilma on the best tight end, New Orleans' Jeremy Shockey:
We played two years together at the University of Miami. I think we lost one game in those two years and won a championship together. So it's great to be back with him. I know a whole lot about him. A lot of people hear the outside stuff, the bad stuff and the negative comments and things like that. I know Shockey as a player, as a teammate and as a person. He's great.
He's a guy who's obviously not shy, and a lot of people can take what he says the wrong way. But, as teammates and friends, it's great that you have a guy who's honest like that. He's up front and he's forward about everything. I can really relate to that. A guy like that makes you adjust your defenses and adjust your coverages, even adjust some of your blitzes sometimes because of him. I know that other teams are going to have to do that, especially with the other weapons we have on offense with Reggie Bush, Marques Colston and so on. It's going to be tough for opposing defenses.
-- As told to Pat Yasinskas, ESPN.com
FRANCHISE BEST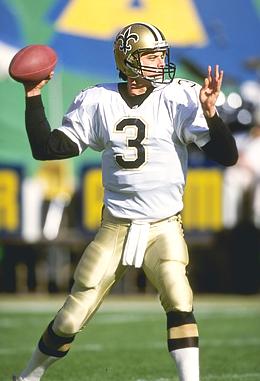 Getty Images
In a vote by SportsNation, QB Bobby Hebert was selected best Saint ever. He threw 20 TDs in 1988 as he led New Orleans to the playoffs. Results
BLOGS: PRO AND FAN

Looking for more Saints coverage? You've come to the right place. Pat Yasinskas writes about all things NFC South in his division blog.


Featured Fan Preview

by LSUDaRealTigers1
Will Deuce McAllister recover from his latest knee injury and contribute to the Saints offense? Can Reggie Bush make his money, accumulate 1,000 yards in any category and score at least seven TDs? Blog

Submit your blog preview
FANTASY FOCUS
Is Reggie Bush a third-year breakout or a bust?

Reggie Bush
Neither. First off, even if he approximates his 2007 numbers (581 yards rushing, 417 yards receiving, six touchdowns in 12 games), Bush won't fully be a "bust," simply because expectations for him are so much lower than they were last season. By now, we've seen a better glimpse of what Bush really is: a low yards-per-carry rusher with explosiveness, but someone against whom defenses can scheme. But I don't think Bush is suddenly going to ascend to fantasy deityhood, either. I still predict he'll catch a ton of passes, and there's no question that an explosive downfield passing offense -- keyed by Drew Brees, Marques Colston, Jeremy Shockey and all those other so-so receivers duking it out for playing time -- will be Bush's best friend. But let's face it: This is a guy who averaged just 3.6 yards per carry even in his terrific rookie season and who managed just 3.7 in '07.
-- Christopher Harris, ESPN.com
More Saints
|
Fantasy index