NEW YORK GIANTS (Consensus division finish: 3rd)
Credit for the 580 photo goes right here
EXPERTS' PICKS
The Giants finished second in the NFC East last season with a 10-6 record. For Giants and NFC East coverage, visit Matt Mosley's NFC East blog. | Discuss Giants | MAG Preview
ANALYST
PREDICTION
Jeffri
Chadiha
ESPN.com

DIVISION FINISH: 2 They realize few people outside of New York expect them to defend their title. That's pretty good motivation for a team that remains good enough to earn another wild-card spot.
John
Clayton
ESPN.com
DIVISION FINISH: 3 This division is so hard the Super Bowl champs get slighted and picked third, and could be in danger of dropping to fourth. The road to the Super Bowl only gets tougher this time.

Tim
Graham
ESPN.com

DIVISION FINISH: 2 A lot of variables shook out just right on the road to the championship. If they can guarantee going undefeated on the road, they'll finish ahead of the Cowboys. If they can count on another David Tyree-type catch in the Super Bowl, they might repeat.
Jeremy
Green
Scouts Inc.

DIVISION FINISH: 4 One of the reasons the Giants were able to run the table last January was they finally became a team. A Super Bowl title later, there have been too many departures and contract gripes for me to believe the Giants can be a playoff team in 2008.
Paul
Kuharsky
ESPN.com

DIVISION FINISH: 3 The stars can't align so perfectly two years in a row. Eli Manning won't be as consistent as the Giants need and the pass rush can't be as good in big spots, can it?
Matt
Mosley
ESPN.com

DIVISION FINISH: 2 At the final hour, I changed my pick to the Cowboys. The Giants were my first choice, but the injury to defensive end Osi Umenyiora is too devastating to overcome.
Mike
Sando
ESPN.com

DIVISION FINISH: 3 The Giants know how to win when everyone expects them to lose. Claiming a Super Bowl title changes expectations. Staying on top is never easy.
Kevin
Seifert
ESPN.com

DIVISION FINISH: 3 The retirement of Michael Strahan is a significant loss. But this team rides on the shoulders of quarterback Eli Manning. Has he turned a corner or did he just rise to the occasion in the 2007 playoffs?
James
Walker
ESPN.com

DIVISION FINISH: 2 The "no respect" Giants are playing that card constantly in an effort to remain sharp and motivated coming off a Super Bowl victory -- and it should work. New York once again has a chance to repeat.
Seth
Wickersham
ESPN The Magazine

DIVISION FINISH: 3 Enjoy that Super Bowl, Giants? Great, because now every team plans to exact revenge. I see 9-7.
Bill
Williamson
ESPN.com

DIVISION FINISH: 2 The Giants lost some key pieces, but can you really question this team? What it did last season was incredible and many of the Super Bowl pieces are still intact. The Giants will compete this year.
Matt
Williamson
Scouts Inc.

DIVISION FINISH: 3 The champs are strong enough to repeat, but playing with a bull's-eye on their chest will be difficult. It's Eli Manning's team now, and he will prove to be up to the challenge. Losing Michael Strahan might sting a little more than New Yorkers want to realize. The Giants surely will lose more than one road game in 2008.
Pat
Yasinskas
ESPN.com

DIVISION FINISH: 1 Hey, they're still the Super Bowl champions. They'll miss Michael Strahan a little, but they won't miss Jeremy Shockey at all. Eli Manning now has confidence.


CONSENSUS DIVISION FINISH: 3 | NFL standings
BEST OF THE GIANTS
Best safety that everyone keeps dogging: GM Jerry Reese told ESPN.com that everyone was too quick to count out James Butler, who started last season. "He's steady Eddie," Reese said.
Best cornerback:
Rookie safety Kenny Phillips is turning a lot of heads, but this is the season that Aaron Ross applies for the Pro Bowl. The only time I've seen him get truly exposed was when he had to cover Wes Welker. Join the club.
Best leader you don't know about:
Center Shaun O'Hara was named to the team's leadership council and he takes his job quite seriously. Several players use him as a sounding board on different topics.
Best goofy smile:
Quarterback Eli Manning wins this in a landslide, but he's already had the last laugh. No one cares about his body language anymore.
-- Matt Mosley, ESPN.com
SCOUTS INC.'S FAB FIVE
Scouts Inc. has evaluated and graded more than 2,400 NFL players heading into the 2008 season, giving Insiders a leg up on the competition with exclusive grades, alerts and scouting reports.
Top five players

ANALYSIS
1. Justin Tuck
Defensive end
6-5 | 274
(84) He is a tall, athletic player with a very good combination of size and play strength. Tuck has good initial quickness and anticipation at the snap. He can slip blocks and find the ball carrier when on the move.
2. Plaxico Burress
Wide receiver
6-5 | 232
(83) He is a talented receiver who has the ability to attack all levels in the passing game. Burress is a dangerous player on the outside who poses a lot of problems on the backend. He is an above-average route-runner.
3. Chris Snee
Guard
6-3 | 317
(81) He is a tough, aggressive player who can be very effective in the run game. Snee is a mauler who works hard to finish. He can be effective on reach and cutoff blocks.
4. Eli Manning
Quarterback
6-4 | 225
(79) He showed tremendous growth as a player, especially late in the season. He is very cool under fire and has developed into a good rhythm passer with improved accuracy. He is a true pocket passer.
5. David Diehl
Offensive tackle
6-5 | 319
(75) He is a smart, tough competitive player with enough athletic skills to play out on an island. Diehl has good quickness in his pass sets, while sliding out laterally to the junction point. He's aware and reacts quickly.
Player grading scale: Elite (90-100), outstanding (80-89), solid starter (75-79), good starter (70-74)
SCOUTS INC.'S ANALYSIS
Strengths

Offensive line depth: With all five starters returning from last season's Super Bowl winner, the Giants should maintain the impressive continuity they enjoyed last year. The addition of OT Shane Olivea (who also can fill in at guard) improves the unit's depth and flexibility. Hard to believe that this group actually was upgraded in the offseason, but that's the case. Management also has wisely begun work on contract extensions for several Giants linemen.
Cornerback depth, versatility:
New York has a solid group of returning corners, and second-round pick Terrell Thomas gives coordinator Steve Spagnuolo even more to work with. The Giants have a nice blend of youth and experience at the position, which should foster strong competition for jobs. If Corey Webster can carry over last year's strong finish and maintain it for a full season, any concerns about this group will be erased. The team might even be forced to cut an experienced corner.
Creativity on defense:
Spagnuolo made impressive use of the players at his disposal last season. His creatively designed pressure schemes were widely noticed around the league, and no doubt will be copied in various forms by other clubs. The athleticism of the Giants' front seven shouldn't be overlooked in the defense's success, and four starters -- DEs Osi Umenyiora (injured, out for season), Michael Strahan (retired), FS Gibril Wilson (Raiders), LB Kawika Mitchell (Bills) -- are gone from last year's team. Spagnuolo's ingenuity will be tested.
Weaknesses

Outside LB: The Giants are set in the middle with LB Antonio Pierce, but what about their inexperience outside? WLB Gerris Wilkinson has only two career starts. Former SLB Mathias Kiwanuka is a versatile player who has started nine games in each of the past two years, but he is moving back to end to replace Umenyiora. Veteran LB Danny Clark offers depth on the strong side and can be moved inside in a pinch. But if the Giants should lose a starter, their linebackers could be exposed.
Wide receiver concerns:
WR Plaxico Burress sat out training camp practices because of a contract squabble, but he maintained that last season's ankle injury hadn't fully recovered. In any case, whenever a receiver the caliber of Burress doesn't practice, the rhythm of the passing game will be affected. Add to that Amani Toomer's age (he turns 34 in September) and David Tyree's knee injury, and depth becomes an issue. The Giants need Steve Smith and rookie Mario Manningham, or Sinorice Moss and Domenik Hixon for that matter, to step up.
Tight end depth:
Though Kevin Boss performed admirably in 2007 after a broken leg ended Jeremy Shockey's season early, the Giants appear thin at the position. Michael Matthews, Darcy Johnson, Jerome Collins and Eric Butler lack experience, and Boss himself is just a second-year player with two regular-season starts.
-- Scouts Inc. watches games, breaks down film and studies football from all angles.
JEREMY GREEN'S X FACTORS
FOOTBALL TODAY PODCAST: DIVISION PREVIEW
MY TOUGHEST OPPONENT

Tuck
Giants defensive end Justin Tuck on Cowboys left tackle Flozell Adams:
I think [Seattle left tackle] Walter Jones and [Rams left tackle] Orlando Pace are great blockers, but you don't see them that much. Of the guys we see all the time, Flozell Adams is the best. First of all, he's just huge, which makes it hard to get around him. I think [Cowboys right guard] Leonard Davis might be the second biggest man I've gone against, but Flozell is so athletic.
He's got these long arms, and once he gets them on you, it's over. He's not the best offensive tackle in football, but he's definitely up there. Honestly, there's not a fish on our schedule. That's what we call guys who aren't that good.
-- As told to Matt Mosley, ESPN.com
FRANCHISE BEST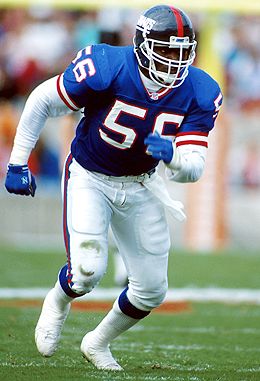 Allen Dean Steele/NFL
In a vote by SportsNation, LB Lawrence Taylor was selected best Giant ever. He was a terrifying hitter who redefined the position. Complete results
BLOGS: PRO AND FAN

Looking for more Giants coverage? You've come to the right place. Matt Mosley writes about all things NFC East in his division blog.


Featured Fan Preview

by wafflehousesteve
The trade of Shockey and the disgruntled attitude of Plaxico Burress make this team appear to be in a state of flux, bad flux, which is called "post-Super Bowl win syndrome." Eli Manning won't be able to get it done in 2008. Blog

Submit your blog preview
FANTASY FOCUS
Is Eli Manning for real?


Manning
I won't recount the details of the Giants' impressive playoff run, because I have a hunch you heard all about it. What I'll provide you are the simple statistics, because that's the one thing about the Giants' run few people really discussed. Counting Manning's Week 17 contest against the Patriots -- one his team hung in and actually almost won -- and his four playoff games, he completed 62.3 percent of his passes, averaged 221.6 passing yards, completed 10 touchdown passes and was intercepted twice. Manning, the Super Bowl XLII MVP, stepped up, became the player everyone expected he might become and got the proverbial monkey off his back. At the bare minimum, Manning bought himself at least one season's worth of benefit of the doubt. He earned his fans a championship, and for that, they'll most likely be more patient with him, perhaps for the first time in his NFL career. Having everyone off his case could work wonders for him. Or it'll buy him a year before the criticism resumes. Even in the latter instance, you're looking at an especially attractive bargain candidate, if you missed out on the pricier quarterbacks. Manning will go for a relatively cheap price for a defending Super Bowl MVP.
-- Tristan H. Cockcroft, ESPN.com
More Giants
|
Fantasy index