OAKLAND RAIDERS (Consensus division finish: 3rd)
Kirby Lee/US Presswire
EXPERTS' PICKS
The Raiders finished tied for third in the AFC West last season with a 4-12 record. For AFC West coverage, visit Bill Williamson's blog. | Discuss Raiders | MAG preview
ANALYST
PREDICTION
Jeffri
Chadiha
ESPN.com

DIVISION FINISH: 3 Raiders owner Al Davis spent a lot of money on overpriced talent this offseason. Too bad it won't make much difference for a team that has a 19-61 record over the last five years.
John
Clayton
ESPN.com
DIVISION FINISH: 2 The Raiders have a .395 schedule in their first 12 games and the chance to be 6-6 or 7-5 heading into December. If they can't take advantage of the easy schedule, Al Davis might be looking for a new head coach.

Tim
Graham
ESPN.com

DIVISION FINISH: 4 The Raiders have won a league-low 19 games over the past five years. This year won't be too far off that average.
Jeremy
Green
Scouts Inc.

DIVISION FINISH: 2 There is no question Al Davis overpaid this offseason, but the Raiders are a much more talented team. The biggest question mark right now is QB JaMarcus Russell. If he can develop, an easy schedule could have the Raiders knocking on the playoff door come December.
Paul
Kuharsky
ESPN.com

DIVISION FINISH: 3 JaMarcus Russell and Darren McFadden will be an intriguing playmaking combination. But D-line moves and the DeAngelo Hall acquisition won't pan out so well.
Matt
Mosley
ESPN,com

DIVISION FINISH: 3 They spent a ton of money in the offseason, some on players we'd actually heard of. The Javon Walker experiment is destined to end badly.
Mike
Sando
ESPN.com

DIVISION FINISH: 3 The Raiders are more exciting with Darren McFadden. They have sufficient talent on defense. It's fair to wonder how far JaMarcus Russell can lead them as a first-year starter.
Kevin
Seifert
ESPN.com

DIVISION FINISH: 3 From the outside, the Raiders look like a train wreck. But any team with Darren McFadden has a chance.
James
Walker
ESPN.com

DIVISION FINISH: 2 Surprise! The Silver and Black is back to being a respectable team. Oakland won't make the playoffs, but it will finish at or near .500 in a weak division.
Seth
Wickersham
ESPN The Magazine

DIVISION FINISH: 3 This might be an ugly offense for the first half of the year while JaMarcus Russell gets a feel for things. Without any big-play receivers, Darren McFadden will be battling eight-man fronts until opponents respect Oakland's passing game.
Bill
Williamson
ESPN.com

DIVISION FINISH: 2 The Raiders may be the worst second-place team in football. But for a team that has won 19 games in the last five years, a second-place finish would be big progress. This team will be much more fun to watch than in recent years.
Matt
Williamson
Scouts Inc.

DIVISION FINISH: 3 There is no doubt that Oakland's roster is stronger now after Al Davis' offseason spending spree, but there are two glaring concerns with this franchise. Can the Raiders stop the run, and can they pass well enough to win? Doubtful.
Pat
Yasinskas
ESPN.com

DIVISION FINISH: 3 Lane Kiffin somehow survived, and the kid can coach -- if Al Davis lets him. Quarterback JaMarcus Russell has to take a big step up, but there is some talent around him.


CONSENSUS DIVISION FINISH: 3 | NFL standings
BEST OF THE RAIDERS
Best rookie: Running back Darren McFadden. The No. 4 overall draft pick from Arkansas is a dynamic player. He is going to help Oakland in the running game, the passing game and perhaps even the return game. He is a rookie-of-the-year candidate.
Best arm:
Quarterback JaMarcus Russell. The man can throw a ball forever. Now, he has to show he can be an NFL quarterback. But his arm strength is not a concern.
Best confidence:
Coach Lane Kiffin. There were reports through the offseason that he could be fired. Yet Kiffin continues to lead the Raiders like a man who is focused on one thing: winning. Kiffin does not appear to be in fear of losing his job.
Best position:
Cornerback. The Raiders have one of the best pairs of cornerbacks in the NFL in Nnamdi Asomugha and DeAngelo Hall, who was just acquired from Atlanta in a trade. Asomugha and Hall will set the tone for the Raiders' underrated defense and could help the team make a vast improvement in 2008.
Best unheralded player:
Tight end Zach Miller. The second-year player had a nice rookie season with 44 catches. Expect him to have an even bigger role in the Raiders' offense this season.
-- Bill Williamson, ESPN.com
SCOUTS INC.'S FAB FIVE
Scouts Inc. has evaluated and graded more than 2,400 NFL players heading into the 2008 season, giving Insiders a leg up on the competition with exclusive grades, alerts and scouting reports.
Top five players

ANALYSIS
1. Nnamdi Asomugha
Cornerback
6-2 | 210
(Rating 94) He has excellent size for the position, as well as premier top-end speed. Asomugha plays better in a trail alignment, where he can use his speed to stay on the receiver's hip, than in man-off or zone.
2. DeAngelo Hall
Cornerback
5-10 | 197
(83) He has an excellent combination of quickness, speed and agility. He routinely matches up with the opponent's top receiver. He is tough, physical and confident. He has the ability to be a very effective press cornerback.
3. Kirk Morrison
Linebacker
6-2 | 240
(77) He has been assertive as a middle linebacker to make all the calls and adjustments for Oakland's defense. Morrison has good range inside-out to the ball and makes plays with toughness and intensity.
4. Gibril Wilson
Safety
6-0 | 209
(76) He has developed into a solid frontline player with a strong upside. He is a tough player with a good competitive demeanor and has some size and athletic skills for the position. He has a great nose for the ball.
5. Derrick Burgess
Defensive end
6-2 | 260
(75) He is an undersized end with excellent athleticism. He has great initial quickness off the line of scrimmage to gain leverage on blockers. He has deceptive power to anchor versus power zone-blocking schemes.
Player grading scale: Elite (90-100), outstanding (80-89), solid starter (75-79), good starter (70-74)
SCOUTS INC.'S ANALYSIS
Best play option
Raider Nation is excited about RB Darren McFadden, and once they see the rookie run this play, they'll like him even more.
More best plays

Strengths

New talent: Oakland brought in a ton of big-name players this offseason. While the Raiders may have grossly overspent on some of the signings, you can't dismiss their aggressiveness. CB DeAngelo Hall, SS Gibril Wilson, WR Javon Walker and RB Darren McFadden were added, clearly improving the roster.
Secondary:
CB Nnamdi Asomugha could be the best corner in the league. Now that Hall is in the mix, throwing away from Asomugha will be much more difficult. Also, with two upper-tier corners, the Raiders should be able to move Wilson closer to the line of scrimmage to help in run support and use him more as a blitzer. The addition of Wilson also allows former first-round pick Michael Huff to move to his more natural free safety position. This is one of the best starting foursomes in the league and will allow the Raiders to blitz.
Running game:
Last year Tom Cable took on the task of coaching one of the worst offensive lines in recent memory. He did an exceptional job by installing a zone-blocking scheme, much like what is run in Denver. McFadden could blow up with Cable's system in place.
Weaknesses

Increased expectations: With all the cash spent on new talent, higher expectations are only natural. After leading the league with a whopping 61 losses over the past five seasons, owner Al Davis had enough and opened up his wallet. If quick results are not seen early in the season, head coach Lane Kiffin could find himself out of a job.
Passing game:
The Raiders' offensive line can block in the running game, but they are overmatched and get exposed in protection. Making matters worse, second-year QB JaMarcus Russell isn't the most elusive guy in the pocket, and Oakland has a very ordinary stable of pass catchers, led by the volatile and unpredictable Walker. With the compounding issues, expect TE Zach Miller's role to increase.
Run defense:
Oakland was a sieve versus the run last season. The Raiders were soft up the middle and tackled poorly as a group. With an improved secondary, Wilson should spend more time in the box, and the defensive tackle duo of Terdell Sands and Tommy Kelly should be an upgrade from last year and could keep the athletic linebackers cleaner. But this is still a prominent area of concern.
Scouts Inc. watches games, breaks down film and studies football from all angles.
JEREMY GREEN'S X FACTORS
FOOTBALL TODAY PODCAST: DIVISION PREVIEW
MY TOUGHEST OPPONENT

Warren
Raiders defensive tackle Gerard Warren on Chiefs guard Brian Waters:
This one is easy. It is Brian Waters of the Kansas City Chiefs. He is one of the best, craftiest, most savvy guards in the league.
It is both hard and fun to play against Waters. You have to be on the top of your game when you play against Brian Waters. I love it. I love that he is in the AFC West and I get to play against him twice a year. You have to bring out the best in yourself when you go against Waters. I've played against him twice a year since 2005 when I went to the Denver Broncos from the Cleveland Browns. After two years in Denver, I was traded to Oakland last season. So I still get to face Waters twice a year.
He's a really good guy and he's a good football player. I think he's underrated. Waters is just so crafty. You come up to make the play and he will give you a little lean to the left and make you think the play is going that way. Then he will duck his head and move to the right. The guy is just good, and I think he is the best guard out there.
-- As told to Bill Williamson, ESPN.com
FRANCHISE BEST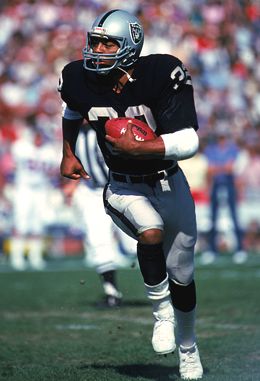 Ron Haase /Getty Images
In a vote by SportsNation, running back Marcus Allen was selected best Raider ever. He had nearly 13,000 yards rushing-receiving, and is the No. 2 with 123 rushing TDs. Complete results
BLOGS: PRO AND FAN

Looking for more Raiders coverage? You've come to the right place. Bill Williamson writes about all things AFC West in his division blog.




Featured Fan Preview

by chefbrandonstable
Russell is looking good. McFadden is a stud. ... O-Line looks to be getting better. The D is still solid, and the O now has weapons. This is a dangerous team. W-L: 9-7. Blog

Submit your blog preview
FANTASY FOCUS
Who gets the carries in Oakland?

Fargas
Despite a great 2007 season by Justin Fargas, the Raiders went out and took Darren McFadden with the No. 4 pick in the draft. So, like last season, the Raiders have to figure out how to dole out the carries, although they've got at least two solid options at their disposal. Committee systems might not be the favorite of fantasy owners, but it does seem to work for a number of teams. With the passing game still a major question mark with JaMarcus Russell entering his first full season as the starter, the Raiders should be counting on their running game a lot. That commitment means Fargas and McFadden should each get enough carries to stay fantasy-relevant. Obviously, McFadden has the most upside, given his speed and big-play ability. He can also carry the bulk of the rushing load if need be, although he can share carries as well, as seen in his arrangement with Felix Jones during their three years together at Arkansas. However, Fargas is the starter and probably gets the first crack carrying the load to open the season, with McFadden getting in a healthy share of touches as the Raiders figure out how best to use him.
-- James Quintong, ESPN.com
More Raiders
|
Fantasy index