SEATTLE SEAHAWKS (Consensus division finish: 1st)
AP Photo/Elaine Thompson
EXPERTS' PICKS
The Seahawks finished first in the NFC West last season with a 10-6 record. For NFC West coverage, visit Mike Sando's NFC West blog. | Discuss Seahawks | MAG preview
ANALYST
PREDICTION
Jeffri
Chadiha
ESPN.com

DIVISION FINISH: 1 The Seahawks have won four consecutive NFC West titles. As head coach Mike Holmgren enters his final season, look for them to make it five in a row.
John
Clayton
ESPN.com
DIVISION FINISH: 1 A fifth consecutive division title is a nice retirement present for Mike Holmgren, who is leaving the team after the season. Health concerns at wide receiver and along the offensive line could make that task challenging.

Tim
Graham
ESPN.com

DIVISION FINISH: 1 The Seahawks should feast on a weak division in Mike Holmgren's final year. If Holmgren can make a deep farewell run into the playoffs, it will be on his defense's back.
Jeremy
Green
Scouts Inc.

DIVISION FINISH: 1 I still like the Seahawks as the team to beat in the NFC West. With injuries at WR, Seattle will have to look to a rejuvenated run game behind new additions Julius Jones and T.J. Duckett. Seattle has an elite defense, which will be the difference in a division where points are plentiful.
Paul
Kuharsky
ESPN.com

DIVISION FINISH: 1 A good last hurrah for Mike Holmgren will have to come with more from Matt Hasselbeck, because the run game could be shaky. With a more aggressive defense, you know the Seahawks will be tough at home and in the division.
Matt
Mosley
ESPN.com

DIVISION FINISH: 1 At some point, writing that [insert team name] could challenge Seattle for NFC West supremacy became a farce. This doesn't look like a Super Bowl team, but it might always be a playoff team in this division.
Mike
Sando
ESPN.com

DIVISION FINISH: 1 The Seahawks have the best quarterback and the best defense in the division. They also enjoy the strongest home-field advantage and ample big-game experience.
Kevin
Seifert
ESPN.com

DIVISION FINISH: 1 The best of a flawed division. Julius Jones should give the Seahawks enough juice in the backfield following the departure of Shaun Alexander. The defense should be able to hold its own.
James
Walker
ESPN.com

DIVISION FINISH: 1 The always consistent Seahawks are once again the class of the NFC West. The receiver position is an issue, but the upgrade at running back with Julius Jones helps neutralize that.
Seth
Wickersham
ESPN The Magazine

DIVISION FINISH: 1 With all 11 starters returning on defense, all the questions are on offense. Will the O-line gel? Who will emerge as the tailback? Just not fair for Mike Holmgren's last year as a playcaller.
Bill
Williamson
ESPN.com

DIVISION FINISH: 1 This is Mike Holmgren's final year as Seahawks coach. Expect him to go out in style. The Seahawks are quietly one of the finer teams in the NFC. They will go to the playoffs and could make some noise with some luck.
Matt
Williamson
Scouts Inc.

DIVISION FINISH: 2 This offense is going to sputter although the line should be better. QB Matt Hasselbeck and this scheme can get a lot of production from average players, but there just is not a great skill player on the roster. This defense is top notch, however, and will ensure a lot of low-scoring contests.
Pat
Yasinskas
ESPN.com

DIVISION FINISH: 1 By default, the Seahawks get the top spot in this division. They have the least problems in a division full of problems. Plus, they've got a good coach and quarterback, which is more than any other team in the NFC West can say.


CONSENSUS DIVISION FINISH: 1 | NFL standings
BEST OF THE SEAHAWKS
Best-kept secret: Leroy Hill is the only Seattle linebacker without a Pro Bowl on his resume. He's also the Seattle linebacker opponents should fear most.
Best rookie:
Don't be surprised if tight end John Carlson emerges as an immediate threat in the passing game. Carlson, a second-round choice from Notre Dame, has already won the starting job.
Best offseason move:
Coach Mike Holmgren singled out Mike Wahle's addition as the most important move of the offseason. Wahle becomes the starter at left guard.
Best chance for the Hall of Fame:
Save a spot for perennial Pro Bowl left tackle Walter Jones. Now 34, he's feeling better physically after enduring shoulder pain over the past couple seasons.
Best hobby:
Defensive tackle Craig Terrill sings and plays guitar in a rock band. He has jammed on stage with billionaire Seahawks owner Paul Allen.
-- Mike Sando, ESPN.com
SCOUTS INC.'S FAB FIVE
Scouts Inc. has evaluated and graded more than 2,400 NFL players heading into the 2008 season, giving Insiders a leg up on the competition with exclusive grades, alerts and scouting reports.
Top five players

ANALYSIS
1. Walter Jones
Offensive tackle
6-5 | 325
(Grade 92) He is an exceptional athlete who is a natural knee bender and has great lateral range in pass protection. He can react and adjust to counter moves. He always seems to be able to play within himself and under his pads.
2. Julian Peterson
Linebacker
6-3 | 240
(84) He is a playmaker who brings more than his share of athleticism, speed and versatility to the position. Peterson excels coming off the edge on a blitz and has several ways of pressuring the pocket.
3. Marcus Trufant
Cornerback
5-11 | 197
(84) He has long arms and plays tall. He can match up with bigger receivers and challenge them when the ball is in the air. He has quick feet and makes nearly instant transitions. He also picks off his share of passes.
4. Matt Hasselbeck
Quarterback
6-4 | 225
(84) He is a smart quarterback who knows how to prepare for games and how to manage his team on the field. He is not a dynamic presence on the field, but plays with a certain amount of calmness and confidence.
5. Patrick Kerney
Defensive end
6-5 | 272
(84) He is a high-motor defensive end with good initial quickness and a relentless drive to get to the ball. He is better in a one-gap role than when he has to play two-gap and he is free to get up field and attack the play.
Player grading scale: Elite (90-100), outstanding (80-89), solid starter (75-79), good starter (70-74)
SCOUTS INC.'S ANALYSIS
Strengths

Quarterback stability: It's no secret that Seattle has a quality starting quarterback in Matt Hasselbeck. He proved last year that he could carry a team into the playoffs with his arm despite limited support from the running game.
Secondary depth:
What once was a weakness has become a relative strength. Seattle has a Pro Bowl left cornerback in Marcus Trufant and smart, experienced safeties in SS Deon Grant and FS Brian Russell. There's good competition at the second cornerback spot between Kelly Jennings and Josh Wilson. Whichever player can't win the starting job will be heavily involved in sub packages. The Seahawks should match up well against three-receiver sets.
Linebackers:
The Seahawks are set in the middle, where Lofa Tatupu's smarts, instincts and quick reactions make him a difference-maker. He is flanked by the remarkably versatile and athletic Julian Peterson and the underrated Leroy Hill. Peterson can be used as a situational pass-rusher or blitzer. Hill has very good change-of-direction skills and acceleration. This group is very quick and fast.
Weaknesses

Wide receiver: Age and injuries threaten to turn this group into a mess. Bobby Engram is 35 (AARP territory for NFL wide receivers) and will miss 6-8 weeks after cracking a bone in his shoulder in training camp. Deion Branch, recovering from last year's ACL injury, isn't likely to return before late in the season. Can Nate Burleson consistently make enough plays? The team is hopeful that youngsters Courtney Taylor, Logan Payne and Ben Obomanu can pick up the slack.
D-line:
On paper, this unit once appeared to be a strength -- or at least an area that shouldn't set off any alarms. But injuries have turned the line into a potential weakness. The good news: The Seahawks are deep at end.
Offensive line continuity:
Injuries have prevented the starters from working as a unit and establishing the continuity that typifies successful line play. LT Walter Jones and LG Mike Wahle are experienced starters on the left side, but Jones usually practices only once a day and Wahle is new to the team. C Chris Spencer's shoulder injury and the injury-induced retirement of RG Chris Gray have forced coaches to shuffle players around just to get through practices.
Scouts Inc. watches games, breaks down film and studies football from all angles.
JEREMY GREEN'S X FACTORS
FOOTBALL TODAY PODCAST: DIVISION PREVIEW
MY TOUGHEST OPPONENT

Tatupu
Seattle's three-time Pro Bowl linebacker Lofa Tatupu on Cardinals receiver Anquan Boldin:
He is probably not going to be happy with me saying this. He doesn't have tremendous speed, but you've never seen him get caught from behind. The guy is just a monster out there when he catches the ball. The first guy barely ever takes him down by himself. He's a receiver and he's bigger than some of the tailbacks in the league. The numbers he has been able to put up, especially with having (Larry) Fitzgerald on the other side, it's incredible what he has been able to accomplish. His attitude and the way he approaches the game, you just have to really admire and respect that. You don't see too many receivers putting it out there like that. I'm a linebacker, so I take pride in staying high and hitting helmet to helmet or pads, but there have been a couple times when I had to wrap the legs up because I was out of position. I don't like to cut too often, but if I'm a DB, I'm cutting him. It's not worth it. "He's got all the moves, he's got a great stiff-arm, he has a well-rounded game, a great athlete. In the Sugar Bowl, he played quarterback for his college team. A guy like that, he's a major weapon.
-- As told to Mike Sando, ESPN.com
FRANCHISE BEST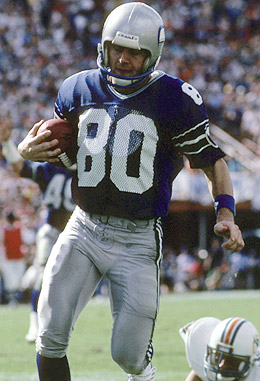 Manny Rubio/NFL
In a vote by SportsNation, WR Steve Largent was selected best Seahawk ever. The Hall of Famer finished his career with 13,089 yards receiving. Complete results
BLOGS: PRO AND FAN

Looking for more Seahawks coverage? You've come to the right place. Mike Sando writes about all things NFC West in his division blog.




Featured Fan Preview

by marshmello37
[NFL rankings]
5. Dallas Cowboys
4. Indianapollis Colts
3. Baltimore Ravens
2. New England Patriots
1. Seattle Seahawks Blog

Submit your blog preview
FANTASY FOCUS
What should we expect from Seattle's running game?


Jones
On paper, it would appear good for Julius Jones that he escaped the goal-line shadow of Marion Barber in Dallas, but I remain awfully skeptical about his ability to be a big-time lead running back. I don't think the Seahawks have the kind of offensive line, or weapons at wide receiver now that Bobby Engram is gone, to scare opposing defenses into fearing the run. Maurice Morris is unlikely to be the starter in regular-season games, unless Jones performs poorly or gets hurt, and either of those options is, of course, legitimate. But even if Morris does get a full-time opportunity, haven't we been down this road before? As for T.J. Duckett, I'm seldom a fan of carrying a running back whose greatest and, possibly only, value to fantasy owners is as a goal-line back. This isn't Jerome Bettis we're talking about. There's no proof Duckett, who was given a back-loaded contract full of unachievable bonuses, will get enough run to be worth drafting at all. --
Eric Karabell, ESPN.com
More Seahawks
|
Fantasy index