TENNESSEE TITANS (Consensus division finish: 3rd)
Donald Miralle/Getty Images
EXPERTS' PICKS
The Titans finished third in the AFC South last season with a 10-6 record. For AFC South coverage, visit Paul Kuharsky's AFC South blog. | Discuss Titans | MAG Preview
ANALYST
PREDICTION
Jeffri
Chadiha
ESPN.com

DIVISION FINISH: 3 The Titans brought in new offensive coordinator Mike Heimerdinger to help a unit that ranked last in the NFL in red-zone offense. His bigger task will be helping quarterback Vince Young become more proficient.
John
Clayton
ESPN.com
DIVISION FINISH: 2 Jeff Fisher has put together a physical, hard-hitting team that tasted the playoffs last year. Fisher's offensive and defensive lines will wear out a lot of opponents.

Tim
Graham
ESPN.com

DIVISION FINISH: 3 Vince Young still needs a go-to playmaker to improve an offense that scored one or zero touchdowns in more than half of its games.
Jeremy
Green
Scouts Inc.

DIVISION FINISH: 3 Even though the Titans lack a No. 1 receiver, you can't discount Tennessee as a legit playoff contender. This is a team that boasts an excellent defense and an excellent run game. The Titans are also one of the most physical teams in the NFL and that gives them a chance every time they take the field.
Paul
Kuharsky
ESPN.com

DIVISION FINISH: 2 They will play top-flight defense. They will run the ball better. And Vince Young has to improve under Mike Heimerdinger, right? The additions of Alge Crumpler and Chris Johnson have been underrated.
Matt
Mosley
ESPN.com

DIVISION FINISH: 3 Tennessee keeps lucking out when teams pass on Jim Schwartz as a head coach. Putting Albert Haynesworth next to Kyle Vanden Bosch almost isn't fair.
Mike
Sando
ESPN.com

DIVISION FINISH: 3 The Titans, always physical, added a home-run threat in East Carolina running back Chris Johnson. Vince Young also appears to be progressing. Keep an eye on this team.
Kevin
Seifert
ESPN.com

DIVISION FINISH: 3 The Titans have steadily built the talent on their offense, most recently with rookie runner Chris Johnson. But is it enough to leapfrog the Colts or Jaguars? Maybe not.
James
Walker
ESPN.com

DIVISION FINISH: 4 This is my candidate for the team that's mostly likely to underperform coming off a 10-win season. Quarterback Vince Young hasn't looked good, and the team doesn't have enough dynamic weapons around him.
Seth
Wickersham
ESPN The Magazine

DIVISION FINISH: 4 Vince Young has never thrown to a better set of hands than Alge Crumpler. That acquisition alone is enough to improve the Titans, but alot of things have to come together for them to make an impact here. If they do, then the Titans could become the Colts' biggest division threat.
Bill
Williamson
ESPN.com

DIVISION FINISH: 4 The Titans could be one of the best last-place teams in the history of the league. The Titans could easily win 10 games this season, but so could the other three teams in the division.
Matt
Williamson
Scouts Inc.

DIVISION FINISH: 4 Easily the best fourth-place team in the league. Ten wins are possible if VY takes a big jump forward. Albert Haynesworth's presence on defense almost assures they'll stay close in just about every game. They would win the NFC West and possibly the NFC North.
Pat
Yasinskas
ESPN.com

DIVISION FINISH: 3 If they were in another division, the Titans would be a playoff contender because Jeff Fisher can coach with the best. But Tennessee doesn't have enough offense to stay with the Colts and Jaguars.


CONSENSUS DIVISION FINISH: 3 | NFL standings
BEST OF THE TITANS
Best red zone option: Tight end Alge Crumpler. The former Atlanta Falcon can help the Titans in a lot of areas, but his presence will be felt the most in the red zone. The Titans were the NFL's worst team last year when it came to scoring touchdowns once they got inside the 20.
Best player who won't start:
Linebacker Stephen Tulloch. He made a ton of plays in camp and it's hard not to like the way he hits. But the Titans will stick with steady Ryan Fowler in the middle, and Tulloch will back up Fowler, Keith Bulluck and David Thornton.
Best speed:
Running back Chris Johnson. He's one of those have-to-see-it-to-believe-it guys. It's nearly impossible to get a square hit on him as he's not just fast, but slippery. Potentially an excellent weapon.
Best chance at swatting down passes:
Jason Jones. The guy has the wing span of a condor and the Titans intend for him to be their third interior defensive lineman. When he doesn't collapse the pocket, he's going to get his hands up and deflect a lot of balls.
Best mild-mannered position coach:
Mike Munchak. The Hall of Fame offensive lineman is incredibly low key. But he consistently pieces together effective lines, with the next guy always ready. Watch how Eugene Amano will smoothly replace Jacob Bell at left guard.
-- Paul Kuharsky, ESPN.com
SCOUTS INC.'S FAB FIVE
Scouts Inc. has evaluated and graded more than 2,400 NFL players heading into the 2008 season, giving Insiders a leg up on the competition with exclusive grades, alerts and scouting reports.
Top five players

ANALYSIS
1. Albert Haynesworth
Defensive tackle
6-6 | 320
(Grade 92) He can play big when he is healthy and dominates his area with strength, quickness and athleticism. Haynesworth can read blocking schemes, locate the level of the ball quickly and make plays in the backfield.
4. Kyle Vanden Bosch
Defensive end
6-4 | 278
(81) He is constantly in motion and makes a lot of plays based on hustle and desire more than physical tools. He uses a variety of counter moves to work his way to the pocket, rather than using his quickness.
4. Keith Bulluck
Linebacker
6-3 | 235
(81) He has excellent size to go with plenty of speed, athleticism and agility. Bulluck is very athletic in his pass drops, shows the ability to read the quarterback and has good route recognition. He is a workhorse.
4. Michael Roos
Offensive tackle
6-7 | 315
(81) He has slowly become one of the top left tackles in the league. Roos is a natural knee bender with above-average foot quickness and excellent lateral range. He is a coach's dream because he absorbs everything.
5. David Thornton
Linebacker
6-2 | 225
(76) He plays with excellent speed, effort and makes plays on both sides of the field. Thornton is quick to recognize blocking schemes and takes good angles to the ball. He can also mirror most tight ends in coverage.
Player grading scale: Elite (90-100), outstanding (80-89), solid starter (75-79), good starter (70-74)
SCOUTS INC.'S ANALYSIS
Strengths

Albert Haynesworth: He proved last season that he has All-Pro ability and is, when healthy, a virtually unstoppable force. But last year Haynesworth was playing for a new contract, and his play previously had been wildly inconsistent. If he plays hard and avoids injury, Tennessee's defense should keep every game close. Haynesworth's presence allows DE Kyle Vanden Bosch to exploit single blocking and frees up the Titans' athletic outside linebackers to run and hit. Without Haynesworth in top form, the Titans would be in for a long season.
Running back:
Tennessee burned a first- or second-round draft pick in each of the last three drafts on running backs. Those moves finally will pay off in 2008. Expect coach Jeff Fisher's squad to lean heavily on the rushing attack. There will be plenty of carries to go around for the pounder, LenDale White, and electric rookie Chris Johnson.
Offensive line:
RT David Stewart and LT Michael Roos are an underappreciated set of two-way offensive tackles. Both players are just 25 years old, and should only get better. Veteran C Kevin Mawae still is solid in the middle. And even though Tennessee has two new starting guards, LG Jake Scott is an upgrade from a year ago. This is a very good line, and the tackles in particular are superb.
Weaknesses

Receivers:This one is glaringly obvious. On draft day, the Titans didn't see a wide receiver worthy of their first-round pick, so they grabbed Johnson instead. The team added free-agent TE Alge Crumpler, who could become a fine safety valve for QB Vince Young. But there remains an absence of consistent weapons on the outside. Ignoring the need for a true No. 1 receiver much longer could forever stunt Young's development.
Quarterback:
This very well could turn into a strength, but for now Young is an unfinished product. He needs to improve his passing for the Titans to take the next step in a brutally tough division. His completion percentage rose noticeably in his second year, and he's capable of further improvement. But his accuracy still is a problem, and his big-play ability was diminished last season. New offensive coordinator Mike Heimerdinger will lean on the rushing attack, get Young outside the pocket and simplify the young quarterback's reads and progressions. Those changes should help.
Finding the end zone:
K Rob Bironas led the league in field goals last year (35), but that's not a key stat anyone wants to brag about. It speaks more to Tennessee's inability to finish drives than it does to Bironas' skill. The Titans averaged just 18.8 points last year, which was good for 22nd in the league. They have to score more this season.
-- Scouts Inc. watches games, breaks down film and studies football from all angles.
JEREMY GREEN'S X FACTORS
FOOTBALL TODAY PODCAST: DIVISION PREVIEW
MY BEST NFL GAME

Gage
Titans wide receiver Justin Gage on the best NFL game he has ever been part of:
Monday Night Football when I was with the Chicago Bears and we played down in Arizona. It was just a great comeback. We were down I think three touchdowns at the half.
[Former Titans receiver Mike Williams, who was listening in, chimes in with Dennis Green's famous post-game rant, "They were who we thought they were," and Gage giggles.]
The first turnover, I remember Mike Anderson got a sack and Mike Brown recovered a fumble and scored a touchdown that took us into the fourth quarter and we felt like we had a chance. Going to the fourth quarter, Brian Urlacher stripped Edgerrin James and Charles Tillman, he recovered the fumble and got that touchdown.
And I think that's the game where Devin Hester really made his name. On that next punt to him, he took it back to the house and that gave us the lead. At that point we knew we were going to have a special season. The next day I just remember seeing Green going crazy in the interview. You hate to say it was hilarious, but it was hilarious. You were just glad you were on the winning side.
-- As told to Paul Kuharsky, ESPN.com
FRANCHISE BEST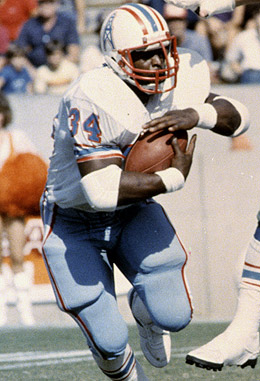 Photo by NFL
In a vote by SportsNation, RB Earl Campbell was selected best Oiler/Titan ever. A punishing player, he had almost 7,000 rushing yards in his first four seasons in the NFL. Complete results
BLOGS: PRO AND FAN

Looking for more Titans coverage? You've come to the right place. Paul Kuharsky writes about all things AFC South in his division blog.


Featured Fan Preview

by Lett08
They are not flashy like the Patriots or flamboyant like the Cowboys. Their uniforms are symbolic of their blue collar mentality: bring your lunch, punch the other team in the mouth, and there's no such thing as an ugly win. Blog

Submit your blog preview
FANTASY FOCUS
Can Vince Young take the next step?

Young
In 2007, Vince Young might have been held back by since-departed offensive coordinator Norm Chow, and it remains to be seen if Mike Heimerdinger will open the offense up and let Young improvise more. That would seem to be the wise move and would cater to the young man's talents, as passing accuracy is not likely to suddenly become a strength. I do expect Young to take a step forward, but let's temper expectations to a reasonable level. He's going to make big plays, but with that comes mistakes and turnovers, and fantasy owners should be prepared for that as well. If you're looking for 25 touchdown passes, that's not Young's game. At the same time, don't expect him to rush for 1,000 yards or contribute more than a few rushing touchdowns. Young should only improve when it comes to reading defenses and making quick decisions, and this should contribute to better stats as well. We project Young as the No. 24 quarterback in fantasy, on his way to around 2,400 yards and 10 touchdown passes.
-- Eric Karabell, ESPN.com
More Titans
|
Fantasy index