WASHINGTON REDSKINS (Consensus division finish: 4th)
Tom Hauck/Getty Images
EXPERTS' PICKS
The Redskins finished third in the NFC East last season with a 9-7 record. For NFC East coverage, visit Matt Mosley's NFC East blog. | Discuss Redskins | MAG Preview
ANALYST
PREDICTION
Jeffri
Chadiha
ESPN.com

DIVISION FINISH: 4 There's a lot to like about new head coach Jim Zorn and the changes he's making to the Redskins' offense. It's just that it will probably be a year or two before those adjustments yield major results.
John
Clayton
ESPN.com
DIVISION FINISH: 4 Jim Zorn is winning over the Redskins with his play calls. Throw in Jason Taylor and an improving Jason Campbell, and the Redskins could be in the playoff mix.

Tim
Graham
ESPN.com

DIVISION FINISH: 4 Jim Zorn must make the leap from quarterbacks coach to head coach without any coordinator experience in between. They'll go as far as their rookie coach and Jason Campbell take them.
Jeremy
Green
Scouts Inc.

DIVISION FINISH: 2 This is a team I was a little more high on before the injury bug hit. I still like QB Jason Campbell in this new offense because he had success in a West Coast system in college. The addition of Jason Taylor will pay huge dividends for a secondary that can turn errant throws into turnovers.
Paul
Kuharsky
ESPN.com

DIVISION FINISH: 4 Moving in a good direction, but someone has to be at the bottom of this pile. Jim Zorn's system and the young receivers won't be able to lift the offense in their first season.
Matt
Mosley
ESPN.com

DIVISION FINISH: 4 I would pick this team to win at least three other divisions, but this is now the best division in football. The season will hinge on how quickly QB Jason Campbell can pick up Jim Zorn's West Coast offense. He looked superb in camp, but he needs to work more with his new receivers.
Mike
Sando
ESPN.com

DIVISION FINISH: 4 Quarterbacks sometimes need three seasons to learn a new offense. Jason Campbell should beat that timetable as long as Jim Zorn is teaching him.
Kevin
Seifert
ESPN.com

DIVISION FINISH: 4 Something just doesn't seem right about the way Jim Zorn got the head coaching job. The Redskins have talent on both sides of the ball, but Zorn would seem to have a steep learning curve.
James
Walker
ESPN.com

DIVISION FINISH: 4 Washington has talent, but someone has to finish fourth in the NFC East. There is not enough firepower on this roster to overtake teams like the Dallas Cowboys and New York Giants.
Seth
Wickersham
ESPN The Magazine

DIVISION FINISH: 4 Conventional wisdom is that the Redskins are overmatched in the NFC East -- if opponents figure out a way to stop Clinton Portis, Santana Moss, Antwaan Randle El and an accurate Jason Campbell. If Jim Zorn can shake them open, Washington could surprise a few teams.
Bill
Williamson
ESPN.com

DIVISION FINISH: 4 It will be interesting to see what Jim Zorn can do with this team. Remember, the Redskins were a playoff team last season, and they have some solid talent. It would not be a surprise if they win 10 games.
Matt
Williamson
Scouts Inc.

DIVISION FINISH: 4 Jason Taylor should be exactly the type of playmaker this defense needs. While there is talent on offense and RB Clinton Portis is a rock, the passing game should be another year away as Jason Campbell & Co. learn the new system and the rookie receivers get their feet wet.
Pat
Yasinskas
ESPN.com

DIVISION FINISH: 4 Owner Daniel Snyder was relatively quiet in the offseason and he made a good hire in coach Jim Zorn. But it's going to take some time for Zorn's system to take hold.


CONSENSUS DIVISION FINISH: 4 | NFL standings
BEST OF THE REDSKINS
Best-dressed coach: New head coach Jim Zorn is so into fashion that he learned the names of the most expensive jean labels. He has a military-style haircut, but from neck down, he's a three-piece coach. That doesn't even make sense, but I'm writing it anyway.
Best arm in camp:
You're not going to believe me, but Derek Devine out of Marshall has an absolute gun. Jason Campbell's the better quarterback, but I don't think he has the velocity of Devine.
Best offseason pickup:
Defensive end Jason Taylor will put up big numbers in this defense. He's still quick enough to slide by offensive tackles and he's a lot better in the field than people think.
Best red-zone receiver:
With rookies Malcolm Kelly and Devin Thomas missing significant time, there are some openings here. The truth is that Fred Davis will give them another excellent red-zone target.
-- Matt Mosley, ESPN.com
SCOUTS INC.'S FAB FIVE
Scouts Inc. has evaluated and graded more than 2,400 NFL players heading into the 2008 season, giving Insiders a leg up on the competition with exclusive grades, alerts and scouting reports.
Top five players

ANALYSIS
1. Chris Samuels
Offensive tackle
6-5 | 310
(Grade 81) He's a good athlete with good size and strength. As a run-blocker, he has good initial quickness and body control. Samuels provides a good mesh on combo blocks and can work his feet after contact for movement.
1. Clinton Portis
Running back
5-11 | 223
(81) He is a very good athlete with good quickness, agility and balance. Portis has good, quick feet to adjust and good body control to avoid. He's good at seeing the crease and getting his pads down to make the cut.
3. Chris Cooley
Tight end
6-3 | 249
(80) He doesn't have the ideal size, but he is a good overall athlete. Cooley is a very good receiver who has good bursts into routes and he runs good patterns. He shows very good overall quickness and body control.
4. London Fletcher
Linebacker
5-10 | 245
(77) He is an undersized player for the position, but he has outstanding instincts. He plays fast, aggressive and is a very good read-and-react player who can get to the ball quickly. He continues to be productive.
5. Andre Carter
Defensive end
6-4 | 252
(76) He is slightly undersized, but has good quickness and athletic ability. He is a better pass-rusher than run player with good lateral quickness and balance. As a pass-rusher, he has good quickness up field.
Player grading scale: Elite (90-100), outstanding (80-89), solid starter (75-79), good starter (70-74)
SCOUTS INC.'S ANALYSIS
Strengths

Running game: They are in very good shape with Clinton Portis and Ladell Betts at tailback. That duo will have to carry the offense early in the season while the passing game is still evolving. If a grizzled offensive line can stay healthy, Portis and Betts should be productive running inside, on the perimeter, catching short screens and checkdowns.
Athletic tight ends:
With the athleticism and versatility to thrive in a West Coast offense, Chris Cooley could be poised for a huge season. His strength is his ability to line up at different spots and create matchup problems. Rookie Fred Davis also should get opportunities to produce if he matures quickly. The Redskins can stretch the field using the tandem in two-tight end sets, which might be necessary until the young wide receivers get their legs under them.
Improved pass rush:
The addition of DE Jason Taylor gives Washington vastly improved pass-rush speed off the edge. Taylor is very crafty with his hands and has a great understanding of pass-rush sequences. On the opposite side, DE Andre Carter proved last season that he can bring heat as well. If he gets after the quarterback as he did a year ago, Redskins opponents will find it almost impossible to get both Carter and Taylor blocked.
Weaknesses

Cornerback: While Carlos Rogers recovers from a severe knee injury, the team's depth at cornerback will be strained. The Redskins have received excellent production from Shawn Springs, given his age and injury history. But some believe the coaching staff began scheming to hide his weaknesses last season.
Wide receivers:
The West Coast offense typically values size and strength at wide receiver, more so than most schemes. Undersized targets Santana Moss and Antwaan Randle El aren't obsolete in the system, but the principles of the offense all but require a big frame and physical presence at the position. Rookies Devin Thomas and Malcolm Kelly were drafted with those principles in mind, but their inexperience and training camp injuries are significant setbacks.
Injury issues:
The trainers at Redskins Park have been busy and nine players already have gone under the knife, affecting depth. The injuries have an effect on job competitions and player evaluation during training camp and the preseason, a crucial period for both. Meanwhile, team chemistry and continuity could be stunted, particularly in the wake of a staff and scheme overhaul.
-- Scouts Inc. watches games, breaks down film and studies football from all angles.
JEREMY GREEN'S X FACTORS
FOOTBALL TODAY PODCAST: DIVISION PREVIEW
MY BEST OPPONENT

Cooley
Redskins tight end Chris Cooley on Cowboys tight end Jason Witten:
I watched film of Witten and [Jeremy] Shockey in the offseason. They both do a lot of amazing things, but Witten's the best I've seen. I've learned a lot by studying him.
He's really good on his routes. A safety or linebacker doesn't really have a chance against him because you can't figure out where he's going. And it doesn't hurt that he's close friends with [Tony] Romo. They seem to have this innate sense of how to find each other at all times. He's also become a pretty good blocker. You can just tell that he works at it like crazy, and that's a real inspiration.
-- As told to Matt Mosley, ESPN.com
FRANCHISE BEST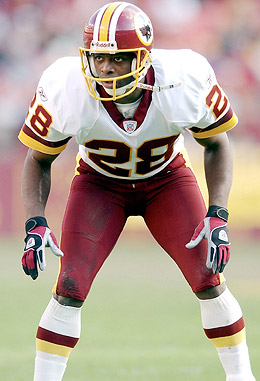 Al Messerschmidt/NFL
In a vote by SportsNation, cornerback Darrell Green was selected best Redskin ever. The "Ageless Wonder" was one of the fastest players in history, and he ranks 18th all time in interceptions with 54. Complete results
BLOGS: PRO AND FAN

Looking for more Redskins coverage? You've come to the right place. Matt Mosley writes about all things NFC East in his division blog.




Featured Fan Preview

by HogHeaven085
If the passing game turns out smoothly, and if Jim Zorn turns out to be a good coach, I see an 11-5 season. But, if neither of those things happen, I can see a 7-9 or possibly even a 6-10 season. Splitting the difference somewhat, my final prediction for the year is a 9-7 record. Blog

Submit your blog preview
FANTASY FOCUS
Is Jason Campbell a breakout candidate?

Campbell
Breakout candidate might not be the appropriate phrase. Might I suggest sleeper? Admittedly, that might be splitting hairs. But I'm all about sticking to the technical definitions, and I think of breakout bets being names you know who might provide early-round value for a mid-round selection. Sleepers, by comparison, are lesser-known, late-round gambles with a shot at providing unexpectedly decent value. Jason Campbell fits that latter description. Can we expect a 3,500-yard, 25-touchdown type season from Campbell? Though unlikely, it can't be entirely ruled out if he adapts quickly to what is his seventh offensive system in eight years. First off, let's get the thought of any quarterback controversy out of the way. There isn't one. Todd Collins might have rallied these Redskins to four consecutive wins and a playoff berth after stepping in for an injured Campbell in Week 14 last season, but Campbell is the best fit for new coach Jim Zorn's West Coast offense. If you're the type to sit back and wait on lesser-priced quarterbacks in your draft, Campbell is a fine choice to pair with another matchups-capable type. All the pieces are here for him to flip that proverbial switch, and take off statistically.
-- Tristan H. Cockcroft, ESPN.com
More Redskins
|
Fantasy index