ATLANTA FALCONS (Consensus division finish: 1st)
Paul Abell/US Presswire
EXPERTS' PICKS
The Falcons finished second in the NFC South last season with a 11-5 record. For more Falcons coverage, visit: Pat Yasinskas' NFC South blog | Falcons clubhouse
ANALYST
PREDICTION
Jeffri
Chadiha
ESPN.com

DIVISION FINISH: 2 Forget about a second-year letdown. They'll be even better on offense now that tight end Tony Gonzalez joins quarterback Matt Ryan, running back Michael Turner and wide receiver Roddy White.
John
Clayton
ESPN.com

DIVISION FINISH: 1 I predict the Falcons could make the Super Bowl in the next three years. This could be the year if coach Mike Smith successfully replaced five starters on defense. Matt Ryan is the next quarterback superstar. The pressure is off him because of a running attack that eats up 35 carries a game. Adding Tony Gonzalez to the offense should make Ryan golden in the red zone.

Tim
Graham
ESPN.com

DIVISION FINISH: 2 The Falcons have some fantasy dandies, with phenom quarterback Matt Ryan, running back Michael Turner, receiver Roddy White and tight end Tony Gonzalez. If the O-line can stay healthy, look out.
Jeremy
Green
Scouts Inc.

DIVISION FINISH: 2 I think they are a playoff team. The defensive line play will be better and QB Matt Ryan's ascension will continue.
Paul
Kuharsky
ESPN.com

DIVISION FINISH: 1 Matt Ryan and Michael Turner build on their first season together, and the Falcons continue to grow and get better. I feel as if I should expect a down year on the heels of the big debut, but I can't.
Matt
Mosley
ESPN.com

DIVISION FINISH: 2 That wasn't a fluke last season. Michael Turner's the real deal, and Matt Ryan is the perfect fit for the Falcons' offense. I think Atlanta and Carolina are very close in terms of talent.
Len
Pasquarelli
ESPN.com

DIVISION FINISH: 1 Coach Mike Smith has been superb after the devastating losses of Bobby Petrino and Michael Vick. Smith's public even-handedness is good for this team. QB Matt Ryan is a superstar in the making.
Mike
Sando
ESPN.com

DIVISION FINISH: 1 Arming Matt Ryan with one of the NFL's great all-time receiving tight ends makes me think the Falcons will continue to improve.
Kevin
Seifert
ESPN.com

DIVISION FINISH: 1 I like everything about the Falcons, starting with their budding star at quarterback (Matt Ryan) and continuing with their smash-mouth approach. Getting their defense shored up was a top priority.
James
Walker
ESPN.com

DIVISION FINISH: 1 "Matty Ice" was good enough to get the Falcons to the postseason as a rookie. The next step for the young quarterback is to win once he gets there.
Seth
Wickersham
ESPN The Magazine

DIVISION FINISH: 1 With Matt Ryan and John Abraham, the Falcons are too talented and too hardworking -- watch how Tony Gonzalez improves the intensity level at practice -- not to make a repeat bid for the playoffs.
Bill
Williamson
ESPN.com

DIVISION FINISH: 1 The Falcons are going to use last season's success as a steppingstone and become one of the league's best teams. I see this team being a serious contender to advance to the Super Bowl. Tony Gonzalez makes this team special.
Matt
Williamson
Scouts Inc.

DIVISION FINISH: 1 I have said numerous times that I expect the Falcons to boast the top offense in the league this season -- which is really saying something when you look around the league at some of the other top units. The defense should allow plenty of points, as well, but, in the end, Matt Ryan will lead the Falcons to plenty of wins.
Pat
Yasinskas
ESPN.com

DIVISION FINISH: 1 Yes, the schedule is brutal. But Matt Ryan is for real, and now he has Tony Gonzalez. The defense is going to be better than last year, when it overachieved. Falcons have the best coaching staff in the NFC, maybe in the entire league.


CONSENSUS DIVISION FINISH: 1st | NFL standings
BEST OF THE FALCONS
Best reason there won't be a sophomore slump for Matt Ryan: He already had a very good offense around him and now he has the best tight end ever: Tony Gonzalez. Plus, Ryan is the real deal and his progress is only going upward.
Best offensive lineman you might never have heard of:
Harvey Dahl. The right guard is a no-name player to most. But Ryan and Michael Turner will tell you he was Atlanta's best lineman last year.
Best defensive lineman you might never have heard of:
Jonathan Babineaux. This defensive tackle was one of the most underrated players in the league last year. If rookie tackle Peria Jerry and defensive end Jamaal Anderson can take blockers off Babineaux, you just might see him in the Pro Bowl.
Best offseason move:
Signing linebacker Mike Peterson. Signing a 33-year-old to replace veteran Keith Brooking might not seem like a big deal. But Peterson has a long history with coach Mike Smith, already has taken over as the leader of the defense and is anxious to redeem himself after clashing with coach Jack Del Rio in Jacksonville last year.
Best assistant coach:
Mike Mularkey. All the offensive coordinator needs to get another shot at a head-coaching job is one more big season from Ryan. The Falcons likely will lose Mularkey at some point, but they have quarterbacks coach Bill Musgrave waiting in the wings.
-- Pat Yasinskas, ESPN.com
SCOUTS INC.'S FABULOUS FIVE
Scouts Inc. has evaluated and graded more than 2,500 NFL players heading into the 2009 season, giving Insiders a leg up on the competition with exclusive grades, alerts and scouting reports.
Top five players

ANALYSIS
1. Tony Gonzalez
Tight end
6-5 | 234
(Grade: 84) Gonzalez is one of the most prolific receiving tight ends in NFL history. He is an outstanding athlete with great receiving skills. He has clearly lost a step since first entering the league, but is a crafty veteran who understands all the little nuances of the position.
2. Michael Turner
Running back
5-10 | 256
(84) Turner finally got his chance to shine after signing a big free-agent contract with the Falcons before the 2008 season. Turner had a monster first year as the Falcons' featured back.
3. John Abraham
Defensive end
6-4 | 263
(78) Abraham is a tall, lanky defensive end with explosive quickness off the ball as well as upfield speed for pass-rush purposes. He has excellent speed and range. He does a good job of reading blocking schemes and understands blocking angles.
4. Matt Ryan
Quarterback
6-4 | 213
(78) Ryan met or exceeded all expectations in his rookie season, starting all 16 games and winning the rookie of the year award. He showed the physical tools to succeed at quarterback as well as leadership qualities and mental toughness to bounce back from subpar performances.
5. Roddy White
Wide receiver
6-0 | 212
(78) White took a major step forward in his fourth season with the Falcons. He is starting to show the ability to become a big-play receiver. He is explosive off the line and shows excellent acceleration to get over the top of defenders on deep routes.
Player grading scale: Elite (90-100), outstanding (80-89), solid starter (75-79), good starter (70-74)
SCOUTS INC.'S ANALYSIS
Strengths

QB Matt Ryan: Although he still has room to grow, his rookie season was one of the best we have seen at that position in a long time. This could be a Pro Bowl season for Ryan.
WR Roddy White:
White clearly has established himself as a No. 1-caliber wideout. White, who was close to being labeled a bust at one point, has an excellent rapport with Ryan, and they are one of the best young QB-WR duos in the NFL.
Two-headed monster at RB:
One of the reasons Ryan was able to develop so quickly was the excellent running game the Falcons featured. Michael Turner and Jerious Norwood possess excellent size, strength and speed, and both are capable of scoring from anywhere on the field.
Weaknesses

Secondary: There are not a lot of big names or playmakers here. Strong safety Erik Coleman is going to have to take on a major leadership role to protect a secondary that is lacking big-time playmakers at corner.
Defensive line:
If rookie DT Peria Jerry does not come up big, there is a major hole in the middle of the Falcons' defensive front. DE John Abraham is still a stud when healthy, but this is a make-or-break-type season for LDE Jamaal Anderson.
Linebacking unit:
The Falcons are counting on an aging veteran in Mike Peterson, who became somewhat of a malcontent last season in Jacksonville. They are young in the middle with Curtis Lofton, although he did have an excellent rookie season, and on the strong side with Stephen Nicholas. There is not very good depth here, either.
Scouts Inc. watches games, breaks down film and studies football from all angles.
JEREMY GREEN'S BURNING QUESTIONS
FOOTBALL TODAY PODCAST: DIVISION PREVIEW
DRAFT CLASS WATCH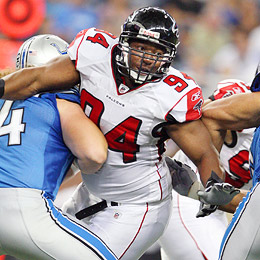 Peria Jerry: A shot of youth for the D-line.
Summary:
After focusing on the offense in their first offseason, general manager Thomas Dimitroff and coach Mike Smith turned almost exclusively to defense this year. They used only one draft pick on an offensive player as they worked to restructure a defense that will have five new starters.
What to expect:
This year's draft class will be brought along more slowly than last year's. (Matt Ryan, Sam Baker and Curtis Lofton were in the starting lineup from the beginning.) First-round pick Peria Jerry will be the only rookie opening the season as a starter, and expectations are high for him. Jerry will be asked to solidify the middle of the defensive line. Second-round pick William Moore fell behind because of a training camp injury. But the team remains high on Moore, a safety, and third-round pick Chris Owens, a cornerback who also might factor in on the return game. With a very young secondary, Moore and Owens could have chances to work their way into more playing time.
Wild card:
Fourth-round pick Lawrence Sidbury is a bit of a project. The defensive end is undersized and isn't ready to be an every-down player until he bulks up. But Sidbury has great upside as a pass-rusher and could be used as a situational player this year. The Falcons view him as a younger version of John Abraham.
-- Pat Yasinskas, ESPN.com
FANTASY STARS
Michael Turner, RB

In his first season as a Falcon, Turner exceeded even the most wildly optimistic expectations, scoring 17 times and rushing for 1,699 yards. Because he sat in San Diego for four seasons, Turner is a young 27, and Atlanta's offensive line was a revelation that should only get stronger in '09. Turner is a terrific player. We like him, but he's not without risk because of his usage. Turner had a league-high 376 regular-season carries in '08, which renders him vulnerable to the "curse of 370." Startlingly few backs have submitted great seasons after a single year with that many carries. Larry Johnson, Shaun Alexander, Curtis Martin, Ricky Williams and Jamal Lewis have all fallen prey to the curse in the past five years. So although Turner looks terrific, don't be fooled into believing he's not without risk.
2009 Projection: 1,574 rush yds, 14 TD
---
Roddy White, WR

White, a former first-rounder, was already the poster child for the third-year receiver leap. Now maybe he's the emblem of fourth-year "studliness." In 2008, he finished fourth in receiving yards, seventh in targets and fourth in yards per target among players with at least 100 looks. White and quarterback Matt Ryan established an instant trust, one based on the tremendous ball skills of White, who is in the Steve Smith mode of doing anything to catch a pass. True, Ryan might have been fixated a little too much on White -- a full 34.3 percent of Falcons passes were aimed his way -- but as opposing defenses gird their loins to stop Michael Turner by hook or by crook, we think White will continue his sensational play.
2009 Projection: 91 rec, 1,337 rec yds, 8 TD
ESPN THE MAGAZINE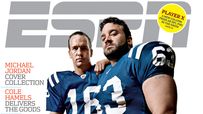 The Chargers win the Super Bowl? What in the name of Norv Turner is going on here?