BALTIMORE RAVENS (Consensus division finish: 2nd)
Jerry Lai/US Presswire
EXPERTS' PICKS
The Ravens finished second in the AFC North last season with an 11-5 record. For more Ravens coverage, visit: James Walker's AFC North blog | Ravens clubhouse
ANALYST
PREDICTION
Jeffri
Chadiha
ESPN.com

DIVISION FINISH: 2 The word is that their running game could be dominant, with a strong offensive line and a loaded backfield. But they will miss former defensive coordinator Rex Ryan, and wide receiver could be an issue as well.
John
Clayton
ESPN.com

DIVISION FINISH: 2 Joe Flacco looks as though he's even more in control in his second season. The Ravens still plan to run the ball 35 to 37 times a game, but Flacco appears to be ready to handle more. The Ravens still have holes at wide receiver. Plus, it will be more difficult without having Rex Ryan calling the defensive plays.

Tim
Graham
ESPN.com

DIVISION FINISH: 2 One of the league's surprise teams in 2008 reached the AFC title game with a rookie head coach and a rookie quarterback. Even if they don't maintain their defensive brilliance without Rex Ryan, Bart Scott and Jim Leonhard, the Ravens clearly are the second-best team in the division.
Jeremy
Green
Scouts Inc.

DIVISION FINISH: 2 The Ravens are going to be a playoff team, but they still lack the offensive weapons to unseat Pittsburgh for the AFC North title. I think losing Rex Ryan will have an impact on the defense as well.
Paul
Kuharsky
ESPN.com

DIVISION FINISH: 1 A lot of people expect a second-year slump for Joe Flacco, but this team is built for him to succeed. Something has to change year-to-year, and I see them edging the Steelers after an offseason aimed at closing the gap.
Matt
Mosley
ESPN.com

DIVISION FINISH: 2 Ray Lewis couldn't create a market for himself during free agency, so he stayed with the Ravens. I think he's still pretty explosive. On offense, Joe Flacco's only going to get better. And watch out for running back Ray Rice. Really solid player.
Len
Pasquarelli
ESPN.com

DIVISION FINISH: 1 An aggressive team that loves the blitz, and will come from every angle imaginable. Losing Rex Ryan as coordinator will make a difference, but not a telling one. Third-year tailback Ray Rice is a player to watch.
Mike
Sando
ESPN.com

DIVISION FINISH: 2 Joe Flacco caught a break when Derrick Mason decided to keep playing. What he could really use is more consistency from Todd Heap.
Kevin
Seifert
ESPN.com

DIVISION FINISH: 2 Too bad the Ravens are in the same division as the Steelers, who play the same game just a little bit better. Baltimore might be the second-best team in the AFC in back-to-back seasons.
James
Walker
ESPN.com

DIVISION FINISH: 2 The Ravens often struggle to put together back-to-back winning seasons. But they've never had a long-term solution at quarterback like Joe Flacco.
Seth
Wickersham
ESPN The Magazine

DIVISION FINISH: 3 The lack of playmakers in the passing game will flatten Joe Flacco's learning curve and put more pressure on a defense adjusting to life without Rex Ryan.
Bill
Williamson
ESPN.com

DIVISION FINISH: 2 John Harbaugh is the goods, and he has a nice, balanced team. But I think the Ravens might have difficulty playing up to the level they did last season and might struggle to make the playoffs in the deep AFC.
Matt
Williamson
Scouts Inc.

DIVISION FINISH: 2 Little should change on defense, even with the loss of Rex Ryan. Putting points on the board against the Ravens will remain a very daunting task. Joe Flacco will be ready to digest more and produce at a higher rate, but the glaring question remains: Who is a difference-maker as a receiver in Baltimore?
Pat
Yasinskas
ESPN.com

DIVISION FINISH: 2 If anybody's going to challenge the Steelers in this division, it will be the Ravens. Like Atlanta's Matt Ryan, Joe Flacco is much more than a one-year wonder. He and Ben Roethlisberger are going to be facing each other in some epic games for the next decade or so.


CONSENSUS DIVISION FINISH: 2nd | NFL standings
BEST OF THE RAVENS
Best offensive player: QB Joe Flacco. It's hard to believe Baltimore's best offensive player is in just his second year. But if Flacco continues his rapid progress, it will not be a surprise by year's end. Baltimore, a team that has struggled on offense since its inception, feels it has finally found its franchise quarterback in Flacco. He has all the tools, including a strong arm, even-keeled makeup and sneaky athleticism.
Best defensive player:
S Ed Reed. Arguably the best defensive playmaker in the NFL, Reed has the ability to change games every time he touches the football. Whether it's a 20-yard interception return or a 100-yard return, his full-speed aggressiveness is symbolic of the way Baltimore likes to play defense. Reed also is the best overall athlete on the team.
Best playmaker:
WR Derrick Mason. If Reed is the best playmaker on defense, Mason fills that role for the offense. The Ravens were relieved when Mason returned from his brief retirement. He led the team in receptions and has become Flacco's favorite target. The receiving corps for Baltimore has received a lot of scrutiny in the offseason. But as long as Mason is in the lineup, you can count on his consistency.
Best unheralded player:
DL Haloti Ngata. The casual fan may not be familiar with Ngata. But when you talk to players, coaches and scouts, Ngata is thought of very highly in NFL circles. His size and strength give him the ability to dominate the point of attack, while his surprising athleticism allows him to make plays that aren't normal for a player his size. Last year, for instance, Ngata recorded two interceptions dropping back in coverage.
-- James Walker, ESPN.com
SCOUTS INC.'S FABULOUS FIVE
Scouts Inc. has evaluated and graded more than 2,500 NFL players heading into the 2009 season, giving Insiders a leg up on the competition with exclusive grades, alerts and scouting reports.
Top five players

ANALYSIS
1. Haloti Ngati
Nose tackle
6-4 | 345
(Grade: 93) Ngata is one of the best defensive players in the NFL, and possibly the most important member of an excellent Ravens defense.
2. Ed Reed
Safety
5-11 | 200
(93) He has elite range and is one of the few back-end defenders whom opposing quarterbacks truly fear.
3. Terrell Suggs
Linebacker
6-3 | 260
(86) He understands leverage and how to get his opponent off balance as a pass-rusher, while using his strength and quickness to counter back inside.
4. Kelly Gregg
Defensive tackle
6-0 | 315
(84) He is an exceptional hands player who plays with excellent overall aggression. His motor never stops.
5. Ben Grubbs
Guard
6-3 | 315
(84) Grubbs is one of the best young guards in the league today and should only be getting better.
Player grading scale: Elite (90-100), outstanding (80-89), solid starter (75-79), good starter (70-74)
SCOUTS INC.'S ANALYSIS
Strengths

Physicality: This goes for both sides of the ball along with special teams. Players really feel it the morning after playing the Ravens. No offense uses more "heavy" sets, and the aggressiveness and overall physicality of their defense is well-known.
Coaching:
This is a very well-coached team on both sides of the ball, as well as on special teams, which ties into the physicality of this franchise. Cam Cameron was a flop as a head coach in Miami, but he is as fine an offensive coordinator as you will find in this league.
Defense:
Even with Ryan now in New York, the Ravens still have an exceptional veteran core led by Ray Lewis and Ed Reed which should ensure that there is little drop-off. The cornerback position appears to be improved from a year ago. The return of DT Kelly Gregg, who's coming back from a season-ending knee injury suffered in 2008 training camp, cannot be overlooked.
Weaknesses

Pass-catchers: Even with Derrick Mason returning from his brief retirement, there still is little to get excited about as options in the passing game for Joe Flacco. That goes for the tight ends as well. This is a glaring hole for an otherwise strong football team.
Offensive tackle depth:
LT Jared Gaither showed a lot of promise in his first year as a starter. First-round pick RT Michael Oher appears to be a very strong prospect, but Oher is only a rookie, and that brings a lot of uncertainty to the right tackle position. Compounding matters, swing OT Adam Terry is out for the year with a knee injury.
Scouts Inc. watches games, breaks down film and studies football from all angles.
JEREMY GREEN'S BURNING QUESTIONS
FOOTBALL TODAY PODCAST: DIVISION PREVIEW
DRAFT CLASS WATCH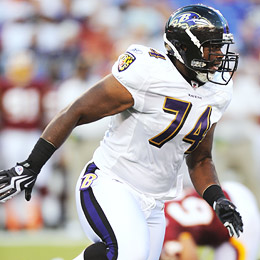 Michael Oher: In a key role already.
Summary:
The rookie class, particularly the two first-day picks, are expected to contribute right away. The rest of the group will aim to gradually fit in with this veteran-laden team.
What to expect:
The Ravens are ecstatic with rookie right tackle Michael Oher, their first-round pick (No. 23 overall). He was projected to be a top-15 pick. In the AFC North, particularly against the Steelers, the Ravens need solid play from their tackles. Veteran Willie Anderson struggled with his health in the offseason and retired, making the Oher pick look that much better. He will start Week 1 against the Chiefs. Another player expected to contribute early is second-round pick Paul Kruger. The defensive end/linebacker from Utah has shown a good motor and solid moves to the quarterback. Starter Terrell Suggs missed the entire spring because of contract issues and most of training camp with a foot injury, so Kruger has benefited from a lot of reps with the first team.
Wild card:
Watch defensive back Lardarius Webb. The third-round pick from Nicholls State has shown good ball skills and athleticism. He also has the versatility to play different positions.
-- James Walker, ESPN.com
FANTASY STARS
Ray Rice, RB

The Ravens rushed 37 times per game last season, tops in the NFL, which means there's room for multiple Baltimore running backs on fantasy teams. Rice hurt his shin in Week 14 and didn't see action thereafter, but he quickly became a coach's favorite in camp last year and figures to see his role grow in 2009. He's easily a more talented receiver than Le'Ron McClain and Willis McGahee, and despite his lack of ideal height, he has the quickness and power combo to be a feature back. Rice has been practicing with the No. 1 unit all summer, and figures to lead the trio in touches and yards, even as he cedes the ball to McClain at the goal line.
2009 Projection: 990 rush yds, 8 TD
---
Le'Ron McClain, RB

Our favorite Le'Ron McClain joke last year had something to do with his name rhyming with a certain presidential candidate, but we're over that. After suffering through a six-game midseason lull in 2008, during which he averaged just six carries per game, McClain finished strong: 531 yards and five touchdowns on 133 carries in the season's final month and a half. That he's part fullback is actually a drawback; often the Ravens will make him block for Ray Rice and Willis McGahee. But when Baltimore gets near the end zone, there's little question who's getting the rock. This will be a week-to-week committee, but McClain looks like the safest bet to lead the team in rushing touchdowns.
2009 Projection: 508 rush yds, 8 TD
ESPN THE MAGAZINE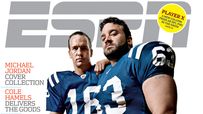 The Chargers win the Super Bowl? What in the name of Norv Turner is going on here?