BUFFALO BILLS (Consensus division finish: 3rd)
Scott Boehm/Getty Images
EXPERTS' PICKS
The Bills finished fourth in the AFC East last season with a 7-9 record. For more Bills coverage, visit: Tim Graham's AFC East blog | Bills clubhouse
ANALYST
PREDICTION
Jeffri
Chadiha
ESPN.com

DIVISION FINISH: 3 The offense improves dramatically with Terrell Owens as long as he stays healthy. This could be 2009's surprise team.
John
Clayton
ESPN.com

DIVISION FINISH: 3 Terrell Owens was one of the best signings of the offseason and will open things up offensively. Still, the Bills had a concerning preseason. The new interior of their offense isn't ready to handle 3-4 defenses at the start of the season. Plus, the mix of the no-huddle offense with a defense that bends but doesn't break may cause the Bills to lose time of possession in most games.

Tim
Graham
ESPN.com

DIVISION FINISH: 4 Fans are pumped over the possibilities of new receiver Terrell Owens and the implementation of a no-huddle offense. Third-year quarterback Trent Edwards has the skill-position players around him, but Buffalo's offensive line is highly suspect.
Jeremy
Green
Scouts Inc.

DIVISION FINISH: 3 The lack of offensive production in the preseason has been worrisome, and the Bills might start slow because of a nicked-up Terrell Owens and suspended RB Marshawn Lynch. I think the playoffs are a long shot, putting head coach Dick Jauron on the hot seat.
Paul
Kuharsky
ESPN.com

DIVISION FINISH: 4 Although the attention goes to Terrell Owens and the no-huddle offense, opponents will be able to throw off timing against an underwhelming offensive line. At least the Bills will make it more fun to watch.
Matt
Mosley
ESPN.com

DIVISION FINISH: 4 Poor T.O. Stuck near Niagara Falls, N.Y., on a really bad team. Marshawn Lynch is a good running back, but the Bills don't have the offensive line to create space for him.
Len
Pasquarelli
ESPN.com

DIVISION FINISH: 3 Look at the roster, and this is a club with some pretty good personnel. Is that personnel good enough to beat teams in the conference's toughest and most competitive division? Probably not, although it'll be better.
Mike
Sando
ESPN.com

DIVISION FINISH: 4 Terrell Owens is a terrific front-runner. The Bills will struggle at times, though, and Owens can quickly become bigger than his team when things do not fall his way.
Kevin
Seifert
ESPN.com

DIVISION FINISH: 3 Receiver Terrell Owens always has played well during Year 1 in a new city. The no-huddle offense should be interesting, but not enough to unseat the division powers.
James
Walker
ESPN.com

DIVISION FINISH: 4 I'm still not sold on QB Trent Edwards, despite the plethora of weapons around him.
Seth
Wickersham
ESPN The Magazine

DIVISION FINISH: 2 Nothing about the Bills is exceptional, but that doesn't mean Trent Edwards, T.O. and Lee Evans can't help the team finish second in the division -- not that a playoff trip will necessarily come with it.
Bill
Williamson
ESPN.com

DIVISION FINISH: 2 It's all about Terrell Owens in Buffalo. But I look at Owens as a final piece to a team that will make a playoff push. This team is ready to make some noise, and not all of it will be coming from Owens' mouth.
Matt
Williamson
Scouts Inc.

DIVISION FINISH: 4 The defense should be improved, and the special teams are strong, but the offensive line is such a glaring question mark. Plus, once the elements are a major factor, how well will the Bills' pass-happy hurry-up attack work out? I really have to question whether Trent Edwards can stay healthy under these circumstances.
Pat
Yasinskas
ESPN.com

DIVISION FINISH: 4 The Bills are betting that Terrell Owens can put them over the top. Sounds like a nice idea because Owens is a marvelous talent. But Owens has a knack for dragging down everything around him.


CONSENSUS DIVISION FINISH: 3rd | NFL standings
BEST OF THE BILLS
Best offensive player: On a team loaded with skill players, the best weapon is Marshawn Lynch. He's only 23 years old and already has gone to a Pro Bowl. Lynch isn't the most adroit receiver out of the backfield, but his concussive running style places him among the league's toughest to wrangle.
Best defensive player:
Marcus Stroud is a defensive tackle, but he tied for fourth on the team last season with six passes defensed. The three-time Pro Bowler was fourth in tackles with 85 while adding 2½ sacks and two fumble recoveries.
Best coach:
Special-teams guru Bobby April routinely has the Bills at the top of the NFL in coverage and returns. In the annual Dallas Morning News special-teams rankings, the Bills have finished first three times in the past five years. April very well could be the club's next head coach.
Best candidate to break out:
Leodis McKelvin, the 11th overall draft choice in '08, moves into the vacant right cornerback spot created when Jabari Greer left via free agency. McKelvin lacks experience, but there's value in getting flambéed by Terrell Owens and Lee Evans in training camp. McKelvin has scintillating skills and will have the chance to come up with interceptions.
Best rookie:
It's not 11th overall pick Aaron Maybin, but the other first-round selection: guard Eric Wood. He's a foundation-caliber player who will be in the starting lineup on opening day.
-- Tim Graham, ESPN.com
SCOUTS INC.'S FABULOUS FIVE
Scouts Inc. has evaluated and graded more than 2,500 NFL players heading into the 2009 season, giving Insiders a leg up on the competition with exclusive grades, alerts and scouting reports.
Top five players

ANALYSIS
1. Terrell Owens
Wide receiver
6-3 | 224
(Grade: 85) He's a crafty veteran who knows how to use his hands to push off when defensive backs sit at the top of routes. He does a good job of tracking deep balls and making over-the-shoulder adjustments.
2. Lee Evans
Wide receiver
5-10 | 197
(78) Evans has deceptive strength to break tackles after the catch, but his ability to stretch deep zones with explosive speed is the reason for his success. He can eat up a defender's cushion quickly with excellent burst off the line of scrimmage.
3. Marshawn Lynch
Running back
5-11 | 215
(78) Lynch is most effective between the tackles. He is blossoming as a receiver and has improved as a blocker. He has learned to square up effectively against pressure packages.
4. Paul Posluszny
Linebacker
6-1 | 238
(78) He has improved as a coverage defender with better route-progression reads in zone schemes. He has enough speed, quickness and agility to be effective in combination man coverages.
5. Aaron Schobel
Defensive end
6-4 | 243
(78) Schobel is an undersized defensive end with deceptive strength to hold the point of attack. He can be an explosive player off the edge as a pass-rusher, showing great initial quickness to gain leverage early in the play.
Player grading scale: elite (90-100), outstanding (80-89), solid starter (75-79), good starter (70-74)
SCOUTS INC.'S ANALYSIS
Strengths

Offensive playmakers: This has been a weak spot for the Bills in recent memory, but now they have playmakers at every position. Even if WR Terrell Owens has lost a step, as it appeared last season, he is still a terrific red zone receiver. Even the tight end position was upgraded athletically with the drafting of TE Shawn Nelson, and don't neglect the versatility that RB Fred Jackson brings to the table as well.
Special teams:
Year in and year out, the Bills are among the best teams in the league in this department. They have excellent coverage teams, kicking specialists and returners. This organization puts great emphasis on this phase of the game, and the results are quite impressive.
Young defensive talent:
Some of these youngsters are ready to step up. Keep an eye on players such as CB Leodis McKelvin, S Donte Whitner, LB Paul Posluszny and first-round pick LB Aaron Maybin. Led by McKelvin and Whitner, the Bills also have a very young secondary with strong collective upside.
Weaknesses

Offensive line: This might be the worst offensive line in the league. The Bills will field two marginal athletes for their respective offensive tackle positions, a new starter (who was a backup in Carolina) at center and probably two rookie guards, one of whom is a natural center and the other is a natural tackle.
Quarterback:
Edwards has shown glimpses of being a solid chain-moving signal-caller, but he is not an upper-tier quarterback. The real worry is his brittleness. Buffalo will have two heavy-footed tackles trying to keep up with the speedy outside linebackers of the 3-4 defenses in the AFC East.
Pass rush:
The addition of LB Maybin should help in this regard on throwing downs, but asking this undersized rookie to play every down is probably unwise at this point. DE Aaron Schobel's health is the key here. Buffalo managed only a meager 14 sacks in the 11 games that Schobel missed last season.
Scouts Inc. watches games, breaks down film and studies football from all angles.
JEREMY GREEN'S BURNING QUESTIONS
FOOTBALL TODAY PODCAST: DIVISION PREVIEW
DRAFT CLASS WATCH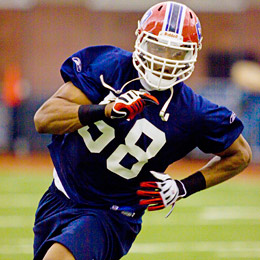 Aaron Maybin: Hampered by late signing
Summary:
Many draft analysts figured the Bills would draft a prospect who could replace two-time Pro Bowl left tackle Jason Peters. They did not, choosing instead to concentrate on defensive players and the interior line. Five of their eight draftees were defenders, including four defensive backs. They made Penn State pass-rusher Aaron Maybin the 11th overall pick, then snagged a pair of guards with two of their next three choices. Louisville's Eric Wood and Oregon State's Andy Levitre projected to start on opening night from the moment each was taken.
What to expect:
The Bills didn't sign Maybin until training camp was over. He missed countless reps and three preseason games. That will hurt his development and limit expectations early in the season. Levitre has struggled in exhibitions, but unless there's a development such as plugging in sophomore Demetrius Bell at left tackle, moving Langston Walker back to right tackle and sliding Brad Butler back to right guard, then both rookie guards should start in Week 1. High hopes for Southern Miss tight end Shawn Nelson, a fourth-round pick, have been tempered by mediocre showings in camp.
Wild card:
West Virginia defensive back Ellis Lankster has played much better than what you would expect from a player selected in the seventh round. Rookies taken in that territory generally are earmarked for the practice squad. Lankster might be doing enough to make the 53-man roster.
-- Tim Graham, ESPN.com
FANTASY STARS
Terrell Owens, WR

All right, T.O. just looks weird in that Bills uni, no? But for better or worse, he's Western New York's problem now. The Cowboys dumped Owens even though he'd posted three straight years of double-digit touchdowns and more than 1,000 yards receiving, but as we all know, having T.O. on your NFL team means dealing with more off-field drama than Jessica Simpson can shake a stick at. Owens will be 36 in December, but physical conditioning has never been his problem. The larger issue is whether Trent Edwards has the wing to get T.O. the ball where he wants it, and whether the Bills will kowtow to His Highness. He does have a history of making nice his first year in a new city, and in Lee Evans, Buffalo does have a viable threat opposite Owens. We don't see any reason why the double-digit scores or bizarre press conferences need to stop.
2009 Projection: 83 rec, 1,174 rec yds, 10 TD
---
Marshawn Lynch, RB

Lynch is the latest to fall prey to the NFL's punishment merry-go-round. Roger Goodell suspended him three games for concealing a loaded pistol, nine months after he was arrested for a hit-and-run in downtown Buffalo. That means Lynch will miss one quarter of the fantasy regular season, leaving a pretty big window open for Fred Jackson and Dominic Rhodes. However, once Lynch is on the field, he's a very good runner and receiver who has topped 2,100 yards rushing and scored 16 touchdowns in his two-year career, and sans suspension would merit top-10 consideration. Unless Jackson or Rhodes runs away with the job early, we expect similar production from Lynch in '09, prorated for a shortened season.
2009 Projection: 937 rush yds, 8 TD
ESPN THE MAGAZINE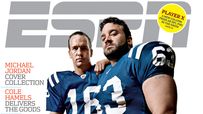 The Chargers win the Super Bowl? What in the name of Norv Turner is going on here?