CAROLINA PANTHERS (Consensus division finish: 2nd)
Crystal LoGiudice/US Presswire
EXPERTS' PICKS
The Panthers finished first in the NFC South last season with a 12-4 record. For more Panthers coverage, visit: Pat Yasinskas NFC South blog | Panthers clubhouse
ANALYST
PREDICTION
Jeffri
Chadiha
ESPN.com

DIVISION FINISH: 1 The Panthers are still built for a postseason run. A great running game and a talented defense always make a John Fox-coached team tough to beat.
John
Clayton
ESPN.com

DIVISION FINISH: 2 John Fox has a winning offense with Jake Delhomme, DeAngelo Williams, Steve Smith and a great offensive line, but his defense will be challenged all season stopping the run. Age and an injury hit them hard at defensive tackle. The key to the season is finding replacements and run-stoppers at DT.

Tim
Graham
ESPN.com

DIVISION FINISH: 1 The reigning division champs welcome back all but two starters. The Panthers boast one of the better running attacks in the NFL. The pass-rush combination of Julius Peppers, Charles Johnson and rookie Everette Brown could be nasty.
Jeremy
Green
Scouts Inc.

DIVISION FINISH: 3 I think the way they were bounced out of the playoffs will have an effect on the team and on QB Jake Delhomme, who struggled in the second half of last season. Even bigger will be the loss of DT Maake Kemoeatu (torn Achilles), a key run-stopper.
Paul
Kuharsky
ESPN.com

DIVISION FINISH: 3 Can't get that playoff catastrophe out of my head, don't have great faith in Jake Delhomme, and worry about the health and depth issues on the defensive line.
Matt
Mosley
ESPN.com

DIVISION FINISH: 1 Jake Delhomme's skills are in full retreat, but the presence of Steve Smith allows him to hold on a bit longer. And DeAngelo Williams might be the second-best runner in the game behind Adrian Peterson right now. Just a phenomenal player.
Len
Pasquarelli
ESPN.com

DIVISION FINISH: 3 Still a playoff-type team, but even some players have questions about the run defense. QB Jake Delhomme is like the little girl with the curl: When he is good, he is very good, and when he's bad (2008 playoff loss), he's awful.
Mike
Sando
ESPN.com

DIVISION FINISH: 3 It's rare to see a coaching staff willingly bolt after a 12-4 season. It happened to Carolina, and I'm not sure what to make of this team.
Kevin
Seifert
ESPN.com

DIVISION FINISH: 3 This is one of the best power running teams in the NFL. But strong running games alone don't carry teams to the playoffs. The Julius Peppers situation, along with an overhaul of the defensive coaching staff, merits further inspection.
James
Walker
ESPN.com

DIVISION FINISH: 2 The window is closing fast on QB Jake Delhomme. With a good supporting cast, he had better make the most of this season.
Seth
Wickersham
ESPN The Magazine

DIVISION FINISH: 3 How can this team have confidence that Jake Delhomme can win in January? Too bad, because the rushing attack (152 YPG in 2008) and a dangerous defense are good enough to win the division -- with an elite QB.
Bill
Williamson
ESPN.com

DIVISION FINISH: 2 The Panthers will win their usual 10 to 12 games and be a pain for the rest of the league as usual. This team should earn a wild-card spot in the playoffs.
Matt
Williamson
Scouts Inc.

DIVISION FINISH: 3 DeAngelo Williams is a bona fide star, and this running game is as good as any in the league. But outside of Steve Smith, there is very little to get excited about in the passing game. The biggest problem in Carolina, though, could be with the interior run defense, a weakness even before Maake Kemoeatu's season-ending injury. Carolina will miss the playoffs.
Pat
Yasinskas
ESPN.com

DIVISION FINISH: 2 The Panthers like to tell you they have 20 of 22 starters back, and that's nice. But this team has no depth because Julius Peppers is eating up $18 million in cap space. The Panthers can be very good if all goes well. But a couple of injuries could really mess up their season.


CONSENSUS DIVISION FINISH: 2nd | NFL standings
BEST OF THE PANTHERS
Best offseason move: The Panthers got into a staring contest with Julius Peppers and won. Peppers wanted out, but the Panthers locked him up with the franchise tag. Yeah, that's costing them $18 million in cap space and they weren't able to do anything in free agency. But they still have an extremely talented defensive end, who should be motivated because he's playing for a long-term contract -- either in Carolina or somewhere else.

Best practice battle: Peppers vs. offensive tackle Jordan Gross. They went head-to-head every day in training camp, and they're two of the best at their respective positions. Gross isn't going to see many opposing pass-rushers who can give him more problems than Peppers. Best new assistant coach: Defensive line coach Brian Baker. Yes, Ron Meeks will make a big impact as the defensive coordinator, but Baker could have a bigger impact. He's a fiery guy, and he has some talent to work with. Predecessor Sal Sunseri had no previous experience with defensive linemen, and some players felt he was in that position only because he was coach John Fox's buddy. Best motivation: Team owner Jerry Richardson had a heart transplant in February and is just starting to hit his full stride. Richardson is the only owner who has played in the NFL, and he's enormously popular among the players. You've heard of players' coaches? Well, the Panthers have a players' owner, and Richardson's presence is only going to help motivate the Panthers. Best second-year player: Right tackle Jeff Otah. He had a very good rookie year and was a major reason the running game was so effective. It's only a matter of time before people start talking about Gross and Otah as the best tackle duo in the NFL. -- Pat Yasinskas, ESPN.com
SCOUTS INC.'S FABULOUS FIVE
Scouts Inc. has evaluated and graded more than 2,500 NFL players heading into the 2009 season, giving Insiders a leg up on the competition with exclusive grades, alerts and scouting reports.
Top five players

ANALYSIS
1. Julius Peppers
Defensive end
6-7 | 283
(Grade: 91) Peppers has been a mainstay on the defensive line since being drafted with the second pick of the 2002 draft and has shown flashes of brilliance and ability to dominate as a pass-rusher as well as when defending the run.
2. Steve Smith
WR
5-9 | 185
(91) Smith is a nine-year veteran who remains one of the game's top playmakers at wide receiver. Despite his lack of ideal size, he has rare speed and quickness, and he is an outstanding athlete.
3. Jon Beason
LB
6-0 | 237
(85) Beason has started every game since being drafted in the first round two years ago. He is a very instinctive player who has outstanding reactions. He is extremely quick to diagnose and very efficient with his movements.
4. Jordan Gross
OT
6-4 | 305
(84) Gross has been a starting tackle for each of the six years he has been in the NFL and was moved from the right side to left tackle for the 2008 season.
5. DeAngelo Williams
RB
5-9 | 217
(79) Williams had a breakout season in 2008, finishing as the third-leading rusher in the league. He is a very good athlete who runs with a low center of gravity and very good quickness.
Player grading scale: Elite (90-100), outstanding (80-89), solid starter (75-79), good starter (70-74)
SCOUTS INC.'S ANALYSIS
Strengths

WR Steve Smith: Smith is one of the toughest receivers in the NFL. He is still an elite receiver, and his ability to dominate keys Carolina's rushing attack.

RBs DeAngelo Williams and Jonathan Stewart: The Panthers' dynamic duo is one of the best one-two punches in the NFL. Williams is more of a scatback, and Stewart is the power back. Both do an excellent job of attacking downhill and making plays at the second level. MLB Jon Beason: He is one of the more underrated linebackers in the NFL. He has big-time sideline-to-sideline speed and range and does a great job of making tackles outside the numbers. He is the leader of this defense and will be relied on even more this season as a result of DT Maake Kemoeatu's season-ending injury (Achilles tendon).
Weaknesses

Kemoeatu's absence: This is a major blow to the middle of the Panthers' defense. When he was injured late in the 2008 season, it had a huge effect on Carolina's ability to stop the run. He does an excellent job of protecting Beason at the point of attack, and his absence will be felt.

Safety: This is a unit that has not been the same since the departure of Mike Minter. Charles Godfrey, who recently suffered a broken right hand, is young at one spot, and Chris Harris is inconsistent at the other. This unit was exposed last season in the playoff loss to the Cardinals. QB Jake Delhomme: The Panthers signed him to an extension this offseason, but he is a questionable starter at this time. His arm strength is diminishing, and he struggles to complete deep outs and curls, which we saw in the playoff loss to the Cardinals.

Scouts Inc. watches games, breaks down film and studies football from all angles.



JEREMY GREEN'S BURNING QUESTIONS
FOOTBALL TODAY PODCAST: DIVISION PREVIEW
DRAFT CLASS WATCH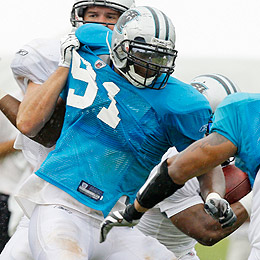 Everette Brown: Panthers like his upside.
Summary:
Without a first-round pick (that was traded to get Jeff Otah last year), the Panthers still were able to address most of their needs. They believe they got first-round talent when they took defensive end Everette Brown in the second round, and they went exclusively with defense in the first three rounds before adding backfield depth with two fourth-round picks.
What to expect:
Brown was picked largely because the future of Julius Peppers was uncertain at the time. Peppers ended up staying with the Panthers, and that will allow Brown time to develop. He'll be a situational pass-rusher at first, but the Panthers believe he can develop into an every-down player. It doesn't look as if the Panthers will have an immediate starter from this draft class, but Brown, defensive back Sherrod Martin, fullback Tony Fiammetta and defensive back Captain Munnerlyn will get playing time.
Wild card:
Fourth-round pick Mike Goodson was one of the biggest hits of the preseason. The running back/return man showed explosive speed, and the Panthers still are trying to figure out his role. He likely will handle some returns, but the Panthers also want to get him on the field as a running back. That might be a challenge because they already have DeAngelo Williams and Jonathan Stewart. But that two-headed monster could sprout a third head, with Goodson being used in third-down situations.
-- Pat Yasinskas, ESPN.com
FANTASY STARS
DeAngelo Williams, RB

Five years from now, when we look back at the 2008 season, will we be shocked and chagrined that, of all people, DeAngelo Williams led running backs in fantasy points? Put it this way: If the Panthers thought they had one of the best backs in the league in Williams, why did they spend a 2008 first-round pick on Jonathan Stewart? Williams was ungodly good in the season's second half: 892 yards rushing, 15 touchdowns and two four-TD games. He runs behind a road-grading O-line and is only 26. So why doesn't he merit top-5 consideration? Well, it's all about Stewart. As a rookie, Stewart struggled to stay healthy, a problem that has resurfaced again in training camp, yet still siphoned off 183 carries, 833 yards and 10 touchdowns. Williams is the starter, but Carolina is infamous for splitting backfield duties (remember when Williams teamed with DeShaun Foster?). Stewart will be an unfortunate and possibly increasing drain on Williams' prodigious value.
2009 Projection: 1,437 rush yds, 13 TD
---
Steve Smith, WR

Smith missed the first two games of 2008 because of a training camp fight with Ken Lucas, then reassumed his role as the most impressive big-play receiver in the league. His 11.01 yards per target was the highest tally of any wideout with at least 60 targets, so although his touchdown total (six) was its lowest in five seasons, he still managed to finish third in receiving yardage. Most impressive is Smith's style. He continues to be the "mighty mite" nobody can stop, an incredible ball hawk who claws and jumps and beats double-teams, almost no matter what. There's some quarterback uncertainty in Carolina, with Jake Delhomme coming off that shaky '08 playoff loss. Plus, the Panthers had the third-highest run percentage in the NFL last year and look to continue that attack with DeAngelo Williams and Jonathan Stewart in their backfield. But don't worry: Smith will get his.
2009 Projection: 90 rec, 1,390 rec yds, 9 TD
ESPN THE MAGAZINE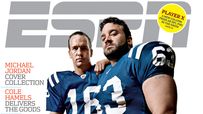 The Chargers win the Super Bowl? What in the name of Norv Turner is going on here?